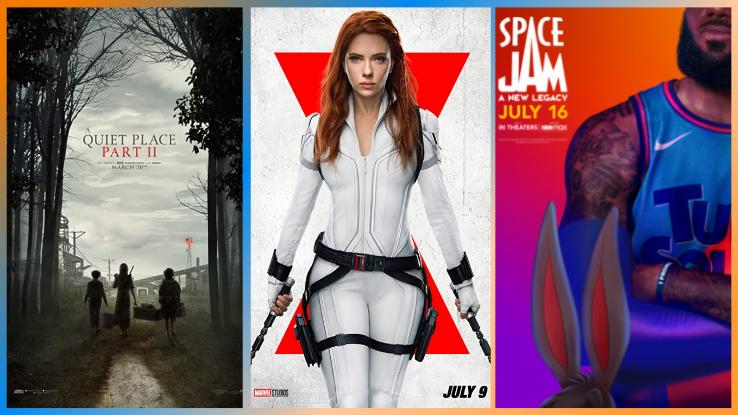 Summer had been starting earlier and earlier these past few years. At least when it comes to movies. In 2019 the release of Avengers: Endgame — on April 26 — kicked off the movie-going months of blockbuster, tentpoles, big-budget flicks and popcorn fare. Infinity War had done the same the previous year, also by late April. Before that, Guardians of the Galaxy Vol. 2 was the movie to inaugurate summer on May 5, 2017.
I guess it wouldn't be an overstatement to say that the summer of 2020 was canceled and we're still reeling from the continuous pandemic postponement of big movie releases. But as the country is preparing for reopening and more people are getting vaccinated, the calendar of film releases for the summer of 2021 looks full of promise. It also looks a lot different from previous years: Netflix has a full slate of summer film releases and some titles will be simultaneously released in movie theaters and on streaming platforms like HBO Max or Disney+.
Are we ready to go back to dark, enclosed movie theaters and be surrounded by strangers? Will we favor the at-home experience? Ask's editors and writers gathered once again around a virtual roundtable to have a summer movie preview chat and talk about some of the titles we're most intrigued about.
Here's the gist from our Zoom chat.
Horror Is Big
"I think there's something about horror movies that are best on the big screen. It's just not quite the same to watch it on your laptop or your TV at home," says Senior Editor Hanna Shea. She's looking forward to watching the next Conjuring movie, The Conjuring: The Devil Made Me Do It, as well as M. Night Shyamalan's Old. "I was in as soon as [in the trailer] I heard the line: 'There's something wrong with this beach.' It just seems like it's gonna be so much fun."
Hanna is far from the only Ask member eagerly anticipating some fright this summer. For Senior Managing Editor Michael Kasian-Morin horror is also the genre of choice after enduring the pandemic. Besides Old, he's excited about John Krasinski's A Quiet Place II, though he feels it's a missed opportunity that the movie wasn't called A Quieter Place. "It almost felt like for a full year we kind of kept our voices down because we were hiding from something we couldn't see," he says about the film's timeliness.
Also among the horror-thirsty is Writer Eric Mueller, who feels summer movies are a bit about indulging "guilty pleasures," like the new installment in the Saw franchise: Spiral. "Chris Rock is starring in it. So I feel like, even if it's bad, it'll be funny bad," says Eric.
Then there's Editor Kate Bove. She wants to see the Candyman sequel, directed by Nia DaCosta and produced by Jordan Peele. She's also curious about the Hulu movie False Positive. "It's kind of a modern-day Rosemary's Baby with Ilana Glazer and Justin Theroux. And it's an A24 film, so you know it's going to be wild." Kate's also feeling Zack Snyder's Army of the Dead on Netflix. "I'm really excited for Tig Notaro to become a Mad Max: Fury Road zombie-fighting action hero. The horror films are really speaking to me."
We're Looking Forward to Getting Out of the House But…
Some other films outside of the terror realm look particularly appealing. Editor Hannah Riley is partial to Space Jam: A New Legacy, which will be out in theaters and on HBO Max. "I kind of don't really care if the Space Jam movie is bad or not because it's gonna take me back to fourth grade and that's fantastic," says Hannah, pointing out that the movie's nostalgia factor is one of its main draws.
Then there's The Suicide Squad flick. Although most of the team would have probably preferred another movie centered around Harley Quinn, we'll take whatever we can get. "I'm excited to see Pete Davidson, I'm not sure if I have a crush on him or not, but we'll find out," says Eric.
Personally, I'm impatient about Pixar's Luca, which will be exclusively on Disney+ and set in Italy, and Netflix's international thriller Beckett, produced by Luca Guadagnino and starring John David Washington.
The thing is, the slate of summer movies is generous enough to find titles in a variety of genres and even having the option to decide whether you want to stay home or go out to the movie theater.
Hannah Riley wasn't a devout movie-goer before the pandemic but things may have changed. "I think the last movie I saw in the theater was the Scream movie that came out in like 2011. And I really want to go to a movie theater. I think it's the effect of the pandemic. I actually want to be in that kind of space, which is wild to me," she says.
"You can do popcorn at home but it's not the same," says Hanna Shea, who confesses part of the appeal of going to the movies is the snacks. "It's such a different experience to go in, collect all your snacks, not worry at all about the nutritional content and then just watch monsters fight each other on-screen. That experience is very very very hard to replicate at home."
Hanna Shea says she didn't necessarily love going to see movies in theaters pre-pandemic either, but she's very excited about doing it now. And she's not the only one on the team feeling that nostalgic appeal. "Probably one of the things I've complained about most during the pandemic is wanting to go to a movie, just on a random Friday night," says Eric, who paradoxically also says he wasn't a big theater-goer pre-pandemic.
But Eric also feels he might not be completely ready yet to go to a movie theater. "I'll just, like, hear people chewing and breathing and I'll be like: 'They're not wearing masks!' And that pandemic anxiety might set in. So I feel like I might not be ready to go back until at least July, maybe the end of August."
Michael, who hasn't been to a restaurant since March 2020, feels he needs to take things slowly too. "I think I'd have to dip my toe, starting in like art house cinemas that are relatively small with a limited capacity," he says. "Going to a giant theater is not in my future. At least [not] for this year. I think I'm pretty much gonna stay home."
Film buff Kate, whose group of friends used to all have Movie Pass when that was a thing, agrees with the idea of starting slowly by visiting the neighborhood movie theater as opposed to a big theater chain. "I definitely miss going to the movies. Hopefully, I'll feel comfortable at some point this summer to dip my toes in," she says. "Summer movies are fun in that kind of popcorn, just complete escapism kind of way. It almost feels like sometimes the movie itself doesn't matter. It's more about going and having this fun time with your friends or family."
This idea resonates with Hanna Shea. Once we all feel safe, she's looking forward to getting out to dinner with a big group of friends and then going to the theater. "Get the snacks, talk about the movie afterward. Essentially, make a whole evening out of it," she says.
For Hannah Riley it could be a visit to her local drive-in theater. "My husband doesn't want to go sit in a dark room with people breathing near him," she says — and I wonder how many of us are feeling the same.
Some Stuff Is Getting Released a Bit Too Late
Other than whether we feel comfortable with the thought of getting inside of an enclosed movie theater or not, there are other reasons why we might not be looking forward to watching certain movies: some of them have been postponed so many times we've lost interest.
Hannah Riley and I have experienced this with Netflix's The Woman in the Window. "I think we've been waiting for that movie for like three years now," she says. "There was definitely a window where the excitement was at the peak. And now the excitement is gone."
Michael was looking forward to watching Respect with his husband and in-laws during the holiday season last year, but the movie was delayed until this August. "To me, it feels like that thing you would go see on Christmas Day with your family," he says. "Now I'm like: 'You know what? I can wait to catch this maybe in the comfort of my living room.'"
The excitement might also be gone for Black Widow. The Marvel property had an initial release date of May 1, 2020, and has been delayed several times. It will now debut on July 7, 2021, both in theaters and on Disney+. "Maybe not for pandemic reasons but just for other reasons, Black Widow feels like it's a decade late," says Kate. The movie centers on Scarlett Johansson's character and is set before the events of Avengers: Infinity War. It's also the first Marvel Cinematic Universe movie with a woman as the sole director. (The woman-led Captain Marvel was co-directed by Anna Boden and Ryan Fleck.) "I feel with WandaVision and all these other Marvel properties, I've kind of moved on from that phase in the Avengers," adds Kate, and I couldn't agree more.
The summer of 2021 sure is going to be one to remember. And it may end up proving to be a way for studios to test several different release models, given that some movies will only be in theaters, some of them will only be on streaming services, and some of them will be released simultaneously in both formats. Time will tell how the summer of 2022 will look and whether we'll be doing more or less movie watching from home.
Summer Movie Calendar 2021
And here's a calendar with most of the summertime releases. If it isn't otherwise indicated on this list, the movie will only be available in theaters. Also, some Netflix movies have been announced but they still lack a specific release date, so we'll keep updating this calendar throughout the summer.
May
14. Spiral: From the Book of Saw
14. Those Who Wish Me Dead (Theaters and HBO Max)
14. The Woman in the Window (Netflix)
21. Army of the Dead (Netflix)
28. Cruella (Theaters and Disney+ with Premier Access)
28. A Quiet Place II
28. Plan B (Hulu)
June
4. The Conjuring: The Devil Made Me Do It (Theaters and HBO Max)
9. Awake (Netflix)
11. In the Heights (Theaters and HBO Max)
16. The Hitman's Wife's Bodyguard
18. Fatherhood (Netflix)
18. Luca (Disney+ only)
23. La casa de las flores: La película (Netflix)
25. F9
25. False Positive (Hulu)
30. Zola
30. America: The Motion Picture (Netflix)
July
The Last Letter from Your Lover (Netflix)
2. Summer of Soul (Theaters and Hulu)
9. Black Widow (Theaters and Disney+ with Premier Access)
16. Space Jam: A New Legacy (Theaters and HBO Max)
23. Old
23. Snake Eyes
23. The Tomorrow War (Amazon Prime Video)
29. Resort to Love (Netflix)
30. The Green Knight
30. Jungle Cruise (Theaters and Disney+ with Premier Access)
30. Still Water
August
Beckett (Netflix)
6. The Suicide Squad (Theaters and HBO Max)
13. Free Guy
13. Respect
13. CODA
20. Reminiscence (Theaters and HBO Max)
20. The Protégé
20. The Night House
27. Candyman
27. He's All That (Netflix)
September
3. Shang-chi and the Legend of the Ten Rings
Also this summer
Vivo (Netflix)