I don't want to give too much away about Promising Young Woman's plot, in case you haven't watched the five-time Oscar nominee yet. This feminist revenge thriller, which has hints of dark comedy and even some romantic comedy elements, is available to rent on video on demand.
Written and directed by Emerald Fennell — more on her in a bit — and starring Carey Mulligan (An Education), Promising Young Woman tells the story of Cassie (Mulligan). She was a very promising young woman and medical student until a tragic event derailed her plans. She ends up on a revenge path, leading a double life by night. She goes to bars and dance clubs alone, pretending to be extremely intoxicated. Let's say she's running a sort of pedagogical scheme aimed at male predators.
"It's really a film about the kind of culture that I grew up in and the culture that every girl I know grew up in," explained Fennell in a joint Zoom press conference with Mulligan about the film's stance.
The movie deals with issues of sexual assault and accountability, on account of the survivors. "How can you find resolution? How can you find justice? When it's such an uphill struggle that it's still much easier to just let it go?" Fennell said, adding that the film is about how revenge is sort of impossible and, in the end, even futile. "The thing that is brilliant about Cassie — and it's amazing about Carey's performance — is that she is violent. But the violence that she commits, the maiming that she does, is completely psychological."
Content Warning: In discussing Promising Young Woman, this article contains mentions of sexual assault. If you or someone you know have been sexually assaulted and are in need of support, contact the Rape, Abuse & Incest National Network (RAINN) Sexual Assault Hotline at 1-800-656-4673.
Who Is Director Emerald Fennell and Who Else Is Behind "Promising Young Woman"
Fennell is only one of seven women to have ever been nominated for a Best Director Oscar. Promising Young Woman, the film that earned her the honor, is also her feature debut. But she's far from a debutante in the industry. The writer and director is also nominated in the Best Original Screenplay category and has a third nomination as a producer since Promising Young Woman also scored a Best Picture nom.
The Londonite proved her writing chops on Killing Eve. She was the showrunner for the second season of the British spy drama, which also has hints of dark comedy and a very strong women-led cast. You may be more familiar with Fennell's work than you realize. She's also the actress who played Camilla Parker Bowles in seasons three and four of Netflix's popular and critically-acclaimed series The Crown.
The filmmaker, who was over seven months pregnant when they shot Promising Young Woman, also has a cameo role in the film. She plays the host of a video tutorial on blow-job lips makeup, an incisive turn that embodies her sense of humor.
Fennell is far from the only multi-talented woman in the movie. Actress Margot Robbie (Suicide Squad) had a role in making Promising Young Woman possible. Robbie is a producer on the film alongside with her partners at LuckyChap Entertainment, Josey McNamara and Tom Ackerley, who is also Robbie's husband. LuckyChap is the women-focused producing company behind titles like Birds of Prey and I, Tonya.
"What Margot Robbie's company does is just brilliant. She promotes stories about real women and I think any part of that that I can have is such a privilege," said Mulligan about her participation in the film, in which she also serves as executive producer. "This is a film I wish had come out when I was 18."
Mulligan, who's received a Best Actress Oscar nomination for her role in Promising Young Woman, was Fennell's first choice for the role of Cassie. Mulligan is considered one of the frontrunners in the category after her wins at the Critics Choice Awards and Los Angeles Film Critics Association Awards. Viola Davis' win in the same category at the Screen Actors Guild Awards makes her the other clear frontrunner.
The Girlish Look of the Film Is Very Intentional
Promising Young Woman was shot in just 23 days primarily on location in and around Los Angeles in 2019 and with a budget somewhere between $5-17 million. But nothing in this independent movie feels low budget, especially when it comes to its deliberate look.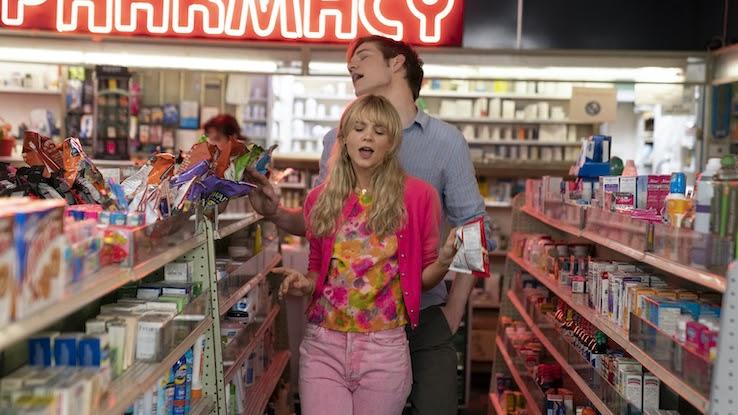 Fennell makes use of a very stylized aesthetic that is rich in neon lights, candy pinks and bright blues. She dresses the world Cassie inhabits in those colors. The traditionally feminine hues are also seen in Cassie's wardrobe. "She's just like a lot of women, very adept at using her costumes and her nails and her hair to hide in plain sight and seem innocuous and innocent," Fennell explained about Cassie's appearance in the film. "It made sense that the film felt the same way [Cassie does]. That it seems, and is in many ways, a pleasure and fun. Because of the things that we still think of somehow as kind of light and frivolous, like pink, like Britney Spears… the sort of things in this movie are often not things that are treated seriously, which means that it's able to kind of hide itself, which is good. But also, these are things I love."
Spears — who this year is being reevaluated by the media and judged in a very different light after the release of the documentary Framing Britney Spears — is one of the names attached to Promising Young Woman's soundtrack. The movie features an orchestral arrangement of her theme "Toxic." Paris Hilton's "Stars Are Blind," Richard Wagner's theme "Prelude and Liebestod" and Terry Saunders' "Something Wonderful" from the musical The King and I fill a soundtrack as heterogeneous as it is unpredictable.
Intrigued by Promising Young Woman? Don't forget to read about some of the other films in contention for big awards this year. Here are our takes on other Oscar favorites Nomadland and Minari.