Rating: 6/10
Chances are you've seen a movie similar to Beckett before. The new thriller starring John David Washington (Tenet) debuts on Netflix this Friday, August 13. Italian director Ferdinando Cito Filomarino sets his story in the foggy mountains and canyons of northern Greece and the ebullient metropolis of Athens.
Cito Filomarino's former romantic partner, Luca Guadagnino (Call Me by Your Name), is one of the producers of the film. In the promotional materials for Beckett, he talks about feeling like the engine that started the process of this project — he also produced Cito Filomarino's first feature film, Antonia (2015).
You can recognize Guadagnino's influence on Cito Filomarino as a filmmaker during the first sequences of Beckett. Washington plays Beckett and Alicia Vikander is April — an American couple vacationing in Greece. They've fled the capital because of a political demonstration set to take place in the same square where their hotel was located, Syntagma. The movie kicks off with both of them in bed after having quarreled. They apologize and make out in front of the viewer. And we witness several scenes of dating bliss. Beckett declares he's "having a love attack." But while Washington and Vikander look great together and have incredible chemistry, Cito Filomarino is not as masterful at capturing desire and intimacy as Guadagnino is. Not many filmmakers are.
This is by no means a romance, and Guadagnino is far from the only influence in Cito Filomarino's thriller. You won't want to watch Beckett's trailer if you're spoiler averse. But I'm not ruining much if I tell you that, at one point early on in the movie, Beckett and April are involved in a car crash that triggers the action element of this film. Because of the accident, Beckett follows the long cinematic tradition of being the wrong man in the wrong place at the wrong time. He finds himself the target of a manhunt, his character falsely accused, and he's trying to reach the American embassy in Athens as a way of gaining refuge.
Beckett is a character whom you've met before. It's Harrison Ford looking for his kidnapped wife in Paris in Frantic (1988). It's Ford again escaping justice and trying to prove he didn't kill his wife in The Fugitive (1993). It's Will Smith playing a lawyer targeted by the NSA in Enemy of the State (1998). And he may lack any of his smug sense of humor, but it's Cary Grant as the ad-executive-forced-to-turn-spy in North by Northwest (1959). In fact, there's a sequence in Beckett in which our protagonist runs for his life in a cliffy Grecian canyon that reminded me of the Mount Rushmore chase in North by Northwest, urgent instrumental music and all.
A Man on His Own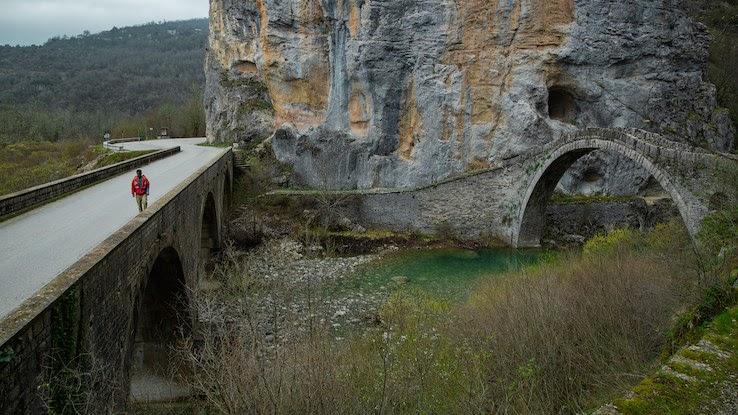 Beckett is not necessarily a man equipped to deal with being chased while on the run, shot at and even stabbed. His hand-to-hand combat skills are nonexistent. Washington plays Beckett having consciously left behind his college football days. His Beckett is not an athlete or the picture-perfect six pack-sporting bloke we've become accustomed to admiring while watching an action movie. He breaks easily — not only physically, but also emotionally. He couldn't be more of a regular person. He lives in Ohio and works in business systems integration, whatever that means.
That being said, he does stand out in the middle of rural Greece with his bright orange varsity football hoodie, his bloodshot eyes and his air of despair. He's indistinguishably American in a region of the country not visited by tourists. Instead of showing us the Acropolis of Athens and the sunny white-sand beaches, Cito Filomarino opted to set his film in mountain towns and commuter trains. This is the face of Greece you never see as a tourist or even a movie viewer.
Precisely because of his main character and setting, Cito Filomarino does a great job of presenting this story as something that could actually happen to any of us. The violence is never stylized. The fights are not perfect choreographies. Beckett is simply having the worst day of his life. You can see it on his face but also his body. Halfway through the movie his clothes are dirty, his face is bloody and you can't believe he's taken yet another injury.
That lack of embellishment is one of the filmmaker's best decisions while constructing this movie. But not all his choices feel equally adequate. The tropes of this type of thriller are so common knowledge — precisely because you've seen them before — that you're constantly anticipating twists and plot devices, from the moment you think the car is going to crash to the character who you just know is going to betray Beckett.
But even if, in a way, you know how this movie is going to end, that doesn't mean you shouldn't give it a watch. That's especially true if you like frantic thrillers with lots of dialogue in Greek and arresting views of the bushy Mediterranean landscape — and if you're already a Netflix subscriber with no other plans this Friday. But who does have plans anymore?