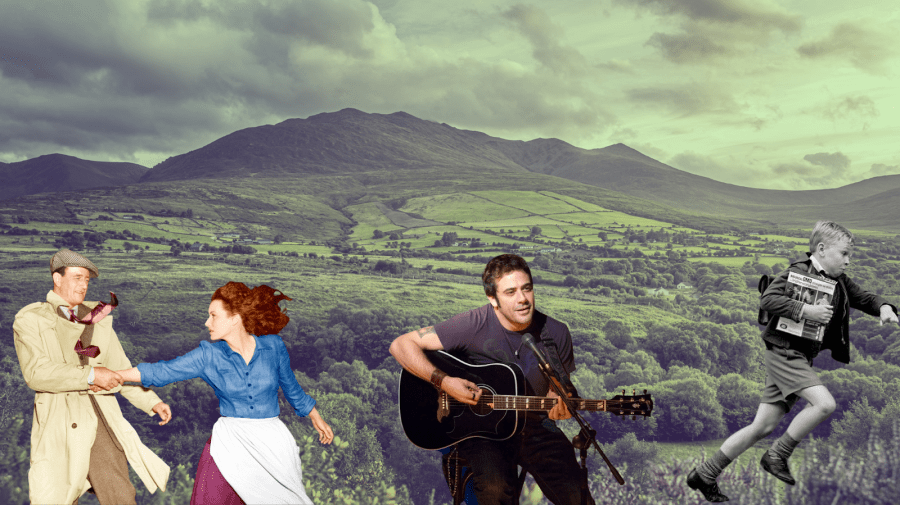 St. Patrick's Day, the holiday that celebrates the primary patron saint of Ireland, is famous for being fervently celebrated by the Irish diaspora; that is, people around the world who have roots in Ireland. Especially in the United States, these celebrations began as part of an attempt by Irish people to try to remember a life that felt increasingly far away from them. That kind of remembering — even when it's part of a celebration — can make a person a little sentimental.
So it makes sense, then, that countless storytellers would try to capture that feeling through the magic of the movies. Here, we've rounded up movies that take place in Ireland, but span different genres. We've got movies nostalgic for the past; we've got rom-coms; we've got fantasies; we've got movies that are rom-coms and fantasies: you get the idea.
What we've got in spades, the whole way through, is sentimentality. Maybe we can think of all the rowdiness that has come to be stereotypically associated with St. Paddy's Day as a way to make it easier to access what's in the heart, and at the heart of the holiday. That's what these movies are really all about.
Belfast (2021)
This recent film from director Kenneth Branagh is up for Best Picture this month at The Academy Awards, but in many ways it is a small, sweet movie. It takes place at the start of The Troubles in Belfast in 1969, and follows the perspective of a young boy, Buddy, played by Jude Hill.
What will really make your heart swell — beyond the wonderful performances of Ciarán Hinds and Judi Dench as Buddy's grandparents — are the collection of songs by Belfast's own Van Morrison that provide the emotional soundtrack to the events of the film. "Stranded," from Morrison's 2005 album Magic Time, in particular, imparts a knowing combination of beauty and sadness to much of the film that can't help but leave you feeling moved. 
Wolfwalkers (2020)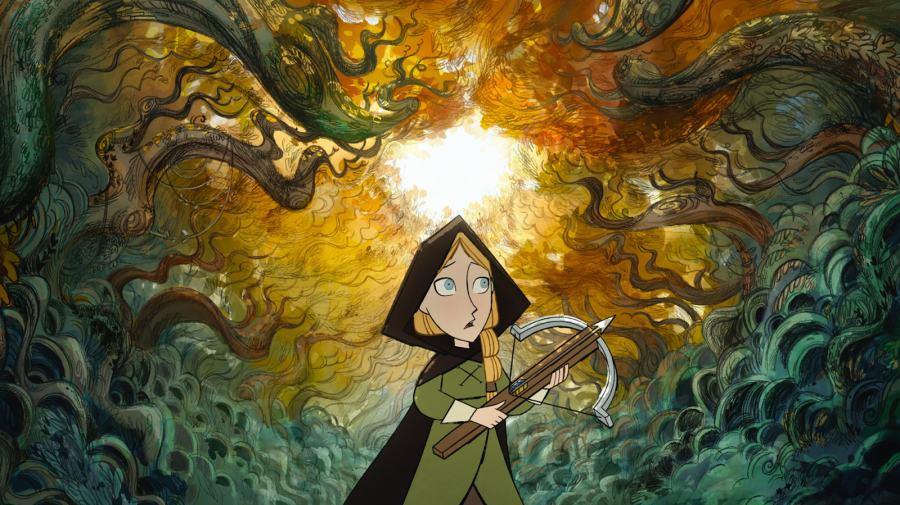 This animated film — from the director of 2009's The Secret of Kells and 2014's Song of the Sea — currently has a 99% rating on Rotten Tomatoes. The story involves an apprentice hunter, Robyn, who arrives in Ireland with her father to hunt down the last wolfpack. Instead, Robyn befriends Mebh, a "Wolfwalker" whose spirit leaves her body and becomes a wolf in the night.
Everything from the gorgeous, 2D artwork to the Aurora song "Running with the Wolves" will totally immerse you in the experience of this movie, but it's the celebration of folklore and the mysteries of the natural world that will have you thinking about it after it's over.
Wild Mountain Thyme (2020)
This John Patrick Shanley movie is a personal favorite, though it does not have the same critical acclaim as other films on this list. Shanley, who also wrote and directed the magical 1990 film Joe Versus the Volcano, is one of our foremost practitioners of whimsical romance (he wrote the 1987 masterpiece Moonstruck, too!), and this film is an adaptation of his stage play, Outside Mullingar.
In Wild Mountain Thyme, Shanley captures the beautiful scenery of Ireland as the backdrop for a romance that shifts from seeming quite grounded in reality to seeming really mystical and strange. Jamie Dornan and Emily Blunt are wonderful as the pair at the center of the film, but it's Christopher Walken's all-in performance as Dornan's concerned father that's the one that'll make your eyes well up.
Once (2007)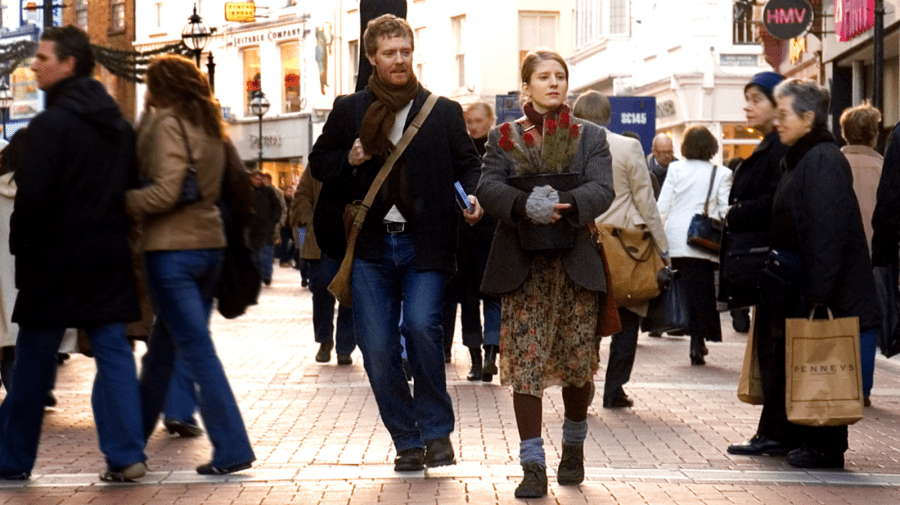 A romance with music at its center, this movie starring Glen Hansard and Markéta Irglová was a small-budget success back in 2007. Hansard and Irglová won the 2008 Oscar for Best Song for their hit "Falling Slowly," which features heavily in the movie.
Even if musicals aren't your thing, this one — which is far more grounded in reality than most musicals, I'll admit — will make its way into your heart. I challenge you to watch the video for "Falling Slowly" without wanting to throw this movie on immediately.
P.S. I Love You (2007)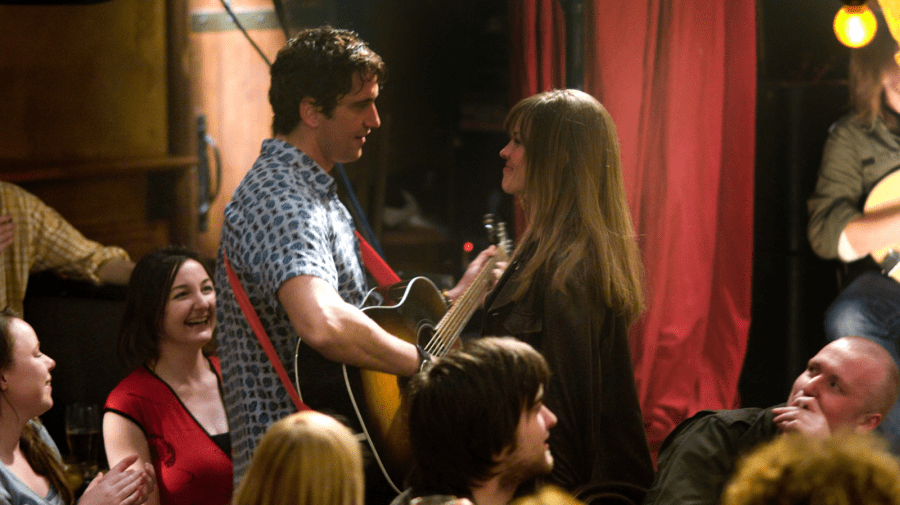 Okay, listen. This movie isn't a masterpiece by any stretch of the imagination, but it's a feel-good crowd-pleaser nevertheless. This is one of those wonderful movies that, on sites like Rotten Tomatoes and Metacritic, gets absolutely clobbered by the critics, but gets rave reviews from the people. On this list, we are the people, and there's nothing we love more than a heart-rending romance.
It's hard to even describe the plot of this movie. Basically, Hilary Swank plays Holly, a woman whose husband (Gerard Butler) passes away but leaves behind a series of messages for her over time. Each message sends Holly on some sort of adventure. One of the messages sends her to her husband's hometown in Ireland, and things really take off from there. But forget all that: this movie will put Steve Earle's beautiful song "Galway Girl" in your head for pretty much the rest of your life, and that's reason enough to dive in.
Waking Ned Devine (1998)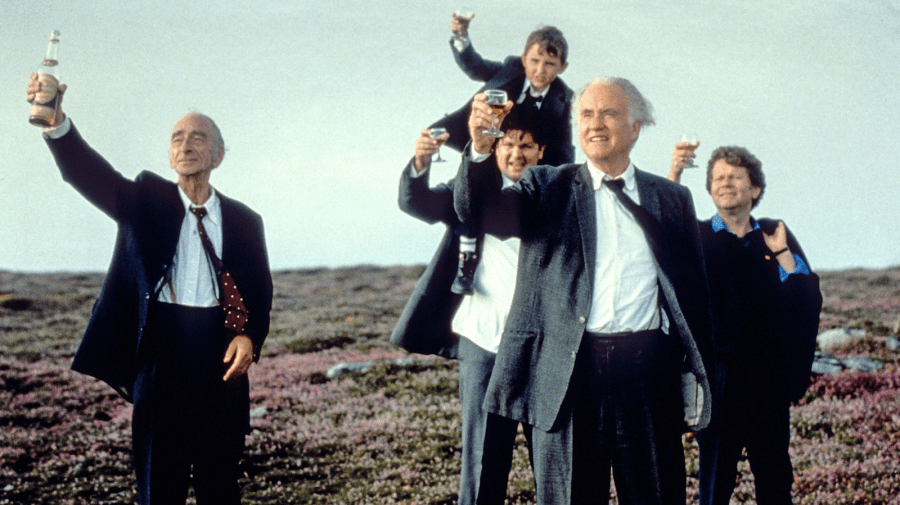 I remember seeing this one in the theater with my grandmother in 1998, and I can't say for sure that this is true, but I think it might be the first time a movie ever made me cry tears of joy. Hilariously, it's the story of a town that comes together to fraudulently collect the lottery winnings of a man, Ned Devine, who passes away from shock one night with the winning ticket in his hands.
Part romantic comedy, part story about lifelong friendship, and part story about the spirit of place in the form of a small Irish village, you might also think of this movie as the softest, sweetest heist movie of all-time. Waking Ned Devine is life-affirming. No exaggeration here; it's one of my favorite movies ever.
The Matchmaker (1997)
Similar to P.S. I Love You, The Matchmaker is a romantic comedy that does a lot better with the people than it does with the critics. This one is a classic tale of a cynic who realizes the power of love. It stars Janeane Garofalo as a U.S. Senator's aide who — in a remarkably convoluted bit of reasoning — goes to Ireland to track down the Senator's roots in the hopes of appealing to his Irish American constituency.
You're not going to believe this, but when she gets to the small town of Ballinagra, it's the beginning of matchmaking season! As a child of the '80s and '90s, I guess I'm a bit of a sucker for Garofalo's brand of sarcastic humor, but I really do think this movie is charming. I wouldn't recommend it to just anyone, but for you, reading this list right now? It's perfect.
The Secret of Roan Inish (1994)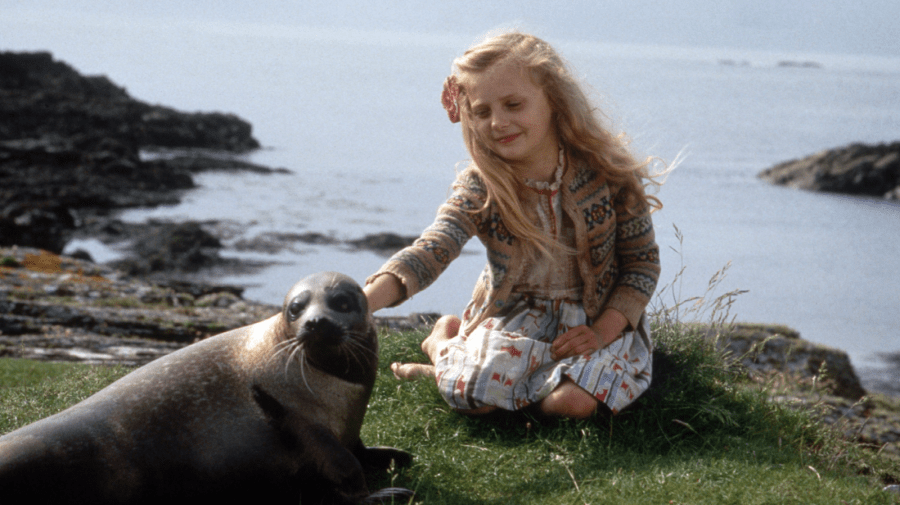 Like many movies on this list, this John Sayles hit is part fantasy and part reality, but it's also all heart. If you've never seen it, you're really in for a treat. It centers around the folklore of the Selkie, a seal that sheds its skin to become human.
Jeni Courtney gives an incredible performance as Fiona, a child who goes to live with her grandparents in a remote fishing village when her mother dies and her father can't take care of her. She begins to hear stories from her grandfather about how the family used to live on the island of Roan Inish, which is now abandoned and inhabited by seals. I don't want to spoil the titular secret, but I can assure you that this movie will steal your heart.
Into the West (1992)
Other movies on this list have fantasy elements, of course, but this Mike Newell film (he also made Four Weddings and a Funeral and Harry Potter and the Goblet of Fire among other really fun films) might be more over-the-top than any of them. Two young boys mired in poverty in Dublin with their drunken father (played by the great Gabriel Byrne) come across a beautiful white horse named Tír na nÓg ("Land of Eternal Youth"). Mysteriously, the horse takes to them just as much as they take to the horse.
When the horse is taken away from them, they embark on a journey to get it back, and the boys (obsessed, conveniently, with old Hollywood cowboy movies) ride "Into the West" away from their pursuers. I know it's cliché to call a movie like this a magical story, but this one really is just that.
The Commitments (1991)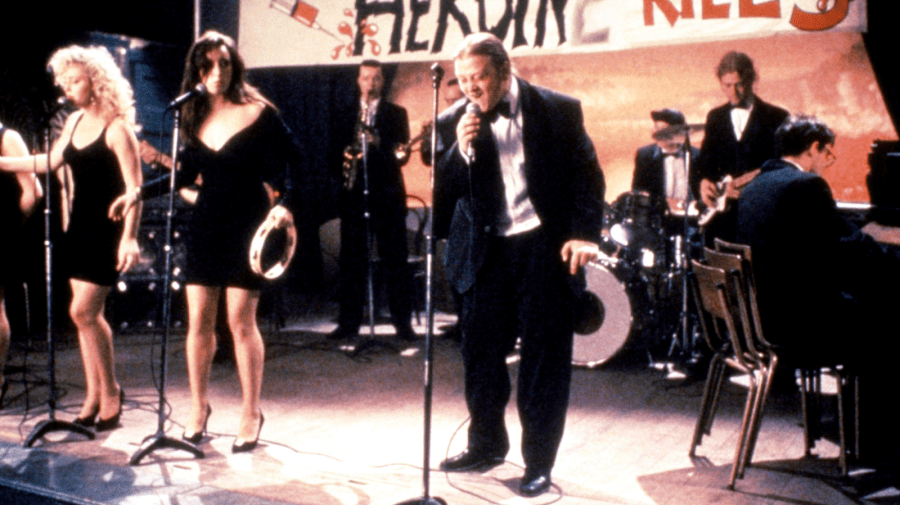 This Alan Parker film based on the 1987 Roddy Doyle novel of the same name is about a young, working-class Dubliner named Jimmy who decides, improbably, to start a soul music band with his friends. Predictably, there are ups and downs, but the feeling of looseness throughout — of multiple stories bumping into each other in ways that are messy and realistic — is irresistible.
The real joy here is in the music, which you can't help but feel nostalgic about, even if it is from before your time. In this movie, the band really seems like a band. In fact, Glen Hansard, who was already on this list in Once, plays the guitarist, Outspan Foster. The music feels like it's really alive and kicking. The Commitments doesn't come to any grand conclusion, but you will come away feeling like you spent time with something authentic, and that's a nice feeling to have at the end of a movie.
The Quiet Man (1952)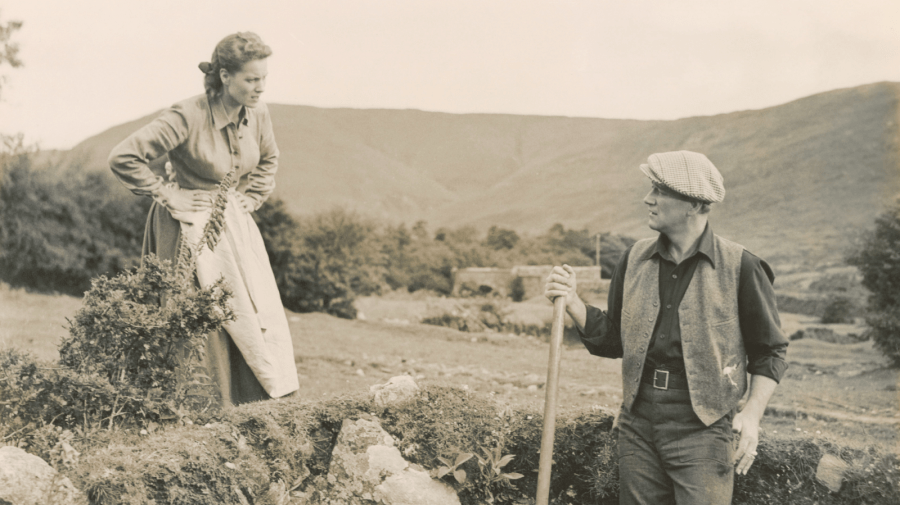 This romantic comedy, directed by the great John Ford — who's known for his classic Westerns like Stagecoach, The Searchers, and The Man Who Shot Liberty Valance — stars John Wayne and Maureen O'Hara. Wayne plays retired boxer Sean Thornton, who heads from Pittsburgh, Pennsylvania to the old family farm in Ireland to see about buying it. O'Hara is Mary Kate Danaher, the woman Sean meets there and decides he wants to marry.
The Quiet Man is a rowdy good time. It's dated, but if you like old movies, you'll get sucked right in — right through the absurdly long, climactic fight scene between Sean and the brother of his new wife. I wrote about another ridiculously protracted fight scene recently — the one in John Carpenter's They Live — but this one is a good bit longer, clocking in at around nine minutes. Still, it's the Irish scenery — shot by Winston Hoch, who won an Oscar for his work — that makes this movie an essential inclusion on this kind of list.