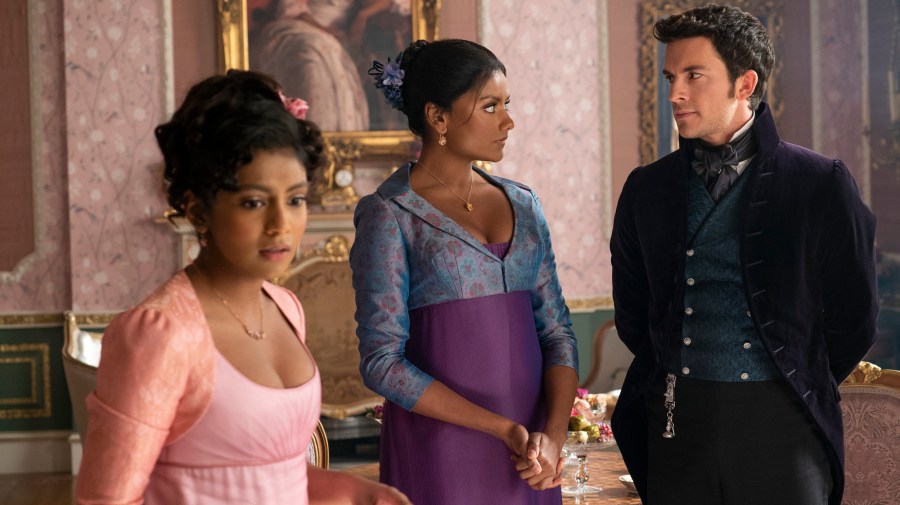 Rating: 8/10
Forget all your frustration about Regé-Jean Page not returning for season two of Bridgerton. The eight-episode second season of the romantic show set in Regency-era London debuts on Netflix this Friday, March 25, and it has a new couple at its center that'll make you (almost) forget Page.
This adaptation of The Viscount Who Loved Me, the second book in Julia Quinn's Bridgertons series, is created by Chris Van Dusen and executive produced by Shonda Rhimes, and it packs all the juicy and swoony melodrama those names have come to represent. Don't miss our article where we compare book two of Bridgertons to season two of Bridgerton.
A new season is kicking off in London, and the Ton is ready for a new set of debutantes getting presented to society and the Queen (Golda Rosheuvel). Odd-duck Eloise Bridgerton (Claudia Jessie) is reluctantly among the new batch of just-out young ladies. Lady Whistledown (voiced by Julie Andrews), whose identity was revealed to the viewer at the end of last season as Penelope Featherington (Nicola Coughlan), is very much at her pen and paper again. She's most interested in knowing whether the rumor about the rakish Viscount Bridgerton (Jonathan Bailey) looking to get married this season could actually be true.
It is. Anthony has decided it's time to settle down. He's a man with lots of responsibilities as the head of the Bridgerton family and as a Viscount. He embarks on the search for a betrothed as if he was interviewing candidates for a new job. Bear in mind that love is the least of his preoccupations while trying to find a match. His requirements for a wife are very specific: She has to be tolerable and dutiful, have suitable enough hips for childbearing and have at least half a brain. But that last part is not as much a requirement as a preference.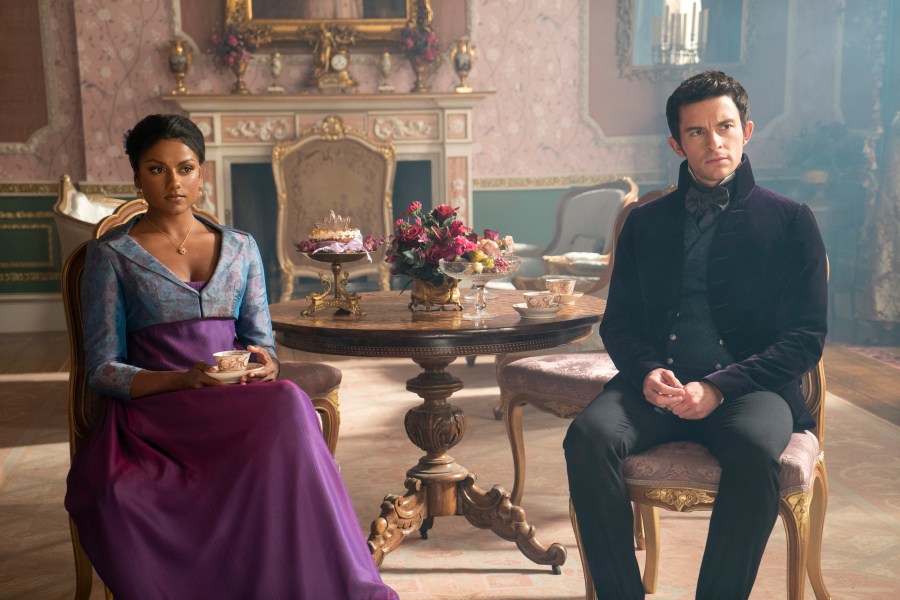 He finally decides to go with the Queen's choice and pursue this season's diamond. His sister Daphne (Phoebe Dynevor) had been the distinguished one last year and made a great match for the Duke of Hastings (Page), a former rake himself. The chosen lady is Edwina Sharma (Charithra Chandran), a beautiful and agreeable young woman who's just arrived from India with her mother Mary (Shelley Conn) and older sister Kate (Simone Ashley).
At 26, Kate is already considered an old maid, and she's decided to make sure her beloved Edwina marries well. Kate intends on then moving back to India alone. Eloise admires Kate's independence and ability to not play the courtship game. "It is hardly ideal. The world is not exactly welcoming to an unmarried woman. There seems to be no place in society for us, except at the edge of things," Kate reasons with the young Bridgerton.
In their deliberate attempt to avoid love and matchmaking at all costs in their lives, Kate and Anthony find themselves in a very delicate situation because, even when they can't seem to tolerate each other, the attraction between them is undeniable. When I say you'll soon forget your frustration about the casting switch this second season of Bridgerton, I mean the chemistry between Anthony and Kate is just exorbitant. You can feel it even when they're on opposite sides of the same frame.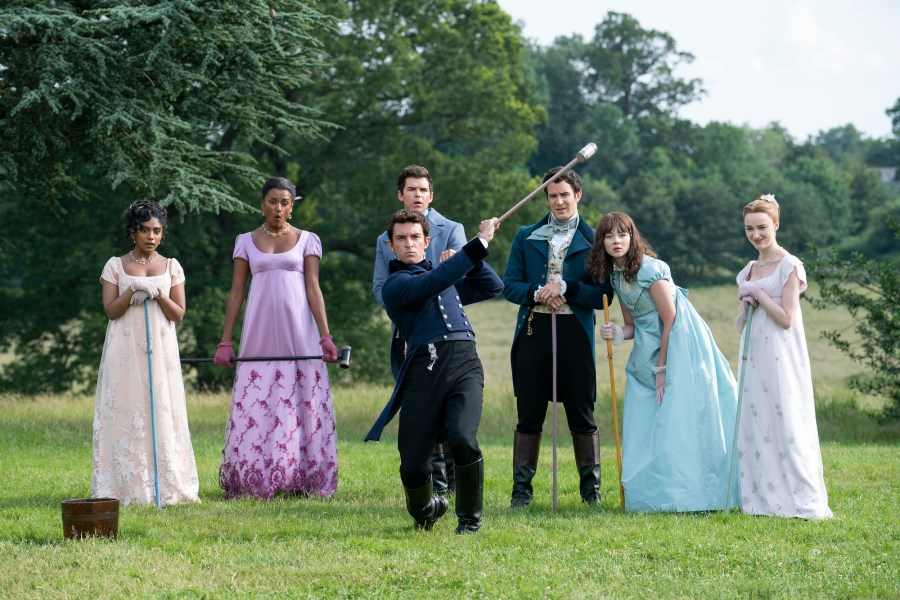 So yes, season two of Bridgerton still is very much steamy and sexy. I predict it'll probably break the show's previous record viewing numbers — Bridgerton's first season is Netflix's most-watched TV show in English — between Anthony's frequent shirtlessness and, especially, because it's difficult to take your eyes off of Ashley and Bailey every time their characters bicker.
"Your character is as deficient as your horsemanship," Kate attacks Anthony after they both meet during an early morning ride in the park. "I've never met a man as brazenly presumptuous," she pummels him at another time. Edwina is worried her sister and her prospective fiancé don't like each other. "Did the two of you finally warm up to one another?" Edwina asks Kate after sending the two of them together on a hunting expedition. If only she knew the smoldering looks they share when no one else is watching.
The fact that Anthony is attracted to one of the Sharma sisters but persists in his attention towards the other was a bit tough to swallow for me. It almost pits the two sisters as rivals. But overall I loved the relationship between Kate and Edwina; they even have pet names for one another. And I may have shed a tear or two watching some of the other tender sibling representations this season, most especially in the relationship between Eloise and Benedict (Luke Thompson).
Contrary to the book on which this is based, which tells this story from the perspective of either Anthony or Kate, Bridgerton follows once again the storylines of a large ensemble. I was particularly entertained by the Queen's obsession with discovering the identity of Lady Whistledown — it really shows how much fun Golda Rosheuvel must have had while playing the royal. I was also amused by everything coming out of Lady Danbury's (Adjoa Andoh) mouth. "As you very well know, I always have something to say" and "Very few attempt to unwit me and even fewer succeed" are just two of her sharpest comments this season.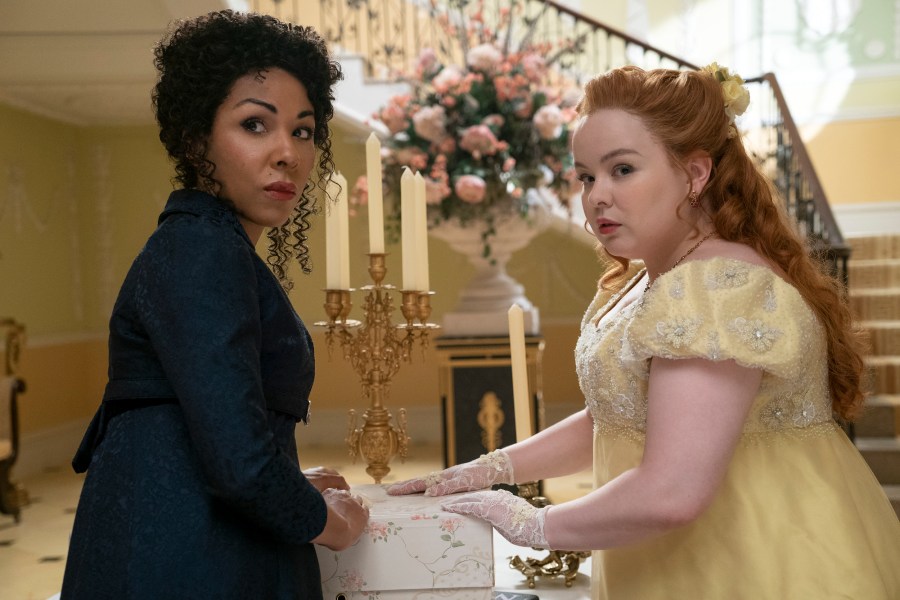 Then there's Penelope's story as she continues to pursue her career as a pamphlet writer in the dark. We even see her negotiating the price per copy with her printer and a wage rise for the delivery boys. She's making money while her family, after the death of Lord Featherington last season, is waiting on the arrival of the next Featherington male heir. With Penelope and with the modiste Geneviève Delacroix (Kathryn Drysdale) we get a sample of how limited the options were for women trying to make a living at the time.
The show briefly touches on many other topics, from the inability of women to enter an art classroom as students to the lack of autonomy and agency young gentle ladies had. I just wish some of them could be further fleshed out.
And while I like the way Bridgerton has made its cast diverse in an unusual way for a period piece — the Sharmas were called Sheffield in the original book and didn't come from India, for instance — I still think this soapy melodrama should make more of an effort to include stories from queer perspectives. We get none this season.
With its heightened reality, saturated colors, string versions of songs by Nirvana and Madonna, and endless array of new balls and parties to attend, I watched Bridgerton as a much more lustful companion piece to the other Regency-era and based-on-a-book show debuting its second season now, PBS's Sanditon. When it comes to current period adaptations of books, one can hardly have enough.