In 2019, Arthur, the long-running PBS series about an anthropomorphic, school-aged aardvark, aired an episode called "Mr. Ratburn and the Special Someone." Colloquially, it became known as the "Gay Rat Wedding" episode, and it received a swell of support from queer fans, allies and organizations like GLAAD. However, even as recently as two years ago, that episode also faced immense backlash from homophobic detractors for portraying a queer wedding — for being inclusive.
But this wasn't the first time the show depicted LGBTQ+ folks. Back in 2005, Arthur first faced backlash due to a spin-off episode, "Postcards From Buster." In it, Arthur's rabbit pal, Buster, visited actual (live-action) families — and one of those families happened to be a lesbian couple from Vermont. The public outcry was so huge that the then-U.S. Secretary of Education demanded PBS return the public funds it used to create the episode. And that was just 16 years ago.
"Until very recently, LGBTQ+ people would look to media and not have any representation or would only have a negative stereotype to identify with," wrote April Sizemore-Barber, a professor in the women's and gender studies program at Georgetown University. "This absence of stories leads to ignorance among members of the general public [who don't see LGBTQ+ stories represented] and isolation for those who identify as LGBTQ+ and are implicitly told that they don't exist."
In animation, for example, Disney has a long history of queer-coding its villains; even today, the studio reduces queer characters into blink-and-you-miss-it scenes, often played for laughs. So, yes, it's clear that a lot of work needs to be done. And a lot of that work falls on the folks who are green-lighting shows and films. Arthur's one-off episode, for instance, can help normalize queer families, but shows like Steven Universe and Kipo and the Age of Wonderbeasts are moving the dial even further on a more regular basis.
So, what can we do as audiences to support queer and trans creators and their LGBTQ+-inclusive narratives? We can watch them — all year round. So, whether you're looking to celebrate Pride Month, diversify your kids' media intake year-round, or find positive representation for queer and trans kids who want to see themselves reflected in queer characters and stories, check out these must-watch TV shows and films that center queerness.
Animated TV Series
Steven Universe
Created by Rebecca Sugar for Cartoon Network, Steven Universe tells the coming-of-age story of the titular boy (Zach Callison). Although Steven's dad is a car wash-owning rock musician, his mom, Rose Quartz, was a gem — a magical, humanoid alien from outer space. Years ago, Rose led the Crystal Gems, a rebel group, in a war to protect Earth from her alien Homeworld, which sought to colonize Earth and strip it of its resources. When she gives birth to Steven, Rose passes on her powers and life-force, leaving the other members of the Crystal Gems — Garnet (Estelle), Amethyst (Michaela Dietz) and Pearl (Deedee Magno Hall) — to raise Steven and protect Earth in Rose's stead.
This decidedly queer Peabody Award-winning show is often hilarious and fun, but it also speaks to the importance of chosen family and how to form healthy interpersonal relationships. While there's a lot of great LGBTQ+ representation, it's worth pointing out a few characters in particular. In order to become stronger, Steven Universe's Gem characters can fuse together when needed. But Steven, our half-Gem and half-human protagonist, has the uncanny ability to fuse with his human friend, Connie Maheswaran (Grace Rolek). Together, the duo make up Stevonnie. In addition to using gender-neutral pronouns, Stevonnie shared in a Cartoon Network PSA that they are non-binary and intersex.
Other history-making characters include Ruby and Sapphire, the two Gems who fuse to make Estelle's Garnet. However, instead of fusing temporarily, Ruby and Sapphire remain Garnet (almost always) as an expression of their love. Sugar, the creator and showrunner, has said that the "Gems are all nonbinary women… They're coded female… They wouldn't think of themselves as women, but they're fine with being interpreted that way amongst humans." In a 2018 episode, Ruby asks Sapphire to marry her, marking the first same-sex proposal in mainstream children's TV — which, of course, was followed by a groundbreaking wedding episode.
Blue's Clues
To celebrate the beginning of Pride Month, Nickelodeon's long-running Blue's Clues hosted an incredibly intersectional virtual Pride parade. Drag Race contestant Nina West hosted the parade — in cartoon form, of course — by singing a tune that celebrated the various families in attendance. "When a cartoon drag queen leads me on a three-minute journey through the magic of embracing the queer family in all of its multifaceted glory, who am I to say no?" writes BuzzFeed's Mary Colussi — and we couldn't agree more. Without a doubt, Nick Jr.'s landmark parade is a great way to introduce youngsters to various LGBTQ+ identities and families.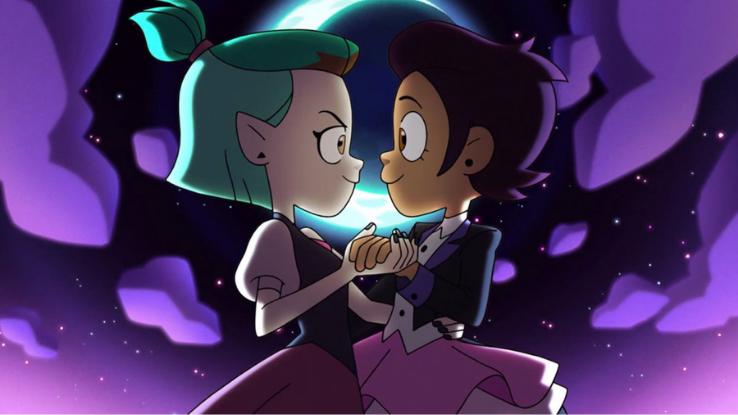 The Owl House
It's no secret that Disney's big-screen representation has been sorely lacking. In addition to queerbaiting fans, Disney has used the promise of on-screen representation to garner buzz for their films, and, in the end, that buzz amounts to nothing much. In the live-action remake of Beauty and the Beast (2017), queerness was played for laughs. Two years later, in Avengers: Endgame (2019), an unnamed, inconsequential man mentions going on a date with another man. And, that same year, in Star Wars: Episode IX – The Rise of Skywalker, two women share a truly blink-and-you-miss-it celebratory kiss; in that same scene, even a Resistance member embracing a space slug gets more onscreen visibility.
While we wish the company was as enthusiastic about queer protagonists as Raya and the Last Dragon star Kelly Marie Tran, there's some hope in the form of Disney Channel's The Owl House. Disney's first queer animated lead appearing on TV instead of in a theatrical release isn't surprising; although the show has been banned in several countries due to its LGBTQ+ representation, its success doesn't hinge on box office draw.
Regardless of the corporation's messy track record, we love The Owl House. The show centers on Luz Noceda, a human teenager who stumbles through a portal to another (more magical) world and becomes a witch's apprentice. Since its debut, the GLAAD Media Award-nominated show has received praise for featuring several LGBTQ+ characters — and for depicting a romance between Luz, who creator Dana Terrace has confirmed is bisexual, and the prodigious young witch and lesbian Amity Blight.
She-Ra and the Princesses of Power
Created by Eisner Award-winning comic writer/artist Noelle Stevenson (Nimona, Lumberjanes), She-Ra and the Princesses of Power is a reboot of the 1985 series She-Ra: Princess of Power — a spinoff of He-Man and the Masters of the Universe. The series' protagonist is Adora, a teenager who trained alongside her then-friend Catra in the Lord Hordak's (evil) Horde army.
In the pilot, Adora gains the power to turn herself into the show's titular heroine and, together with a group of other magical princesses, vows to defeat Hordak. The show is full of queer characters, including a nonbinary, shapeshifting character named Double Trouble (Jacob Tobia) and Spinerella and Netossa, two queer women in a same-sex relationship. Additionally, the Emmy- and GLAAD Media Award-nominated show has been praised for taking on difficult topics, such as the complex best friend-turned-archenemy relationship between Adora and Catra, which — spoiler alert! — culminates in a very clear, and very queer, declaration of love in the show's recent final season. With a diverse cast and a great mix of action, humor and feels, She-Ra is an epic romp you won't want to miss.
Kipo and the Age of Wonderbeasts
Kipo and the Age of Wonderbeasts is Netflix's under-the-radar gem you should be watching — for many reasons. One of those reasons? It treats coming out like any other part of life. It isn't the source of drama or tension; instead, it's a sweet moment shared between friends. Created by Radford Sechrist, the show tells the story of Kipo Oak, who traverses a post-apocalyptic land in search of her father. On her journey, she befriends both human and mutant animal pals.
When Kipo tells Benson, one of her human friends, that she likes him, he shares that he likes her as a friend because he's gay — and he actually says the words, "I'm gay." Writing for Polygon, Petrana Radulovic notes that the scene is "a first for all-ages animation," because even on shows like She-Ra or Steven Universe, characters don't declare their queerness. "One could argue that it's a matter of showing and not telling," Radulovic points out, referring to the way queer characters on other shows just are, no declarations needed. "…but there's a different effect to a character proclaiming 'I'm gay,' let alone a lead character." The series also features Asher, a non-binary character, and Troy, a gay character who's crushing on Benson just as much as Benson's crushing on him.
Young Justice
Rounding out our picks is DC Comics' Young Justice, which features Halo. A fusion of Gabrielle Daou, a deceased Quraci girl, and the spirit of a Motherbox, or "living computer," Halo joins Nightwing's team of heroes. Halo doesn't view themself as Gabrielle anymore, instead going by the pseudonym Violet Harper, and, while they don't explicitly use the term "non-binary" at first, they do announce that they don't know if they are a boy or a girl when misgendered by a teammate.
Although shows like Young Justice and Arthur aren't as lauded for their representation as some of the other entries on our list, these storylines and characters do reflect changing norms, not just in children's programming, but in society at large — and that's incredibly meaningful.
Feature-Length Films
Adventure Time: Distant Lands — Obsidian (2020)
For years, Adventure Time's Princess Bubblegum (Hynden Walch) and Marceline the Vampire Queen (Olivia Olson) had some subtextual romance brewing. In fact, it was strongly implied both in the show and in spin-off comics that the two were exes. After countless adventures, a lot of very sweet sentiments, and 10 long seasons, the duo finally cemented their romance onscreen with a kiss in the series' finale.
More recently, the couple starred in "Obsidian," a feature that's one of HBO Max's four Adventure Time: Distant Lands specials. In addition to filling in the gaps in the couple's long history, "Obsidian" packs an emotional punch and serves up some great new tunes. Best of all, it turns all that subtext we'd poured over for years into indisputable canon. Writing for The A.V. Club, William Hughes calls it "fan service at its finest."
The Half of It (2020)
Saving Face (2004) marked Alice Wu's directorial debut and, honestly, a filmmaker couldn't ask for a better first outing. Now, over a decade later, Wu released her sophomore feature, The Half of It, on Netflix to great acclaim. Pitched as a "different kind of love story," The Half of It is a loose retelling of the Cyrano de Bergerac story — with a queer twist. Or what Rolling Stone describes as a "quietly revolutionary achievement…brimming over with pleasures of the unexpected."
Ellie Chu (Leah Lewis) lives in the small town of Squahamish, and she spends her time writing papers for her peers in exchange for money and handling her dad's station master and signalman duties at the town's train stop. When she meets Paul Munsky (Daniel Diemer), a well-meaning but inarticulate jock, Ellie writes letters on Paul's behalf to Aster Flores (Alexxis Lemire), his crush — and, as it turns out, Ellie's crush, too. While it was marketed (in part) as a YA rom-com, the film is more longing than first romances, but it still feels refreshing. After all, as Lewis points out, "[i]t's a self-love story… [the characters] end up with something… It is a love story, it's just not a 'romance' story."
The Mitchells vs. the Machines (2021)
Released in select theaters and on Netflix in April 2021, The Mitchells vs. the Machines has been warmly received by critics and audiences alike — and deservedly so. The film centers on Katie Mitchell (Broad City's Abbi Jacobson), an artsy, outsider teen with a talent for making short films. After feeling "weird" her whole life, Katie can't wait to head to college in California; even her group chat with her soon-to-be filmmaker classmates is labeled "My People."
The only problem? Katie's outdoorsy dad, Rick (Danny McBride), doesn't quite get her — nor does he understand Katie's films or the way she finds community through technology. After a father-daughter fight on Katie's last night home, Rick decides to cancel Katie's flight and take the family on one last road trip. But, as fate would have it, Mark (Eric André), the founder of the tech company PAL, a kind of Amazon/Apple combo, accidentally triggers the robot apocalypse. This leaves the dysfunctional Mitchell family — which is rounded out by Katie's mom, Linda (Maya Rudolph); Katie's dinosaur-loving brother, Aaron (Michael Rianda); and the family dog Monchi (Doug the Pug) — to save the world.
The Mitchells vs. the Machines is also visually stunning: each frame is packed with so much detail and takes inspiration from Katie's journaling and cobbled-together short film aesthetic, giving it a personal (and appropriately frenetic) feel. Best of all, the team behind the film have worked on standout animated fare, like Gravity Falls and Spider-Man: Into the Spider-Verse (2018), so you know there will be a lot of heart and some sharp humor. Plus, Katie is queer — and, by the end of the film, has a potential girlfriend — but, thankfully, none of the drama or heartache revolves around her coming out or identity.
Coming Soon to Netflix: The Witch Boy (TBA, 2021)
Based on Molly Knox Ostertag's graphic novel series of the same name, The Witch Boy is set to be a landmark animated musical. The story follows Aster, a young boy who discovers he's a witch — even though, in his world, only girls inherit witchy powers, while boys are meant to be shapeshifters. To protect his secret, magical community and learn more about himself, Aster sets off on a journey of discovery.
Directed by Minkyu Lee (Adam and Dog, Dear Basketball, Big Hero 6) and featuring original music from Grammy-nominated band HAIM (composed of sisters Este, Danielle, and Alana Haim), The Witch Boy is shaping up to be one of the most hotly anticipated (and original) animated films of the year. "My hope is that this film, by celebrating queerness and otherness,' will come to audiences around the world as something truly special," Lee said.
Books for Younger Readers
The Boy & the Bindi by Vivek Shraya with Illustrations by Rajni Perera
Canadian musician, writer, visual artist and Tegan and Sara Foundation board member Vivek Shraya's first book, God Loves Hair, was nominated for a Lambda Literary Award in the YA category. Centered around the life of a brown, genderqueer child growing up in an immigrant family in Alberta, the book is composed of illustrated, linked stories. Several years later, The Boy & the Bindi marks Shraya's first foray into writing a children's picture book.
Illustrated by Rajni Perera, the book is about a young boy's obsession with his mother's bindi — "a colored dot worn on the center of the forehead," originally by folks from India who practice Hinduism and Jainism — and his desire to wear a bindi, too. The School Library Journal praised the book, noting, "With gentle rhymes and warm whimsy, amplified by Toronto artist Perera's richly hued illustrations… [Shraya], a transgender woman, deftly explores difference and self-acceptance, the subversion of gender expectations, and the power of 'making sure I don't hide/Everything I am inside.'"
The Frog and Toad Books by Arnold Lobel
While these sweet stories about two tweed-wearing amphibians aren't explicitly queer, and while we'd normally champion works that go beyond subtext, there's something special about Arnold Lobel's Frog and Toad books. Published between 1970 and 1979, the stories were written amid Lobel's own personal revelation. "I think Frog and Toad really was the beginning of him coming out," Adrianne Lobel, the author's daughter, told The New Yorker.
If Frog and Toad had been written about in a different time, their queerness probably would've been more than subtext, but it still resonates deeply. In fact, there's really no heterosexual explanation for their dynamic. "What my partner and I have found, though, is that in the pages of Lobel's queer love story, there is a blueprint for how to live and thrive as a queer couple," S.E. Fleenor writes in an essay for Electric Literature. "The beloved characters are good role models for children in any number of ways, demonstrating positive ways of coping with anxiety, frustration, and boredom… I've also realized that they're the model of a queer relationship I always needed."
Mythology-Based Books From the "Riordanverse"
Rick Riordan is best known for his chart-topping YA novel Percy Jackson and the Olympians, which tells the story of a young boy who discovers he's a demi-god — and then finds himself caught up in modern-day Greek mythology-inspired misadventures. After writing many a novel inspired by Greek mythology, Riordan pivoted to Norse mythology, which brings us to Magnus Chase 2: The Hammer of Thor, which won a Stonewall Award for queer representation.
After receiving the Stonewall, Riordan said in his acceptance speech, "So, what is an old cis straight white male doing up here? Where did I get the nerve to write Alex Fierro, a transgender, gender fluid child of Loki in The Hammer of Thor, and why should I get cookies for that? These are all fair and valid questions, which I have been asking myself a lot." Riordan went on to say because his queer readers want to be part of the universe he's created, he felt responsible for creating some mainstream representation. "As important as it is to offer authentic voices and empower authors and role models from within LGBTQ community, it's also important that LGBTQ kids see themselves reflected and valued in the larger world of mass media. …I will not erase you."
Long story short, check out Riordan's queer-inclusive fantasy novels. And check out his Rick Riordan Presents imprint, which leverages his platform to give more visibility to #OwnVoices Percy Jackson-esque works about other cultures and mythologies — by authors with those actual, lived experiences.
Stories for Young Adult (YA) Readers
Laura Dean Keeps Breaking Up With Me by Mariko Tamaki with Illustrations by Rosemary Valero-O'Connell
After working on projects like Marvel's She-Hulk, DC Comics' Supergirl and Noelle Stevenson's queer comic Lumberjanes, writer Mariko Tamaki collaborated with artist Rosemary Valero-O'Connell for the hit graphic novel Laura Dean Keeps Breaking Up with Me. Set in Berkeley, California, the book centers on Frederica, or Freddy, a 17-year-old biracial lesbian, and, as the title of the graphic novel suggests, she struggles with her on-again/off-again relationship with "cool girl" Laura Dean.
At first, the premise might seem like quirky rom-com fodder, but it becomes a very real examination of a toxic relationship: Laura constantly gaslights Freddy, manipulates her, and fetishizes their relationship. At its core, Laura Dean is a story about finding one's own self-worth and identity — of not letting others (or others' actions) define you, which isn't something a lot of YA media tackles in such a head-on way. Additionally, Forbes writer Rob Salkowitz wrote that Laura Dean's inclusion of a "depoliticized and unfussy depiction of gender-fluid teen culture in the 2010s" makes the graphic novel "a step forward in LGBTQ graphic literature."
You Should See Me in a Crown by Leah Johnson
Author Leah Johnson has written an incredible debut novel — one that the publisher describes as "a smart, hilarious, Black girl magic, own voices rom-com by a staggeringly talented new writer." Chances are, if you haven't read You Should See Me in a Crown, you've at least seen other people reading this bonafide hit (and soon-to-be classic).
In the novel, Liz Lighty, who has "always believed she's too Black, too poor, too awkward to shine in her small, rich, prom-obsessed Midwestern town," dreams of getting away by way of an elite college with a world-famous orchestra — well, until her financial aid falls through. After realizing there's a scholarship available for prom queen and king, Liz has to endure the competition — and alluring new girl Mack — as she navigates high school, relationships and settling into her own queerness and queer joy.
Felix Ever After by Kacen Callender
In Felix Ever After, Stonewall and Lambda Award-winning author Kacen Callender crafts a landmark YA novel about Felix, a transgender teen who fears that he's "one marginalization too many — Black, queer, and transgender — to ever get his own happily ever-after." When a transphobic student publicly posts Felix's deadname and photos on campus, our protagonist plots his revenge — and, throughout the course of the novel, navigates both self-discovery and a blossoming, unexpected first love.
Intricately plotted and beautifully written, Felix Ever After is an essential read. In a starred review, Booklist notes that "[f]rom its stunning cover art to the rich, messy, nuanced narrative at its heart, this is an unforgettable story of friendship, heartbreak, forgiveness, and self-discovery, crafted by an author whose obvious respect for teen readers radiates from every page."
Cemetery Boys by Aiden Thomas
In this debut paranormal novel, Yadriel, a young trans boy, is determined to prove himself, and his gender, to his traditional Latinx family. This leads Yadriel to perform a ritual — one he hopes will help him find the ghost of his murdered cousin. But things don't always go as planned, especially when you're dealing with the supernatural. The ghost Yadriel actually summons is Julian Diaz, the resident bad boy who has some loose ends to tie up before he passes on. And the longer the two boys work together, the more Yadriel wants Julian to stay.
Early on, Entertainment Weekly dubbed Cemetery Boys "groundbreaking" — and that couldn't be more true. "It was […] really important for me to write a book where LGBTQIA and Latinx kids could see themselves being powerful heroes," author Aiden Thomas said in an interview. "Right now, these kids are living in a world where a lot of hate and suffering is zeroed in on them. I wanted them to see themselves being supported and loved for who they are. I wanted to write a fun book with good representation that they could escape into and have a happy ending."
All Boys Aren't Blue: A Memoir-Manifesto by George M. Johnson
With what School Library Journal calls "a conversational tone [that] will leave readers feeling like they are sitting with an insightful friend," All Boys Aren't Blue explores topics like gender identity, toxic masculinity, and Black joy. Penned by journalist and LGBTQIA+ activist George M. Johnson, these personal essays are, in part, so landmark — and so meaningful to queer Black readers in particular — because we don't often see memoirs written specifically for young adults.
This can't-miss memoir-manifesto is also beautifully written — full of lovely language and untold amounts of guidance and support. "This title opens new doors," Kirkus Reviews notes. "[…T]he author insists that we don't have to anchor stories… to tragic ends: 'Many of us are still here. Still living and waiting for our stories to be told―to tell them ourselves.'"
Universes That Encompass Books, TV & Film
The Legend of Korra — and Other Avatar: The Last Airbender Spin-Offs
The Legend of Korra is the sequel series to Nickelodeon's beloved Avatar: The Last Airbender series. The original show tells the story of Aang — a young boy who can bend (or control) the four elements of fire, water, air and earth, because he is the Avatar, a being that's the bridge between the human and spirit worlds and who is destined to bring about balance. Aang is tasked with mastering the elements and saving the world from a century-long war that's coming to a head. In the sequel series, Korra, who is born the Avatar after Aang passes away, is tasked with carrying on that legacy and mastering the elements.
Like Aang, Korra gets by with a little help from her friends — namely Bolin, Mako and Asami. In the show's first season, Korra crushes hard on Mako, but he and Asami end up being an item — well, until the finale, when he and Korra finally get together. While Korra and Mako don't last more than a half season, the Avatar does end up finding true love.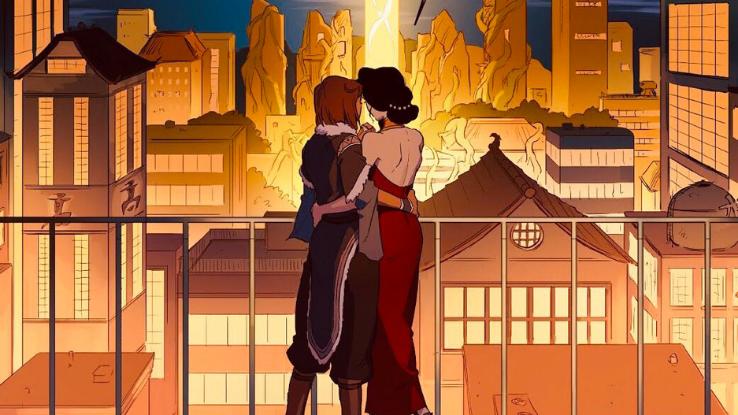 At the time, Korra's series finale was a landmark moment for children's television — and television in general. In the third and fourth seasons in particular, there seems to be a growing romantic tension between Korra and Asami — though fans, used to being let down by queer rep in cartoons in general, felt the subtext wouldn't go beyond that. But, in the last few moments of the show, the pair clasp hands and embark on a new journey together — just the two of them. They almost kiss, but don't; Nickelodeon wasn't ready for that. Luckily, subsequent comic series, Turf Wars and Ruins of the Empire, have gone on to flesh out the pair's romantic relationship.
Avatar fans should also check out the Avatar Kyoshi novels; written by F. C. Yee, The Rise of Kyoshi and The Shadow of Kyoshi trace the adventures of the Earth Kingdom-born titular Avatar — and, as we've known since the first Korra graphic novel, Kyoshi is also queer. "Folks who know what the canon is from Korra are going to be looking for [Kyoshi's queerness to be represented in the books], and other readers might be learning for the first time that a Kyoshi is bisexual in this novel," Yee told Polygon. "It felt really important for me to include that and essentially do her relationships justice."
Becky Albertalli's "Simonverse"
Becky Albertalli's 2015 young adult (YA) novel Simon vs. the Homo Sapiens Agenda skyrocketed to success, cementing the author's place as a beloved YA writer — so much so that her other books, The Upside of Unrequited, Leah on the Offbeat and the forthcoming Love, Creekwood, have added even more dimension to what's been dubbed the "Simonverse." All of Albertalli's books really capture teen voices and stories — many of them queer — but there's something so winning about Simon in particular.
In the novel, Simon's a closeted gay teen who is relieved — and anxious and excited — to discover that at least one other classmate, who posts anonymously on a message board, is queer and not yet ready to come out. Under a fake name, Simon embarks on a secret email friendship with the other teen, known only as Blue — before finding himself blackmailed by fellow high schooler Martin when he forgets to log out of his email. When Simon is eventually outed, he has to navigate both positive and negative reactions from his friends and family, and, eager to meet Blue in real life, takes a big chance on love.
In 2018, Albertalli's book was adapted into the sweet rom-com, Love, Simon, which, although a little sanitized and glossy, gives queer kids (and adults) a mainstream gay teen movie. (Hopefully, the first of many!) And, just last year, Love, Victor, a spin-off of the movie, launched as a series on Hulu. The well-received series centers on Victor Salazar (Michael Cimino), a queer teen on his own journey of self-discovery and acceptance, who, to fans' excitement, reaches out to Simon (Nick Robinson reprises his role) when things get difficult.
Marvel's Runaways
Marvel's Runaways, a Hulu series based on the superhero team of the same name, follows six teenagers (and one dinosaur) from different backgrounds as they unite against a common enemy — their criminal parents, who are collectively known as Pride. Two of these teens are Nico (Lyrica Okano) — a Wiccan who wields the arcane Staff of One — and Karolina (Virginia Gardner) — a human-alien hybrid who learns she can fly and shoot beams of light from her hands. You know, typical teen stuff.
What's unique about this story? It isn't focused on the teens' coming-out process. Almost right from the jump, the audience learns that Karolina has a crush on her friend Nico. But she's not afraid of making a move because of who she is — she's just afraid of being rejected by her crush. When Karolina does confess her feelings to Nico, the two share a kiss, which marks an onscreen first for Marvel's queer superheroes.