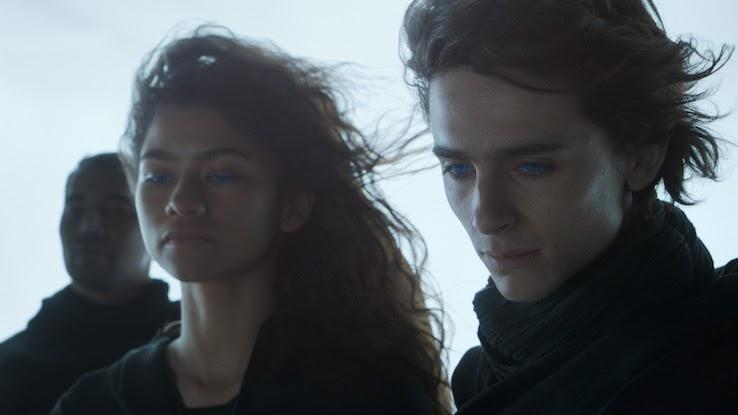 Rating: 8/10
I listened to Chloé Zhao. The Nomadland and Eternals director and Academy Award winner has been vocal about the need to watch Dune on the big screen. The film adaptation of Frank Herbert's classic sci-fi novel opens simultaneously in theaters and on HBO Max this Friday, October 22.
Dune's director, the Quebecois Denis Villeneuve (Arrival), has also strongly advocated for the cinema consumption of his film. "Dune is by far the best movie I've ever made. My team and I devoted more than three years of our lives to make it a unique big screen experience. Our movie's image and sound were meticulously designed to be seen in theaters," the filmmaker wrote in an essay published after he found out the movie would be available on streaming the same day it opened in theaters.
I experienced Dune at a Dolby Atmos press screening where all those meticulously designed images and sounds stood out — to the point where my seat literally vibrated every time a ship took flight or there was a sandstorm taking place in the movie — and I'd say this is one of those cinematic events you may want to enjoy on the biggest screen possible. But I would also understand if you decide to just stay in and watch it at home.
Let me also warn you. This is Dune: Part One. Villeneuve approached this epic endeavor as a two-movie adaptation. He co-wrote this first film with Jon Spaihts (Prometheus) and Eric Roth (A Star Is Born); all three screenwriters had read Dune as teenagers and were influenced from a young age by the coming-of-age story. Dune: Part Two hasn't been greenlit yet. Its fate depends on how well Part One performs, but Villeneuve has said he'd be ready to start filming in 2022. I'm just telling you this in case you're one of those viewers who don't like inconclusive endings and unfinished narratives. But even if it lacks closure, the movie is a possible Oscar contender.
The Hero's Journey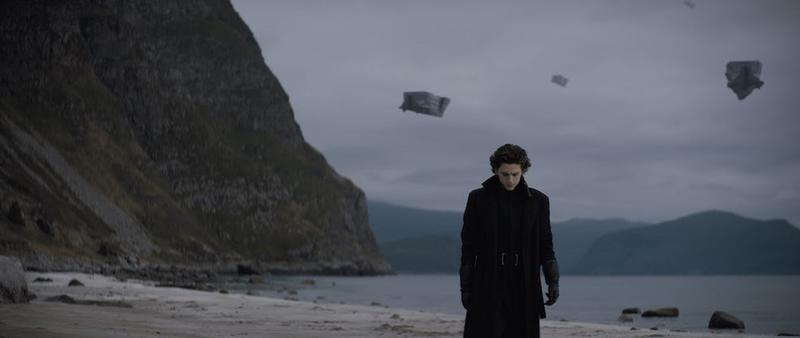 There's one story that finds closure by Dune: Part One's ending though. The one relating the coming of age and personal growth of our hero: Paul Atreides. He's played with juvenile conviction and even looks by Gen Z icon Timothée Chalamet, who looks much younger than the 23 year old he actually was during production. By the movie's closing credits, he's gone from boy to young man.
Set thousands of years into the future, Paul is the heir to the noble House Atreides on his father's side and to the power of the Bene Gesserit, women able to influence someone's actions through their Voice, on his mother's side. Dad is Duke Leto Atreides, played by Oscar Isaac. Mom is Lady Jessica Atreides, played by Rebecca Ferguson. And I'll admit to having spent at least half of the movie wondering whether Chalamet makes for a credible offspring of Isaac and Ferguson. I still haven't reached a conclusion.
The other half, I was trying to pay attention and follow all the initial exposition the movie packs to describe Dune's universe to the uninitiated. (Herbert's book has been collecting dust on my nightstand for months, and I had every intention of reading it before watching the movie. But I never did.) I don't know how many inaccuracies the fans of the original material may find in Villeneuve's adaptation, but this Dune newbie found the plot surprisingly easy to follow and the movie engaging, even if it lasts two hours and 35 minutes. The epic scale of Dune — and its character development — make allowances for the film's length.
As part of the galactic Emperor's request, the Atreides leave their home planet of Caladan and head to the desertic Arrakis. Their orders are to keep harvesting the Spice, the most valuable substance in the universe for its hallucinogenic qualities but also because it allows space travel. Arrakis is inhabited by the native Fremen, a tough civilization of blue-eyed desert dwellers who've perfected the art of moisture conservation.
Javier Bardem plays the Fremen leader, Stilgar. His digital blue eyes brought memories of Robert De Niro in The Irishman the first time I saw him on screen. I soon became accustomed to it. Even though the movie is busting with CGI, Dune boasts the most crafty and quasi-naturalistic CGI money and technology can buy right now.
Jason Momoa, Dave Bautista, Josh Brolin and Sharon Duncan-Brewster round out a luxurious cast that also includes the other Gen Z icon, Zendaya. She plays Chani, a fierce Fremen and someone Paul has been seeing in his sort-of-premonitory dreams. It doesn't get much cooler than Zendaya and Chalamet. Look at the two of them at the London premiere of Dune. They have great chemistry in the movie. Just don't expect to see much of her in Dune. Zendaya is expected to have a bigger role in Part Two, where she'd play the female protagonist.
Dune is Paul's story, his hero's journey. He's a boy conflicted about his destiny. He even asks his father if he'll be the right heir for House Atreides. Leto shares some of the wise lessons his own father imparted to him: "A great man doesn't seek to lead. He's asked to and he answers," he tells Paul. I would have preferred to hear something like "A great person doesn't seek to lead. They're asked to and they answer." But then I remembered this is based on a 1965 novel. I wouldn't have minded more of a 21st-century touch.
Jessica is teaching Paul the ways of the warrior priestesses Bene Gesserit. Their Reverend Mother, played by Charlotte Rampling, feels it's a waste Paul was graced with the Voice. He's a male after all. Paul also spends a good deal of time training, fighting, learning. He'd rather be brooding. The movie takes its time to establish Paul as a regular boy. There's a sequence of him in Caladan where he's watching the sunset among the mist, the planet sketched in muted blues, greens and greys. He's on a rocky beach, the water is choppy and he wears a long black coat. The image reminded me of the 19th-century painting The Wanderer Above the Sea of Fog, the quintessential representation of Romanticism. Paul is the ultimate Romantic, hence the ultimate teenager.
Beyond the Human Story
That very human tale is enhanced by beautiful imagery throughout. The coldness of Caladan contrasts with the heat of Arrakis; the film shot on location in Jordan and Abu Dhabi. The desert planet is painted in warm colors and heightened by the cinematography of Greig Fraser. He's directed episodes of The Mandalorian and you'll recognize his taste for the beauty of sand.
Production designer Patrice Vermette and costume designer Jacqueline Quest dress these very distinct worlds and their people with artistry and care. Some buildings and the home of the Atreides in Caladan reminded me of Blade Runner's Frank Lloyd Wright influence. Then again, Villeneuve also directed Blade Runner 2049 and is familiar with that universe. Every costume seemed to intensify how a character was feeling but also the task they had at hand. I found particularly comfortable-looking and chic the suits Fremen wear when on the surface of their planet. They're meant to conserve all the body's hydration.
"Do not run. You will only waste your body's water," Bardem's character warns about how to proceed on his native planet. And the line reminded me of the ecological message that's at the core of the novel. I felt the movie didn't have time to properly make the argument for conservation. I hope Dune: Part Two does.