When Quibi collects more Emmy nominations than legendary EGOT Rita Moreno (One Day at a Time), it definitely feels like the end is nigh. (Like under-10-minutes-away nigh.) Yet again, Pose, which centers trans women, was shut out of most of the major categories, including the Best Actress categories. (Much, much more on that later.) And, to top it all off, the entertainment world proved that it loves nothing more than itself, awarding Ryan Murphy's dud Hollywood a total of 12 nominations. (Congrats to Jeremy Pope, Holland Taylor and the costume department, but, otherwise, Hollywood coming on so strong is, to quote another Murphyverse show, "My Roanoke Nightmare.")
On the other hand, the Emmys' big announcements weren't all terrible: HBO's Watchmen, which was adapted by The Leftovers' Damon Lindelof and anchored by an incredible, Emmy-nominated performance from Regina King, made history with a staggering 26 nominations. Fan-favorite shows, like the little Canadian comedy that could, Schitt's Creek, scored a surprising (but much-deserved) number of noms. And when announcing that Zendaya was, in fact, nominated for her landmark performance in HBO's Euphoria, Leslie Jones truly captured everyone's shared excitement.
In our first installment of Emmys Watch, we're taking a look at the biggest snubs, surprises and burdens this awards show has to offer. Be sure to stay tuned for more hot takes, including our list of the most unforgettable moments in Emmys' history, as the largest Zoom party of the year nears!
Ask Approved: Our Outstanding Drama Series Shortlist
The Outstanding Drama Series category is truly all over the place this year. While it's great to see more love for genre-heavy shows like sci-fi Western The Mandalorian, the inclusion of Stranger Things' rocky third season is baffling. And, while we're on the subject of baffling choices, we can't help but feel that the expanded, eight-nominee list feels not only blah, but also overstuffed.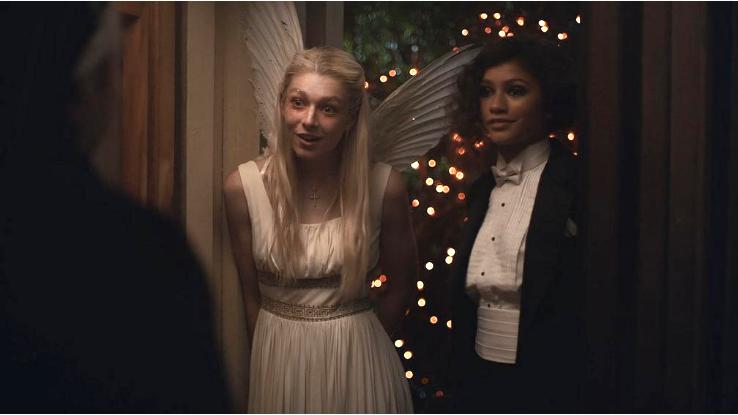 In addition to The Mandalorian and Stranger Things, the official nominees include Better Call Saul, The Crown, The Handmaid's Tale, Killing Eve, Ozark and Succession — but here's what we would've nominated.
SNUBBED: Vida is Starz's oft-overlooked gem. This year marked its third and final season — and another round of snubbing Latinx artists. Without a doubt, Vida's writing, direction and strong central performances from onscreen sisters Mishel Prada and Melissa Barrera deserve all the awards.
SNUBBED: Euphoria made waves when it debuted on HBO, taking the sort of YA stories we're used to and turning up the gritty, dark and surreal dials. Wrenching, raw and unflinching, Euphoria has truly changed the game — there's a before and after in TV.
SNUBBED: Pose is a universally beloved show — and its importance cannot be understated. Never before has a show centered trans stories so beautifully, nor has a show employed both onscreen and behind-the-camera talent from trans creatives. Frustratingly, Pose hasn't been recognized in earnest by mainstream awards shows.
DESERVED: Killing Eve marks the cat-and-mouse thriller to end all cat-and-mouse thrillers. Sandra Oh, Jodie Comer and Fiona Shaw continue to captivate.
DESERVED: The Crown is, perhaps, Netflix's most lauded still-airing show. Anchored by Olivia Colman this season, the show continues to excel, giving us drama at its finest.
DESERVED: Succession proves that we really love to watch rich white people implode. Strong — and Emmy-nominated — performances abound in this HBO hit.
DESERVED: Ozark is kind of like the new Breaking Bad, and, as such, it scores points for not just being well made, but also for being so in the cultural consciousness.
DESERVED: The Mandalorian gave us "Baby Yoda" (a.k.a. The Child) — all while serving spaghetti-Western-in-space vibes. We couldn't ask for a better genre hit.
Honorable Mentions: Better Call Saul, The Good Fight, Hunters, The Handmaid's Tale — purely for reviving Kate Bush's "Cloudbursting."
Ask Approved: Our Outstanding Comedy Series Shortlist
Unlike the drama category, this one doesn't feel as off the mark, but there are still a few completely bizarre choices — namely, The Kominsky Method. We're not sure who's watching it, or why. To be frank, Tootsie already tackled the show's main thesis, not that we're advocating for that film either, but The Kominsky Method doesn't even have Jessica Lange.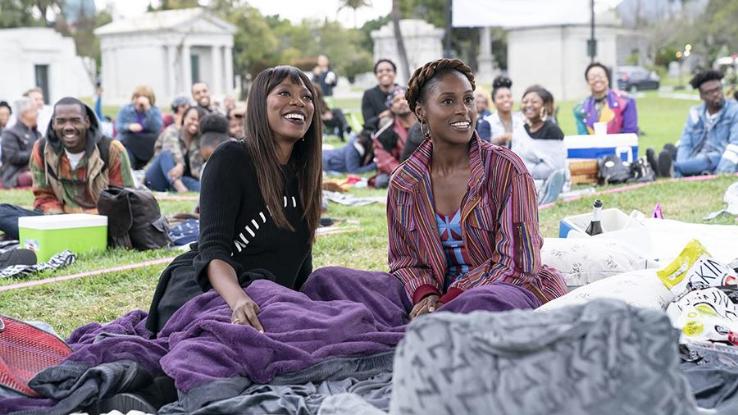 Apart from Netflix's aforementioned geriatric comedy, the official nominees include Curb Your Enthusiasm, Dead to Me, The Good Place, Insecure, The Marvelous Mrs. Maisel, Schitt's Creek and What We Do in the Shadows — but here's what we would've nominated.
DESERVED: Dead to Me: Liz Feldman's dark comedy is full of twists and turns, making it perfect for an all-consuming weekend marathon.
DESERVED: The Good Place: Anchored by its beloved ensemble cast, this Michael Schur comedy about ethics, life and the afterlife went out on a high note.
DESERVED: Insecure: The most recent season of this acclaimed comedy saw best friends Molly (Yvonne Orji) and Issa (creator Issa Rae) weather a falling-out that really resonated with audiences.
DESERVED: Schitt's Creek: Dan and Eugene Levy's hit sitcom about the ridiculous-yet-lovable Rose family wrapped things up to much acclaim.
DESERVED: What We Do in the Shadows: Set on Staten Island, this absurd, dark comedy about vampires is a spinoff of the acclaimed mockumentary-style film of the same name.
SNUBBED: Grace and Frankie: It's rare that more mature women in Hollywood are given good roles — let alone iconic ones, as is the case with this Jane Fonda- and Lily Tomlin-helmed comedy.
SNUBBED: One Day at a Time: This reboot of the Norman Lear classic centers a Cuban-American family and allows its Latinx writers and performers to shine — particularly leads Justina Machado and Rita Moreno.
SNUBBED: Ramy: Although the show's star received an acting nomination, this comedy about "a guy who is torn between praying on Fridays and going to parties on Friday nights" deserved some recognition.
Honorable Mentions: Better Things (FX), Los Espookys (HBO), Curb Your Enthusiasm (HBO), Dickinson (Apple TV+) and The Great (Hulu).
Women Who Deserved Recognition in the Drama and Limited Series Categories
As far as solid categories are concerned, Lead Actress in a Drama is pretty spot on. We were particularly thrilled to see Zendaya's name on the list: Her performance in Euphoria is a career highlight, but, often, young adult performances are overlooked. We were also excited to see Olivia Colman, who won an Oscar for her portrayal of a different royal in The Favourite, clinch a nom for her depiction of Queen Elizabeth II in Netflix's perennial hit The Crown.
Once again, Killing Eve's beloved cat-and-mouse duo, Sandra Oh and Jodie Comer, help round out the category. Now, no offense to Jennifer Aniston, but although she was probably the best part of The Morning Show, the program Apple TV+ sank so much money into just…wasn't that great. And while we love a good Laura Linney performance, we're just not sure her role in Ozark was heads above other deserving performances that went unrecognized. So, with heavy hearts, we'd cut Aniston and Linney to make room for Pose's breakout actress Mj Rodriguez and Better Call Saul's vastly underrated Rhea Seehorn. Other egregious snubs that have not been rectified after several seasons? Mishel Prada for Vida and Dominique Jackson and Indya Moore for Pose — although we love queer Pose actor Billy Porter, it's frustrating to see the Emmys and similar awards shows consistently recognizing a cis actor in a show about trans folks. (And Porter agrees.)
As far as Best Actress in a Limited Series goes, although Oscar winner Octavia Spencer certainly elevates Self Made, we were surprised to see her nomination in this category and equally shocked that the Emmys snubbed the star of Unbelievable, Kaitlyn Dever. Speaking of snubs, there's a lot of talk about how Reese Witherspoon, who was Emmy-eligible for Big Little Lies, The Morning Show and Little Fires Everywhere, went 0 for 3. While Witherspoon's Little Fires performance is deserving, we're more surprised that Nicole Kidman, the reigning champ of this category, was left off the list. Sure, Big Little Lies' season two certainly left something to be desired, but the climactic courtroom showdown between Kidman and Meryl Streep certainly felt like awards bait.
Women Who Are Defining TV Comedies
As for comedy performances, the Emmys have spotlighted some real gems: From both of Dead to Me's stars, Christina Applegate and Linda Cardellini, to Insecure creator and star Issa Rae to Schitt's Creek favorite Catherine O'Hara, this category is loaded with talent.
On the other hand, we're not sure Rachel Brosnahan's third outing as Midge in The Marvelous Mrs. Maisel is really all that exciting — maybe that's because season three didn't seem to shine as brightly as previous installments? Hard to say. Or maybe we're just disappointed because it would've been great to see some fresh faces in the category, like One Day at a Time vet Justina Machado or Poorna Jagannathan for her role in Mindy Kaling's Never Have I Ever.
One also can't help but notice that, at a time when more mature comedians are flourishing and being written roles that really give them something to work with, they're not being recognized for their iconic performances. All we're saying is, it would have been wonderful to finally see the Emmys present an award to One Day at a Time's Rita Moreno, or to the women behind the titular duo of Netflix's Grace and Frankie, Jane Fonda and Lily Tomlin.
Men in Comedies, Dramas and Limited Series Who Deserved a Nom
When it comes to compelling performances by actors, the Emmys got some nominations right, but others really missed the mark. Let's start with who we are most excited for — some good news, bad news, if you will. First, despite his conflicting feelings and the fact that the trans performers on Pose were snubbed again, it is great to see queer actor Billy Porter rack up his second Emmy nomination (and potentially second win) in a row.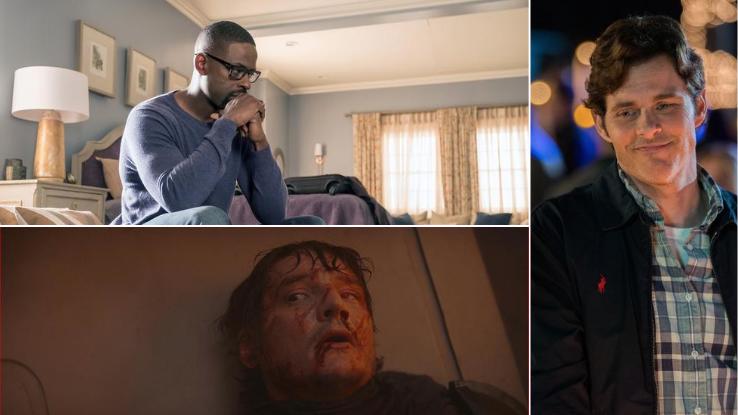 We're equally excited for Eugene and Dan Levy's Schitt's Creek nominations, star and creator Ramy Youssef's acting nomination for his hit comedy Ramy, and Tony- and Grammy-nominated actor Jeremy Pope — far and away Hollywood's best performer. It feels expected, though not wrong, that several cast members from Succession and Ozark's Jason Bateman received nominations, and, as always, that familiar nominees like Sterling K. Brown (This Is Us), Giancarlo Esposito (Better Call Saul, The Mandalorian), Ted Danson (The Good Place) and Don Cheadle (Black Monday) round off their respective categories with strong, memorable performances.
On the other hand, Bob Odenkirk was overlooked for his work in Better Call Saul, as was fellow Breaking Bad alum Aaron Paul for his work on the spinoff movie El Camino. We also have hard feelings over Pedro Pascal's snub — sure, he was in his Mandalorian helmet for most of the show and there were definitely some body doubles involved, but, still, we grew to love his character immediately and that's something. Speaking of something, James Marsden plays two characters in Dead to Me and is beyond convincing, which makes the X-Men fans here proud.
What doesn't make us proud? We love Hugh Jackman, but we wouldn't consider his performance in Bad Education the year's best of the best. However, we'd take a "meh" Jackman performance over anything The Kominsky Method has to offer — truly, who is watching this show, and why is Michael Douglas consistently nominated in such a competitive field? Even more baffling still, though, is Steve Carell's nomination for The Morning Show. Look, Carell certainly has the drama chops, but on the Apple TV+ original he goes straight for an 11 when a 6 would've been just fine. It's cringe-content, slipping into melodrama, and he also just isn't given enough to do to warrant a lead actor nom.