On Sunday, March 27, 2022, Chris Rock co-hosted the 94th Academy Awards ceremony with Wanda Sykes, Amy Schumer, and Regina Hall. You'd be forgiven for not knowing that last part because one particularly shocking moment overshadowed the entire event — the "Oscar Slap of 2022", aka the "slap heard around the world". To recap: Rock makes a joke about Jada Pinkett Smith's shaved head. Said joke doesn't really land well with anyone. Will Smith rises from his seat, crosses the stage, and strikes Rock across the face before sitting back down and shouting "keep my wife's name out your f***ing mouth!"
The joke in question made light of alopecia areata — an autoimmune disorder that affects over 147 million people across the globe, and approximately 47.6% of Black women in America. According to Rock, he "had no idea" that Pinkett Smith had alopecia before the ceremony. Nevertheless, that didn't stop countless people from cheering Will Smith on for "protecting his wife" through physical force.
Personally, I'm shocked — not just by the slap, but by the public's initial reactions to that moment. At least two Congressmen commended the Former Fresh Prince, with New York representative Jamaal Bowman Tweeting (then later deleting) "Teachable moment: Don't joke about a Black woman's hair." A poll conducted by Blue Rose Research on March 29 indicated that 52.3% of Americans approved of Will Smith's assault on Chris Rock.
But wait, don't Americans spend millions of dollars each year on anti-bullying programs? When Ahmaud Arbery, Breonna Taylor, and George Floyd were butchered in 2020, how many Americans claimed to stand in solidarity with the Black Lives Matter movement? You see, I also think March 27 was a teachable moment; I think the "Oscar Slap" called our bluff as a society.
We claim to detest violence — be it police brutality, abusive relationships, or the war in Ukraine — yet we praise Will for getting violent with Chris. We claim that Black Lives Matter, yet we support one of the most televised instances of Black-on-Black violence in recent history. Our society sets precedents by the actions we collectively condone and condemn. Do we really want a world where people are encouraged to get physical over words they don't like? And if so, was our previous support of non-violence (a la the 1960s Civil Rights movement) all for show?
For Ineye Komonibo of Refinery29, the slap had much more nuance behind it. She posits that Smith took a stance against misogynoir (a form of misogyny specifically directed at Black women) by assaulting Rock. Komonibo also highlighted the fact that Smith has been "the butt" of countless jokes since news spread that his wife had an affair with musician August Alsina in July 2020. For many who support Smith, they view the slap as a form of protest against an ongoing and insidious trend in America — one that extends far beyond the reach of a lukewarm joke.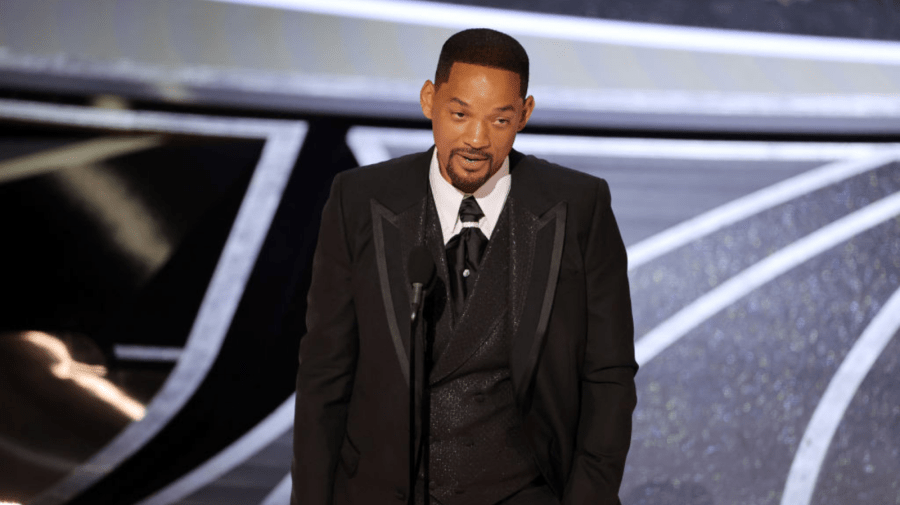 Misogynoir is detestable. It was also probably the last thing on Will's mind when he slapped Chris. In Komonibo's own words, "Smith lost his cool on one of the most important nights of his career." Later, during his tearful Oscar acceptance speech, Smith cited "people talking crazy about [him]" and "disrespecting [him]" as some of his greatest stressors in recent years. Will thanked Pinkett Smith near the end of his speech, but he made no mentions of alopecia, misogynoir, or violence against Black women.
Will Smith likened himself to Richard Williams as a "fierce protector of his family", but that justification rings hollow. Slapping Chris Rock didn't take the spotlight off of Pinkett Smith or the Smith family or individuals with alopecia — it intensified it. Moreover, if Rock pressed charges and had him arrested for assault, how would Smith protect anyone from inside a 6 by 8 jail cell?
Let's say that Will genuinely attacked Chris to "protect Jada's honor." According to culture critic Soraya Nadia McDonald of Andscape, that mindset is not only dangerous, but it's also sexist; "it's ugly. It's coarse, and it does nothing to serve the people in whose name it is committed." Was the slap a well thought out form of protest to defend a woman, or was it a public outburst that used a woman's plight as a prop? ​​Ask yourself this question as more information comes to light about Smith and Rock — because it couldn't be both. You can't be "a river to [our] people" while beating one of us on one of the world's largest stages.
The "optics" of the slap — the symbolism and imagery associated with a Black man assaulting another Black man at the Oscars — is a personal point of pain for me. The Academy has a long history of racial inequality on and off the stage, to the point where #OscarsSoWhite took the internet by storm in 2020. Hattie McDaniel, the first Black woman to win an Oscar, had to sit at a segregated table on one of the biggest nights of her career in 1940. Yet, here we are — decades later, talking about the first on-stage fistfight in Oscars history.
As a Black man, I can't condone Will Smith's slap no matter how much I dislike Chris Rock's joke. I don't see that moment as some sort of triumph or protest, and certainly not as an act of love. A 2017 study by the American Psychology Association found that Black men are viewed as "larger and more threatening than similarly sized white men". Moments like the Oscar slap add more fuel to the very same fire that has engulfed so many unarmed Black men over the years.
Public opinion can change quickly and frequently. While the Blue Rose Research poll published on March 29 indicated that more Americans supported Will Smith, Twitter data compiled on March 30 suggests that 41 out of 50 states stand in support of Chris Rock. Moreover, Rock has also gained increased support as people have learned of the comedian's mental health struggles via a 2020 interview with Howard Stern. You might think I'm #TeamChris based on this article, but I'm not.
I'm disappointed that two pivotal figures of the Black community were involved in something like this. I'm disappointed that so many people cheered and saluted an act of Black-on-Black violence. And I'm more skeptical than ever about any claims that we live in a "post-racist"or "bully-free" society. Maybe we should start saying "violence is never acceptable… unless someone says something I don't like. Then it's fair game." It'd be a lot more honest.