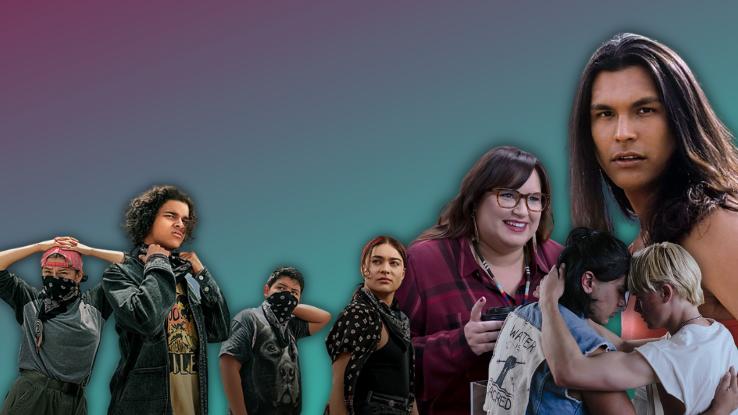 "For over a century, Native Americans have been the objects of film, their likeness projected onto screens, capturing the world's attention with their buckskinned form, and giving John Wayne something to do with his career," Kerry Potts (Ojibway of mixed heritage), a professor who teaches Indigenous film and media at Humber College, writes for Rotten Tomatoes. "But it wasn't until they moved behind the camera, becoming producers, writers, and directors, that they truly became subjects of great works of cinema."
In 1998, Miramax promoted the now-classic Smoke Signals as "the first feature film written, directed, and produced by Native Americans." Now, over 20 years after the film won over both critics and audiences at the Sundance Film Festival, Indigenous creators, actors and filmmakers are bringing their lived experiences to the small screen, too. "I could feel a visceral sense of Native Joy when Native audiences finally got to see themselves as we actually are on our show," Sierra Teller Ornelas (Navajo), the co-creator, writer, executive producer and showrunner of hit sitcom Rutherford Falls, writes for Variety. "And I felt it too as a viewer, months later, when I got to watch Sterlin Harjo's insanely stylish Reservation Dogs."
To reiterate that "representation matters" feels like an understatement. It more than matters; it can be life saving. That is, when creators and artists are able to tell their own stories, about their nuanced and specific lived experiences, they are the ones shaping the cultural perception of themselves and their larger communities. For many underrepresented communities, this means being saddled with undoing harmful stereotypes unjustly imposed upon them and their communities by white cisgender male-dominated Hollywood.
As a viewer, lending your support for stories told by Indigenous filmmakers and artists is crucial. Not only do these Indigenous-made movies, documentaries and TV shows help rewrite the lexicon of film history, but they center Indigenous joy and humor — things white filmmakers writing about Indigenous characters simply can't express.
This Native American Heritage Month, educate yourself about the varied experiences of native peoples living in present-day North America, and push yourself to fight against the harmful stereotypes and biases you hold. While your efforts shouldn't end with education, it's an important first step. Here, we've compiled some of our favorite must-watch films, docs and TV shows that center and celebrate — and were created by — Indigenous people.
Editor's Note: We've chosen to center our discussion on films that were made by and/or star Indigenous and First Nations people living and working in North America.
Must-Watch Feature-Length Movies
Smoke Signals (1998)
Smoke Signals is largely recognized as one of the first films directed, written, and acted by Indigenous people to receive widespread acclaim in the United States. Directed by Chris Eyre, this road movie centers on Victor (Adam Beach) and Thomas (Evan Adams), two uneasy friends who live on the Coeur D'Alene Indian Reservation. The tension between them? Victor is grappling with the trauma of his father's substance abuse disorder, violence and abandonment; meanwhile, Thomas views Victor's dad as a hero, namely because he saved Thomas from a fire years earlier.
Filled with heart, humor, and moments of magical realism, it's a must-watch film. "Smoke Signals is an important movie for Indian Country, and to see these beautifully nuanced Native American characters on the big screen was a revelation for us," Victor Rocha, conference chair of the National Indian Gaming Association, told Variety ahead of an anniversary screening. "Not only could we be the stewards of our own stories, but it proved we could make great movies."
Wildhood (2021)
Wildhood tells the story of Link (Phillip Lewitski), a Two-Spirit teen — "
an [Indigenous] person who identifies as having both a masculine and a feminine spirit
," which can relate to sexual, gender, and/or spiritual identity. When Link flees his abusive father's home with his younger brother, both youth hope to find their mother, who they'd been led to believe was dead.
For Link, the journey is also about reclaiming his Mi'kmaw heritage. Director Bretten Hannam's tender and evocative film showcases the fundamental need for coming-of-age stories, which are not often told from an Indigenous person's point of view.
Four Sheets to the Wind (2007)
In Four Sheets to the Wind, Cufe Smallhill (Cody Lightning) finds that his father has died by suicide on a reservation in what's present-day Oklahoma. Cufe decides to leave the reservation and stay with his sister, Miri (Tamara Podemski), in Tulsa, where she fled for a more promising future years before.
Cufe grapples with grief; Miri contends with substance abuse disorder. Though different, both Cufa and Miri's struggles in this drama directed by Sterlin Harjo demonstrate the ways that generational trauma has rippled through Indigenous communities for centuries.
Mosquita y Mari (2011)
Mosquita y Mari is a compelling coming-of-age film that centers on two Chicano teens as they navigate life in Los Angeles. Yolanda (Fenessa Pineda) is an only child with exceptional grades and a budding future, while Mari (Venecia Troncoso) must help support her family, members of which are undocumented citizens, and raise her younger siblings.
Although they walk two different paths, Yolanda and Mari's friendship sustains them. "First-time writer-director Aurora Guerrero beautifully captures the fluctuating dynamics of friendship between 15-year-old girls," Variety's Rob Nelson writes of this must-watch indie flick.
The Northlander (2016)
This sci-fi film transports viewers to a version of 2961 where a society-ending apocalypse has returned the land to its natural state. Cygnus (Corey Sevier), a hunter within a nomadic tribe, is called upon to search for food and water — though, later, he's tasked with protecting his people from a group known as the Heretics.
While the audience reviews might be split, this small-budget film, which boasts an entirely Indigenous cast, brings a perspective to the genre that most mainstream sci-fi (and white-washed) flicks fail to show, all while contributing to the budding Indigenous Futurism movement.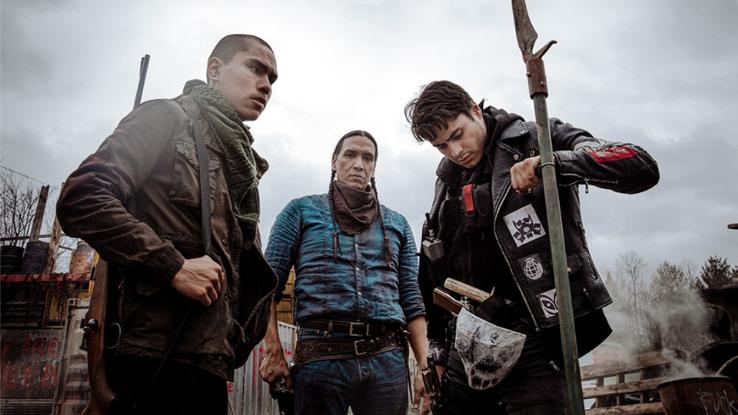 Blood Quantum (2020)
Directed by Jeff Barnaby (Rhymes for Young Ghouls), Blood Quantum stars Michael Greyeyes, Elle-Máijá Tailfeathers, Forrest Goodluck, Kiowa Gordon, Brandon Oakes, and Kawennáhere Devery Jacobs, and depicts the effects of a zombie apocalypse on a First Nations community.
Sheriff Traylor (Greyeyes) and local fisherman Gisigu (Stonehorse Lone Goeman) discover signs of the soon-to-be outbreak: a gutted salmon still moves and a dead dog reanimates. Immune to contracting the plague due to their Indigenous heritage, the film's group of survivors still faces numerous threats, including the flesh-eating "zeds." The mix of bloody, action-packed horror and keen socio-political subtext and commentary on Canada's history make this zombie thriller feel fresh, even if you've otherwise exhausted the genre.
The Body Remembers When the World Broke Open (2019)
This lauded Canadian film follows the story of Rosie (Violet Nelson), a young First Nations woman who doesn't have many resources or much support. We soon learn that Rosie is pregnant and a survivor of domestic abuse; Áila (director Elle-Máijá Tailfeathers), a kind-hearted Indigenous woman who is a stranger to Roise, wants to help the young woman escape her current environment.
The film is impressive on a technical level as well; the majority of it is one long, unbroken shot. The continuous shot was something Tailfeathers felt would add a sense of urgency to the story. Moreover, the crew paired young First Nations filmmakers with department mentors during the production in an effort to inspire more Indigenous folks to work in the industry — and have an opportunity to do so.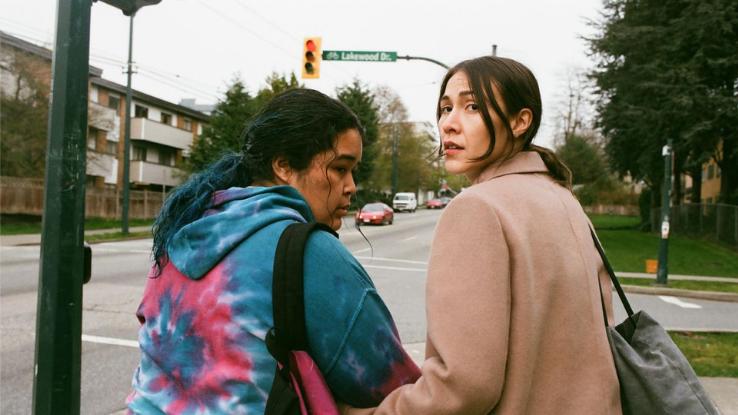 Rhymes for Young Ghouls (2013)
Set in 1976, Jeff Barnaby's Rhymes for Young Ghouls highlights the incredibly harmful government mandate that ordered children under 16 who were living on the Red Crow Mi'kmaq reservation to attend St. Dymphna's, a residential school. Having lost her mother to death by suicide and her father to incarceration, 15-year-old Aila (Devery Jacobs) pays off an agent, "Popper" (Mark Antony Krupa), to avoid being sent to the residential school.
At one time, residential schools covered North America, inflicting untold amounts of violence against Indigenous children and their communities. Until recently, much of this horrifying reality has been covered up in mainstream media coverage and history books; Rhymes for Young Ghouls aims, in part, to make sure we don't forget the white supremacist and colonialist violence the U.S. and Canada perpetuated — and continue to perpetuate.
Mekko (2015)
The second Sterlin Harjo-helmed project on our list is Mekko. After 19 years of incarceration, the titular character (Rod Rondeaux) attempts to reconnect with family while searching for a place to stay. However, when he's rejected by what he thought was his support system, Mekko finds himself on the streets, rather directionless, until a Muscogee community takes him in.
As a child, Mekko was considered a seer by his elders, but now he's haunted by visions, and this evil takes physical form in the shape of a man, Bill (Zahn McClarnon), who claims to be a warrior — though Mekko suspects him of housing the spirit of a witch.
Atanarjuat: The Fast Runner (2001)
Atanarjuat: The Fast Runner brings an Inuit legend to the big screen by retelling a legend that revolves around an evil spirit, which was summoned by a shaman to wreak havoc on part of the Inuit nation. Completely written, performed, and directed in Inuktitut, this is the first feature-length film of its kind.
The Cherokee Word for Water (2013)
The Cherokee Word for Water is a fictional account of the true story of the Bell Waterline Project, an effort by a rural Oklahoma-based community of Cherokee people to bring running water to Indigenous communities in the area. Starring Kimberly Guerrero as Wilma Mankiller and Mo Brings Plenty as Charlie Soap the film portrays just how crucial community is — and the kind of change it can bring about.
Must-Stream TV Shows and Documentaries
Sweetheart Dancers (2019)
With a 13-minute runtime, Sweetheart Dancers is still a stunning documentary. The film follows Sean Snyder and Adrian Stevens, a Two-Spirit couple, as they attempt to dance together for San Manuel's Native American Sweetheart Special. The rules call for "one man, one woman," leading to their initial disqualification, but this doesn't deter them.
We Still Live Here: Âs Nutayuneân (2010)
One of the most remarkable documentaries of the last decade, We Still Live Here: Âs Nutayuneân centers on the Wampanoag people, whose ancestors helped early colonists endure the unfamiliar climate of New England. Although the Wampanoag people tried to keep their culture and identity alive while remaining on their ancestral land, they lost so much — including their language.
Until recently, that is. "Jessie Little Doe, an intrepid, 30-something Wampanoag social worker, began having recurring dreams: familiar-looking people from another time addressing her in an incomprehensible language," filmmaker Anne Makepeace writes. "Later, she realized they were speaking Wampanoag, a language no one had used for more than a century." As a result, members of the Aquinnah and Mashpee Wampanoag join Jessie in her efforts to bring the once-lost language back to life.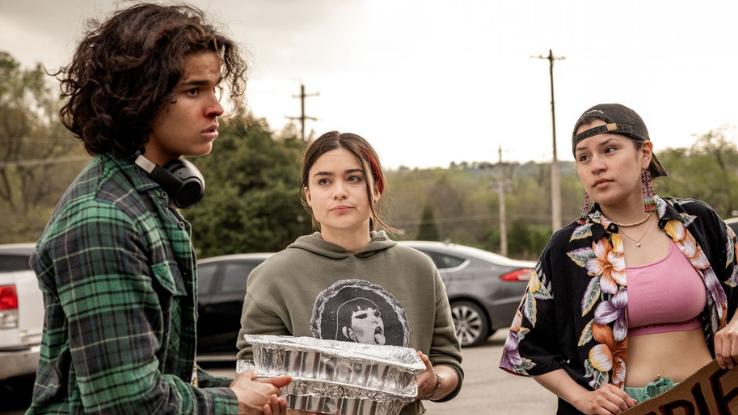 Reservation Dogs (2021–)
This brilliant FX series comes from the minds of Sterlin Harjo (Mekko), a Seminole and Muscogee filmmaker, and Taika Waititi (Jojo Rabbit), a Te Whānau-ā-Apanui writer/director, so you know it's going to be stellar. Reservation Dogs follows four Indigenous teens living on a reservation in Oklahoma and traces their misadventures as they try to save enough money to make it to California.
The humor here not only challenges the harmful, stereotypical representations of Indigenous peoples and cultures, but, as
puts it, "bring[s] non-Natives into the joke and saying, 'Hey, this is what you think we look like, and we're gonna let you laugh at it with us.'" With an impressive young cast and an all-Indigenous writers room,
is one of the best shows of 2021.
Rutherford Falls (2021–)
"Don't judge this comedy by its Ed Helms cover — it's much more than just that," Ask's Patricia Puentes writes of Rutherford Falls, Peacock's latest sitcom. Although it has the support of Michael Schur (Parks and Recreation) behind it, this witty series centers on Reagan Wells (comedian, writer and podcast host Jana Schmieding), a member of the Minishonka Nation.
Reagan's white friend, Nathan Rutherford (Helms), can trace his roots back to the area's earliest colonizers, and, after folks in the town request that a statue of Nathan's ancestor is taken down, tension (and hilarity) ensues. This landmark sitcom boasts a majority Indigenous writers' room and, as Jen Chaney of Vulture puts it, "skillfully braids discussions of serious sociocultural issues with character-based comedy in ways that seem neither forced nor overly didactic."
Rumble: The Indians Who Rocked the World (2017)
Directed by Catherine Bainbridge, this award-winning documentary was inspired by Stevie Salas (Apache) and Tim Johnson (Mohawk), who created an exhibition for the Smithsonian focused on Indigenous contributions to American music. Featuring commentary from acclaimed musicians like Quincy Jones, Steven Tyler, Slash and Iggy Pop, the doc reveals a previously erased chapter in music history and has been touted as "A must-see for any grownup who calls [themself] a rock fan."