Before HBO's Gentleman Jack power walked onto our screens in 2019, I'd never heard of Anne Lister, the show's subject. And that's a real shame; Lister has been dubbed "the first modern lesbian," namely because she was a prolific diarist. Set in Yorkshire in 1832, the BBC historical drama restores a small fragment of history that's generally overlooked.
At large, queer history is often erased, severing our connections with those who came before us. But, thanks to Lister's collected diaries — which contain roughly 5 million (often coded) words and were excavated from the walls of Lister's home after a descendent of hers hid them there — viewers can delight in the fact that queer folks have always existed, even if they were pushed to the margin's of history. (Or cut, purposefully, from the final draft.)
To coincide with Gentleman Jack's second season, which airs weekly on HBO starting April 25, we're taking a look at what creator Sally Wainwright's series gets right — and wrong — about Anne Lister's life in our latest Fact Check. 
Was Anne Lister Actually Known as "Gentleman Jack"?
Dubbed the "first modern lesbian," Anne Lister (1791–1840) was from a well-off land-owning family that lived in Yorkshire, England. Unlike other queer historical figures from the 1800s (and before), Lister managed to preserve the ongoings of her life — in a surprising amount of detail, given how often queer history is erased (or, for fear of safety, simply not recorded).
Lister was not only a truly prolific diarist, but a clever one; many of her entries were written in a code composed of Greek and algebra. Given its complexity, said code wasn't decrypted until decades after she passed away. When Helena Whitbread, a writer and historian from Halifax, published Lister's writings in 1988 and 1992, it was a shock — so much so that some accused the decoded contents of being part of a hoax.
Of course, that wasn't the case at all; Lister was just surprisingly frank when it came to writing about her queerness. "I love and only love the fairer sex and thus beloved by them in turn," she wrote. "My heart revolts from any love but theirs." That's about the clearest (and still-preserved) declaration of queer love from a historic figure since Sappho wrote, "Aphrodite has overcome me with longing for a girl."
So, getting back to the question at hand, was Anne Lister also dubbed "Gentleman Jack" in her own time? Yes, she was referred to by the moniker by others. While the show has reclaimed the nickname as a sort of empowering title, it was believed to be used unkindly during Lister's life.
As depicted in the series, Lister (Suranne Jones) has a more masculine-of-center appearance, dresses in black from head to toe (at 26, Lister declared, "I have entered upon my plan of always wearing black", considered a "masculine" color at the time), and takes part in activities that other women at the time were banned, or discouraged, from.
According to Elizabeth Mavor of the London Review of Books, "[Anne's] diary reveals that people tended to stare at her, that quite often she was the butt of ribald jokes." But Mavor also points out that Lister kept her head held high, crafting a sort of "Olympian" stoicism, which Jones' performance in Gentleman Jack certainly captures.
Was Anne Lister Really a Business Owner?
Yes, Lister, a businesswoman, was a rarity for her time, but left a real mark. Gentleman Jack is set in 1832 — a time period that doesn't often see women in positions of power in Eurocentric societies. When the show opens, Lister heads to Halifax, West Yorkshire, England, eager to restore her aunt and uncle's estate, Shibden Hall. Having spent time at Shibden in her youth, Lister was close to her family, hence the significant inheritance.
In addition to detailing her many affairs and travels, Lister's diaries serve as a window into the refurbishment of Shibden Hall and her other business interests. "She made a huge number of changes just in terms of the business of the estate," Claire Selby, who is curator of Social History for Calderdale Museums and is based at Shibden Hall, told the press. "She started coal mining on the land and things like that. She also did a lot of renovation work both outside in the grounds and in the house."
In addition to adding wilderness gardens to the estate, Lister ordered the construction of a tower off of the existing hall, which would house her library, and added tunnels to be used by people who ran her house. Lister's many interests extended beyond architecture and Shibden. As a landowner, she had tenants — something Selby says revealed a more "unpleasant" side of Lister, who forced the men who rented from her to vote the way she wanted since women couldn't cast ballots.
And then there's the colliery. From Shibden's grounds to the coal mine, Lister's endeavors afforded her some measure of financial independence (although she was reportedly embarrassed that she didn't have more), which, in turn, helped her live more openly. Despite writing about her queerness in code, it was kind of an open secret of sorts, but being well-educated, well-traveled, and from a land-owning family certainly helped Lister have more mobility than her less-well-off queer contemporaries.
Did Anne Lister and Ann Walker Actually Marry?
Although this may come as a surprise, Anne Lister did marry Ann Walker. Pre-1832, Lister traveled throughout Europe, having affairs with quite a few women. Her relationships with other women started back in boarding school — and were the source of some trouble for her schooling — but, before inheriting Shibden Hall, she was a real charmer.
In her diaries, Lister details not only the ways in which she'd seduce women — some of them married — but the sexual encounters, too. Again, even though Lister wrote in code, it's still amazing that she preserved her personal life on the page at all. In some of her writings, "Gentleman Jack" talks about dropping references to queerness from Greek classics into conversation, and then measuring others' responses.
For instance, if she name-dropped Achilles, a hero of the Trojan War often associated with queerness, and the woman she was pursuing understood her meaning, it was safe to proceed. Throughout history, and even today, queer folks have used symbols, coded language and ways of dressing to subtley flag themselves to other queer people — and Lister was no different.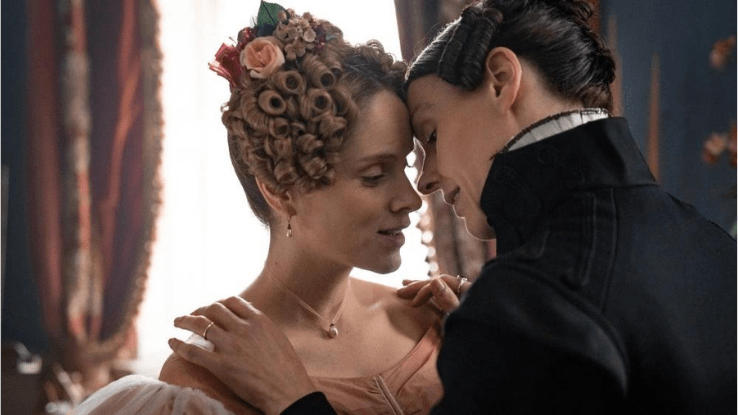 When it comes to marriage, though, did Lister really settle down with Ann Walker (portrayed by Sophie Rundle in the series)? Although Lister and Walker met in the decade prior, Walker became an heiress in 1832, at which time her life became more intertwined with Lister's. Soon enough (and as portrayed in the series), Walker became a live-in companion of Lister's, offering her money to refurbish Shibden and travel throughout the continent.
But this "Boston marriage" of sorts became as close as it could to being official two years later. On Easter Sunday in 1834, the couple attended mass at the Holy Trinity Church in York and took communion together. For them, the act signified marriage, even if it lacked legal recognition. Over 170 years after Lister's death in 1840, a commemorative plaque to the "gender-nonconforming entrepreneur" was installed on the church, which has been deemed "the site of the first lesbian marriage to be held in Britain" (via The Guardian).
Most Importantly, Did Anne Lister Really Power Walk Everywhere?
One of our favorite things about Gentleman Jack's portrayal of Anne Lister is the speed with which she walks. No matter where she's headed, our protagonist walks with determination and confidence. According to the first season, the pocket watch-wielding and cane-toting Anne can walk anywhere in 25 minutes. Seriously, that would rival the grit of some New Yorkers. All she's missing is the iced coffee splashed with oat milk.
Okay, but is this a trait the fictional Anne shares with the real one? When the show's second season was confirmed, Jones took to social media, thanking fans and noting, "I better get in training for all that power walking again."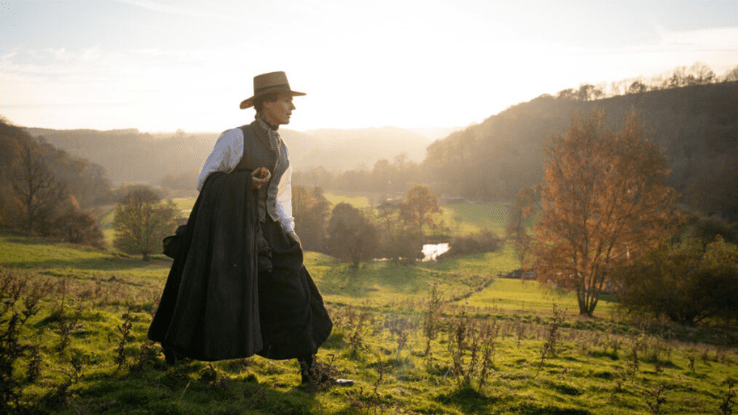 It's certainly become a fun reference for fans of the series, but it also has roots in Lister's diaries. "[Anne] once talked about walking 25 miles in the Welsh hills," creator Wainwright said in an interview with TheWrap. "She was taken by a guide and she wore him out — he couldn't keep up with her." An accomplished mountaineer, Lister was the first woman to ascend Mount Perdu, the third-highest mountain in the Pyrenees.
So, yes, the "fast-walking queer person" meme — a sort of in-joke or commonality discussed among many LGBTQ+ folks — is alive and well in Gentleman Jack, which means Lister will, in fact, be swift enough to escape the "Bury Your Gays" trope. 
What Can We Expect From Gentleman Jack Season 2?
At the end of the first season, the Ann(e)s took communion at church, as they did in real life, to signify their marriage. It was an incredibly sweet moment, but also a powerful one. In the trailer for the second season, Anne says to Ann, "We are the only people in the whole world who want us to be together" — something that rings uncomfortably true even today.
In addition to getting into the details of the couples' post-marriage ceremony lives, the show will delve into Lister's business pursuits as well as Walker's experience with mental illness and abusive family members who envy her inheritance. Clearly, it's going to be a very character-driven season.
Through it all, though, the show aims to remain close to Lister's diaries. And with 26 volumes, 7,722 pages and roughly 5 million words, there's a lot to pull from. "It would be so easy to put Anne Lister on this pedestal and say she's amazing and she's infallible, and she never makes any mistakes," Rundle, who plays Ann Walker, has said. "Sally [the creator and writer] isn't afraid to explore Anne Lister being wrong."
While it's been nearly three years since Gentleman Jack's first season sped onto our screens, we're excited to be left breathless again as Suranne Jones' Anne Lister walks at roughly 2.5x the speed of any other character on TV.