Rating: 6/10
Had I only watched the first three episodes of Foundation, this would have been a much less favorable review. The new Apple TV+ show and adaptation of Isaac Asimov's science fiction books premieres this Friday, September 24, with the first two episodes. The rest of the 10-episode first season will be released weekly, with one new episode every Friday. All 10 episodes of Foundation were available for review.
You have to be patient with Foundation. Even if you're into high-concept adaptations of science-fiction properties. This is definitely more Westworld than The Mandalorian, and things don't start paying off or making any sense until halfway through episode three. There's no instant gratification in Foundation. Well, other than Lee Pace's arms.
Pace (Pushing Daisies) plays the Day incarnation of a cloned galactic emperor who has a Dusk (Terrence Mann) older version and a Dawn (Cassian Bilton) younger one. Somehow the show manages to find excuses to feature the actor in various degrees of undress throughout the season. I wouldn't normally object to it if it wasn't because I felt Pace's nakedness didn't always feel organic and I thought/hoped prestige TV had moved on from the days of the objectifying gaze.
Let me bring you back to Foundation's plot. The genetic dynasty of emperors led by Pace's character is supposed to bring stability to the universe. But the mathematician Hari Seldon (Jared Harris) thinks otherwise, and he enlists math prodigy Gaal Dornick (Lou Llobell) to help him prove civilization is doomed to collapse. Seldon wants to establish a foundation of scholars to preserve humanity's knowledge when things come to an end.
That's — very simply put — the premise of Foundation. The show, which is executive produced and run by David S. Goyer (Man of Steel), takes the overused nonlinear route and goes back and forth between several time periods and several characters and planets. There's a whole lot of worldbuilding and mythology-explaining in the first episodes of Foundation, which only makes things more complicated to follow. This is not a series for the idle viewer who wants to fold laundry or check Instagram while casually watching.
The character of Gaal adds to the whole exposition element of Foundation with a prescient voiceover that says mostly intense things like "When a planet wants you dead, you die," "Math is never just numbers" or "The most advanced math is like a sixth sense. The right calculation can allow us to see in the horizon." But just when the show feels a bit too much like homework, things start adding up, and you get to spend time with Foundation's true protagonist: the extremely charismatic Salvor Hardin (Leah Harvey).
"Foundation" as a Space Opera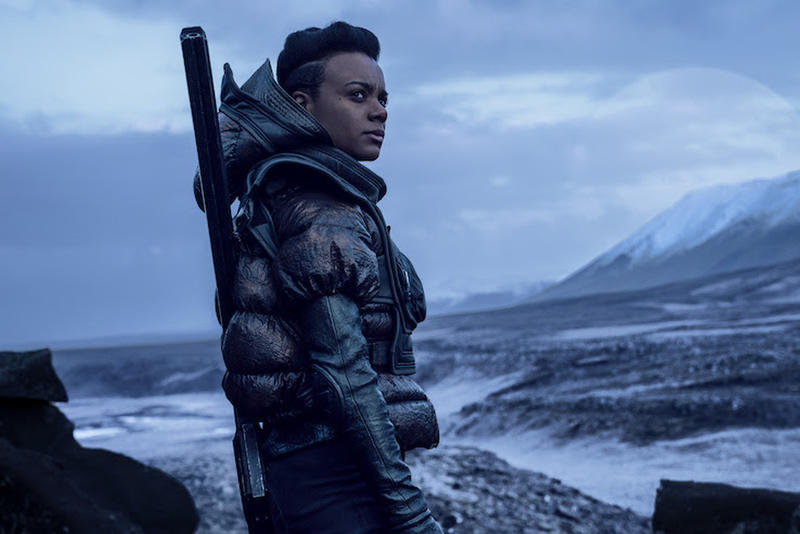 I guess the less I tell you about Salvor the better. But Foundation only captured my attention once she was properly introduced. Hers is the most adventurous plot of the whole series. She has a very important job as warden of Terminus, the planet where the encyclopedists and other academics from the foundation settle. She also has a knack for perceiving peril and shares a steamy romance with the dashing Hugo (Daniel MacPherson).
But right when you think Foundation is starting to get interesting in the hands of Salvor, they pull you away from her pressing mission in Terminus and back to the muddled give-and-take of different storylines and endless worldbuilding. When the camera is staying with Salvor or her family/lover/friends/follies, the show works. Mainly because she's having all the fun. Through her character, you can watch Foundation as a The Mandalorian-type of action-adventure space opera with lots of production value. Away from Salvor's point of view, the show is a drag — even when Lee Pace is shirtless, and I can't overstate enough how ridiculously often that happens.
When it comes to storytelling and the way it's written, it looks as if Foundation was developed a decade or 15 years ago. But in this oversaturated market of streaming wars and new shows debuting every week, a drama can't count on the viewers' willingness to commit and devote their time to it, just hoping that it'll get more engaging and coherent as the weeks progress.
I feel Goyer tries to overcompensate for that need for engagement during the first few episodes of the show — at 68 minutes long the pilot in particular feels bloated yet unsatisfactory — with the inclusion of sex scenes that feel more like the kind of device a premium cable show from the early 2000s would pull to justify its hefty subscription price. But even though several characters in Foundation have sex — I understand that's quite the departure from Asimov's novels, plus I don't normally object to sex on TV and find it much preferable to violence — all the relationships depicted on screen in the show are disappointingly heterosexual.
A Show Extremely Beautiful to Look at That Also Updates Its Original Material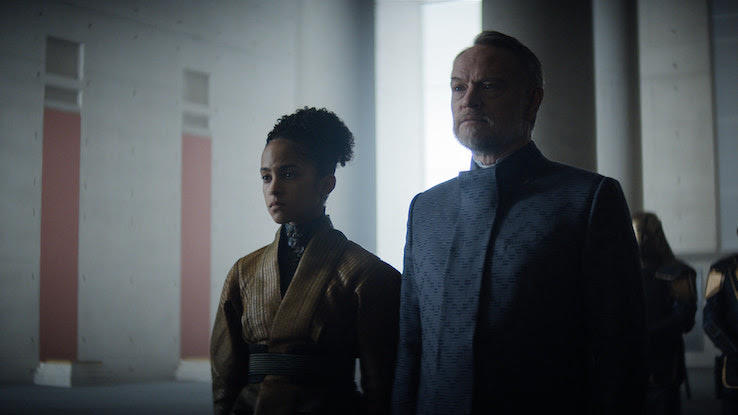 I don't only have objections to the way this show has been developed though. This is definitely not Peacock's uninspired Brave New World.
This adaptation includes a very diverse cast of characters where women play some of the strongest and most satisfying roles — something that doesn't happen in the Asimov books. Several roles that were white men in the books are women of color in the show. In that regard, the show does feel very 2021.
It's a beautiful series to look at with expensive and tasteful production design by Rory Cheyne (American Gods) lighting every frame. The costumes are by the New York-based duo Kurt and Bart (The Hunger Games: Mockingjay – Part 1 and Part 2) and, for the most part, I wanted to wear everything Gaal or Salvor had on. The camera moves and crafted cinematography lend this show a cinematic big-screen quality. Even the hairstyling feels completely simple yet innovative at the same time.
The show was filmed on location in Ireland, Iceland, Malta and the Canary Islands in Spain. Most of those places have been tastefully enhanced with CGI, and you get a sense of richness and distinction between different worlds that reminded me of Game of Thrones.
I suspect a part of the audience will obsess over this show the same way they've done with other highly sophisticated pieces of science fiction — think Westworld, The Leftovers or Mr. Robot.
And even though I'm not part of that niche audience, I can't wait for this series to be consumed, find its public and, on occasion, make it to the mainstream conversation. I know memes will ensue and the internet won't be able to get enough of Pace when a certain episode, in which he bathes himself in a cave, airs. If only Foundation would have taken itself a little bit less seriously and bet on the space opera elements but also on humor and campiness, I'd have enjoyed it a lot more. But I'm not sure how Asimov fans would have taken it.