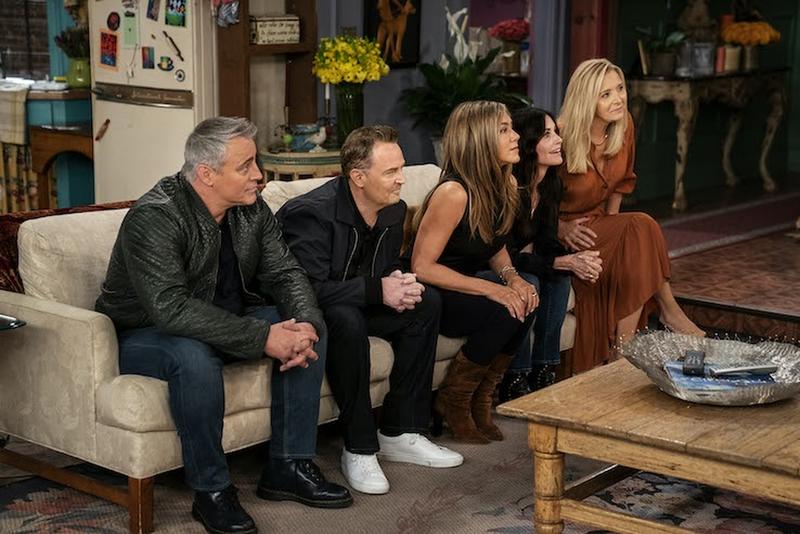 The Friends special episode finally debuted on HBO Max this Thursday, May 27. It reunited stars Jennifer Aniston, Courteney Cox, Lisa Kudrow, Matt LeBlanc, Matthew Perry and David Schwimmer in an unscripted episode that was filmed at the Warner Bros. Studio lot in Burbank, on the original soundstage where the series was shot and with all the original sets.
Friends: The Reunion was supposed to be ready a year ago — by the time HBO Max launched on May 27, 2020. But, like so many other things this past year, the COVID-19 pandemic delayed its filming, which was initially planned for March of 2020.
The original Friends sitcom aired for 10 seasons on NBC from 1994 to 2004. It made household names — and millionaires — out of its six friendly protagonists. Aniston, Cox, Kudrow, LeBlanc, Perry and Schwimmer were famously making $1 million per episode for seasons nine and ten of the show. All 10 seasons of Friends are available to stream on HBO Max.
But if you're feeling like you need some new friendly material, let's talk about the reunion. At one hour and 43 minutes long, Friends: The Reunion sure packs in some new iconic moments.
The Unscripted Episode's Best Moments and Revelations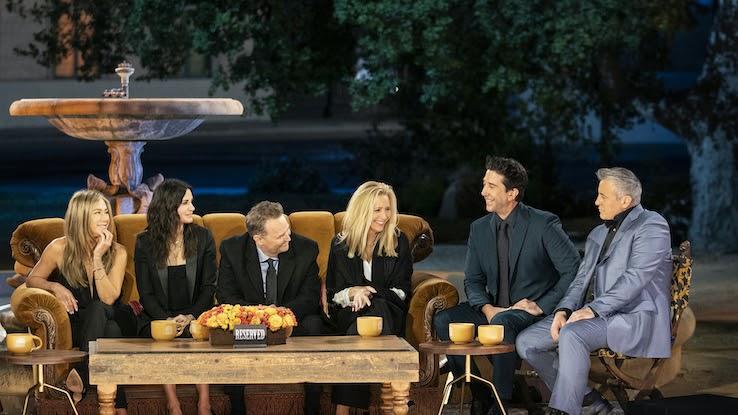 The new unscripted episode mixed Friends bloopers, bits of some of the most iconic episodes, and a hug-filled reunion of the six main actors touring the sets of the two apartments and the coffee shop Central Perk. Friends: The Reunion also included an interview in which James Corden asked Aniston, Cox, Perry, Kudrow, Schwimmer and LeBlanc to reminisce. Here are the highlights:
Aniston and Schwimmer were crushing on each other. This was by far the juiciest revelation of the whole episode. The actors who played Rachel and Ross also had a thing for each other in real life. Aniston and Schwimmer confessed to interviewer Corden that during the show's first season they were cuddling at every opportunity and very much pining for each other, but they never acted on those feelings. "We channeled all our adoration and love for each other into Ross and Rachel," explained Aniston.
Since the show's finale in 2004, all six of the friends had only been together in a room once. But that doesn't mean the cast no longer hangs out together — they just don't do it all at the same time. They explained that they check on each other often and always reply to texts and phone calls. Perry also explained that if one of the main six cast members meets another one of them at a party or an event, they just spend the rest of the evening together, chatting away.
The cast remarked about the special bond that the six of them have. Schwimmer explained that at the peak of Friends' success nobody else could understand what one of them was going through but the other five. They were having to deal with the overwhelming weight of celebrity in the same way and at the same time.
Cox used to write some of her lines on the kitchen table on the set of her character's apartment. Prankster LeBlanc saw the lines one time and erased them before the cast shot.
Casting the show was actually quite a challenge for co-creators David Crane and Marta Kauffman. They may or may not have sent gift baskets to Schwimmer to lure him away from the theater. They saw Cox more as a Rachel than a Monica at first. Perry was supposed to do a show called LAX 2194 about luggage handlers in the future at LAX. With Aniston, things were a bit more complicated. The actress had previously signed on to do the sitcom Muddling Through and shot several episodes of it. She tried to get released from that contract to go to Friends, but the Muddling Through producer told her, "That show is not going to make you a star. This show is going to make you a star." Needless to say, the producer was wrong.
Kudrow doesn't like bugs one bit. Since part of the reunion episode was shot outdoors due to COVID-19 protocols, the actress found a bug on her hair and started screaming. Schwimmer was there to offer support — or to freak her out slightly more.
The show aired in more than 220 territories around the world and is available in 18 different languages. We got to see glimpses of how this international phenomenon affected people all around the globe — from Ghana to India to Mexico. We saw testimonies from people who found a place of comfort and escape in Friends, even when their lives weren't that great.
Schwimmer didn't like the monkey. He joked about the capuchin not getting its job done and not hitting its mark. He also complained about Marcel eating live grubs and then going to rest with his head on Schwimmer's shoulder. We understand why Schwimmer doesn't share Ross' primate enthusiasm.
Chandler and Monica having a fling in the London episode was just supposed to be a one-night thing. But the reaction of the live audience to it made the writers rethink their intentions for the characters and take the relationship beyond that.
Kudrow doesn't think there should be a scripted reunion episode or a movie. She said the show ended very nicely and a new scripted iteration would mean unraveling everyone's happy endings.
The cast got very emotional toward the ending to the point where Perry, Kudrow, Cox and Aniston needed to share a tissue. The bond is clearly still very strong.
All the Cameos in "Friends: The Reunion"
Friends: The Reunion had some big — if brief — appearances from famous people. There were several actors from the original cast who popped up and explained what the show meant to them. Larry Hankin (Mr. Heckles), Tom Selleck (Richard), Elliott Gould (Mr. Geller), Christina Pickles (Mrs. Geller), Maggie Wheeler (Janice) and James Michael Tyler (Gunther) all made appearances.
As did Reese Witherspoon who famously played Rachel's spoiled younger sister. Fittingly, Witherspoon and Aniston are sharing the small screen once again, and they're both producing and starring in The Morning Show from Apple TV+.
There was also time to remember some of the biggest cameos in the show, like those from Sean Penn, Julia Roberts, Ben Stiller and Brad Pitt, who at the time was married to Aniston.
And then the reunion episode added some cameos of famous people who are simply fans of the show, like Pakistani activist Malala Yousafzai, who appeared with her best friend Vee. They talked about watching the show together.
Former professional soccer player David Beckham confessed to being a total Geller — he shares Monica's obsession with cleanliness. He likes watching the show while he's traveling and away from his family because Friends makes him laugh and not feel alone.
Game of Thrones actor Kit Harington gushed about the six main actors being masters of physical comedy.
Lady Gaga took "Smelly Cat" for a spin with Kudrow and thanked the actress for playing the person who was different in the show, the one who really was being herself.
Cara Delevingne was at the high point of her modeling career during a fashion show bit where she sported Rachel's pink bridesmaid dress — red panties and all — and then a Holiday Armadillo costume. Cindy Crawford showed the world how you're supposed to rock tight leather pants. And Justin Bieber popped up in a potato/Sputnik costume.
One thing is for sure: Watching Friends: The Reunion makes you want to rewatch Friends.