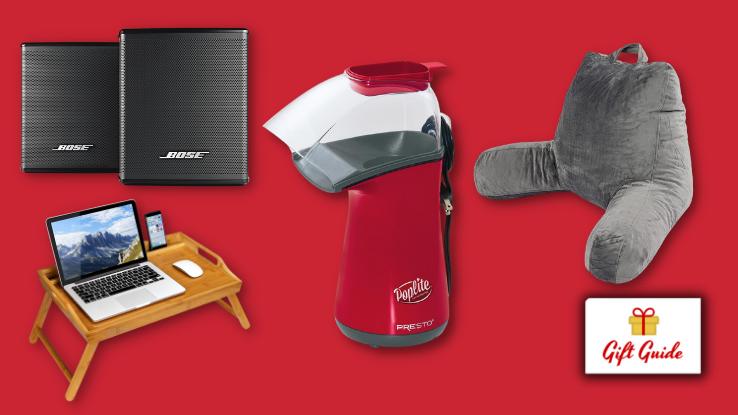 If you've ever fallen down a new show rabbit hole — and been delighted to discover more than one season of the series is already available — then you'll no doubt understand the pull of a Netflix marathon. If you know someone who's always chanting, "One more, one more, one more" at the end of each episode, our roundup of must-have gifts will put a smile on their face faster than they can select "Yes, I'm still watching Battlestar Galactica!"
Lap Trays for Streamers Who Love to Watch Netflix in Bed
If you're anything like me, a Netflix movie marathon in bed represents a welcome reprieve from roommates and family. The only problem? You need to hit "pause" and get out of bed when you get hungry. If you want to fully savor your hermit lifestyle while enjoying some movie snacks, a lap tray or desk is going to be your new best friend.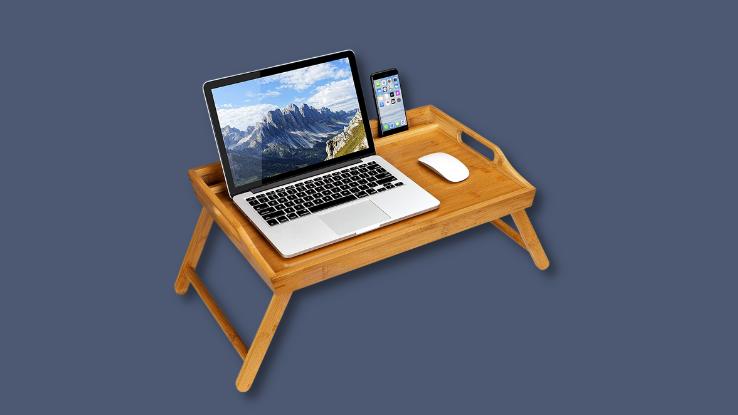 Looking for that breakfast-in-bed feel? The LapGear Media Bed Tray is simple, functional and affordable. It's perfect for organizing all your drinks and snacks, and as a bonus, there's a slot for your phone — meaning you can post all your Westworld hot takes with ease. Don't have a TV in your bedroom? The folding Zhimei Portable Lap Desk might be a better option if you would rather not prop a laptop on a stack of pillows. Bonus: The ergonomic design makes it a great work-from-home desk too.
Complete Any Movie Marathon with Some Fresh Popcorn
Although you can find popcorn at any sports stadium or concert venue, there's no doubt that the snack belongs to the cinema. No movie theater is complete without sticky floors and the smell of overly-buttered popcorn. While a popcorn machine may not be something your movie marathoner would buy for themselves, that makes it an even more delightful gift.
If you're looking for something a bit more sleek and functional, Presto's PopLite Hot Air Countertop Popcorn Machine is the overall best choice. Quick and efficient, this popper uses air, not oil, to make gourmet corn in less than three minutes. On the other hand, something with more of a fun, throwback vibe, like Nostalgia's Vintage Collection Kettle Countertop Popcorn Machine, also makes a great gift. Countertop friendly and straight from the summertime boardwalk of your youth, this machine makes 10-cups of buttery corn per batch, making it a great choice if the giftee loves to host movie nights.
Massagers for Folks Who Don't Favor Bed Sores with Their Netflix
Have you ever embarked on a multi-season Netflix marathon? No need to answer that. We've all been there, sinking entire weekends into everything from Buffy the Vampire Slayer to Breaking Bad. If the giftee rarely leaves the sofa during a streaming deep-dive, a massager might be just the thing they need to really relax — and soothe those cramped muscles.
After all, nothing puts a cramp in a Netflix party like an actual cramp. To soothe those craning necks, we recommend the HoMedics' Pro Therapy Vibration Neck Massager. The flexible handles allow you to easily control the intensity level of the massage — and, best of all, it's heated. Looking for more of a full-body experience? The Snailax Shiatsu Massage Cushion can make any couch even more comfortable. The 3D contour feature means the kneading massage cushion conforms to your back and the 12 programmable nodes provide custom, easy-to-operate relief.
Take the Pain Out of Watching Episodes Back-to-Back with These Backrests
There are only so many comfortable positions when it comes to lounging around in bed or on the couch. If you're a fan of streaming marathons, then there's a good chance you've tried them all — and experienced the very specific back pain that always seems to come with lying in the same position for hours.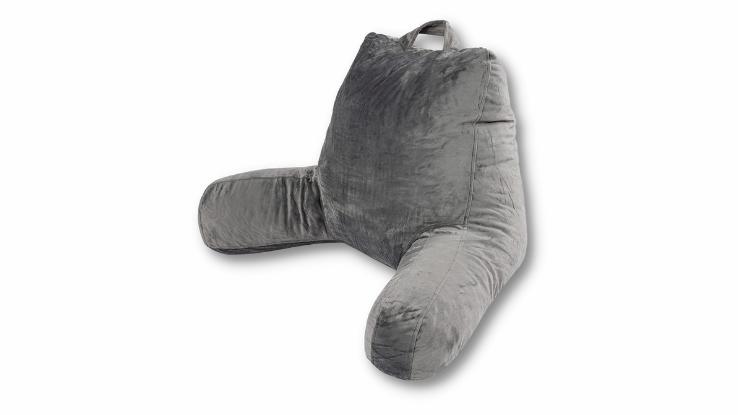 The solution? A backrest. Whether you're watching TV, working on your laptop or reading a book, the Milliard Reading Pillow with Shredded Memory Foam can make resting feel, well, restful again. If you want to throw in some added comfort, try the Vekkia Premium Soft Reading & Bed Rest Pillow instead, which comes with a snazzy headrest.
Avoid Movie Theater Crowds but Keep That Cinema Sound Quality
So, you have the comfy seats and the freshly-made popcorn. The only thing that's missing? The movie-theater quality sound system. If you're looking to surprise that special someone with some cinema-level speakers, the options can be overwhelming, but we've narrowed it down to two solid selections.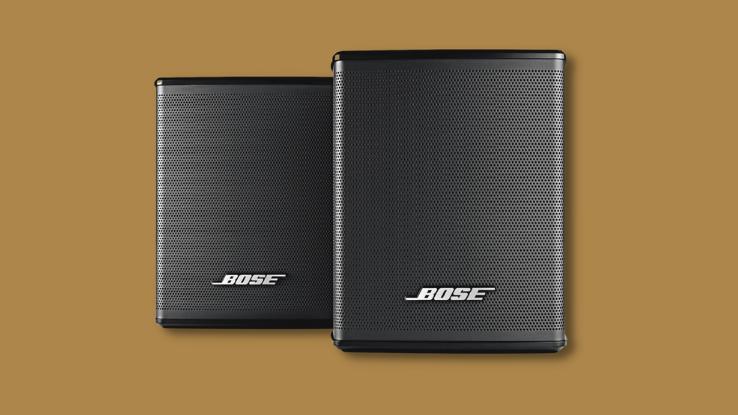 First, if you're looking for a more affordable solution that doesn't sacrifice sound quality, you'll want to pick up LG's 2.1-Channel 300W Soundbar System, which comes with a 6″ subwoofer. This option is plug-and-play friendly — meaning you won't have to install a bunch of surround-sound speakers — and the subwoofer does a lot of heavy (sonic) lifting. Want to go all out? Bose has been the number one name in speakers for years, and the Bose Wireless Surround Sound Speakers for Home Theater are no exception. Pair these with the incredible Bose Soundbar 700 Smart Speaker, and you'll discover that the crisp, enveloping sound quality has no equal.