Rating: 8/10
When it comes to getting an Oscar, third could be the charm for Will Smith. The rapper, actor and producer is not only expected to get a nomination for his role in King Richard as Richard Williams, the father and coach of tennis champions Venus and Serena Williams, but he's the frontrunner in the Best Actor category.
Smith, who was previously nominated for the real-life characters he played in Ali (2002) and The Pursuit of Happiness (2006), is a master in the art of personal branding and self-promotion. He's pulling out all the stops to get that coveted award and be on top of Hollywood's ladder once again. Earlier this month he released the YouTube Original series Best Shape of My Life, where he documents how he aimed to lose 20lb in 20 weeks. He's also just published his memoir, Will, and has given a near-endless amount of quite revealing interviews during the last few weeks while promoting all of this work.
Of course, he's not the only one in King Richard. The awards contender is directed by Reinaldo Marcus Green (Monsters and Men) and it stars Saniyya Sidney (Hidden Figures) as Venus; Demi Singleton (Godfather of Harlem) as Serena; Aunjanue Ellis (Lovecraft Country) as Brandy, the girls' mom and Richard's wife; and a mustachioed Jon Bernthal as the tennis coach Rick Macci. King Richard debuts in theaters and on HBO Max this Friday, November 19.
Besides the Oscar nomination for Smith, King Richard could also receive a Best Picture nomination; Green's work could even be recognized in the directing category, while Ellis might shine in the Supporting Actress one; and it's possible that Beyoncé will garner awards attention for the Best Original Song, "Be Alive."
Will Smith's Transformation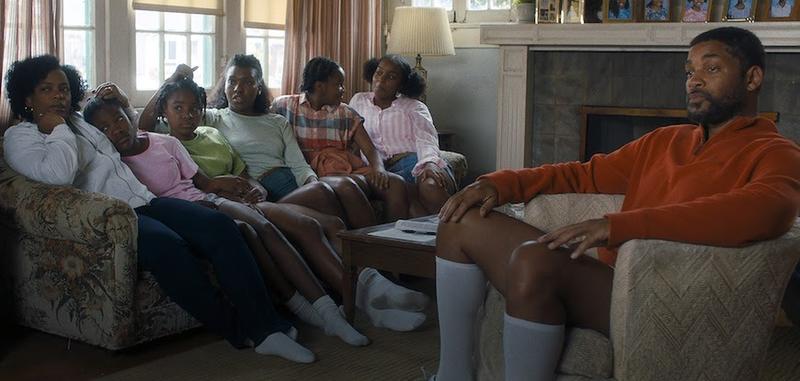 You'll recognize Smith in King Richard — it's impossible not to — but, also, you won't recognize him. He spends most of the 2 hours and 18 minutes of the runtime of the film dressed in 1990s-style tennis shorts, polo shirts and mid-calf socks. He gained weight to better represent Richard, and he has a Louisiana accent so thick that this Spaniard had to pay extra attention every time he opened his mouth.
Early on in the movie, you learn how much of a singular person Richard Williams is. He talks about the 78-page plan he wrote for Venus and Serena's whole career before they were even born. He made a brochure and a VHS tape to promote the girls' tennis skills and to try to get them a coach and some sponsors. In the meantime, he and Brandy were training them on abandoned tennis courts in Compton, California.
"Screw your f-cking plan. You don't know what you're doing," Macci tells Richard after the father/coach has had his daughters pulled out of junior competitions. They haven't played a match in three years. And, even though you know how things turned out, you can't help but think Macci is right.
The movie never explains why Richard chose tennis for his daughters but it goes into detail establishing that back in the 1990s tennis wasn't a sport that welcomed many Black players. It wasn't a sport for working-class folks either. "Tennis takes expert instruction. It takes families with unlimited financial resources. It's like asking somebody to believe you've got the next two Mozarts in your house," one of the approached would-be sponsors tells Richard while explaining why no one is going to bet on Venus and Serena.
But I didn't judge Richard for the wild gamble he decided to play. It was more the way the movie presented him as having the audacity to interrupt a training session between Pete Sampras and John McEnroe. He and his wife live in a cramped two-bedroom cottage, and five girls sleep in one of the rooms, but he's not aiming to improve their lives — he's aiming at total transformation. He tells his daughters things like: "Someday someone will write you a $1 million check" or "You're Venus Williams. You're gonna win Wimbledon." It all ended up happening and I knew that while watching the movie, but I couldn't help but think that's not the type of thing you tell a teenager. It's one thing to tell someone to believe in themselves, but another thing to assure them they'll become the next tennis sensation.
And yet you can't help but sympathize with Richard. It's not only from the knowledge that Venus and Serena went on to become tennis champions, role models and activists, and that he wasn't delusional after all, but Smith's charisma also contributes to making Richard a likable character. Even if the actor is so completely transformed.
A Tale of Tennis, Pride and Believing in Oneself
This is not only Richard's story and I particularly started enjoying the movie the more Venus and Serena's roles gained screen time. Singleton and Sidney manage to portray the sisters from ages 10 and 11 years old respectively to 13 and 14. They even resemble their real-life counterparts.
Since the sisters have had such intertwined careers, you, like me, may not know who holds which records. Venus is older by a year, she has 7 Grand Slam singles titles under her belt and is a bit taller than her sister. Serena has 23 Grand Slams, the most of any player since the so-called Open era began in 1968. You'll need that distinction clear in order to really grasp some of the most poignant moments in the film.
King Richard is a sports movie and the tennis aficionado in me relished the recreation of a 1994 match between the 14-year-old Venus and Arantxa Sánchez Vicario, a then 22-year-old Spaniard who also emerged from a dynasty of players and who, that year, had already won Roland Garros and the US Open. I wanted to Wikipedia the result of the game the whole time while it was unfolding in front of my eyes. I watched the movie in a theater so I didn't. I would advise you not to do it even if you watch King Richard at home. It'll pay off.
"You're going to be representing every Black girl on Earth," Richard tells Venus when the teenager decides to start her professional career as a player. I thought that was one of the most sensible things he'd said throughout the movie. King Richard makes a strong and indisputable argument for the power of representation. "The most dangerous creature on this whole Earth is a woman who knows how to think," Richard tells his teenage daughters.
The moral of the movie — other than the fact that it's always good to dream big and work hard — is to be unapologetic about who you really are. And that's something that Smith knows how to do.