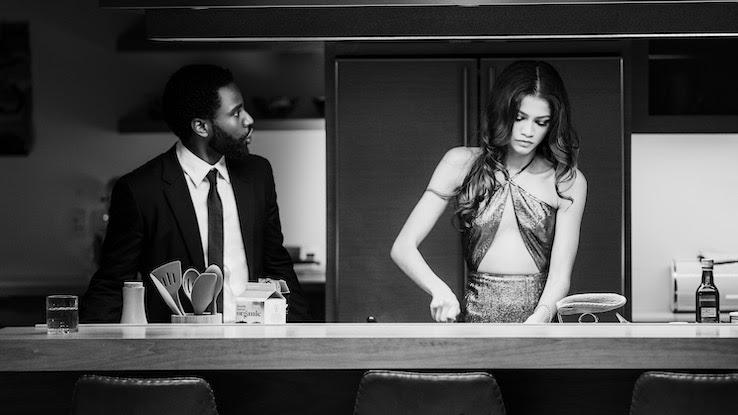 In June 2020 a crew of 22 people — including actors and producers John David Washington and Zendaya — started filming the black-and-white film Malcolm & Marie in Carmel, California, while the rest of the state was still far from operational. The film was conceived, written, shot and sold to Netflix between April and September 2020. And a lot of pieces had to fall into place for the pioneering film production to be possible.
Season 2 of Euphoria, the HBO teen drama from creator Sam Levinson, was supposed to go into production in March 2020. One day before the show's starting day, production went on an indefinite hold because of the COVID-19 pandemic.
The star of the show, Emmy winner Zendaya, found herself with a lot of time on her hands. "I talked to Sam [Levinson] a lot. Thankfully he's not sick of me and he still answers when I call," said the actress during a virtual press conference with Malcolm & Marie's team. Zendaya, who describes Levinson as a "creative lighthouse," suggested to him they should make another project together. "It came this concept of: 'Could we shoot something? Write me something, we can shoot it in my house. You, me and [Euphoria's cinematographer] Marcell [Rév].'"
Reverse Engineering Malcolm & Marie to Make It Possible
Levinson started writing right away. "We had to essentially reverse engineer into a story, we knew the limitation that COVID was putting on us," said Levinson, who wrote, directed and produced the film. "We didn't want any location moves. We couldn't have a large crew. We had to shoot in Monterey because it was one of the only places where we didn't need a permit. Backing into it, I knew it had to be just two actors, one location."
Levinson came up with the idea of a couple coming home one night after having attended a film premiere. Malcolm (Washington) is a Black filmmaker whose movie premiered to positive reviews. Marie (Zendaya) is his partner. The movie takes place over one night. Something that happens during the premiere triggers a series of conversations and disagreements between the two of them. "Once I had the initial idea, I just started writing it without any kind of worry about act structure. It was just sort of this Socratic dialogue between these two characters," Levinson said about his process. "I'd just try to dig each character into a hole that I felt they couldn't get out of. And then the next day I sort of pick it up and try to figure it out."
The filmmaker likes calling his actors and reading them out loud what he's written. He did that with Zendaya after his first day of writing the early draft of Malcolm & Marie. The actress recorded Levinson reciting the lines. "He already captured what Marie was supposed to sound like. And I wanted to get the first version, so it's the perfect cadence," explained Zendaya.
Zendaya and Levinson shared the experience of having worked together on Euphoria, but they needed to get an actor on board to play Malcolm in such unusual circumstances. Levinson kept listening to Washington's voice in his head while writing the script, and he decided to approach the actor. He knew he'd also have to find a way to ask Washington for money because they were all financing the movie themselves.
Levinson called Washington (Tenet, BlacKkKlansman) and walked him through the COVID protocols they'd have to follow during production. Washington, who describes himself as a fan of Euphoria and says he was doing the movie the moment Levinson called him, asked the writer to send him the script. But Levinson only had 15 pages written at that point. "He said: 'Great, send them over,'" Levinson explained about his initial chat with Washington. "I was like: 'Actually, if you don't mind, I'd like to just read them aloud to you.' And he was like: 'Oh, Kay…'"
Producing Malcolm & Marie in a Nontraditional Way
The production team for Malcolm & Marie found a ranch near the Caterpillar House, the open-plan mid-century-style house that served as the movie's set. The team stayed at the ranch during and before production. Everybody had different rooms and remained socially distanced. They arrived on location a few days before shooting to bubble and quarantine. The team couldn't leave the property, they wore face shields and masks and a local doctor and nurse tested them regularly. They also hired two local chefs who prepared the food on set.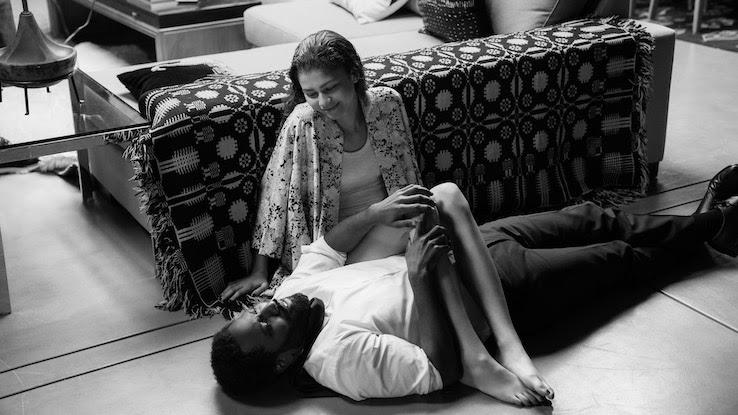 The team used the time during quarantine to workshop and finish the script — when they got to Carmel, Levinson still had to write the last act. "We all met up in a big old conference room and combed through the dialogue that was already there. We took our time, we had 10-12 days. Every day it was hours of just conversations, discussions about life, love and relationships," said Zendaya. "Then, somehow within that, Sam was able to bring us home and give us a nice third act."
The film was shot entirely at night and chronologically, from beginning to end. That made it easier for the actors to evolve emotionally with their characters. It also meant that Levinson employed a method he uses on the Euphoria set, where he rewrites scenes as they move along. "As an actor, it was kind of cool because we don't know where it's going to go as we're developing the character," said Washington about what it meant for him to be on the set of Malcolm & Marie. "It was also a huge amount of anxiety because I was trying to find out a way into Malcolm. I had to really strip away what I was comfortable with, strip away with traditional ways of approaching a character."
The movie was shot on 35mm and black-and-white film. Levinson explained the rationale behind that decision, basing it on both pragmatic and artistic reasons. "From a purely economical standpoint, it allowed us to not have to think about production design as much. It also allowed us to focus in on the actors and the performance and strip away the distractions," said the filmmaker about the look of Malcolm & Marie.
But with the black-and-white film, Levinson also wanted to pay homage to the Golden Age of Hollywood. Part of the theme in Malcolm & Marie is moviemaking. "Malcolm is the kind of filmmaker that I want to see his work," said Levinson, who explained he couldn't find many black-and-white movies from the classical era with Black performers. "It felt like a way to reclaim that narrative from the Golden Age of Hollywood and make it what we're trying to move towards."
Malcolm & Marie streams on Netflix on February 5, 2020. Check out some of the other titles coming to you in February. And read our story on how other movies and TV shows are being made during COVID-19 times.