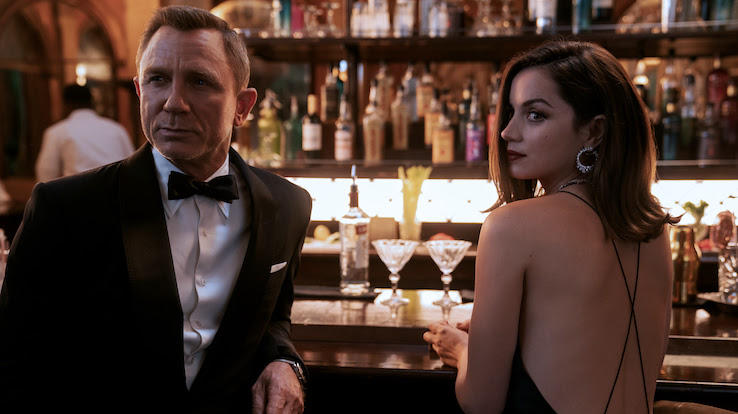 Rating: 7/10
I promised myself not to mention how much of a soft spot I have for director Cary Joji Fukunaga — you need to see his version of Jane Eyre — and writer Phoebe Waller-Bridge — Fleabag should be mandatory watching. Yet I'm unable to fulfill my promise because I believe they're what make the 25th film in the James Bond franchise, No Time to Die, such an up-to-date and quasi-feminist movie.
I've never been much of a 007 enthusiast. I like the action-adventure spy genre with international locations and lots of production value but can't digest very well some of the franchise's inherent sexism. Yet I've been wanting to watch No Time to Die — the movie opens exclusively in theaters on Friday, October 8 — since it was first announced Fukunaga was directing it. He's also co-writing from a screenplay by Neal Purvis and Robert Wade — they had a hand in penning the previous four Bond movies starring Daniel Craig in the titular role: Casino Royale (2006), Quantum of Solace (2008), Skyfall (2012) and Spectre (2015). But I knew I was completely committed to this new Bond installment once Waller-Bridge was hired to punch up the script.
She's responsible not only for making sure the movie has well-balanced women representation, but she also contributed to the whole plot and brought the essential Britishness to No Time to Die, according to longtime Bond producer Barbara Broccoli. I've also decided to believe she's responsible for all the jokes in the movie that made me laugh.
Fukunaga on the other hand is quite the complete auteur himself. Even though this is a big-budget studio movie of an aging franchise, his filmmaking idiosyncrasy still shows. He can capture romance and longing on screen in a way not that many directors achieve. He's talented at continuous takes to fully capitalize on the action elements of the movie — not for nothing, he's the director behind True Detective's infamous season one tracking shot. And he even employs some horror tropes — he's also the screenwriter of It (2017) — in very specific moments of the film to accentuate the thriller aspects of the plot. Every shot in No Time to Die is meticulously framed, lit and dressed for maximum effect and beauty.
Romance, Action, Adventure and Many Chases
The movie kicks off not long after Spectre left things off, which is a problem because that film was released in 2015 and I didn't deem it necessary to rewatch it. I don't think you should either; the plot is easy enough to follow. We're reunited with Bond and the psychologist Madeleine Swann (Léa Seydoux), who are very much enjoying their entanglement. After a session of sea bathing, he drives his Aston Martin DB5 through the winding roads of Southern Italy at sunset. She wants him to go faster; he doesn't see the need. "We have all the time in the world," he tells her. And right that instant you know their consuming romance is doomed.
No Time to Die explores the idea of feeling obsolete and getting old while portraying a retired Bond who spends his time fishing and sailing in Jamaica — it's better if I don't tell you how he ends up there. "You've done your bit and we thank you for your service, again," M (Ralph Fiennes), the head of the British Secret Intelligence Service MI6, tells Bond when he hints at the possibility of getting back to work. But either for MI6 or because the CIA is calling, Jeffrey Wright returns as the American operative Felix Leiter, and you know Bond is going to go back to the running, jumping, chasing, fighting and killing business.
The movie takes the viewer from the hilltop city of Matera, in Italy, to the coasts of Jamaica, the Cuban nightlife, the streets of London and even a foggy forest in Norway. No Time to Die was shot on location in most of those places — Jamaica stood in for Cuba — and practically manages to keep the viewer on the edge of their seat from one action sequence here followed by an adrenalin-fueled chase to the next paradisiacal setting there. But at two hours and 43 minutes the final hour of the film does suffer a bit from franchise bloating. And I got a little bit disinterested in a plot involving Rami Malek as the very villainous Safin. Although I understand over-the-top villains are one of the staples in any Bond film.
Fukunaga makes sure to also include all the other mandatory Bond ingredients: Vodka Martinis are shaken, not stirred; 007 introduces himself as "Bond, James Bond"; gadgets abound; there's an homage to the iconic gun barrel sequence; and even though Billie Eilish's song for the movie — I'm betting she'll add an Oscar to her long list of Grammy awards — is the most prominently featured throughout the movie, you'll also hear some notes from the recognizable James Bond theme.
No Time to Die's Women
But probably where No Time to Die stands out the most — and where it caught my whole attention — is in its treatment of women. These are no Bond girls but women with agency. First, there's Madeleine. The movie establishes her backstory and furthers the reason why she's a good match for Bond.
I couldn't help also being interested in where she buys her clothes, though. "We wanted for Madeleine something timeless, at the same time simple and feminine and sophisticated, but not too much," the French Seydoux explains about her work with No Time to Die costume designer, Suttirat Anne Larlarb, in the production notes of the film. "It had to be simple in the way that women can relate to and Suttirat really understood that." They achieved it.
Then there's the British-Jamaican Lashana Lynch. She plays Nomi, a 00 agent who irks Bond even if she's all talent and brilliant execution. She's his younger replacement and he can't help but resent it a little. She has a sharp sense of humor too.
The Cuban-Spanish Ana de Armas plays one of the juiciest roles in the film. She's Paloma, a Cuban CIA agent who helps Bond in the rescue mission of a scientist. In true spy flick fashion, it all happens during a black-tie party. Bond's wearing a tuxedo, Paloma is wearing a navy slip dress. They both achieve lots of ass-kickings, stunt performances and hand-to-hand combat even in those unlikely garments. What's best, even if there's palpable chemistry between both agents, it's clear they're just colleagues on a mission. And Paloma is fully immune to Bond's charms.
Naomie Harris rounds out the cast reprising her role as Eve Moneypenny. M's secretary has come a long way since the early days of the franchise and flirting with Bond. Harris' version of the character had previously appeared in Skyfall, where Moneypenny wasn't desk-bound but working as a field officer, and Spectre. In No Time to Die she plays a pivotal role in connecting Bond with the right intelligence, helped by Q (Ben Wishaw).
No Time to Die marks the end of a Bond era and is Craig's last movie as the titular character. For years now we've been inundated by stories about what British actor could take his place next. From all the men rumored to be the next Bond, my choice is Idris Elba. But I also see no reason why the franchise couldn't simply make MI6 agent Nomi the next definitive 007.
That being said, what really intrigues me is not that much the identity of the new Bond — I'm still not an enthusiast of the franchise — but what Fukunaga and Waller-Bridge have in store and whether they could work together again — preferably on a non-franchise indie project, please.
No Time to Die made it to our list of best and most talked-about movies of the year. Check out the other titles we included on the list.