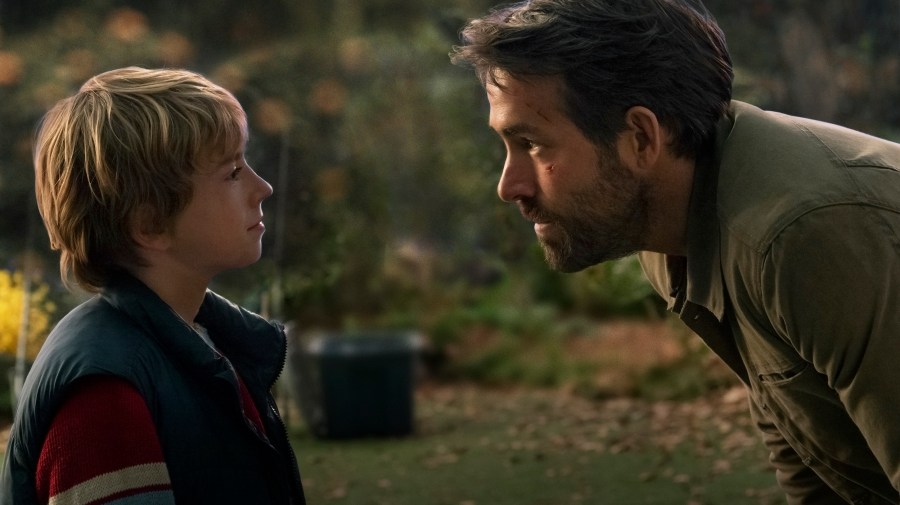 Rating: 7/10
I wasn't expecting The Adam Project to have so much heart. The new Netflix film, which debuts this Friday, March 11, stars Ryan Reynolds and is directed by Shawn Levy. Reynolds and Levy had previously teamed up on Free Guy, which was one of 2021's most-streamed movies and is still hot among viewers.
In The Adam Project, Reynolds plays Adam, a pilot who kicks off the movie in 2050 with a space chase that takes him to the year 2022. Adam is injured, bleeding and in a hurry. All of it is choreographed to the catchy beat of The Spencer Davis Group's "Gimme Some Lovin" and already features some of that self-deprecating banter that we've come to associate with Reynolds' brand of humor. In the present day, Adam meets 12-year-old Adam (Walker Scobell). It doesn't take long for the younger version of the character to realize he's confronted by his future and very tall self.
"You're kinda…ripped. When does all this happen?" a very impressed young Adam asks his Reynolds iteration when he sees him tending to his wound dressed in just a white tank top and displaying lots of arms. But whereas young Adam is very satisfied with his growth in inches and muscles, older Adam is not so happy about having to get reacquainted with his younger self. "I had no intention of coming back to revisit this," Reynolds says in the movie, referring to Scobell's character.
The thing is, older Adam got lost literally in time while trying to find someone and, of course, young Adam is going to be vital in helping him in his quest. We could have a long conversation about the time-travel laws that reign over this movie. The film takes the simple route of saying there's a fixed time and only one place in it where you belong. It was easier to understand and made more sense than the whole Avengers: Endgame Time Heist for sure. "It's not a multiverse! My god! You watch too many movies," older Adam scolds younger Adam while trying to explain how time travel works.
Through Reynolds and Scobell's performances, The Adam Project delves into the idea of how much their 12-year-old version would annoy the hell out of anyone — and probably not bring them the best of memories. I know mine wouldn't. But also, how much that 40-year-old version would maybe impress the younger one while at the same time definitely also annoying them.
Scobell does a great job of mimicking Reynolds' style and quickness in the delivery of puns. I believed the actor as the younger version of the movie star. Mark Ruffalo plays Adam's father, and he too manages to master the art of the quick jabs and witticisms in a very Reynolds style. Watching the three of them together was a lot of fun.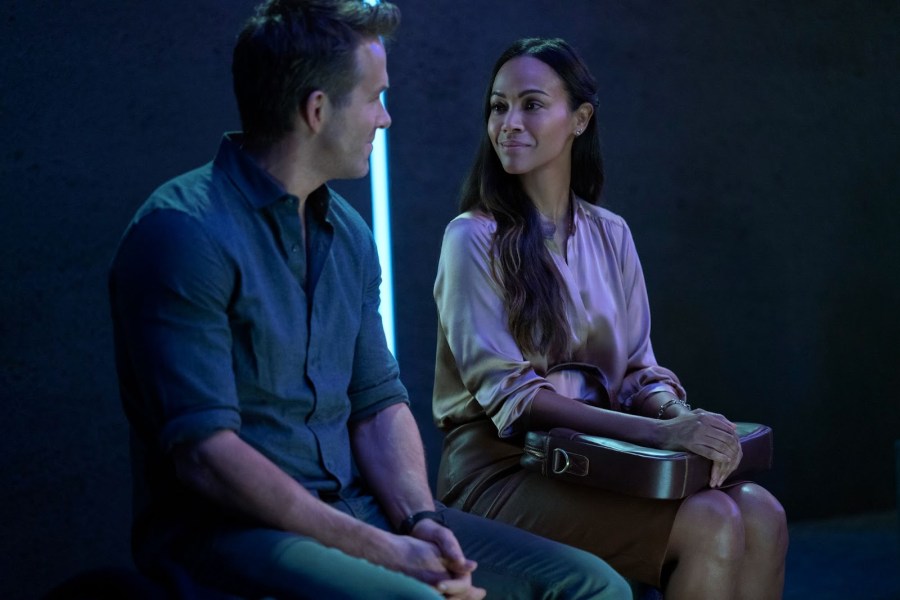 Jennifer Garner, Zoe Saldaña and Catherine Keener round out the stellar cast. The first one plays Adam's mom, and with her the movie allows itself to stop for a little bit and add some warmth to its time-travel comedy-adventure formula. There's a theme in The Adam Project about treating mothers with love and respect and letting them know they're seen. Saldaña plays grown-up Adam's wife. She's also — in a very fitting-for-Saldaña role — a badass warrior who always saves the day. There's a lot of chemistry between Reynolds and Saldaña on screen and, even though this movie is synonymous with family-friendly content, it does it in a way that isn't the antiseptic Disney family-friendliness. And by that, I mean people here have sex. They do it off-camera, but it's also acknowledged and somewhat normalized. And I support that.
Then there's Keener as the woman version of a tech bro with too much power and ambition. And even though I normally like her everywhere — from Capote (2005) to Enough Said (2013) to Get Out (2017) — I found there wasn't much for her to work with. And that's even with a younger and digitally de-aged version of her character wearing a cheap suit and hideous hairstyle that her older version points out with distaste.
But overall I enjoyed The Adam Project and its one hour and 46 minutes of tightness much more than I was anticipating. Levy envisioned the project as a "throwback to a deeply nostalgic breed of Amblin film," the filmmaker explains in The Adam Project's production notes "For me, [it] epitomizes what I want movies to be: adventure-filled and wish fulfillment-fueled, but also funny and warm." And while Levy and screenwriter Jonathan Tropper have talked about E.T. and The Goonies as some of the referents they had in mind while putting this film together, I mostly saw hints of Back to the Future — they share the humor, the action, the nerdiness and the time-travel factor — and a type of whole-hearted film I hadn't realized I was missing.