Rating: 6/10
The coats are back. So are the international locations, the rolling suitcases, the blue uniform, the catchy ringtone, and the Hitchcockian opening credits — albeit adapted for a new season of The Flight Attendant. Season two of the darkly comedic spy thriller debuts on HBO Max this Thursday, April 21, with two episodes. After that, the eight-episode season will roll out two more installments the following week and then one-episode-per-week for the remainder of the season.
Cassie Bowden (Kaley Cuoco) is now living in Los Angeles with all that that entails — eating California maki, running by the ocean, being nice to strangers and going to the beach even on cloudy days. She's two days away from being one year sober, has a hot boyfriend called Marco (Santiago Cabrera), moonlights as a CIA civilian asset, and still pretty much enjoys the globe-trotting ways of a flight attendant.
Cassie's life in LA also means she now lives in the most quaint and warmly decorated — with plants that are regularly watered and throw pillows — craftsman bungalow. She wears bangs and — for the most part, since she's in the warmer Angelino climate — she switches her signature coats for trench coats with super high-waisted wide-leg pants. I'm only mentioning this because one of the pleasures of watching this show is to see the inside of people's houses and hotel rooms but also to enjoy Cassie's sense of style as a somewhat low-key Carrie Bradshaw.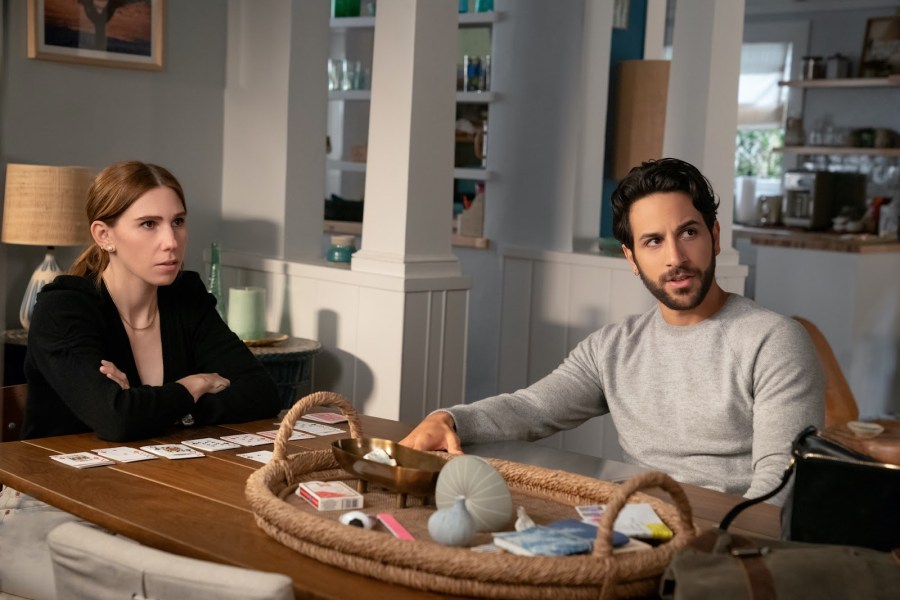 Ani (Zosia Mamet) and Max (Deniz Akdeniz) are visiting Cassie in Los Angeles. Ani's year of suspension from practicing law after last season's events is almost up and she's eyeing an environmental firm in the Californian city. If only Ani could be less of a quintessential New Yorker and more open to eating tacos — "I'm not eating street food!" — or the very concept of homemade sourdough — "Baking bread from scratch is so LA" — maybe she would fit in a bit better. She's also reluctant to meet Max's parents.
But Ani and Max's domestic issues aren't that important since, as Ani is quick to point out, Cassie is living in a sort of John le Carré spy novel. She was overzealous with a mission in Berlin where she was just supposed to watch a mark at a hotel — but she ended up following him (dressed in the most conspicuous, long red coat, if I may add) to the rooftop of the street art museum Teufelsberg. How the series shoots on location and showcases some city's hidden gems is again one of the other perks of The Flight Attendant. The chase ends with an explosion on the streets of the German city, and Cassie discovers she has a blonde doppelgänger who's trying to pin the incident, and a few other crimes, on her.
As if that wasn't enough, Megan (Rosie Perez) is still on the run after last season's activities with the North Koreans. Needless to say, Cassie will find a way to reconnect with her bestie. T.R. Knight as Cassie's brother, Davey, and Griffin Matthews as flight attendant/CIA operative, Shane, also return this season. Among the new cast members, you'll find Margaret Cho, Shohreh Aghdashloo, Cheryl Hines, Mae Martin and Sharon Stone, who plays Cassie's mom. But I felt all of those great performers were slightly underutilized and didn't have much time to shine in the six episodes that were available for review.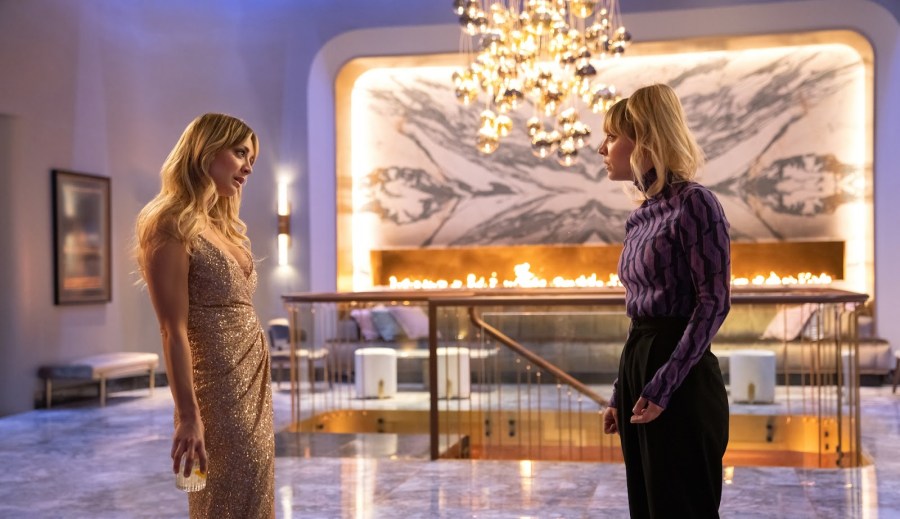 This is, once again, Cassie's story. The show emphasizes the fact that she's in way over her head playing spy, especially since she hasn't received any formal training and has problems following the simplest of instructions — such as, don't interact with your target. There's also the fact that Cassie's stress doesn't pair well with her newfound sobriety, which is an ongoing struggle since the impulse to drink is continuous. The season finds itself at its darkest while depicting Cassie's many temptations and her fight to stay afloat.
Cassie keeps having mental conversations — the mind palace is once again erected — with different versions of herself: the party girl, the black hole of joy, the wanna-be better self. The Flight Attendant's co-showrunners Steve Yockey and Natalie Chaidez told The Hollywood Reporter that they talked to the team of Orphan Black to learn all the tricks from the art of having an actress play several characters in a show. They used a mixture of motion capture, body doubles and Cuoco performing the many parts. So when you watch one of those scenes with several Cassies in it, keep in mind that they were time-consuming and difficult to film.
The sum of the show's many parts still add up to a lot of fun, but this season felt less cohesive in its tone, especially since it's incorporating way too many elements — the many mysteries to untangle, the conspiracy, the puns, the friendships, the family drama and Cassie's path to staying sober. And while I appreciate that she doesn't achieve her sobriety in one day and then keep it forever, I don't necessarily tune into The Flight Attendant for the drama. I'm more interested in vicariously traveling to Reykjavík or doing a bit of sightseeing in Santa Monica, all while accomplishing some goofy espionage on the side.
One last thing I have to mention about this season is something this Spaniard thoroughly enjoyed: Max preparing a Spanish tortilla. After Penélope Cruz gave us a tortilla-cooking lesson in last year's Parallel Mothers, I understand Max's need to be up for the challenge. I just wished there had been more light and comedic moments like that throughout this new season of The Flight Attendant.