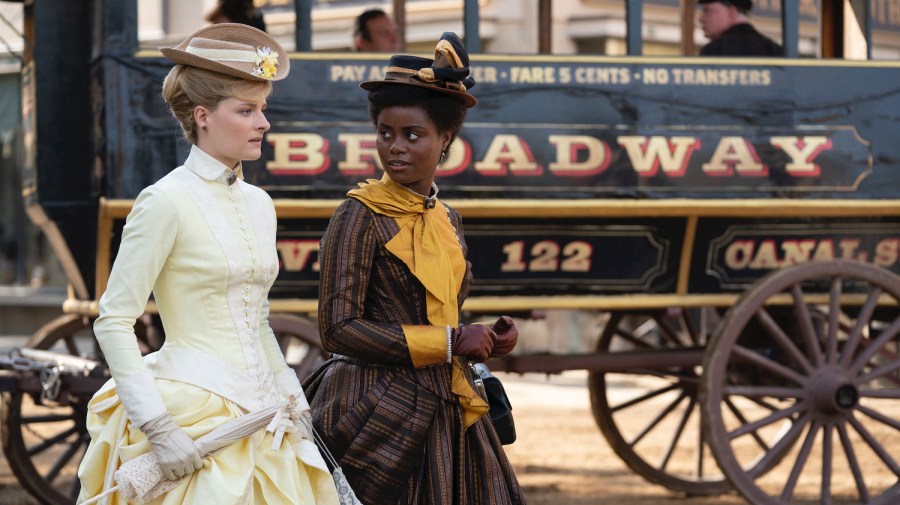 Rating: 8/10
I feel I should disclose that, when it comes to The Gilded Age, I may not be the most objective of critics even if I strive to be. The new HBO drama that debuts this Monday, January 24, has too many of the elements I gravitate to the most in storytelling.
It's a period piece set in 1882 New York that can be watched as a history lesson but still keeps things entertaining enough with lots of melodrama and romance. There's an almost infinite array of chic gowns, frequent mentions of tea and apple tarts, and women have the juiciest roles.
Plus, The Gilded Age is created by Julian Fellowes — you may know him as the writer and creator of Downton Abbey and the screenwriter of the also period Gosford Park (2001).
And if you're a fan of Edith Wharton's Pulitzer Prize-winning novel The Age of Innocence or Martin Scorsese's 1993 adaptation with Winona Ryder, Daniel Day-Lewis and Michelle Pfeiffer, you'll feel perfectly at home here. The Gilded Age is set in the same society made of snobby old-money New Yorkers who disapprove of having a profession, taking it too seriously or having made a fortune but coming from a humble background. They'll only socialize with people who live on a fashionable street. They'll go to the opera more to be seen than to actually see. And they'll always, always, always vacation in Newport while dressed in neutral colors and armed with a tennis racket.
I devoured the five episodes of The Gilded Age available for review. And was only sad because the whole nine-episode first season wasn't at hand in its completion. I didn't mind at all that the first episode was longer than one hour even when I tend to prefer my audiovisual entertainment on the shorter side.
Things start in The Gilded Age when the young Maryan Brook (Louisa Jacobson, Meryl Streep's youngest daughter) finds herself penniless after her father dies. She's forced to move from rural Pennsylvania to Manhattan, more specifically to the very desirable corner of 61st Street and Fifth Avenue. Her up-until-then-estranged aunts live in a handsome brownstone there. They are the widow Agnes Van Rhijn (Christine Baranski) and her unmarried sister Ada Brook (Cynthia Nixon). "You're my niece and you belong to old New York," Agnes tells Maryan when they first meet, adding that they only receive old people in her house. "Not the new, never the new."
By new, she means new money and more specifically her new across-the-street neighbors: the Russells. George Russell (Morgan Spector) is a ruthless railroad tycoon. Bertha Spector (Carrie Coon) is a socially famished and calculating lady with a very large house. She'll stop at nothing to climb the New York social ladder. And even though she's completely capable of playing a long game, things can't change fast enough for her. Defeat is very much not her color. Mr. and Mrs. Russell are perfect for each other; they love that the other one is as unapologetically ambitious as they are. They feed off of that.
Spector and Coon are smoldering hot on the screen as the implacable Russells. My only qualm about them is that I couldn't quite believe the actors, who are in their very early forties, could be the parents of Harry Richardson, who plays recent college graduate Larry Russell, and Taissa Farmiga, the not-out-yet Gladys Russell. Both actors are in their late twenties. But not all shows can be Yellowjackets when it comes to age-appropriate casting, I guess.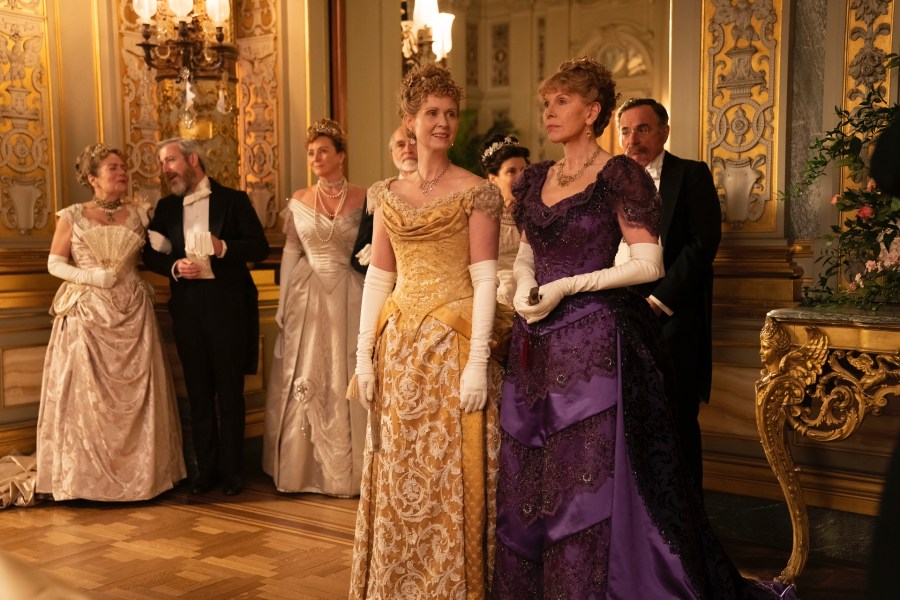 In true Fellowes fashion, the downstairs world at both households is also depicted, and we get to know a little — albeit not in so much detail as when it comes to their rich counterparts — about the cooks, lady's maids, housemaids, butlers, footmen and housekeepers. The Gilded Age is very much a large ensemble, and a few of the stories among the service have been hinted at but not quite developed yet.
One of the most compelling characters in the show is Peggy Scott (Denée Benton). She's a young Black woman from Brooklyn who ends up working as a secretary for Agnes Van Rhijn. Her dream is to become a professional writer. "You'll meet obstacles in your way. You're a colored woman, to name two," Agnes tells her. The wealthy widow takes an immediate interest in Peggy and admires her initiative.
Through Peggy, we see a different side of New York: Her parents own a lofty brownstone in a mostly Black Brooklyn neighborhood and have made a comfortable living thanks to the family business, a drugstore. And even though Peggy and Maryan are the same age and have much in common, the former reminds the latter they're from different worlds and not friends. Peggy's story, and the secret she keeps that both Maryan and the viewer are anxious to know, kept me hooked on The Gilded Age. "For a New Yorker, anything is possible," she muses early on in the show, and I couldn't but empathize with her writing pursuits.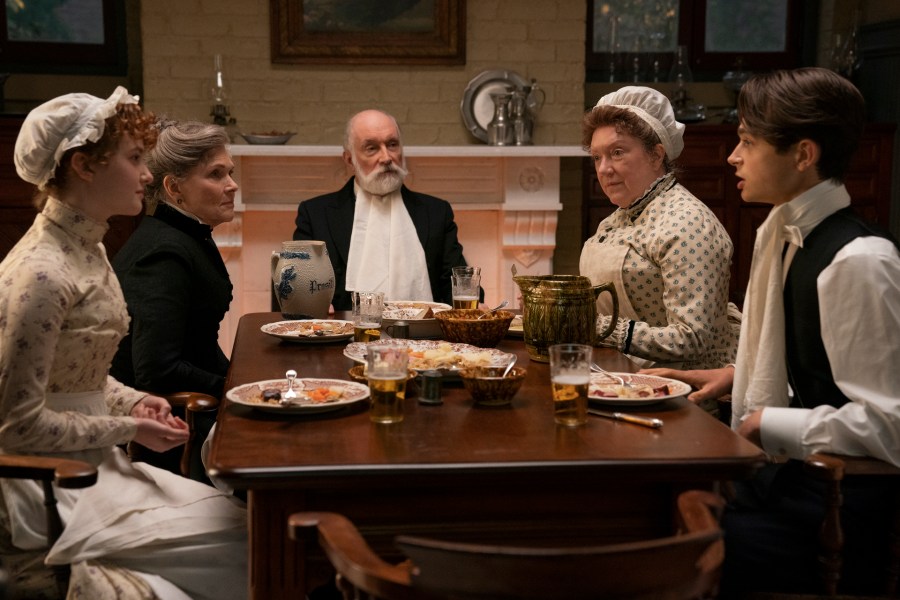 You can enjoy The Gilded Age if, like me, you're a fan of inclusive period dramas. The show is also a great watch for New York lovers thirsty for some history tidbits — the Statue of Liberty's right hand could be seen at Madison Square Park in Manhattan in 1882; the main sculpture at Central Park's Bethesda Fountain was designed by the sculptress Emma Stebbins — or for those eager to concede Gilded Age New York and present-day New York have a lot in common. Life can still be about whose guest lists you're on — at least in pre-COVID times.
I particularly relished Nixon, Baranski and Coon's performances. The first one pretends to be an unsubstantial spinster without much to say. You'll soon find out she's not. The second one is stony and affectless, uttering biting remarks such as "It sounds dull enough to be respectable" and "If you don't want to be disappointed, help those who help themselves." I did miss her throaty Diane-Lockhart-from-The-Good-Fight laugh though. Coon is simply flawless as the calculating and stern Mrs. Russell. "Life is like a bank account. You cannot write a check without first making a deposit," she tells a foe in need of her mercy.
On top of all that, there are a few real-life characters in the show. Linda Emond plays the nurse and American Red Cross founder Clara Barton. Through Barton's endeavors and the reach of her work, we learn charity was also the way into some of New York's most exclusive circles. Nathan Lane is simply spot-on, Southern accent and all, as Ward McAllister. He was the gatekeeper to New York's 19th-century high society. You'll learn about his Four Hundred, the 400 people in what was considered fashionable New York society, led by the Mrs. Astor (Donna Murphy).
I'm anxious to see what the remainder of the season has in store for Maryan, Peggy, Agnes, Ada and the Russells. When I finally get my hands on the yet unwatched The Gilded Age episodes, the plan is to make a pot of strongly brewed tea, warm up the scones, take out the fruit preserves and just savor the binge.