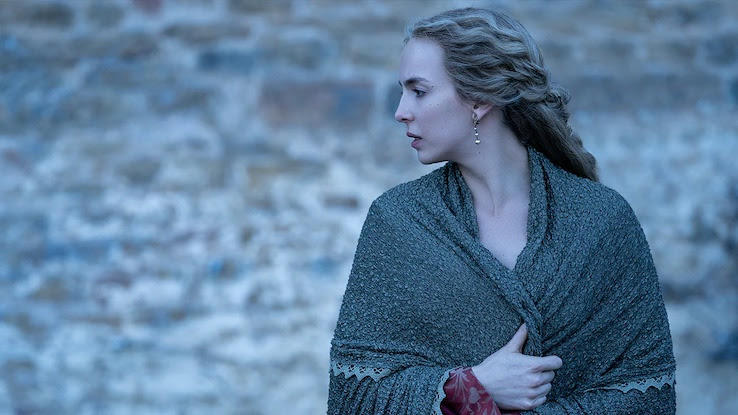 Rating: 8/10
The Last Duel caught me by surprise. The Ridley Scott-directed movie opens exclusively in theaters this Friday, October 15, and is based on real events. It's set in 14th century France and tells the account of Marguerite de Carrouges, a noblewoman who was raped by one of her husband's friends and who, against convention, decided not to remain silent about it.
Jodie Comer plays Marguerite and displays a side of her interpretative range she never gets to show in Killing Eve, that of a vulnerable woman who is commanded by men, dependent on them and abused by them. Matt Damon plays the husband, Jean de Carrouges, a brute with no people skills who's seemingly only good on the battlefield. Scott takes his time at the battlefront — The Last Duel is two hours and 32 minutes long — and he shows the brutality, bloodiness and just plain grime of the Hundred Years' War between France and England in a time of swords and armor.
Adam Driver is the friend and rapist, Jean Le Gris. He's a cultured man who reads, speaks Latin and knows how to play the court's networking games. He befriends Count Pierre d'Alençon (Ben Affleck), the King's cousin, and takes full advantage of all the political access and privileges that that entails. He denies Marguerite's allegations.
The movie's title refers to the trial by combat in which Jean de Carrouges and Le Gris took part. It was believed the divine decided who was telling the truth by sparing their life at the duel. When, in reality, it was a matter of which of the two men was the better warrior.
I made the mistake of judging this film by an initial trailer released back in July that elicited a lot of internet chatter about Damon and Affleck's unflattering hairstyles. I failed to realize the ridiculous hairdos were purposeful and necessary. I also didn't recognize how relevant The Last Duel was. Don't make the same mistakes I did — this is a timely and powerful story about the entrenchment of violence against women. Be warned, though; The Last Duel is not easy to watch and can be intensely distressing.
A Story Told From Three Perspectives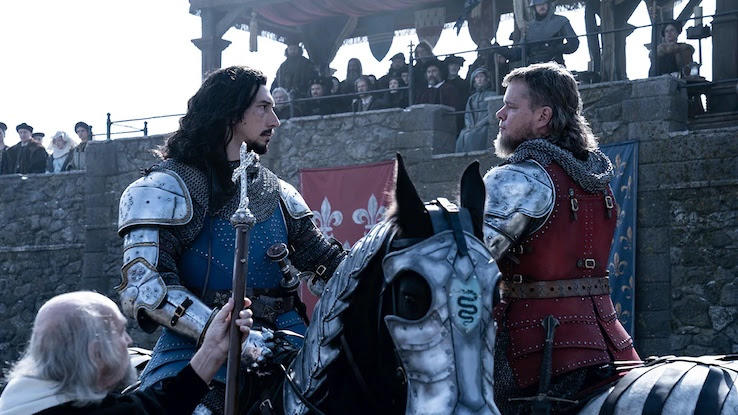 The Last Duel is told in three chapters. The first is from Jean de Carrouges' perspective, and you may be bored by it. I sure was. He's a dull man who only knows how to live for war — the crudeness of some of the battles depicted is hard to stomach — and lacks the most basic social skills. I checked my watch on two occasions in chapter one. I was fixated on how faithful Scott seemed to want to be in his portrayal of medieval times though, from the candlelit houses to the negotiation of a dowry before the marriage contract is signed or the performance of the rituals of the actual wedding.
Chapter one also sets up the power dynamics between Jean de Carrouges and Marguerite and makes you wonder whether they'd be more favored in court if she was the one in charge of interacting with society — or simply allowed to do it.
Chapter two offers the perspective of Le Gris and narrates almost the same bits of story as chapter one does but from this other character's distinct point of view. Besides Damon's mullet and Affleck's platinum blonde 'do in The Last Duel, Driver sports his long, dark locks and manages to look like the regular Adam Driver always does. Damon and Affleck's hairstyles represent the otherness of a time long past and extremely strange to 21st-century viewers. But Driver remains somewhat attractive to present-day standards.
You may sympathize with Le Gris at first. He's much more affable and charming than de Carrouges could ever be. He reads poems that declare "Nothing prevents a woman to be loved by two men." He's also the perfect companion for d'Alençon in his frequent sexual escapades with multiple women. The film depicted those a little bit too much from the male perspective for my taste. Some of the sex scenes made me deeply uncomfortable. But I feel Scott did it intentionally. He was establishing Le Gris as a hedonist not used to having to listen to women's demands, wishes or needs. Plus, the production hired intimacy coordinator Ita O'Brien (Sex Education). This is the kind of film where you want a professional like O'Brien seeking the care and comfort of all performers involved in sexual representations.
When he meets Marguerite, Le Gris becomes a man consumed by lust. He erroneously believes that feeling is love and assumes she feels the same. "I know you love me too, you must," he tells Marguerite before raping her.
Chapter three is the most heartfelt of the sections of the movie and is told from Marguerite's perspective. She's a smart woman who puts the family's accounts in order when Jean leaves and she has to take charge of the estate. She's happy to do it. But she has no power when it comes to deciding. She has no legal standing, either; she's bound by law to depend on a man who makes one wrong decision after another.
The movie also makes a point of symbolizing all women of the time, no matter their social background. "Men like Le Gris take women when they want and how often they want," Marguerite's mother-in-law (Harriet Walter) tells her, and you realize women were all easy prey.
Three Writers for Three Chapters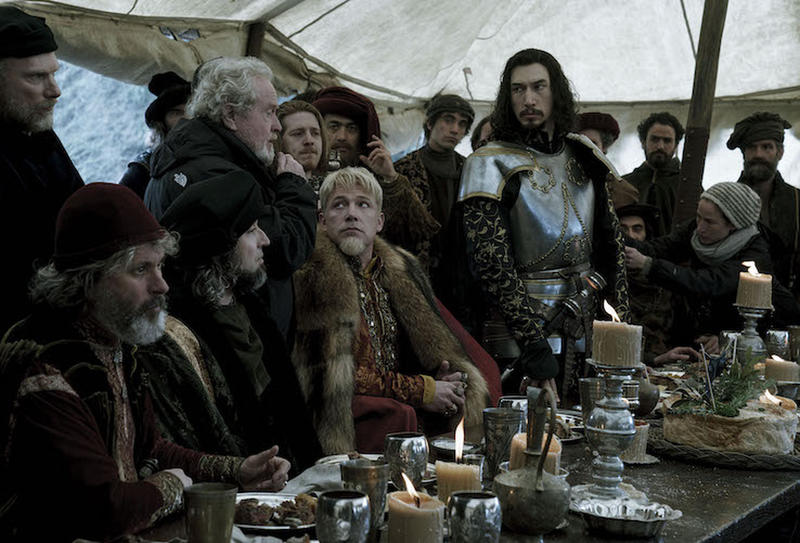 Other than the film buff in me who's always anticipating whatever Scott is directing next, the main reason why I didn't completely dismiss The Last Duel after that first trailer is Nicole Holofcener. She's the filmmaker who wrote and directed the romantic comedy Enough Said starring Julia Louis-Dreyfus and James Gandolfini. She also penned the screenplay for Melissa McCarthy's Can You Ever Forgive Me? She co-wrote The Last Duel with actors Affleck and Damon.
The Boston duo famously co-wrote and starred in Good Will Hunting (1997). They won an Oscar for its screenplay and had been looking for another project on which to work together as screenwriters. Damon was the one to find Eric Jager's book The Last Duel: A True Story of Crime, Scandal, and Trial by Combat in Medieval France and show it to Scott. They did The Martian together. Soon Affleck was also on board, and they enlisted Holofcener to write Marguerite's chapter. Although they collaborated and rewrote and edited each other's words, each one of them wrote from the perspective of one of the characters: Damon as Le Carrouges, Affleck as Le Gris — he was initially thinking about playing that character — and Holofcener as Marguerite.
"The reason I came on in is because Matt and Ben are not women. Not that they couldn't write terrific women, plenty of men do, but I think that's what I was able to add: my perspective as a female, and a different eye and a different voice as well," Holofcener says in the film's production notes. The movie needed her voice.
A lot has changed since the 14th century. Battles are no longer fought with swords. People can bathe more often. Clothes are simpler. Hairstyles are mostly less unflattering. And, some women have agency and power over their bodies, their will and their wellbeing. Yet The Last Duel makes a point about everything that hasn't changed since then.
There can't be a fraction of an ounce of doubt against the survivor of a sexual assault or they may not be believed. Some of the questions Marguerite faces during the movie brought up memories of how survivors were questioned in recent high-profile rape trials in my home country of Spain. A bunch of guys mansplain to Marguerite things like how she can and cannot get pregnant. They have all the facts wrong but they can still make decisions over her and her body.
When it comes to women's reproductive rights, violence against women and sexual assault, some things have improved — but there are still many remnants of medieval times to overcome.
If you or anyone you know are a survivor of sexual assault, you can get access to resources and help from the Rape, Abuse & Incest National Network's website or contact RAINN's National Sexual Assault Hotline at 1-800-656-HOPE (4673).