You don't need to be Lady Whistledown to know that Bridgerton is Netflix's hottest new series. Based on Julia Quinn's bestselling novels, this alternate history period drama takes everything we love about shows like Gossip Girl and sets that soapy drama against a Regency-era backdrop. In fact, in the first 28 days of its release, Bridgerton was viewed by a staggering 63 million households, making it Netflix's fifth most-watched original series launch of all time.
Without a doubt, Bridgerton is made for marathoning — and that probably means you've finished it (at least once) by now. Luckily, we've rounded up a list of all things Bridgerton-esque: steamy period pieces, soapy series, anachronistic dramas and Shonda Rhimes-produced hits. If you're looking to fill that Bridgerton-shaped void in your life, chances are there's a series or movie on our roundup that will speak to you.
Dickinson
With scenes set to the tunes of Lizzo, Mitski and billie eilish, there's no doubt that Apple TV+'s teen period-piece comedy, Dickinson, is anachronistic — and every bit as irreverent as its protagonist, a young Emily Dickinson (Hailee Steinfeld). We're big fans of the series — and Dickinson's sophomore season hasn't let us down.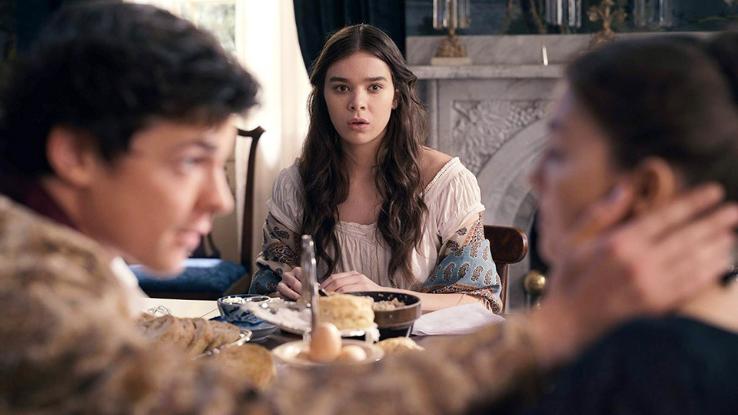 For both comedic effect and to get at the heart of Emily's history, Dickinson swings big: The fledgling poet throws house parties full of both 19th-century dancing and twerking; hallucinates a talking bee (Jason Mantzoukas) after taking recreational opium; courts her brother's (Adrian Blake Enscoe) fiancée, Susan "Sue" Gilbert (Ella Hunt); and actively fights against the gender norms of her time. Not to mention, one of her closest confidantes is the personification of Death (Wiz Khalifa).
Emma.
The most recent adaptation of Jane Austen's Emma hit theaters just before states and cities across the country began going into lockdown and shelter-in-place mode due to the COVID-19 pandemic. While it may not have gotten its place in the sun upon its initial release, Emma. got a second life on streaming platforms and was universally doted upon by critics.
For those unfamiliar with the source material, the story centers on the beautiful, clever and well-to-do Emma Woodhouse, who fancies herself a prolific matchmaker. Of course, she's interested in setting others up — not herself — until she realizes the man she loves has been right in front of her all along. Full of missteps, some surprising hilarity and a lot of walks through the English countryside, Emma. is bolstered by impeccable performances from Anya Taylor-Joy, of The Queen's Gambit fame, and Bill Nighy.
Gossip Girl
Listen up, Upper East Siders: If Gossip Girl isn't on your watchlist, you need to fix that — stat. Narrated by the mysterious, omnipresent blogger "Gossip Girl" (the voice of Kristen Bell), this era-defining show ups the ante — and drama — with each season. Much like Bridgerton, there's a stellar blend of knives-out humor, steamy relationship drama and, you know, that special CW-brand of teenage melodrama.
Over the course of six seasons, Gossip Girl showcases the lives of privileged, upper-class young adults who call Manhattan's Upper East Side home. There's "it girl" Serena van der Woodsen (Blake Lively), who returns to the scene after some time away; Serena's frenemy Blair Waldorf (Leighton Meester); and Serena's on-again, off-again love interest Dan Humphrey (Penn Badgley), an aspiring, Brooklyn-based writer. Best of all, HBO is rebooting the series, which means now is as good a time as any to revisit this classic. XOXO.
The Great
Without a doubt, Hulu's comedy-drama The Great was one of 2020's best period-piece shows. For the uninitiated, the satirical series tells the story of Catherine the Great (Elle Fanning) and her rise from outsider to longest-reigning woman ruler in Russia's history. Nicholas Hoult joins Fanning, playing Emperor Peter III, and it's the duo's chemistry and wicked sense of humor that helps this show live up to its name.
Even though it's a firm period piece, The Great isn't necessarily historically accurate — in fact, Hulu has called it "anti-historical." Although many of the names, characters and events are pulled from history to some degree, it doesn't aim to depict the truth of what happened. And, honestly, that's kind of refreshing.
Scandal
This Shonda Rhimes drama centers on Olivia Pope (Kerry Washington), a former media consultant to the president who, in the wake of her past, opens her own crisis-management firm. Rhimes is best known for helming long-running medical drama Grey's Anatomy, but Peabody Award-winning Scandal proves that she's a leading voice in the political thriller genre too. And, now, Bridgerton reiterates that Rhimes has an eye for impactful stories, regardless of genre.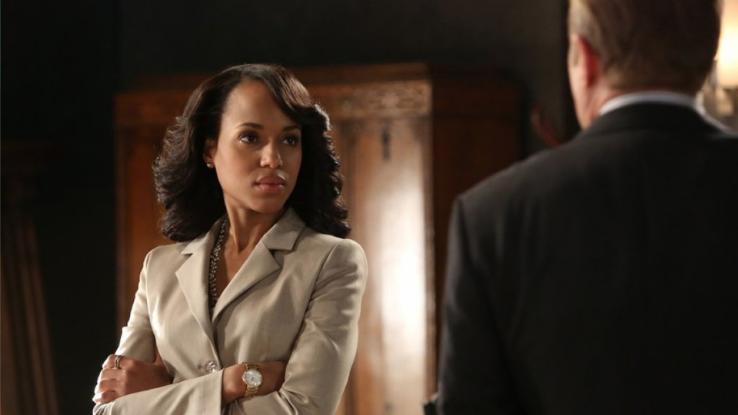 Based partially on former George H.W. Bush admin press aid Judy Smith — who also co-executive produces the show — Olivia Pope netted Washington an Image Award and several Emmy, Golden Globe and SAG nominations. If you love a good soap, with its hairpin twists and character reveals, this "gonzo hybrid of conspiracy thriller and high-stakes soap opera" is for you (via Alan Sepinwall, HitFix).
The Favourite
This 2018 period black comedy film from visionary director Yorgos Lanthimos is set in early 18th century Great Britain — and it earned Olivia Colman an Oscar for her portrayal of Queen Anne. If you haven't seen it, the film revolves around Sarah, Duchess of Marlborough (Rachel Weisz) and Abigail Masham (Emma Stone), who are both vying for Anne's affections.
Like other (somewhat) anachronistic historical dramas on our list, The Favourite isn't completely accurate, despite its real-life inspirations. Still, with a lush period piece backdrop; incredible performances; caustic, bawdy humor; and a whole lot of queerness, Lanthimos' acclaimed film is a bonafide must-watch.
The Lizzie Bennet Diaries
Based on the beloved classic Pride and Prejudice, Hank Green and Bernie Su's The Lizzie Bennet Diaries is a must for those who just can't get enough of Austenian drama and romance. Sure, Keira Knightley's take on Lizzie is masterful — no one's disputing that. But we appreciate the modern-update flair found here.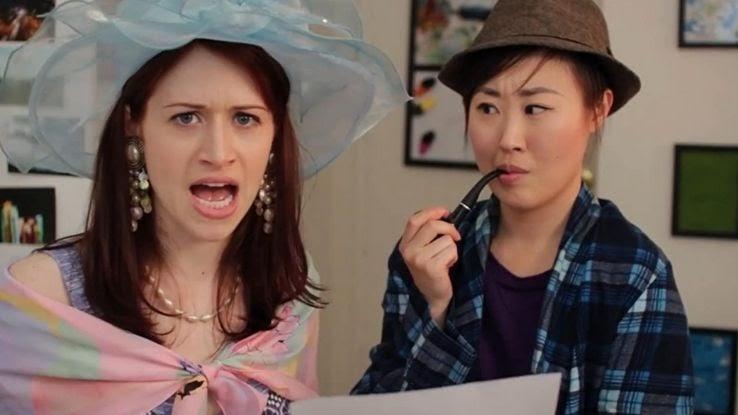 In the Emmy-winning Diaries, Lizzie Bennet (Ashley Clements) tells her story through a series of vlogs. Although the show takes place in Lizzie's bedroom, our titular heroine does invite her pal Charlotte (Julia Cho) and her sisters Lydia (Mary Kate Wiles) and Jane (Laura Spencer) into the mix to provide viewers with different perspectives and help her in creating laugh-out-loud reenactments. Best of all, each episode is between two and eight minutes long and available on YouTube, making this one easily marathonable.
Harlots
While Bridgerton focuses on royals and debutantes, Harlots centers the folks who work at an 18th-century brothel. Based on British historian Hallie Rubenhold's The Covent Garden Ladies, the series stars Samantha Morton as Margaret Wells, a woman who runs a brothel and aims to create a successful future for her daughters. After all, a woman's economic advancement at that time hinged on either marriage or sex work.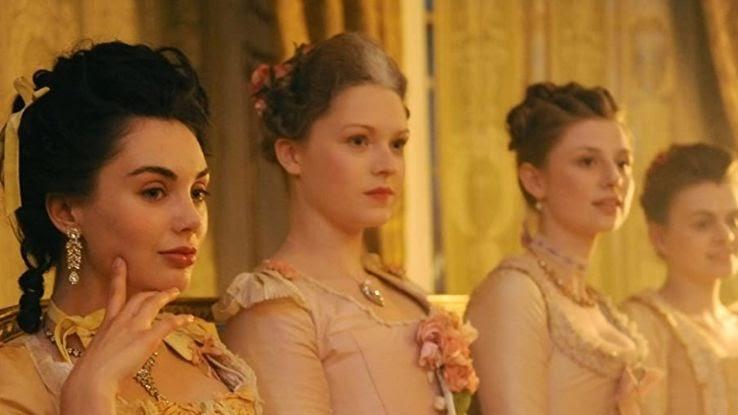 Unfortunately, Margaret and her rival madame, Lydia Quigley (Lesley Manville), find their line of work threatened when religious evangelism swells in London, leading to an uptick in police raids and the mass closure of brothels. Both insightful and campy, Harlots is also a quick, three-season watch.
Reign
Full of drama, steamy scenes, dirty secrets and much, much more, Reign is that under-the-radar period piece you should be watching. It follows the life of Mary, Queen of Scots (Adelaide Kane), who arrives in France at just 15 years old. With four seasons of political drama and romantic flings under its belt, Reign is like a CW version of The Crown — and who doesn't want to delve into that?
Belgravia
Yet another period piece that traces the lives of London's elite, Belgravia is full of scandal and drama — well, posh scandal and posh drama. With superb performances from Philip Glenister, Tamsin Greig, Harriet Walter and Saskia Reeves, the series will have you hooked right off the bat. And although Belgravia comes from the team behind Downton Abbey, it has certainly forged its own brand of historical drama.