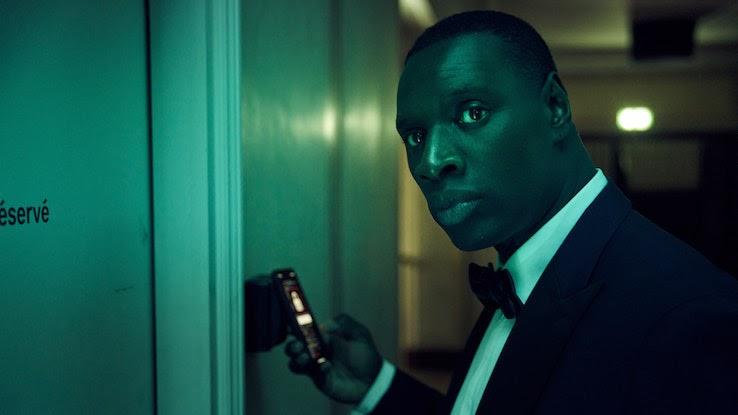 When director Bong Joon Ho accepted his Parasite Oscar in the Foreign Language Film category last year, he made a very strong case for content with subtitles. "Once you overcome the one-inch tall barrier of subtitles, you will be introduced to so many more amazing films," he said through a translator.
The South Korean director would go on to win three more Oscars that night and Parasite became the first foreign-language film to win the coveted Best Picture statuette. Parasite's historic victory raised the question of whether the time had come for Americans to embrace subtitles.
With the recent release of Part Two of the show Lupin on Netflix — its Part One became the first French show to land on the streamer's U.S. Top 10 list and had a record 70 million households watching it in the first 28 days of being released — and with the previous international phenomenon that was Money Heist — Part Four of the Spanish TV show was watched by 65 million households — you could say international or non-English content is having a mainstream streaming moment. And while I'm not sure the barrier of subtitles has been completely overcome, watching content from different countries certainly introduces you to amazing films and TV shows.
Netflix has been one of the groundbreakers in the production of non-English language content. Not only with Lupin and Money Heist, but with other international Netflix hits as well, including Élite (Spain), Dark (Germany), Call My Agent! (France), Kingdom (South Korea), Fauda (Israel) and La casa de las flores (Mexico), to name a few. They are not alone. Last year, HBO released the critically acclaimed Veneno (Spain) and it produces My Brilliant Friend (Italy), Beforeigners (Norway), Miss Sherlock (Japan) and even experimented with the difficult-to-classify Los Espookys, which featured dialogue mainly spoken in a sort of International Spanish (featuring accents from Chile, Venezuela, El Salvador, Panama, Mexico…), shot in Chile and set in a fictional Latin American country.
Of course, international content is not a new thing and Americans have a long tradition of welcoming British (The Crown), Irish (The Fall), Canadian (Schitt's Creek) and other productions from English-speaking countries. The novelty here is now we're seeing international hits that need to be dubbed and subtitled.
Don't Be Intimidated by Subtitles
You can argue you don't actually need subtitles to watch Lupin. The Omar Sy-starrer is dubbed in English, among many other languages to serve the vast and global Netflix viewership. Many viewers might not even know its original language is French — Netflix tends to default to dubbing unless you change some of the settings on your user profile. But Lupin couldn't be more French: the show is set in Paris and its title references the name of the fictional gentleman thief and literary character Arsène Lupin.
As a Spaniard who grew up in the '80s and who has always been mildly obsessed with American pop culture, I've embraced subtitles from a very early age. It's what you're forced to do if you don't feel like listening to Star Wars Han Solo dubbed in Catalan once again or suffering through ER dubbed in the thickest of Castilian Spanish. Being able to have access to films and TV shows in their original language not only allowed me to have a better understanding of how people really sounded, it enabled me to learn the language.
I get it: watching a show with subtitles requires a whole lot more concentration and even work from the viewer. I never got around to watching Dark just because I speak no German at all and I didn't feel like reading all the time. For me, it's just easier to watch Lupin or The Young Pope in their original version because I speak French and I'm mildly familiar with Italian. Watching the Swedish workplace comedy Love & Anarchy, though, required me to truly pay attention all the time and read the subtitles without exception.
I've noticed that watching a show with subtitles tends to mean I focus more on the TV and less on my cell phone. So if you're thinking about ways of being more present and focused on just one thing at a time, setting those Lupin subtitles and watching it in French may be the way.
Subtitles give you the chance to listen to the characters speaking in the languages they were originally written to speak in and you can enjoy the whole performance of an actor, as opposed to just seeing their physical performance but listening to someone else's voice. And you want to watch Lupin savoring Sy's charismatic interpretation in full mode. But even that doesn't mean you always need to do it.
The options are so numerous that you can choose to watch the first episode of the new season in French with subtitles in English, the second one in French with subtitles in French — an excellent option if you're already familiar with the language and a student of it — and then watch the third one in English just because you feel tired. Even better, watch one episode in English to get familiar with it then watch it again in its original version; it'll be less hard to understand it the second time around.
It's great that streaming has made it possible for us to enjoy such diverse content from all over the world, but just remember to experience it in its original version sometimes. Not everything needs to always sound the same.