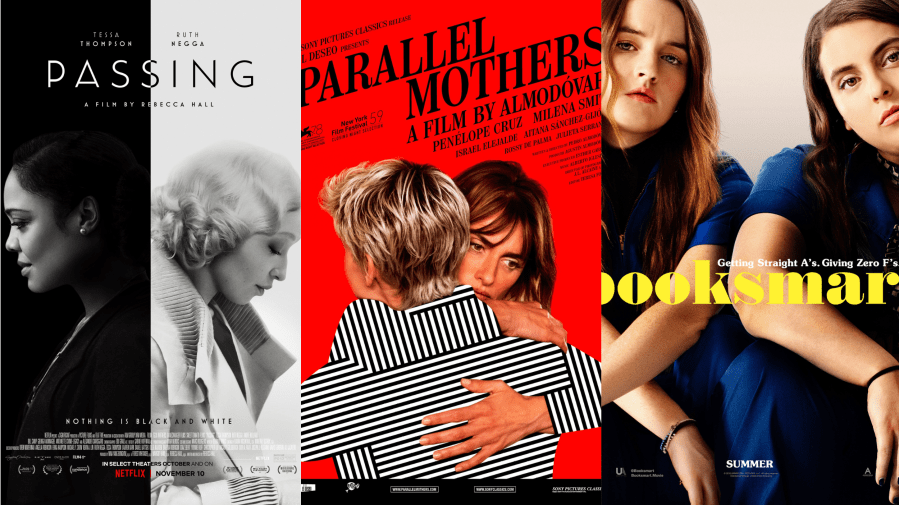 We're entering Women's History Month with some movie suggestions: titles that celebrate women's friendships and sisterhood. So prepare yourself for laughter, solidarity, brutal honesty, girls' nights out and the occasional tear.
All the movies on this list have at least either a woman director, a woman screenwriter, a woman producer or all of the above.
Clueless (1995)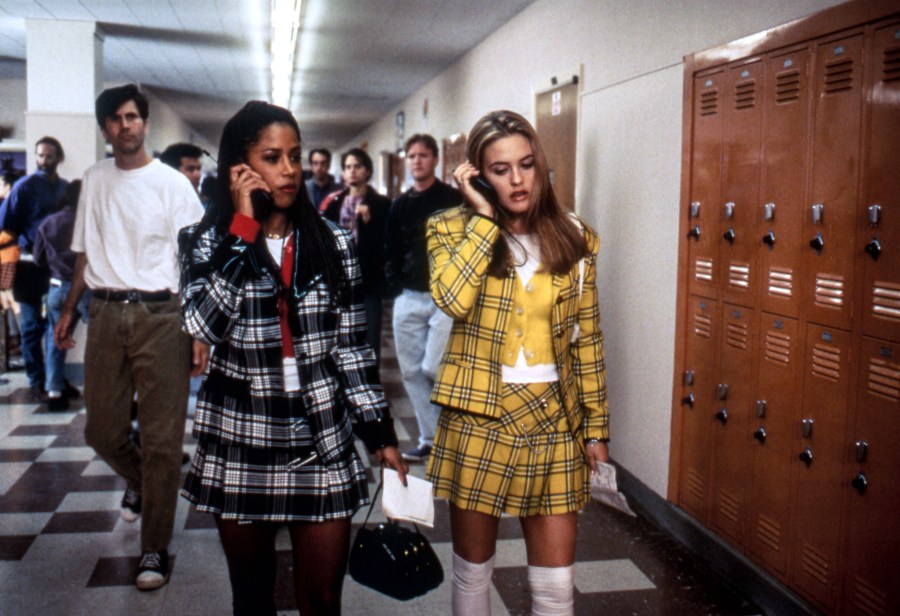 If there's an author who's captured female friendship repeatedly, it'd be Jane Austen. Her stories tend to focus more on the friendships between sisters (Pride and Prejudice, Sense and Sensibility). But with Emma, the author portrayed the relationships of the young and a bit spoiled heiress with her older sister Isabella, her governess and mother figure Miss Taylor and ultimately the unassuming and highly influenceable Harriet Smith.
Check out Autumn de Wilde's 2020 version — Emma. — for a very poignant take on how toxic the friendship between Emma and Harriet is when Emma treats the latter as an inferior. Or opt for a cult classic like Amy Heckerling's Clueless for the 1990s take on it. The outfits in both are full of ideas for those who prefer not to be ensembly challenged.
Bend It Like Beckham (2002)
What happens when Jess (Parminder Nagra), an 18-year-old girl from London whose British-Indian family doesn't approve of her playing soccer, meets the player of a local women's football team named Jules (Keira Knightley)? Jules convinces Jess to try out for the team and the two of them revolutionize just about everything.
Gurinder Chadha (Bride & Prejudice) wrote and directed this coming-of-age story about cultural differences, staying true to oneself, romance and friendship.
Frances Ha (2012)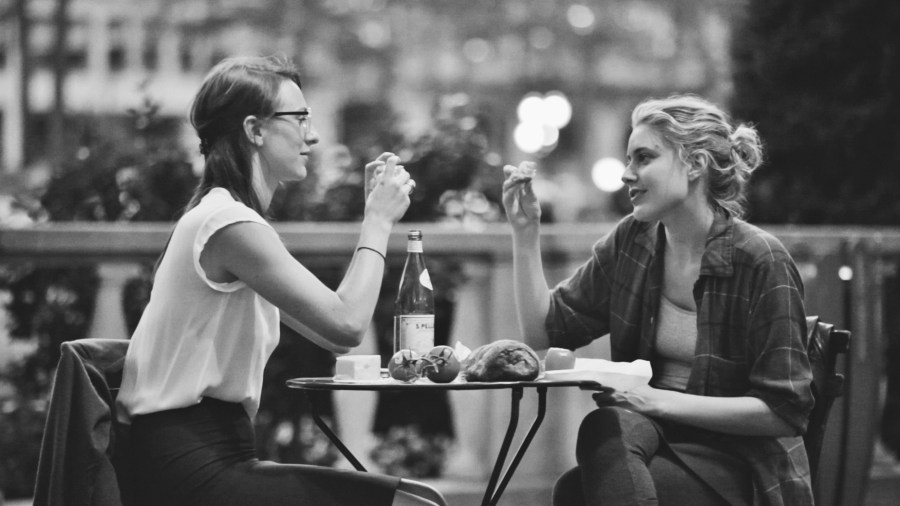 Noah Baumbach and Greta Gerwig co-wrote the script of this movie that he also directs and in which she also stars. Gerwig is Frances, a 20-something-year-old aspiring dancer who lives in Brooklyn with her best friend from college, Sophie (Mickey Sumner). Things start falling apart when Sophie tells Frances she is moving to Tribeca, a neighborhood the dancer can't afford.
The film reflects on the ways friendships evolve in our late twenties and proves there's always a way to reconnect.
Tangerine (2015)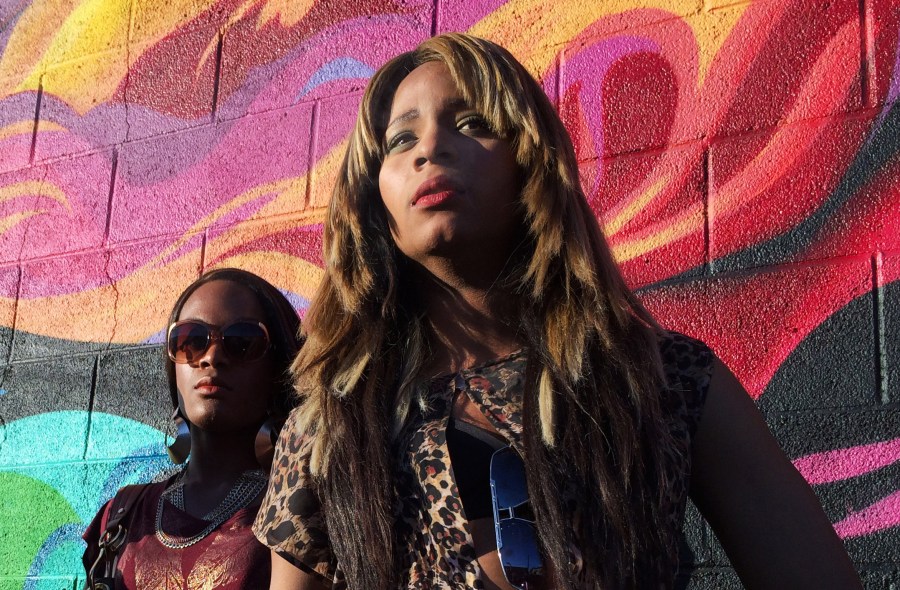 Indie filmmaker Sean Baker (The Florida Project) shot his 2015 film Tangerine entirely on an iPhone 5S and with a very modest $100,000 budget. The movie tells the story of Sin-Dee (Kitana Kiki Rodriguez), a transgender sex worker who just finished a 28-day sentence in jail. Her best friend Alexandra (Mya Taylor), also a trans woman and sex worker, spills out that Sin-Dee's boyfriend and pimp is cheating on her with a cisgender woman.
Both women end up trying to get to the bottom of the affair and embark on a search throughout Los Angeles during a Christmas Eve day that proves how important friendship is.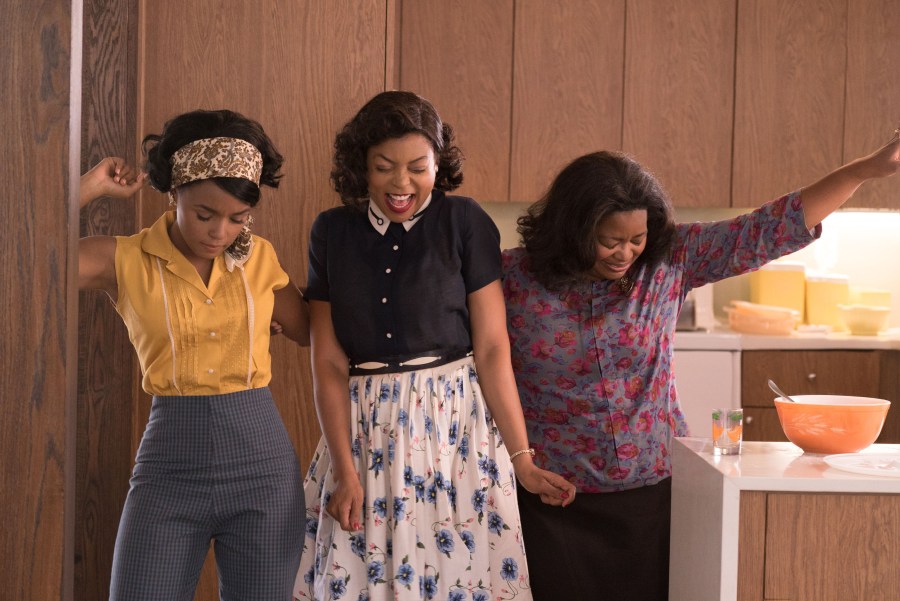 Hidden Figures joins Taraji P. Henson (Katherine G. Johnson), Octavia Spencer (Dorothy Vaughan) and Janelle Monáe (Mary Jackson) to tell the real story of a group of Black women mathematicians who worked at NASA and played a crucial role during the Space Race of the 1960s.
When given the right opportunity, these scientists made a difference. But the movie is also a great example of how mentorship and support among them empowered these women to be their best selves.
The Beguiled (2017)
They might not always feel like a traditional group of best friends, but the women in Sofia Coppola's The Beguiled sure know how to unite against adversity. Based on the novel of the same name, the film tracks the story of an all-girls boarding school in Virginia during the Civil War.
The lives of the school's headmistress (Nicole Kidman), teacher (Kirsten Dunst) and students get shaken when a wounded soldier (Colin Farrell) from the Union Army, who has deserted, ends up at the school.
Girls Trip (2017)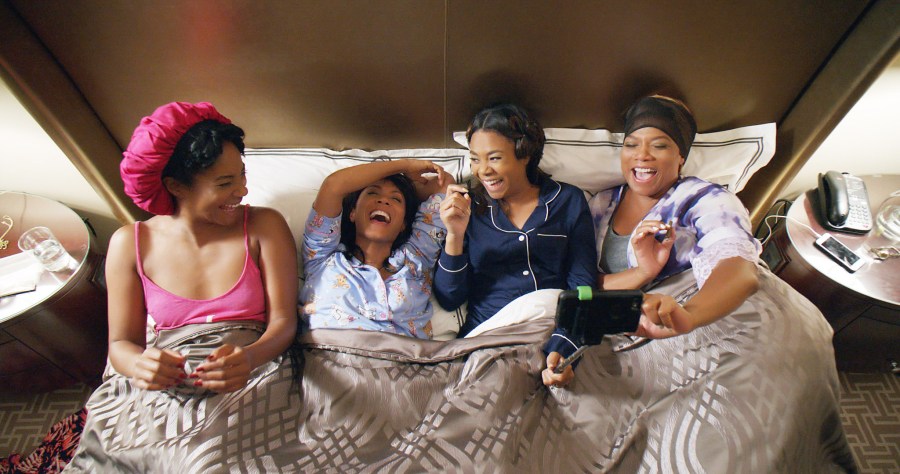 This laugh-out-loud comedy was directed by Malcolm D. Lee (The Best Man Holiday) and assembles Regina Hall (Ryan), Queen Latifah (Sasha), Jada Pinkett Smith (Lisa) and Tiffany Haddish (Dina). They're the Flossy Posse, four friends from college who have fallen out of touch over the years and head out on a girls-only trip to the Essence Music Festival in New Orleans to rekindle their friendship.
Expect absinthe-fueled nights gone wild, pajama parties and a lot of tenderness from these four besties.
Hustlers (2019)
Lorene Scafaria's movie about a group of strippers who stole from some of their clients is based on a New York Magazine article relating real events.
Granted, the movie would be worth it just to see Jennifer Lopez's pole-dancing moves and trend-setting fashion choices. She plays Ramona, a seasoned stripper with the habit of taking club newcomers under her wing and befriending them. You can argue against the white-collar crimes committed by these women, but regardless of its moral dilemma Hustlers can also be seen as an example of women's camaraderie.
Booksmart (2019)
Olivia Wilde's feature directorial debut is a coming-of-age story about two overachievers and best friends — Amy (Kaitlyn Dever) and Molly (Beanie Feldstein) — who realize they have one last night before graduation to make up for lost time in high school.
Look out for a murder mystery party with a lot of production value and the portrayal of a friendship in which encouragement and acceptance are key.
Little Women (2019)
Let's add another Greta Gerwig entry to this list with this adaptation of the Louisa May Alcott novel of the same name that Gerwig wrote and directed. The film proved superior in its inclusion of a sequence with Amy (Florence Pugh) explaining Laurie (Timothée Chalamet) why marriage was very much an economic proposition for a woman of her means, another one with Meg (Emma Watson) having to humiliatingly explain to her husband why she bought fabric for a new dress or an ending that saw Jo (Saoirse Ronan) pursuing her passion of becoming a writer.
The movie also is a story of camaraderie and friendship among the four March sisters. They organize plays at home, curl — and burn — each other's hair, borrow each other's clothes and very much argue and play all the time even managing to forgive the time when Amy destroyed Jo's writings in a fit of jealousy.
Unpregnant (2020)
In 2020 there were two movies — Never Rarely Sometimes Always and Unpregnant — that focused on a couple of teenagers and friends having to leave on a road trip. In both movies, one of the teenagers was pregnant and needed to get an abortion in a neighboring state where parental consent wasn't necessary.
And whereas Never Rarely Sometimes Always is certainly a superior movie that explores the need for accessible reproductive healthcare and rights for all, Unpregnant is the more humorous version of that story. Prepare to be inspired by Veronica (Haley Lu Richardson) and her bestie Bailey (Barbie Ferreira), someone who fortunately doesn't hold a grudge.
And the tale of two friends taking a road trip because one of them needs access to reproductive healthcare appeared again in one of our favorite movies from 2021, Plan B. In it, best friends Lupe (Victoria Moroles) and Sunny (Kuhoo Verma) embark on a trip to South Dakota to try and get a Plan B pill for Sunny after she has a birth control accident during her first sexual relationship.
Plan B, a raunchier version of the somewhat-similar story depicted in the previous two movies, never feels repetitive though. The restrictions in Texas that ban almost all abortions and the Mississippi abortion law being weighed in on by the Supreme Court make this movie — and the need for accessible healthcare — more timely and relevant than ever.
Parallel Mothers (2021)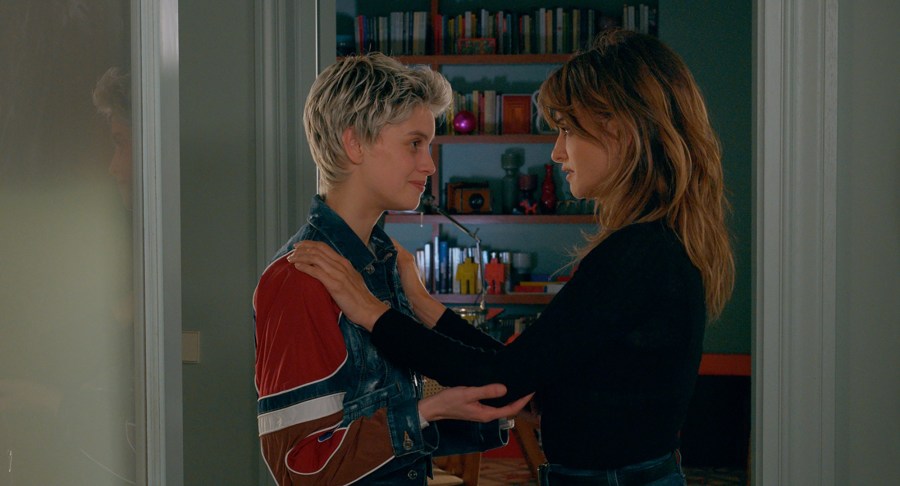 Academy Award-winner Penélope Cruz proves once again that she can make better just about anything — this time in Pedro Almodóvar's film Parallel Mothers (Madres paralelas). Cruz, who is nominated for an Oscar for her role here, plays a freelance photographer and single mother-to-be named Janis. When she's about to give birth she meets Ana (Milena Smit), who's also expecting.
Ana and Janis not only connect over their love for motherhood and their newborn daughters, but their lives keep crossing paths too, which only strengthens their evolving relationship.
You can also simply watch this movie if you want to learn how to cook a quintessential Spanish omelette. Janis does it glamorously while dressed in a Dior T-shirt that flaunts Chimamanda Ngozi Adichie's anthem: We Should All Be Feminists.
Passing (2021)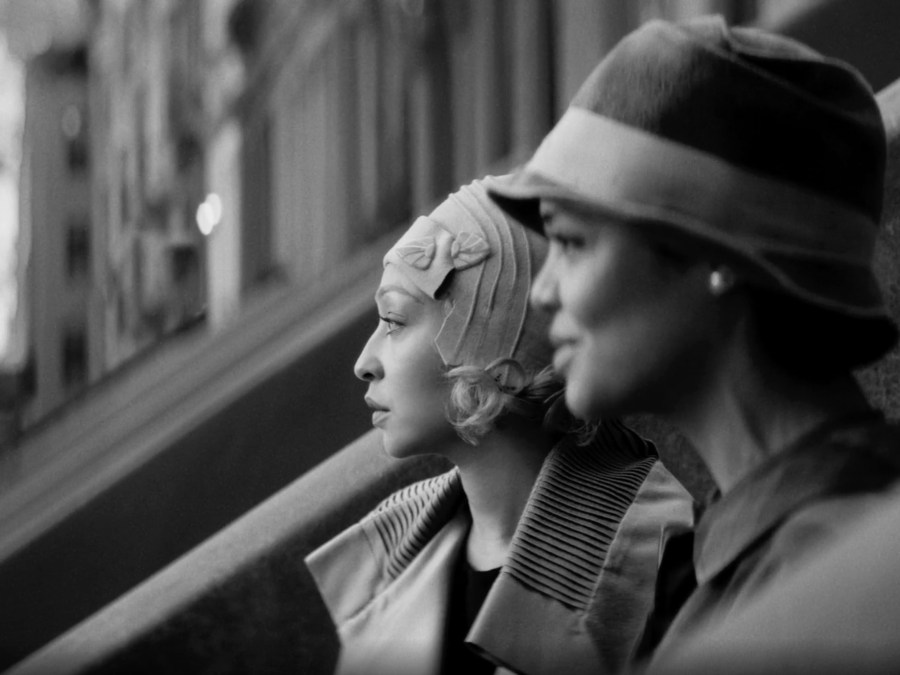 Actress Rebecca Hall (The Town) made her directorial debut with this black-and-white adaptation of Nella Larsen's 1929 novel of the same name. Tessa Thompson and Ruth Negga play Irene and Clare, two childhood friends who rekindle their relationship as married adult women.
The movie explores the idea of "passing"; both Irene and Clare are light-skinned Black women. Clare has decided to live her life passing as white but envies the life and friendships Irene has made over the years while living in one of Harlem's affluent and culturally rich Black neighborhoods.
Clare is not the only one passing in this tale though. The film also delves into the many ways we can pass as something or someone we don't necessarily identify with or embody. The movie, which centers the deep connection between the two women, hints at the romantic attraction Irene feels for her friend, too.