After a mid-season hiatus, Riverdale fans can once again tune in to the epic highs and lows of high school football — and, you know, small-town serial killers. But, for the Archieverse, 2021 is a big year outside of The CW's hit show. In fact, this year marks the 80th anniversary of Archie Andrews' first on-page appearance.
Back in 1941, Archie — and, at various points, his cohorts Betty Cooper, Veronica Lodge, Reggie Mantle and Jughead Jones — first appeared in Pep Comics #22. Exuding all that small-town, all-American charm, the Riverdale gang resonated with audiences, leading to eight decades of comic books, graphic novels, hit songs, cartoon and TV series, and enough merch to fill the Blossoms' manor several times over.
Like The CW's other fare (Nancy Drew), Riverdale is known for being a darker reimagining of the beloved characters, but, in honor of 80 years of Archie, we're throwing it back to simpler times and revisiting the origins of the long-running series. So, grab your Pop's burger and malt — you're in for a (nostalgic) treat!
From 'Pep Comics' to "A Town With Pep": Archie Steals a Superhero's Spotlight
Before it became Archie Comic Publications, the comics publisher was founded under the name M.L.J. Magazines, Inc. in 1939. And instead of pushing stories that centered on a group of teens, M.L.J. was known for its superhero fare. Published during the so-called Golden Age of Comics — the 1930s and '40s — Pep Comics, one of M.L.J.'s standout series, introduced several of the publisher's big-name characters.
Clearly influenced by the feelings surrounding World War II, The Shield became M.L.J.'s star-spangled, patriotic superhero — even predating Marvel's Captain America — while The Comet became the series' token scientist-turned-superhero. Issue #22 of Pep Comics introduced another flagship character: Archie Andrews. Although not a superhero, the teenage protagonist beat the odds, soon becoming the face of the publisher.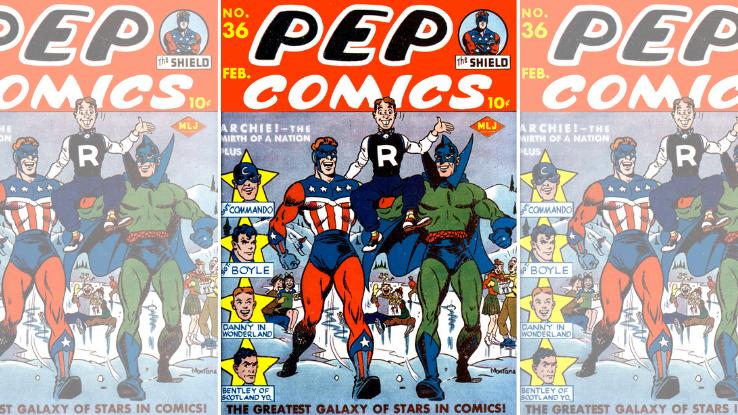 Created by John L. Goldwater (publisher), Vic Bloom (writer) and Bob Montana (artist), Archie — and pals Jughead Jones and Betty Cooper — might've been first introduced in December 1941, but the gang's little six-page humor strip wasn't even a blurb on the issue's cover. After all, costumed superheroes dominated the comics scene. Perhaps hoping to provide some relief from the current events of the day, Pep Comics began spotlighting more humorous, lighthearted strips starting with issue #40, which was published in July of 1943. Soon enough, The Shield was sharing the cover with Archie.
A few issues later, a strip featured a radio show helmed by Archie and, by early 1945, Pep Comics' covers were emblazoned with "Starring Archie Andrews" banners. The following year, the company even changed its name to Archie Comic Publications (now Archie Comics), and although Pep Comics ran until 1987, totaling 411 issues, this imprint name-change signified the end of Pep's superhero adventure era, giving way to humor strips and the hijinks of the everyman Archie Andrews.
The Silver Age of Comics: From Chart-Topping Hits to Best-Selling Double Digests
Throughout the '50s and '60s, Archie really was "America's Top Teen-Ager." After all, not many other high schoolers have eclipsed caped crusaders when it comes to being the face of a comics brand. During the mid-1960s, which has been dubbed the Silver Age of Comic Books, Archie Comics developed a new imprint, the "Mighty Comics Group," to continue the stories of M.L.J.'s crime-fighters. However, even those stories were doused in humor — more Adam West's Batman camp than Captain America adventuring. But the imprint's most popular character was, undoubtedly, Archie.
Throughout all of his pre-2010s iterations, Archie and the town of Riverdale remain tethered to an America of the past. From Pop's Chock'lit Shoppe — a soda fountain-meets-diner — and the forever-young feeling of characters stuck in their teens to the now-throwback art style that, for decades, defined the strips, the Archie gang has remained pretty constant. Pick up an issue of Archie or a Betty and Veronica jumbo comic, and you're bound to find unresolved love triangles, school dances, and an endless supply of malts and hamburgers.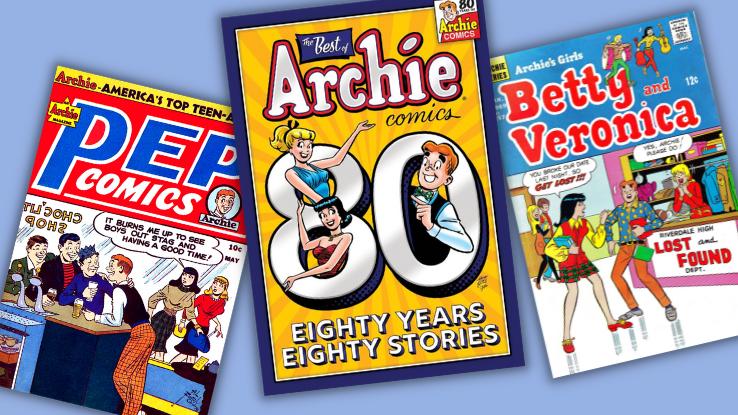 Even in the late '60s and early '70s, the franchise was defined by a kind of wholesomeness. And, long before the Twin Peaks-lite Riverdale, that wholesome quality extended to TV, too. The Archie Show, for example, was one of CBS' standout Saturday morning cartoons. In it, Archie, Betty, Veronica, Jughead and Reggie dealt with the trials and tribulations of high school, all set to laugh track. The show would help popularize other Archie Comics characters, including Sabrina Spellman, the infamous teenage witch, and Josie and the Pussycats, an all-girl musical group. But the most memorable part of the show was that the main gang formed a bubblegum pop band, The Archies.
Doubting the pop cultural impact the show had? Well, in real life, the cartoon band had a chart-topping hit. Written by Jeff Barry and Andy Kim, "Sugar, Sugar" was recorded by a "virtual band" composed of the Archie Comics characters. That's right: In 1969, a cartoon band had the best-selling single in the U.S. After holding the no. 1 spot on Billboard's Hot 100 for four weeks, the catchy tune continued to chart for an impressive 22 weeks. Released in May, the song had sold 1 million copies by August, making it certified Gold — though, by today's measure, that would make it Platinum.
With alternate reality spinoffs, horror and fantasy series, character-centric comics, and more, Archie Comics gleaned quite a bit from the character and his popularity. Throughout the '90s and 2000s, Archie Comics didn't boast sales on par with Marvel, but its digests still populated magazine racks in supermarkets and bookstores. The brand was still beloved, but it needed a little something new to find 21st century success.
Into the Archieverse: Reintroducing Archie to a New Generation
Like Disney's Mickey Mouse, Nintendo's Mario and Pikachu or Sanrio's Hello Kitty, Archie holds particular brand-defining connotations — namely, all that wholesome charm. But, much like those other characters and their respective companies, it became imperative to reinvent the Archie gang, all while keeping elements of the comic's enduring legacy. And that change came rather suddenly when the co-CEOs of Archie Comics both passed away in 2009.
"Richard Goldwater's half-brother Jon gave up his career as a music executive to keep Archie in the family," Vox reported in 2017, just ahead of the premiere of The CW's Riverdale. "He recognized that the traditional Archie style, while still charming, had become stale over time, and the company had lost relevance in the 21st-century comic book marketplace."
So, how did Archie Comics carve out such success going forward? In addition to launching a popular app that made its offerings more accessible and visible, the publisher committed to telling more diverse and inclusive stories. For example, the retooled Life With Archie run had "the Riverdale gang dealing with real adult problems like financial hardship and the difficulty of sustaining long-term relationships," Vox goes on to point out. "The book wasn't afraid to get political, either, as it tackled the then-recent financial recession, same-sex marriage, and gun control."
Other characters, including Josie, Betty and Veronica, Kevin Keller (the brand's first openly gay character), Reggie, and Jughead received standalone series as well, with the latter becoming something of a phenomenon. Not only is Jughead beloved for his long-standing irreverence and goofy antics, but one incarnation delved into the character's asexuality. While that identity isn't necessarily shared across all of the character's iterations, the representation "particularly in the context of the romance-driven stories traditionally told by the Archie characters," as The Beat points out, "cannot be understated."
'Riverdale' Proves the 80-Year-Old Characters Will Endure
As even casual viewers know from Riverdale ads, the brand also wasn't afraid to get a bit gritty, perhaps taking a page from DC Comics' playbook. Even before the now-hit teen drama started airing in 2017, a horror series, Afterlife With Archie, saw Sabrina Spellman releasing a zombie apocalypse on Riverdale. Now, Archie Horror is undoubtedly one of the publisher's most successful endeavors — not just comics-wise, but also insofar as it led to the hit Netflix series Chilling Adventures of Sabrina.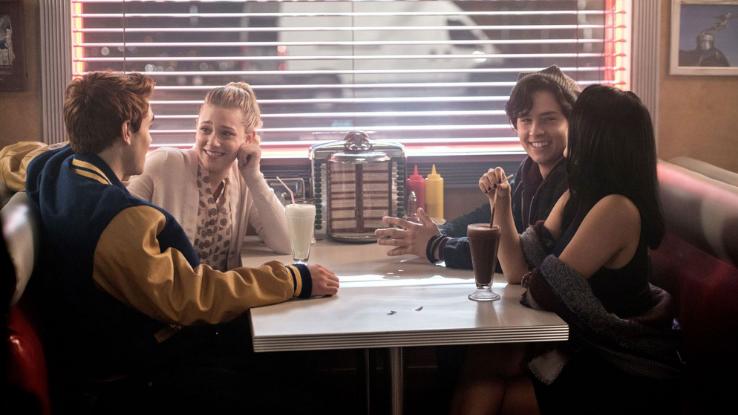 And then there's Riverdale itself, a teen mystery that has more in common with Lynchian small-town strangeness than its source material's Andy Hardy inspiration. With five seasons under its letterman jacket (and more to come), the show kind of defied the odds. (I mean, who would've thought the wholesome Archie Andrews would break out of his girlfriend's father's for-profit prison only to flee Riverdale and fight a bear in the Canadian wilderness? That was not on my bingo card in the slightest.)
While it does share quite a bit in common with the source comics, and while it does sprinkle in a healthy number of nods to other Archie Comics properties (the Black Hood, anyone?), Riverdale and the other recent Archie re-imaginings prove that, even after 80 years, the characters still have a lot staying power — and pep.