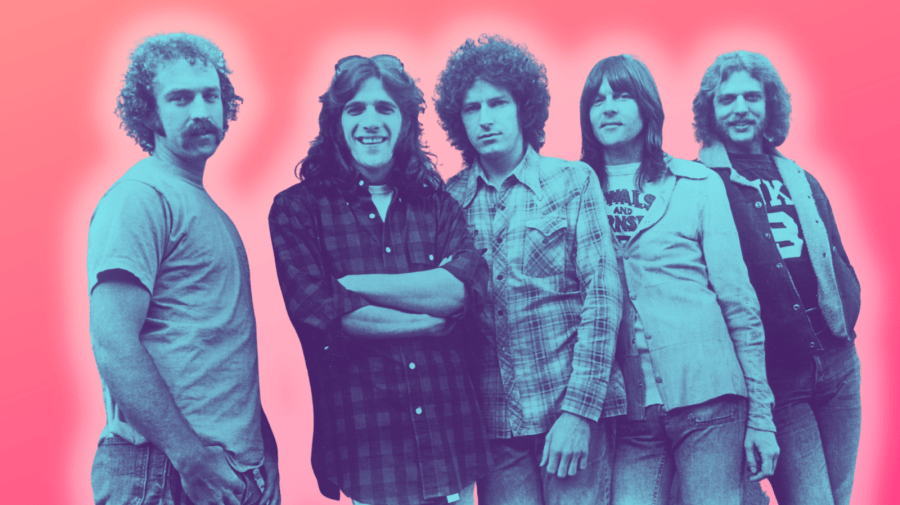 On June 1, 1972, a new California rock band called the Eagles released their first (self-titled) album. It came out right on the heels of their first single, "Take it Easy," which hit the airwaves that May. The song clawed its way to number 12 on the Billboard Hot 100 that summer. The album itself peaked at number 22.
That's kind of a slow start for a band that would go on to become the second best-selling rock band of all time in the U.S. behind The Beatles. Yup, even though the Eagles have been often reviled and the subject of famous pop cultural jokes — none other than "The Dude" in Joel and Ethan Coen's 1998 cult comedy masterpiece The Big Lebowski proclaims his hatred for them after a particularly tough night out — the band just kept cranking out incredible songs. So here, on the golden anniversary of their debut, let's take a moment to celebrate them.
Surrounded by Stars
Amazingly, the Eagles formed as the backing band for another music superstar: Linda Ronstadt. The original members of the band — Don Henley, Glenn Frey, Bernie Leadon and Randy Meisner — had come to Los Angeles separately as members of other bands trying (and failing) to make it. When they met while backing up Ronstadt, they decided to start a band together.
After that, the great singer and songwriter Jackson Browne introduced Frey to David Geffen, who had just started his own record label, Asylum. Geffen signed Frey's new band to a contract and — in a pretty weird L.A. kind of twist — supposedly even paid to get Henley's and Frey's teeth fixed. Geffen sent the fledgling band off to Colorado to work on their sound.
While in Colorado, Geffen invited the famous producer Glyn Johns, who had already produced albums by The Rolling Stones, The Who, The Faces and Joe Cocker, among others, to come hear the band. Hilariously, when Johns saw them perform, he wasn't impressed. He later remembered, "They were trying to be a rock 'n' roll band but they couldn't play it to save their lives." He went back to see them rehearse and it wasn't much better, but finally the band played "Take the Devil," with four of them singing with acoustic guitars around a piano, and Johns saw that there was something pretty great happening. After that, Johns agreed to produce their first album; he even went on to produce two more after that first one.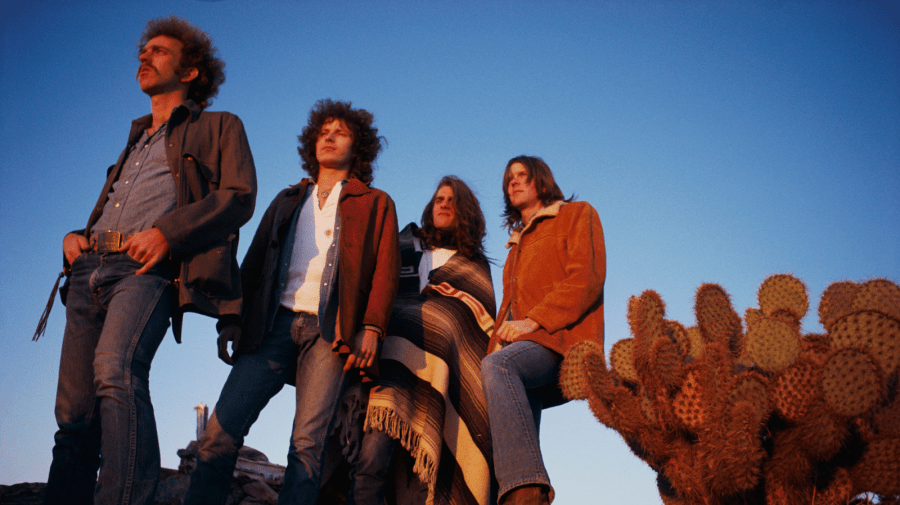 The naming of the band ended up being similarly star-studded, depending on who you believe. Since the Eagles are in many ways the archetypical "American" band, their decision to use America's national bird makes a lot of sense, but that reasoning is not what inspired the name. The most famous story is that the band was doing a photoshoot in the Mojave Desert in California. High on peyote, they saw an eagle flying overhead and felt it was a sign.
However, there are other possibilities. Former band member Don Felder — who would later be fired from the band and sue them for wrongful termination — claimed that Bernie Leadon came up with the name based on a book he'd read where he learned about the Hopi People's reverence for the bird. Even better, famous comedian Steve Martin claimed in his excellent memoir Born Standing Up that he came up with the name of the band. This much is definitely true: our inability to know the real truth just adds to the mystique.
The Most Successful First Five Years Possible
The Eagles' first two albums — Eagles and Desperado — weren't huge hits. Eagles ended up peaking at 22 on the Billboard chart, and Desperado only made it to 41. However, the albums contained hit songs that grew in popularity with time. Between the two albums, there were five hit songs: "Take it Easy," "Witchy Woman," "Peaceful Easy Feeling," and, of course, "Desperado."
It was their third album, On the Border — the final album produced by Glyn Johns — where they started to truly find their audience. The album cracked the Billboard top 20, making it up to 17, and the third single off the album, "Best of My Love," became their first number 1 single in March of 1975.
Then, things really blew up. For their fourth album, the Eagles released One of These Nights. It went all the way to number 1 and included three top 5 singles: "Lyin' Eyes," "Take it to the Limit" and "One of These Nights," which went to number 1 as well. Of the title song, Don Henley later said of its weird combination of country and disco, "We like to call it our 'satanic country-rock period.'" Jokes about satanic country-rock music aside, the Eagles had clearly found their sound, making use of trends in contemporary pop music, all while keeping their country-rock background intact.
The record company decided to capitalize, putting out an album of "greatest hits" — even though the band had only been making music for a couple of years. Their Greatest Hits (1971–1975) included all their hit singles plus "Desperado," which was a hit despite not being released as a proper single itself. The album was — and still is — one of the best-selling albums of all time, most recently certified at 38 million copies sold.
Reflecting on Success
Putting out an absurdly successful greatest hits album before you've even been a band for half a decade makes you think about the nature of fame in all kinds of interesting ways, I suppose, but that didn't make the Eagles any less successful in subsequent years. Guitarist Joe Walsh replaced Bernie Leadon, and the band released their classic album Hotel California in 1976. Like One of These Nights, it went to number 1.
The title song is one of those strange rock songs that acquires a great deal of mystique over time. According to Glenn Frey, who wrote the lyrics, the song is meant to evoke the feeling of being in a strange place you don't totally understand, a feeling Frey said mimics that of The Magus, the 1965 novel by John Fowles. The song moves from one strange image to another — people dancing in a courtyard, people gathering for a feast, and so on — and harnesses vagueness the way so many great songs do. For Frey, that vagueness was intentional: "It means whatever the listener wants it to mean."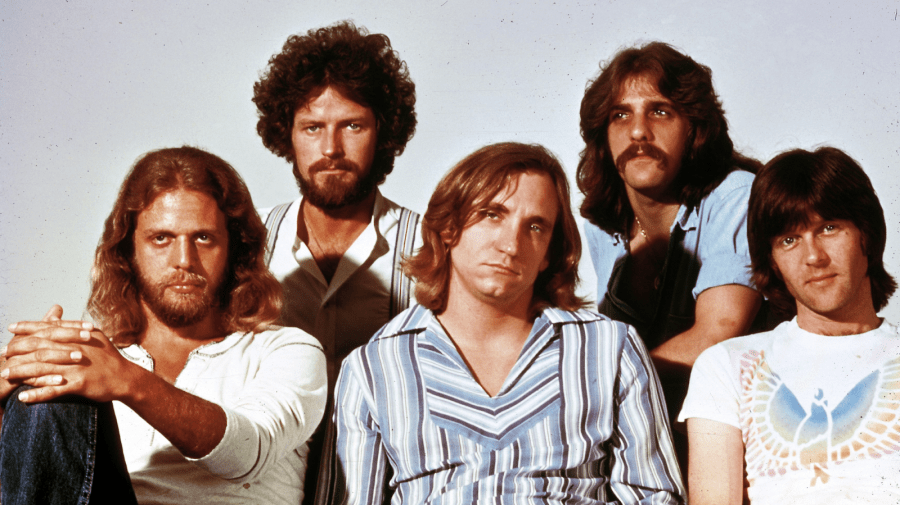 To me though, Hotel California's best track is "New Kid in Town," J.D. Souther's song about how fast things change when you're famous. Souther said that the song came out of their fascination with gunfights, and how in Westerns, "At some point some kid would come riding into town that was much faster than you and he'd say so, and then he'd prove it." For Henley, the meaning became a metaphor for life and love, like the band was saying "we know we're red hot right now but we also know that somebody's going to come along and replace us."
The Eagles can certainly come off as self-important in interviews, and that probably has something to do with the massive amount of success they had before they'd even really got started. At the same time, it's a little charming to read these quotes and understand that they knew how fleeting and lucky success is — and how quickly it can disappear.
The Eagles After Hotel California
Maybe it's inevitable that such early success leads to conflict. The Eagles were like Icarus flying too close to the sun. Whatever it was, after their 1979 album The Long Run, the Eagles toured and ended up releasing a double album of performances from that tour and their tour after Hotel California. While on the road, they started arguing more often, and things blew up after Frey and Felder threatened violence against each other one night during a show in 1980.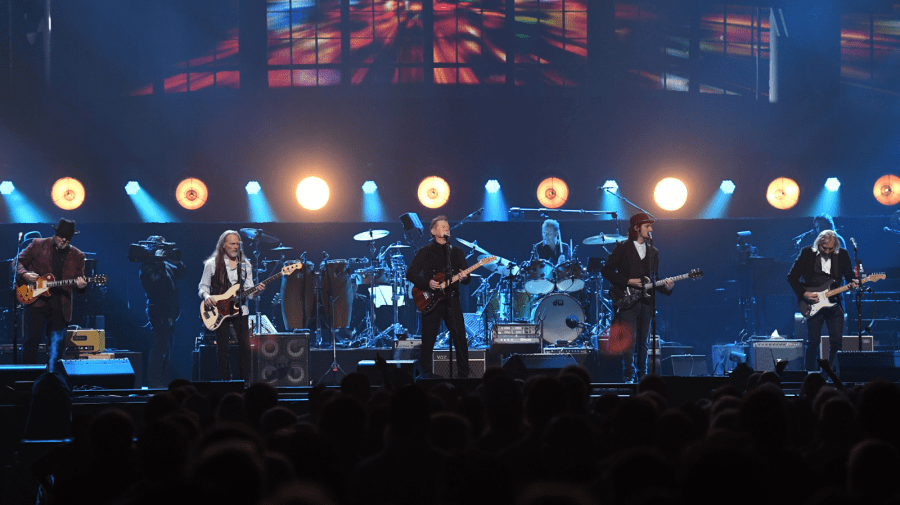 After that, the Eagles went their separate ways, carving out solo careers to varying degrees of success. They didn't appear together in public for over a decade, but in 1993, when Travis Tritt recorded "Take it Easy" for an Eagles tribute album, the Eagles appeared together in the video. That reunion led to the Hell Freezes Over tour in 1994, for which the Eagles managed, miraculously, to reunite before hell froze over.
The band continued touring over the following years, and in 2007 they released their final studio album, Long Road Out of Eden. Like their previous few albums, it went to number 1. It's a testament to the enduring popularity of the band that they could break up and go nearly 30 years between number 1 studio albums.
Glenn Frey died in 2016, and Henley said after a tribute to Frey that he thought the band probably wouldn't perform again. But if there's a lesson from the history of the Eagles, it's that time changes things. Now, coming up on the 50th anniversary of their first album's release, The Eagles are currently on tour, and it's certainly possible they'll keep going, and maybe even someday release another album. They're one of the most successful bands of all time, and their story isn't over.