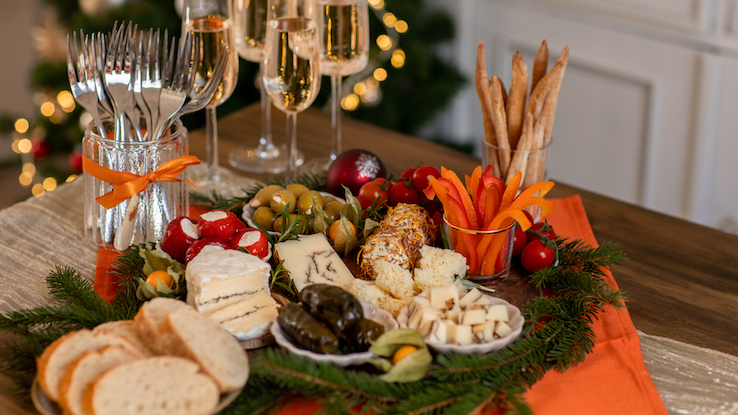 When it comes to holiday appetizers, the key is to keep them simple without sacrificing flavor. After all, the last thing you want to do when hosting a holiday dinner is stress about the appetizers. To help make your holiday meal prep as seamless as possible, we've rounded up a few easy to prepare holiday recipes that are sure to wow your guests. 
From hearty small plates to savory dips, these super easy appetizers are as effortless to make as they are festive. Plus, they pair well with some tasty seasonal cocktails and mocktails!
Flavorful (and Festive) Finger Foods
During the holidays, finger foods are always welcome. (Well, so long as everyone is being COVID-safe about it!) What's great about these quick bites is that they allow your guests to stand and mingle while eating — and without a ton of fuss or plate juggling. From bacon-wrapped apps to deviled eggs with a holiday twist, these finger foods are sure to be a hit at any gathering this winter.
Deviled Eggs with Candied Bacon by Food Network: Deviled eggs are one of those classic treats you probably don't make for just any occasion. And this festive recipe takes deviled eggs to the next level. With sweet and salty candied bacon, it's like a burst of holiday flavor all in one tasty egg-bite. These are also easy to prepare ahead of time, so it's one less thing to do before prepping your holiday meal. These eggs also won't take up any oven space as there's no baking required.
Bacon-Wrapped Scallops by Pinch and Swirl: There is something extra special about serving a platter of bacon-wrapped scallops. The smell alone brings back warm and fuzzy holiday memories. This recipe features a sweet scallop wrapped in crispy, salty bacon. While these may seem decadent, you can prepare them in the oven in less than 30 minutes.
Stuffed Mushrooms with Pecans by The Modern Proper: Pecans are a holiday staple. With warm, nutty goodness, this pecan-stuffed mushroom recipe will jazz up your appetizer spread. Your guests will love the rich, smokey flavor of the stuffed mushrooms as well as the blend of textures — the creamy goat cheese, those crunchy pecans.
Holiday Bacon-Wrapped Dates by The Self Proclaimed Foodie: This bacon-wrapped dates recipe is sure to be a crowd-pleaser. These aren't your average bacon-wrapped dates; stuffed with cream cheese, candied pecans, and dried cranberries, these dates make for a sweet-and-salty holiday treat.
Scrumptious Shrimp Cocktails
A shrimp cocktail just makes any holiday celebration seem more festive (and fancy), especially on New Year's Eve. We've rounded up a couple of easy and delicious shrimp-themed appetizers so that you can bring a little seafood to your scrumptious spread.
Shrimp with Homemade Cocktail Sauce by Tastes Better From Scratch: With only three ingredients, this shrimp cocktail recipe is incredibly simple — but it tastes so much better than store-bought cocktail sauce. Once you make it, you'll never go back to the grocery store brand again. In addition to your favorite type of shrimp, you'll just need some ketchup, lemon juice, and horseradish. Pair this with a dirty martini and your holiday celebration will feel like it came straight out of an episode of Succession.
Baked Coconut Shrimp by Recipes for Holidays: Baked coconut shrimp is a delicious appetizer that your guests won't be able to stop eating. With shredded coconut and panko breadcrumbs, these shrimp are both sweet and salty. The orange marmalade with horseradish gives the shrimp a tangy, festive punch. Plus, they can be prepped the night before and cooked earlier in the day to keep your oven free.
Must-Try Holiday Dips and Spreads
The dips and spreads below are sure to keep guests coming back for another scoop. Great for a tapas-type meal on New Year's Eve or as standalone apps, these recipes hit all the right flavor notes.
Baked Brie by Simply Recipes: Baked Brie in a puff pastry is one of the easiest holiday appetizers to prepare. It's so rich and decadent that it seems a lot harder to make; in reality, all this recipe requires is brie cheese baked and puff pastry. Once it's out of the oven, you can choose to add some festive raspberry jam (or cranberry sauce) as a topper. A drizzle of maple syrup can also achieve that coveted sweet-savory balance.
Snowman Cheese Ball by Number 2 Pencil: As the name implies, this ball of cheesy goodness is shaped like an adorable snowman. A hit with kids and adults alike, this one is sure to garner some compliments. Not only does it look cute, but it's also delicious — and easy to put together. This recipe calls for ranch seasoning, cream cheese, and shredded sharp cheddar. Serve it with Ritz crackers or pretzels for some added crunch.
Christmas Cookie Dough Dip by Salty Side Dish: A Christmas cookie dip is a fun addition to any appetizer or sweets table. Composed of cream cheese, butter, yogurt, powdered sugar, and sprinkles, this dip can be served alongside graham crackers or your favorite cookie.
Christmas Tree Cheese Board with Almonds and Dried Cranberries by A Food Lover's Kitchen: A cheese board or charcuterie spread is a great way to start any holiday party. This recipe will help you make something but delicious and lovely to look at thanks to its balanced mix of cheeses, meats, crackers, nuts and dried fruit. The best part, though? That the ingredients are laid out to resemble an evergreen tree. But don't overdo it; everyone will be eating other appetizers, so be sure to trim your tree accordingly.