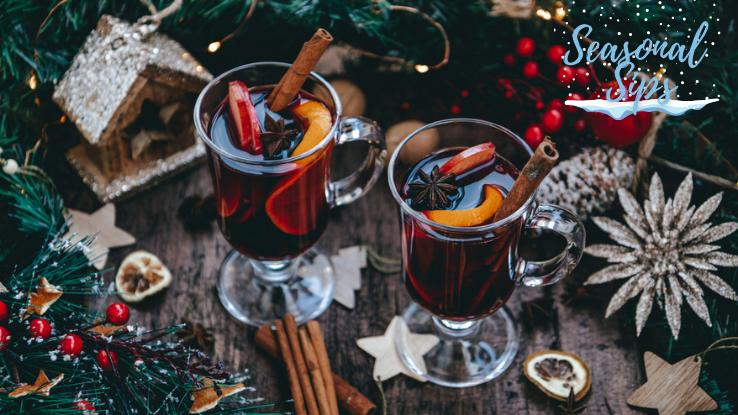 According to Starbucks, the holiday season has been in full swing since November 1, which means it's not only time to decorate, but it's also the perfect opportunity to whip up some seasonal recipes. While you might have a favorite winter meal, appetizer, or dessert, are you prepared to shake up the holidays with some festive mixed drinks?
From cinnamon and nutmeg to brown sugar and cranberry, there are so many wintry flavors to choose from — and all of them make for great cocktail and mocktail inspiration. Here, we've rounded up a collection of delicious drinks to make spreading the holiday cheer — and cheers — as simple as the syrup you'll be mixing.
Fruit-Forward Drinks with Seasonal Spirit(s)
Pine-Infused Christmas Mimosa: There's nothing quite like the smell of an evergreen tree. It doesn't just signify Christmas, but the winter season as a whole. So, what if you could bring that beloved scent to a seasonal cocktail? Well, that's exactly what this delicious Pine-Infused Christmas Mimosa recipe hopes to accomplish.
This tasty cocktail from Spruce Eats puts a holiday spin on this classic champagne-and-orange-juice mix by replacing the standard citrus with cranberry juice and pomegranate liqueur, thus creating a fruit-forward base layer. (No, fruit-forward beverages are not just a summer thing.) As for garnish, the fresh pine and cranberries Spruce Eats recommends for this brunch beverage provide not only some holiday flair, but a slow flavor release, which ensures every sip has a season-appropriate taste, too.
Mulled Wine: This spiced wine from Cookie+Kate is the perfect accompaniment to any fireside chat or night spent watching holiday movies. If you've never tried mulled wine, you'll love the way it combines the rich taste of red wine with fruit and savory spices. Not to mention, preparing a pot of this beverage also has the added bonus of filling your home with a festive aroma.
In order to create a robust mulled wine, you'll need a bottle of red wine — something full-bodied yet fruity, like a Merlot, Zinfandel or Grenache (a.k.a. Garnacha) is best — as well as fresh oranges, maple syrup or honey, and whole spices, such as cinnamon and cloves. If you're looking to take things up a notch, you can also add brandy and seasonal garnishes to your list.
Once you combine your ingredients in a pot, you'll mull your brew over medium heat until small bubbles appear; at this point, you'll want to add in the sugar and spices — all to your taste. And that's the great thing about mulled wine: it's flexible, easy to make in both small and large batches, and effortlessly winter-appropriate.
Christmas Party Punch: This yummy Christmas Party Punch recipe from Well Plated is great for larger gatherings. Unlike other punches, this fruit-filled mix is light, sweet, and bubbly, and draws on sparkling wine, cranberry juice, rum (or brandy), apple cider (or ginger ale) for its flavors. And the prep work is easy, too; just chill your ingredients and mix them together in a large bowl. Finally, add some orange slices and cranberries for garnish that will pack an extra-festive punch.
Cocktails That Will Warm Your Spirit(s) on Chilly Nights
Eggnog with Rum: Love a mug of creamy eggnog around the holidays? Well, rum takes your favorite holiday drink and gives it an extra kick. Joy the Baker's recipe calls for egg yolks, heavy cream, whole milk, sugar, and, of course, spiced rum, which cuts through the drink's sweetness and gives it a hearty flavor profile. The only way to make this boozy twist on a classic better is to add a dash of nutmeg, cinnamon and vanilla extract. Without a doubt, eggnog enthusiasts won't be able to get enough of this one!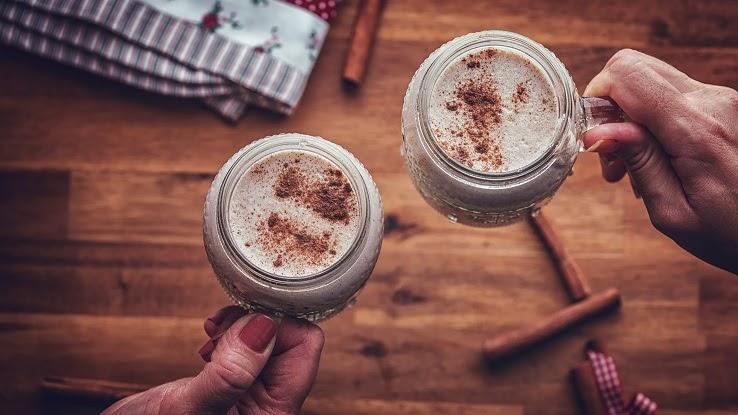 Hot Buttered Rum: Rum really is a star player when it comes to holiday cocktails. With cinnamon, nutmeg, and cloves at its base, this particular drink is simply brimming with Christmas spirit. This Hot Buttered Rum from the Food Network is served hot and draws on savory flavors, like rum and unsalted butter, as well as sweet ones, like dark brown sugar and honey. It's just the right balance of sugar and spice — and it looks great with a cinnamon stick garnish.
Hot Toddy: Feeling chilly? A hot toddy is sure to warm you up. A blend of alcohol, hot water, sugar and spices, hot toddies vary greatly and are often made to taste. If you're looking for some inspiration, this recipe from Wine Enthusiast is great for first-time mixologists, and only requires four ingredients — a brown liquor of your choice (rum, brandy, or whiskey), honey, lemon juice and water. To alter the flavor to your liking, add in cinnamon or lemon wedges.
Holiday-Themed Mocktails That Will Make Your Holidays Merry and Bright
Slow Cooker Apple Cider: Apple cider is a fall staple, but it's great for the winter, too. But have you ever tried to prepare your own cider mixture? Don't fret — this fantastic recipe from Country Living makes it an easy, five-minute process. You'll combine pre-prepared apple cider with a variety of spices and flavorings that complement that apple base, including cinnamon, chai, vanilla bean, and lemon juice. This refreshing mocktail can be garnished with apple slices and cinnamon sticks and served — either chilled or warmed — alongside both entrees and desserts.
Peppermint Julep: Good news: mint juleps don't need to contain alcohol to be tasty, and this Peppermint Julep recipe from This Worthey Life proves it. Instead of bourbon, the base of this recipe is cranberry ginger ale. To add the festive flavor, toss in a dash of peppermint simple syrup. You'll want to serve this one over crushed ice and garnish the glasses with fresh pine or mint. And, if you really want to bring the holiday flair, a candy cane makes for a great stirrer.
White Chocolate Peppermint Mocktini: This White Chocolate Peppermint Mocktini from Thyme for Cocktails is as close as you can get to a holiday dessert in a cup. This mocktail's mouth-watering ingredients include white hot chocolate mix, peppermint mocha coffee creamer, and white chocolate syrup. If this sounds a little too sweet for you, add in some candy cane crumbles for a tasty peppermint kick.