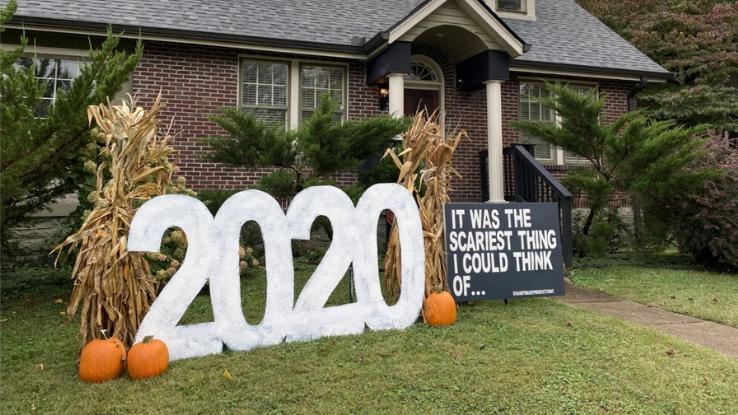 Every year, there's that one superhero film, hit TV show or viral meme that inspires everyone's costume ideas when Halloween rolls around. Although trick-or-treating and dive-bar costume parties might be off the table this year, you can still celebrate October 31 in style — like, actual style. Yes, you should dress up as someone (or something) that makes you feel great, but if nothing's screaming at you (literally or otherwise) we've got some inventive ideas up our sleeves.
The key here? Pick something super recognizable. Something topical. Even though 2020 has been a challenging year (to say the very least), it's also chock-full of pop cultural touchstones and inside jokes that feel so specific to this year that not dressing up as them on Halloween would be a true disservice. This year, ditch the Superman tights and the vampire fangs, and milk this wild, shared experience for a few holiday laughs.
Editor's Note: Find more recent costume ideas in our list of Costume Ideas for 2021.
Honor "Schitt's Creek" By Channeling Your Inner Moira Rose
Ew, David — you can't be seen wearing a tacky Halloween costume. The height of class-meets-pop-culture? This year, it might just be Moira Rose (Catherine O'Hara), the eccentric ex-soap opera star and matriarch of the Rose family. Without a doubt, Schitt's Creek really invested in the show's wardrobe, creating fashionable looks that also helped define each character in a unique way.
While Moira has had some truly iconic looks (and wigs), many of which toe that line between high fashion and camp, one of the most Halloween-appropriate outfits might just be her costume from The Crows Have Eyes 3, a film she signs onto in a moment of desperation. It's fully unhinged and incredibly low budget — a.k.a. perfect for Halloween.
Pro Tip: If you're looking for a group costume, synchronize your Zoom crew by dressing as various characters from the Emmy-winning sitcom.
Step Into the Shoes of Anyone from Netflix's "Tiger King" (Minus the Crime)
Given that we're all counting things in shelter-in-place years, March truly feels like a lifetime ago, but, yes, Netflix's Tiger King phenomenon just happened this year. Somehow, this subpar docuseries swept the nation, likely because it was one of the streaming giant's only new, start-of-pandemic releases. It honestly feels like a shared fever dream, and that's kind of why it makes for great Halloween costume fodder.
Whether you fall firmly on the side of Carol Baskin or Joe Exotic — or simply couldn't care less about this absolute train wreck of a situation — assembling a recognizable look is easy. The bright blond mullet, handlebar mustache, goofy sunglasses and Siegfried and Roy-meets-tropical-vacation-style shirts… Well, let's just say we can see the Joe Exotic pre-packaged Party City costume kit already.
Pro Tip: And, hey, if you're endlessly frustrated by all sides of the Tiger King discourse, try some tiger-inspired face paint and a crown; fellow revelers will definitely recognize the literal interpretation.
Be the Zoom Call You Want to See in the World
Okay, yes, we know this image depicts a SnapChat filter, but we wanted to capture the general feel of how you might go about building a Zoom call costume. First off, the rationale: Many of us now spend hours upon hours a week learning, working and socializing via Zoom. We've become pros at finding hilarious virtual backgrounds, and we've mastered the angle at which you should discreetly hold your phone.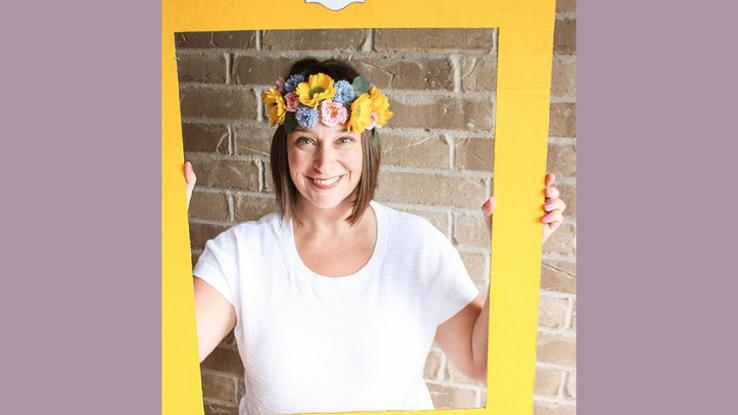 Zoom is both a necessity and a source of endless commiseration, because we're all sick of it. Nonetheless, don't "mute" this costume idea. As we were saying earlier, you can go the route of creating a kind of cardboard frame, complete with a cutout for your face and a few other "screens" featuring other participants (a la Zoom's gallery view). Be sure to include all of the appropriate buttons along the bottom of the frame.
Pro Tip: Feeling extra creative, or extra antisocial? We'd love to see a version of a Zoom call costume that's got the video turned off.
Cozy Up to a Cottagecore, "folklore"-era-Taylor-Swift Inspired Outfit
A Taylor Swift costume? In our defense, we have none. Just kidding — we've got quite the rationale. This Halloween, you might not be "dancin' in your Levi's" or "drunk under a streetlight," but that doesn't mean you can't rep TSwift. Honestly, if you're into cottagecore TikTok or have been feeling that angsty, acoustic vibe this year, you're kind of indebted to Taylor's surprise release folklore, an album so atmospheric and in its own feels that it harnesses the power of all lowercase letters.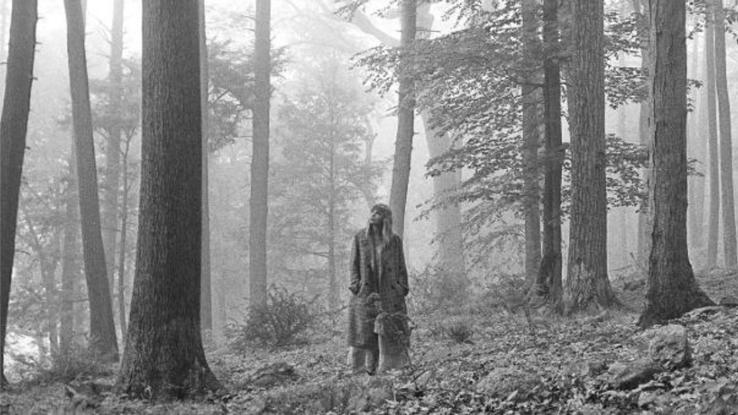 First off, the record's aesthetic — cozy sweaters, sweet tea, black-and-white trees, a bottle of wine, summer fling regrets — translates perfectly to autumn. While you could try embodying the spirit of one of the songs (A cardigan? An invisible string? Betty herself?), we recommend dressing as any one of the album artwork Taylors. As pictured here, it involves comfy, woodsy clothes, which is honestly a 2020 in and of itself.
Pro Tip: If you're feeling extra artsy, mix up some face paint (and hair dye!) and lean into the grayscale aesthetic, a la this old Hollywood costume idea.
Be the Whole Package — Literally
Between sheltering-in-place guidelines and at-home boredom, many of us have done quite a bit of online shopping this year. Whether you're ordering groceries or constantly walking around your neighbor's latest Amazon packages, piles of boxes and bags have become a constant reminder of how our everyday routines have shifted this year.
This costume feels timely, of course, but it can also be a cinch to make. Just save a few boxes from your latest online shopping trip and — boom! — instant costume handled. There are a few ways to assemble the look: Either go the cardboard robot route and wear the boxes around your limbs and torso — or, if you're on a Zoom call, try piling packages around you and adding a stoop as your virtual background.
Draw Inspiration From Elon and X Æ A-12 Musk's Viral Moment
Looking for a way to make a pop culture reference that's fun for the whole family? We've got the 2020 highlight for you. Roughly eight years ago, in May 2020, Elon Musk tweeted about the birth of his firstborn child with singer Grimes. When a Twitter user asked Musk what the baby's name was, the Tesla CEO infamously responded with the name heard round the world: X Æ A-12 Musk.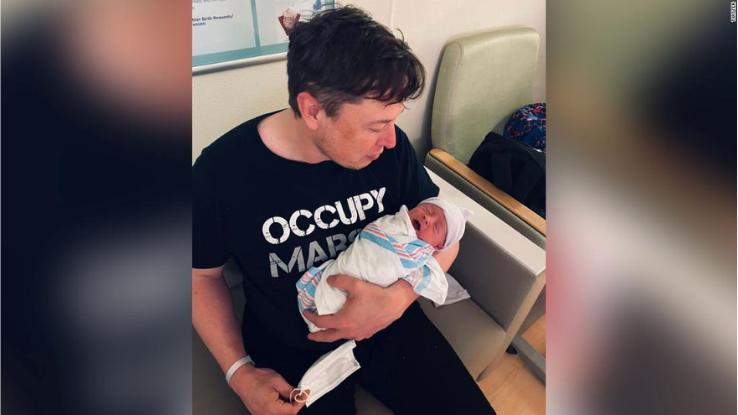 No, none of that was a typo. Nor was it a joke. "Yeah, [Grimes is] great at names. I mean it's just X, the letter X. And then, the Æ is, like, pronounced 'Ash,'" Musk explained. "And then, A-12, A-12 is my contribution." Try recreating this iconic first photo with your own kid, and if you really want to hammer home the joke, print out the tweet and carry it along with you. Or add a "Hello, My Name Is X Æ A-12 Musk" to your child's outfit.
Relive Early 2020 By Rising to the Occasion as a Baked Good
Remember the beginning of quarantine? We were all about 20 years younger — emotionally, at least — and obsessed with baking. Seriously. Apart from Tiger King, the most ubiquitous trends involved sourdough starters and too-brown bananas.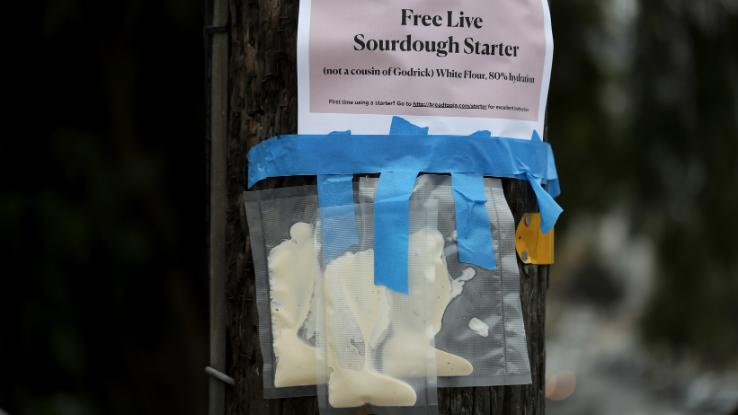 There are a few routes to take with this one. As you'll see pictured here, there's the sourdough starter method, which might involve Play-Doh (or actual sourdough starter) in a Ziploc. Alternatively, you could dress as the end result instead and fashion a wearable bread loaf costume.
Pro Tip: Not into the sourdough trend? Banana bread was also a hit this year, and much like the tiger-plus-crown costume, you can dress as a banana and carry a loaf of bread. Super simple. (And Hey Arnold! approved.)
Find Some Chill a la the "Watermelon Sugar" Music Video
By now, you've probably seen Harry Styles music video for his hit summer jam "Watermelon Sugar." In the wake of the COVID-19 pandemic, the intimate, beach party-themed vid was dedicated to touching, and it probably had you chasing that sorely missed "summer feelin'" all season long. So, why not bring a little fun to your virtual Halloween party?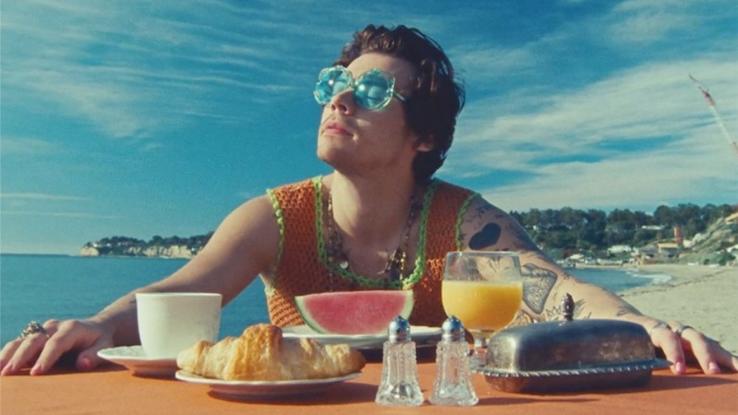 In the video, the ever-stylish musician wears several iconic outfits. While the heart-shaped glasses, sweater-vest-on-the-beach Harry is a great look, we're partial to the Harry seen in the video's opener, especially since it works well for Zoom calls. Step one: Set up a lovely brunch, complete with a slice of watermelon. Step two: Don a crocheted orange tank top (or a mesh tank top if you can't find this Anthropologie-esque look), funky blue sunglasses, some bohemian-inspired necklaces, a bunch of rings and bright pink nail polish.
Pro Tip: Feeling extra committed? Try these Harry-inspired temporary tattoos.
Bring Real-Life Scares to the Party as a Murder Hornet
Just when we thought our collective stress levels couldn't get higher, murder hornets arrived in the U.S. That's right: murder hornets. That was this year too. Back in May. And, hey, with a name like that, there's no wonder the internet was abuzz with fear.
Now that enough time has passed, and enough memes have flooded social media, it's time to bring that buzz back. Minus the actual threatening part, of course. Look, this pre-packaged bumble bee costume isn't scary on its own, but add some over-the-top props, like fake blood or a prop knife, and you're set.
Be Inspired by the Iconic "WAP" Music Video
In early August, superstars Megan Thee Stallion and Cardi B. teamed up to create one of 2020's most iconic songs and music videos. Dressing as these unequaled musicians from the one and only "WAP" music video sets not only a Halloween mood, but a "seven days a week" kind of mood.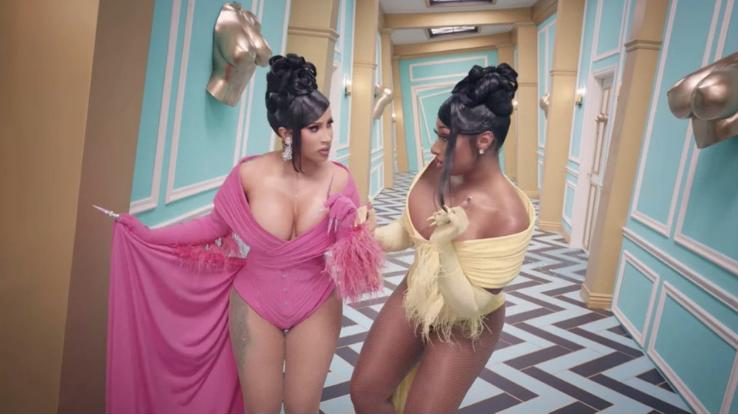 The aesthetic is incredible, like camp meets Twin Peaks, and the sets make for instantly recognizable Zoom backgrounds. As far as their outfits are concerned, no matter which look you go with it's all about looking fabulous and owning it — and Halloween is the perfect time to practice that sense of confidence. While the hallway sequence is one of the more recognizable moments from the video, there's also a pretty great scene that involves snakes.
Pro Tip: If you're more of a party crasher, you can always dress like "WAP" guest star Kylie Jenner.
Make People Care About the Pentagon-Released UFO Footage That No One Cared About
Back in April, the literal Pentagon released not one, but three Navy videos that depicted unidentified flying objects. This unclassified footage was meant to "clear up any misconceptions" about the instances being real. And you know what happened next? No one cared. For some reason, the news story was little more than a Twitter highlight.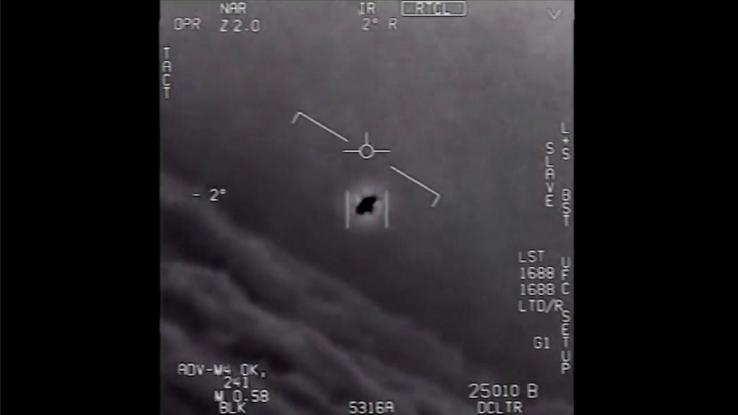 This really speaks to just how wild of a ride 2020 has been. If you're looking to lighten the mood this Halloween, dressing as this footage could be just the thing your party needs. If you're on Zoom, you could dress like a caricature of a UFO and then add the iconic (well, maybe not iconic because, again, no cared…) photo as your virtual background.
Give the Villagers in Your Life a Real Scare By Dressing Like Tom Nook from "Animal Crossing"
Without a doubt, Animal Crossing: New Horizons was a definitive form of entertainment, shaping 2020 in so many ways. While there are plenty of ways to celebrate this bestselling game on Halloween, we suggest going with one of the series' most iconic characters, Tom Nook.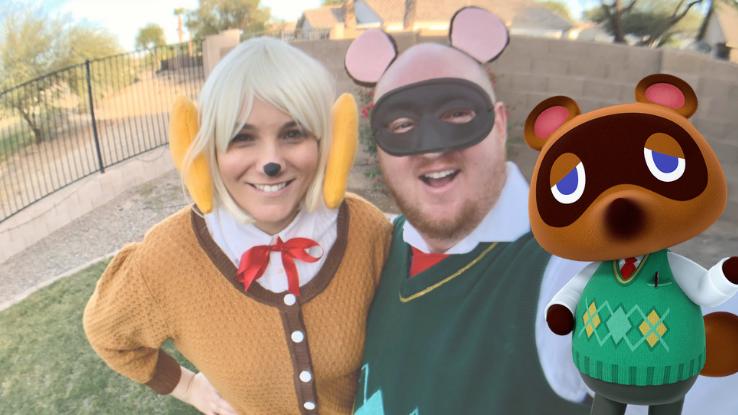 In Animal Crossing, the player character is a human who moves to a distant village inhabited by various anthropomorphic animals. One of those animals is Tom Nook, a raccoon shopkeeper with an eye for business. Nook provides the player with a house, in exchange for quite a few Bells (the in-game currency). If you're partying over Zoom, try adding a screenshot of the game as your virtual background.
Haunt the Party as Judy Dench's Old Deuteronomy from "Cats" (with a Focus on Her Human Hand)
Okay, yes, Cats technically hit the silver screen at the very end of 2019, but for many moviegoers, it marked the last film they saw in theaters before the COVID-19 pandemic shut things down. In all honesty, we should have seen the Andrew Lloyd Webber-scored dip into the (feline) uncanny valley as an omen of things to come. But we didn't. We just took it in stride.
While any of the Jellicle Cats would make for suitable costume inspiration, two humanoid felines might just steal the show. First up: Mr. Mistoffelees, a black-and-white tuxedo cat who wears a top hat and dabbles in magic. Second up: Judi Dench's iconic Old Deuteronomy, the wise leader of the Jellicles. Dench was appalled by her character's giant, mangy fur coat, saying, "The cloak I was made to wear! Like five foxes f—ing on my back." Brutal? Sure. But she's not wrong. What is wrong? The fact that Dench's very human hand (and wedding ring) made it into the film's final, unhinged cut.
BONUS IDEA: Make an R.I.P. Quibi Tombstone
Yes, Quibi is dead, and, as one of 2020's most confounding flops, why not immortalize it this All Hallow's Eve? I mean, who doesn't love taking a jab at a streaming service led by Hewlett Packard's ex-CEO. Known for its "quick bite," short-form content, Quibi was also quick to bite the dust. But the ads — well, they'll haunt us forever.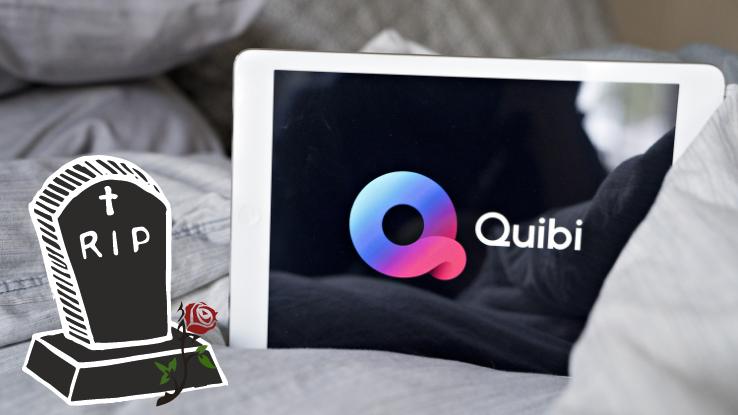 Advertiser Disclosure: When you purchase through links on our site, we may earn an affiliate commission.