Every year, there's that one superhero film, hit TV show or viral meme that inspires everyone's costume ideas when Halloween rolls around. Although trick-or-treating and dive-bar costume parties might still be a little up in the air this year, there's no reason you can't celebrate October 31 in style — like, actual style. Yes, you should dress up as someone (or something) that makes you feel great, but if nothing's screaming at you (literally or otherwise) we've got some pop culture-inspired ideas up our sleeves.
The key here? Pick something topical. Even though 2021 has been a challenging year (to say the very least), it's also chock-full of pop cultural touchstones and inside jokes that feel so specific to these times that not referencing them on Halloween would be a true disservice.
Perfect Pairs: From Dynamic Duos to Couples' Costumes
Sometimes being one half of an iconic duo really sells your costume idea. From Mario and Luigi to Sonny and Cher to bottles of ketchup and mustard, plenty of popular pairs show up every Halloween. But while the options are seemingly endless, and while classic couples' costumes will always hold a place in our hearts, 2021 certainly provided us with some winning ideas.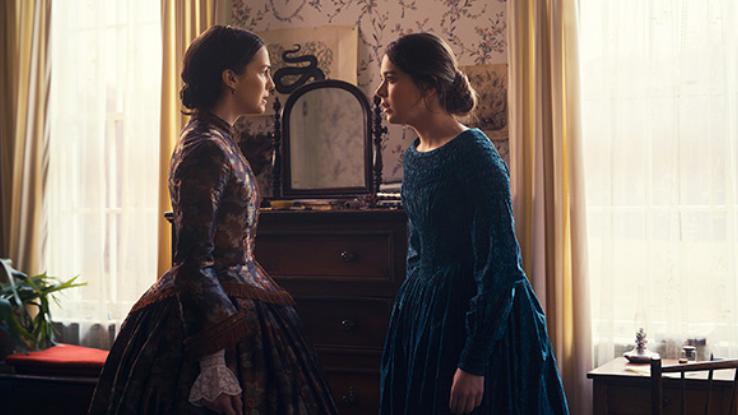 Wanda & Vision from WandaVision: What is Halloween if not the Marvel Cinematic Universe (MCU) persevering? Without a doubt, Wanda's (Elizabeth Olsen) journey to realizing herself as the Scarlet Witch and grappling with the loss of Vision (Paul Bettany) really captured our collective attention this year. The great news here? You can dress as the couple from any decade of TV your heart desires.
Simon & Daphne from Bridgerton: Until very recently, Bridgerton was Netflix's most-streamed show, thanks in part to the chemistry between its leads, Regé-Jean Page and Phoebe Dynevor, who play Simon and Daphne. Even Lady Whistledown approves of this couples' costume.
Emily Dickinson & Sue Gilbert from Dickinson: Probably one of the most underrated series of the last few years, Dickinson is a singular show. Emily (Hailee Steinfeld) and Sue (Ella Hunt) might just be the definition of OTP.
Raya & Namaari from Raya and the Last Dragon: If you felt queerbaited by Disney this year, it might've been because of the friends-to-enemies-to-not-lovers relationship between Raya (Kelly Marie Tran) and Namaari (Gemma Chan) in Disney's animated hit. Both of these characters are incredibly cool in their own rights, but putting them together? Unstoppable.
Sam Wilson & Bucky Barnes from The Falcon and the Winter Soldier: If you felt queerbaited by Disney this year, it might've been because of the frenemies-to-leg-locked-therapy-buds relationship between the newest Captain America, Sam Wilson (Anthony Mackie), and Bucky Barnes (Sebastian Stan). Again, stepping into the shoes of either of these characters is epic, but we'd love you 3,000 if you paired them this Halloween.
Luca & Alberto from Luca: If you felt queerbaited by Disney this year — never mind. Silencio, Bruno.
Paul Atriedes (Kyle MacLachlan) & Paul Atriedes (Timothée Chalamet) from Dune (1984) & Dune (2021): Two chosen ones is better than one, right? Just be sure to walk without rhythm.
Ben Affleck & His One True Love: While everyone's feeling nostalgic about Affleck and Jennifer Lopez getting back together, might we suggest something a little different? Pair Affleck with an order of Dunkin' coffee and munchkins. Make sure it's an amount that's almost impossible to carry. Look disgruntled, like a Bostonian on the T's green line during rush hour.
Obscure Originals: From the Oddest Corners of 2021
Last year was rife with ever-increasing oddities. Just when it seemed 2020 couldn't get more unhinged, we found ourselves reading up on so-called murder hornets, perfecting sourdough bread and generally ignoring the Pentagon-released UFO footage. Because 2020 was just that wild. So, when it comes to costume inspo, what are this year's absurdist offerings? We're glad you asked.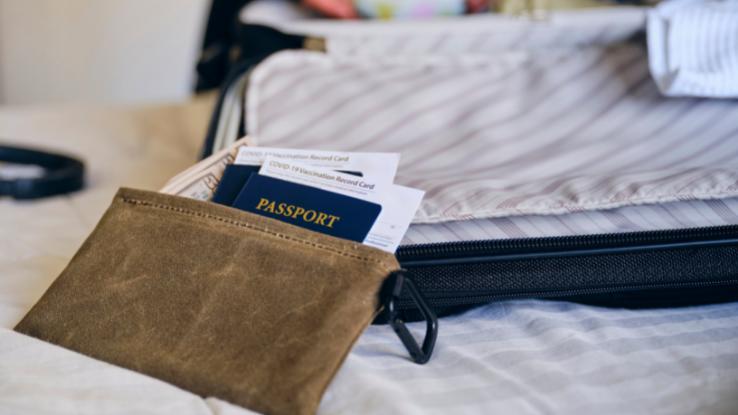 A Vaccination Card That's Slightly Too Big for a Standard Wallet: We can all relate to the very specific and minor frustration that is the size of the CDC-issued vaccine cards. This one is equal parts trick and treat, so you really can't go wrong.
The Snyder Cut: To pull this off at a Halloween party, you'll need to come prepared with your best rambling tangents, flashbacks and origin stories. Be sure to really take your time doing any and everything. If there's a line for the punch bowl, refill your glass in epic slo-mo.
Someone Who Has Caught Up With the Kardashians: Regardless of what fantastic spooky music is playing at your Halloween event of choice, put on any current season of Real Housewives to prove you've moved on.
Gossip Girl's Disembodied Voice From HBO's Gossip Girl: This one is more Zoom-appropriate — unless you can throw your voice. With your camera off, narrate the drama that's unfolding during your virtual happy hour. Be sure to refer to other partygoers by their initials. And don't forget the XOXO.
A Coded Message From Taylor Swift That Sends all of TikTok Into a Frenzy: Sure, you could come back stronger than a '90s trend, don some Red-era sunglasses or pontificate about your champagne problems, but why not choose chaos? It's Taylor's Version, and we're all just living in it.
Now Streaming: Movies and TV Shows Worth Referencing
While we imagine most folks will dress as the year's coolest Marvel Cinematic Universe characters, like Shang-Chi (Simu Liu), Xialing (Meng'er Zhang), Wanda/Scarlet Witch (Elizabeth Olsen) and Monica Rambeau (Teyonah Parris), there's something fun about referencing a popular movie or TV show that's in the cultural zeitgeist in a less direct way. These costumes might be less obvious, but pop culture fans will still recognize them.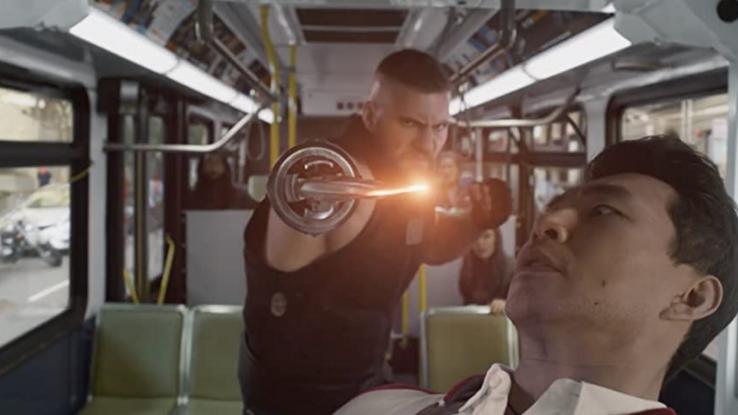 Mare of Easttown's Vape from Mare of Easttown: Kate Winslet's Mare had us watching intently every Sunday, but the real standout accessory wasn't her Rolling Rock bottle or her jacket — it was her trusty, Emmy-worthy vape pen.
Bowen Yang's Iceberg from Saturday Night Live (SNL): On SNL's "Weekend Update" segment, the Iceberg Who Sank the Titanic (Bowen Yang) appeared at the news desk to tell their side of the tragic story. Or, you know, promote their new album and move on from The SinkingTM.
Known Seltzer-Hater Ted Lasso from Ted Lasso: If you've ever eye-rolled La Croix or one of its many sparkling water brethren but been too afraid to buck the latest trend, fear not. As Ted Lasso (Jason Sudeikis), the carbonation-hating football coach, you can avoid La Croix while staying in character. Or, at the very least, practice your spit-takes.
A Dalgona from Squid Game: While plenty of people will don pink jumpsuits or green tracksuits to signify their Squid Game fandom this year, not many will think to dress as a dalgona, a Korean cookie that features an embossed shape on its surface. Less trick and more treat, but still a great contender.
Florence Pugh (with vest) from Black Widow: You may remember that Pugh's Black Widow character was Yelena Belova, but she'll always be Florence Pugh to us — in the same way we refer to Big Little Lies' Renata as Laura Dern. Anyway, this one is all about the vest. Pockets are everything.
Ceiling Chess Pieces from The Queen's Gambit: While dressing as Anya Taylor-Joy's Beth Harmon sounds like a lot of fun, might we suggest taking it to the next level? Like ceiling level. Construct an upside-down chess piece costume and, on top, add a chessboard for it to protrude from. Fellow partygoers will definitely get it.
The 1 California Bus from Shang–Chi and the Legend of the Ten Rings: Nothing says "Happy Halloween" like a chaotic moment on public transit.
Those judgmental teens from White Lotus: Sydney Sweeney and Brittany O'Grady played two sardonic teens on HBO's hit satire. If you'd rather not socialize at your Halloween event of choice, take a cue from these two and hide behind a book and a judgmental look.
And, yes… Agatha Harkness from WandaVision: This one isn't so obscure. Maybe your 2021 Halloween costume was going to be Agatha (Kathryn Hahn) all along. Even so, we had to add this MCU witch to our list.
Now Trending: Be Inspired by 2021's Fashion Moments
Figures in pop culture with great fashion sense, like David Bowie, Prince, and Princess Di, have always inspired folks around Halloween. Sometimes, wearing the same outfit as a celeb who you admire can feel great. At other times, referencing a newsworthy figure (or politician) is just a means of being timely. Here, we've highlighted some of the year's biggest fashion icons.
Bernie Sanders and his Vermont-made Mittens: While Amanda Gorman's "The Hill We Climb" was the actual highlight of the presidential inauguration, a close second was Senator Bernie Sanders, who showed up in a winter jacket and a now-iconic pair of mittens. Cross-legged, arms-folded, mittens-wearing Bernie became one of the year's earliest memes — and it's easily this year's most comfy Halloween costume.
Harry Styles: The "Watermelon Sugar" singer nabbed a Grammy this year, but the real highlight was Styles' style. Whether you opt for the green boa and all-leather look or the yellow, '70s-inspired houndstooth blazer and purple boa, you're sure to look so "Golden."
Lil Nas X: From "Montero (Call Me By Your Name)" to "That's What I Want," Lil Nas X released some incredible songs and accompanying music videos this year, all from his debut album, Montero. While a pink football uniform will immediately recall Montero University's squad, Lil Nas X has also had some top-notch fashion moments outside of his performances, including his plaid skirt, oversized white blazer and combat boot look on The Tonight Show.
Phoebe Bridgers: Need a last-minute costume? Any old skeleton apparel can fit the bill, especially if you dye your hair to match Bridgers'. Want extra credit? Pair this skeletal ensemble with a mini-skirt, rollerblades and a bag on your side.
A LuLaRoe Spokesperson: This one is easy. Simply wear some truly ugly leggings and dodge any direct questions people at your nearest Halloween party ask you. If you're the one throwing the party, charge a cover of about $5,000 per guest and make sure the quality of the appetizers and drinks goes steadily downhill as the night progresses.