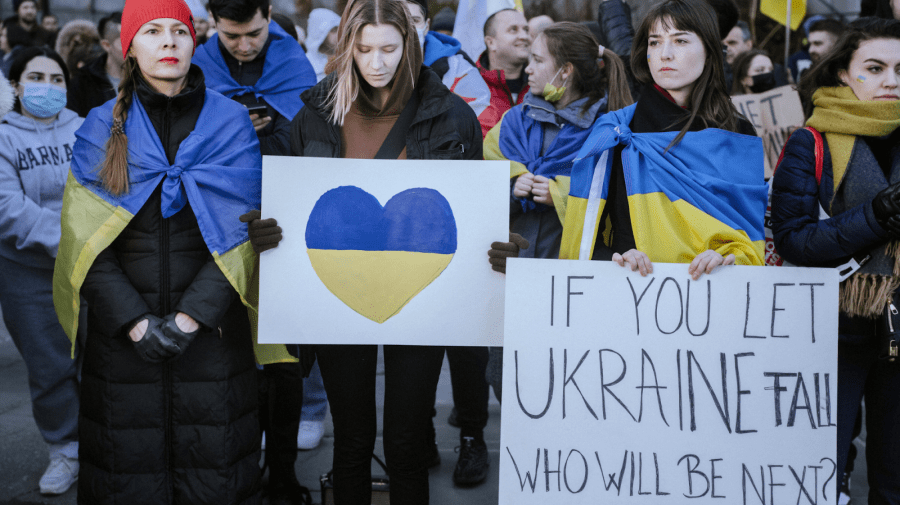 This past week, Russia's invasion of Ukraine has captured our collective attention. People around the world, including Russian citizens, have condemned President Vladimir Putin's actions and protested the ongoing invasion. Still, in these moments of worldwide crisis, it's normal to feel like there isn't anything significant you can contribute from afar. If you're feeling like you don't know where to start, we've gathered the names of just some of the organizations supporting the people who are being impacted by the invasion.
Of course, there are many more organizations to donate to than those we've included on this list. As the situation unfolds, various groups are putting together their own responses and folks are seeking mutual aid, but, still, this list is a good start. These organizations need funds to put together emergency responses and spread resources in Ukraine, and you can feel like you're taking a step in the right direction by helping them out if you're able.
Organizations Supporting Refugees
Many organizations worldwide are working to get funds to Ukraine to support those displaced by the invasion. UNHCR, The United Nations High Commissioner for Refugees, has been supporting refugees since the aftermath of World War II, and is currently working to support families who have lost their homes in Ukraine. HIAS is rushing support to Right to Protection (R2P), an organization they have partnered with since 2013.
Organizations Supporting Children
UNICEF has already been helping to ensure children have access to safe drinking water and educational resources, and now they have emergency response teams ramping up those efforts. Voices of Children provides psychological support to children enduring the consequences of experiencing war and displacement. Currently, Voices is working to aid kids in the regions most impacted, ensuring that children in Ukraine get timely psychological support during this ongoing crisis.
Organizations Supporting LGBTQ+ People
As Outright Action International puts it on their donation page, "In times of crisis, LGBTIQ people who are already marginalized face higher risks and cannot count automatically on access to humanitarian and/or social assistance," so they're taking donations to help make sure that needed assistance is present and available. Fulcrum and The Nash Mir Center are LGBTQ+ human rights organizations based out of Ukraine that could also use your support at this time.
Organizations Providing Health Care and Medicine
Obviously, providing health care in an emergency is incredibly important work. MSF (Médecins Sans Frontieres/Doctors Without Borders) is working to mobilize a response to the current emergency in Ukraine, all while continuing their work centered on tuberculosis, HIV, and COVID-19. The International Medical Corps is also collecting donations in order to help expand mental health services and other medical services in impacted communities. 
Sunflower of Peace is an organization started in 2015 by a Massachusetts woman named Katya Malakhova, who emigrated to the United States from Ukraine a few years before that. They put together the "first aid medical tactical backpacks for paramedics and doctors on the front lines," and according to the Facebook page, where you can donate, each backpack has the potential to save up to 10 lives.
Other Funds and Organization to Support
GoFundMe has put together a landing page of verified organizations and mutual aid efforts both large and small. They have also set up the Ukraine Humanitarian Fund, which allows them to distribute donations to a wide range of organizations.