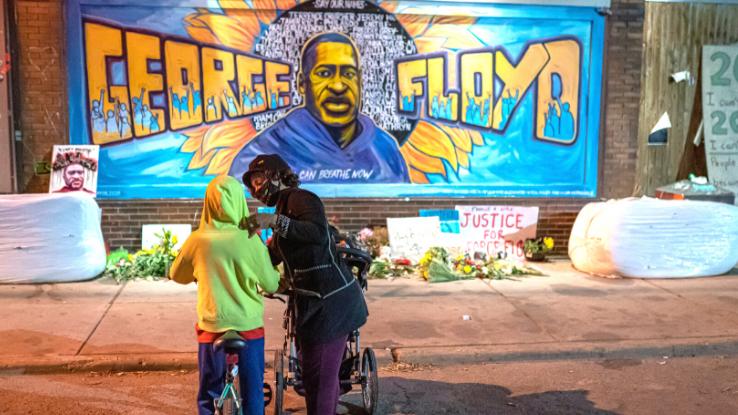 "One year ago, the story of a single man, a father, a brother, a son, stopped the world in its tracks and made us all take a deep look at who we truly are, [at] the racism embedded in our society, and the path to justice that maybe now feels within our reach," the George Floyd Memorial Fund posted on Instagram this morning. 
Today, May 25, 2021, marks a year since George Floyd was murdered by Minneapolis police officer Derek Chauvin. A little over a month ago, on April 20, 2021, Chauvin was convicted of all three murder charges, but, as the Movement for Black Lives notes, "A guilty verdict did not change what we know to be true: a racist system will never deliver justice for our people."
While awaiting the verdict, folks across social media platforms shared a similar concern: The whole world saw the murder take place, but, given the long history of police brutality and the treatment of Black folks in America, the outcome felt disturbingly uncertain. "The fact that we know what the verdict SHOULD be but remain unsure of what it WILL be speaks volumes about our nation," National Youth Poet Laureate Amanda Gorman (@TheAmandaGorman) tweeted. "We have work to do." 
The need to seek justice for Black folks, like George Floyd and Breonna Taylor, led "half a million people [to turn] out in nearly 550 places across the United States." And that was on just one day — one day in a movement that has inspired protestors to keep showing up for the last several months. In fact, according to researcher Erica Chenoweth and the Crowd Sourcing Consortium, "15 million to 26 million people in the United States" alone have participated in protests since the deaths of George Floyd and Breonna Taylor, leading many to call the Black Lives Matter movement quite possibly the "largest movement in U.S. history."
But, as Gorman said, there's work to be done — a lot of work. "Since May 25th, 2020, police have killed at least 225 Black people, and there have only been six days in 2021 where police did not kill someone," the Movement for Black Lives (M4BL) stated on their Instagram page. "George Floyd, Ma'Khia Bryant, Tony McDade, and many others who have lost their lives deserve a new approach to keeping our communities and us safe."
America Remembers George Floyd
On the morning of May 25, 2021, the NAACP held a moment of silence over their Facebook page for Floyd at 9:29am — to mark the 9 minutes and 29 seconds that Floyd's murderer knelt on his neck. In Washington D.C., Floyd's sister, Bridgett Floyd, his daughter, Gianna Floyd, and Gianna's mother, Roxie Washington, visited the White House for a private meeting with President Joe Biden. "He has a genuine relationship with them, and the courage and grace of this family and especially his daughter Gianna Floyd, has really stuck with the President," White House Press Secretary Jen Psaki said, "so, he's eager to listen to their perspectives and hear what they have to say."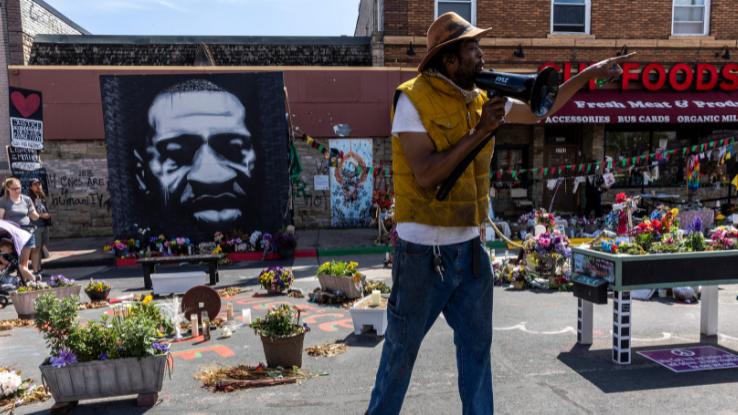 Although the George Floyd Justice in Policing Act has yet to reach President Biden's desk — something many hoped would've happened by the 25th — Floyd's cousin, Shareeduh Tate, feels hopeful and is eager to see an all-encompassing iteration of the act passed soon. "From my perspective when we lost him it was a very personal thing for us initially and we had no idea the kind of impact it would have," Tate, who also serves as the president of the George Floyd Memorial Foundation, told CNN. "It was almost immediately seeing the fact that people were able to have conversations across diverse lines, people were able to talk about things that we never had a conversation about before."
Later today, members of Floyd's family will attend a series of memorial events in Minneapolis, Minnesota to celebrate his life. Across the country — and the world — cities and towns intend to hold their own gatherings, ranging from protests to vigils to concerts, in order to honor Floyd and celebrate his life.
"We honor George Floyd's life by uniting together to continue the fight for justice," the George Floyd Memorial Foundation states on its website. "From using your social media platforms to call for justice, contacting local officials, and supporting critical legislation, now is the time for action to create unity, hope, and progress." You can do your part by amplifying the Foundation's work on social media; urging your Senators to pass the George Floyd Justice in Policing Act; and donating to the Foundation, which aims to continue challenging racial inequity and enacting change that ends systemic violence. 
Continue to Support the Black Lives Matter Movement By Supporting & Centering Black Folks
For many, solidarity looks like attending a protest, march, or vigil. While showing up physically is a great way to lend support — especially if you're a white ally — it isn't the only way to support the Black Lives Matter Movement. Here are some other essential ways you can take action.
Donate to Organizations & Mutual Aid Funds That Support the Immediate Needs of Black Americans
Recently, we spotlighted the need for mutual aid and community care — and not just in the immediate aftermath of a crisis. "[Mutual aid is] not community service — you're not doing service for service's sake," Mariame Kaba, a prison abolitionist and grassroots organizer, told The New Yorker. "You're trying to address real material needs." More often than not, supporting mutual aid and community-led fundraising initiatives is the most effective way to donate your money and share resources. 
When the protests began, incredible Minnesota-based, community-focused organizations, like Reclaim the Block and the Minnesota Freedom Fund, received an outpouring of support. In less than a year, Black Visions Collective Movement and Legal Fund, a Black-, trans- and queer-led organization based in Minnesota, has reallocated $8.9 million to community members, organizations and other groups. 
While donating to places (often cities) that have had the most protests and protesters can feel like the most helpful route, you should also search for organizations that uplift and support Black folks in your local community. If you're having trouble finding organizations or mutual aid funds in your community, consider supporting larger organizations that often allocate funds to local chapters and organizers, such as NAACP, the American Civil Liberties Union (ACLU) and Black Lives Matter.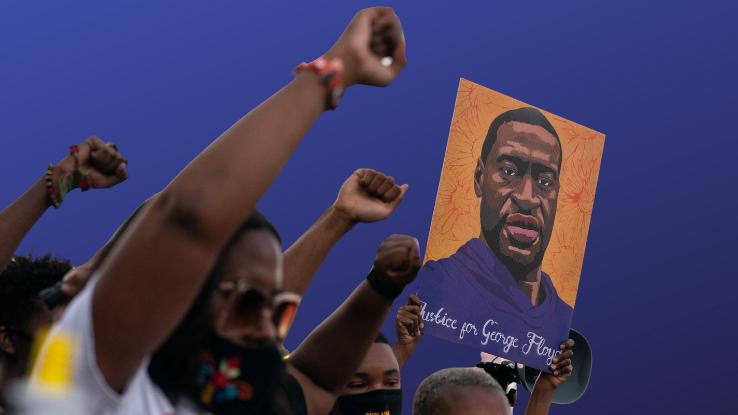 Try finding an organization whose cause really resonates with you and set up a monthly donation. By doing so, you're committing more concretely to a cause, to supporting Black folks, and you're also helping those organizations plan for the future. For example, Therapy for Black Girls, which aims to destigmatize mental healthcare and mental illness and make resources more accessible for Black folks, is a great organization to donate to monthly, as is The Loveland Foundation. Some other organizations that center Black Americans — and queer and trans Black folks — include: The Okra Project, Black Trans Travel Fund, Black Aids Institute, Trans Women of Color Collective, Marsha P. Johnson Institute and the Audre Lorde Project. 
Support Black-Owned Businesses & Black Creators
While supporting businesses in person has been complicated by the COVID-19 pandemic, you can still support Black business owners and creators online. In fact, due to the pandemic, more businesses and restaurants have shifted gears and become accessible from afar. From Adjourn Teahouse, a Black-owned tea shop in Washington, D.C.; to BrightDyed Designs, a Black- and family-owned tie-dye shop based in California; to the Philadelphia-based Harriett's Bookshop, there are countless Black-owned businesses and Black creators to support online.
If you plan on ordering takeout, try ordering from a local Black-owned restaurant (and be sure to tip well). Once your food arrives, put all those Instagram skills to work: Anela Malik (@feedthemalik), a Black foodie and advocate, posted on Instagram that, "Black-owned businesses historically lack access to capital and investment. They often don't have PR firms or marketing agents… Produce some high quality images to support Black businesses. Share on Yelp, Google and social. Share them directly with the business so they can use them on their social and websites!" 
Additionally, diversify your feed with Black voices by following foodie accounts like @blackfoodfolks, @whiteplatesblackfaces, @from_lagos, and @smallorchids. While it's nearly impossible to include a comprehensive list in this article, here are some restaurant lists from metropolitan areas across the country, including the Bay Area (San Francisco, Alameda, Oakland, etc.), New York, Philadelphia, Chicago, Seattle and Los Angeles.
Keep Amplifying Black Activists, Artists, Business Owners & Educators on Social Media
Social media platforms are great ways to discover Black-owned businesses, Black artists and Black activists. As you diversify your feed, you'll start to discover more and more folks to support — and you'll have a chorus of different voices and viewpoints to engage with throughout the day. Instead of posting your personal stories, selfies or feelings on what's happening, look to center Black voices instead.
Even if you feel you have a small platform, reposting helpful links, graphics and more can boost the visibility of important causes and help amplify Black voices. That is, don't be completely silent — that's complicity — but give that valuable social media real estate to others. You never know who you'll educate by doing so. Additionally, check out the #AmplifyMelanatedVoices hashtag and follow Black activists like Layla F. Saad, Rachel Cargle, Mireille Cassandra Harper, Ijeoma Oluo, Alicia Garza, Brittany Packnett Cunningham and others.
Take Action in Your Community
Advocate for Change & Action in Your Workplace, Classroom & at Home: Speaking out and correcting friends, family and coworkers can be daunting, but challenging racism is essential. To stand in solidarity, using your voice, privilege and platform is a must. Black people have to deal with the weight of micro-aggressions and the harm of racist comments and actions constantly. Shoulder some of that weight by doing your part to call out racism when you see it. We also recommended reviewing the Southern Poverty Law Center's "Speak Up" strategies — and participating in bystander trainings — so that you can support Black folks and intervene on their behalf without creating a more volatile situation. At work, advocate for investing in community days, volunteer events, and the creation of employee resource groups (ERGs) and other initiatives that help create a more inclusive environment.
Reach Out to Your Elected Officials: If you see an injustice — or continued injustices — reach out to community organizers, elected officials and other political leaders who can help enact meaningful change through law and policy. The ACLU has some great tips for making phone calls and drafting emails. Moreover, the Movement for Black Lives is looking for community co-sponsors for the BREATHE Act. 
Volunteer With Local Organizations & Become Aware of Community Resources: Depending upon where you live, look for local organizations you can donate your time to and support. This is an especially great option for folks who may not be able to lend financial support.
Support Protestors: Whether you're attending a protest or march in person or contributing supplies — water, snacks, sunscreen, safety equipment, funds — it is essential to keep up the momentum. Visibility can help spark lasting, meaningful change, so protests, especially those as large and widespread as 2020's BLM protests, are a very direct way to accomplish that goal. 
Continue to Educate Yourself About the History of Police Brutality & Systemic Racism
While some Black activists, writers and educators willingly give their time and energy, it is not the job of Black people to teach white people how to be anti-racist, nor is it their job to educate white people and allies in general. Seek out resources yourself so that you can continue to better understand the history of police brutality and white supremacy. Moreover, doing so can help you understand how you're upholding systemic racism. Just don't let your actions stop at self-education; knowledge alone isn't activism.