Staying in the right place can make or break your vacation. When staying at an exceptional property, you know and feel like you are on vacation from the second you walk through the door. Some properties are worth the journey by themselves because there is no other place like it in the world. Here are some of the most unique VRBO rentals worldwide, including where they are, how much they cost per night, and why they are so special.
What Is Vrbo?
Vrbo is a vacation rental site that stands for "Vacation Rentals By Owner" and was founded in 1995. In 2006, the company was purchased by HomeAway, which Expedia Group then purchased in 2015.
The main competitor to Vrbo is Airbnb, which was founded in 2008. The main difference between the two sites is that Airbnb offers a variety of spaces, from shared rooms to standalone properties. Vrbo, on the other hand, only offers standalone vacation rentals. You cannot rent a shared space on Vrbo. Because of this, there are about half of the properties on Vrbo compared to Airbnb. Apart from this distinction, the apps are pretty similar and allow anyone to post properties for rent, and guests can review these properties after their stay.
How To Find Unique Vrbo Rentals?
If you want to take your vacation up a notch and are looking for a truly unique stay, you're in luck. Vrbo offers a dedicated page on their site, all for fun getaways and unforgettable stays. You have the option of staying in a treehouse or a luxury villa. There are also blog posts on Vrbo that give fantastic information on unique Vrbo rentals worldwide. 
Here are some of the most unique Vrbo rentals on the site. 
1. Little Harvest Private Island
If you have dreamed of seclusion and luxury, this unique Vrbo rental listing, Little Harvest Private Island, is for you. You and your closest friends can rent a private island off the coast of Belize. The Villa on the property boasts 7,000 square feet and sleeps 14 in five bedrooms. There are also six full bathrooms, so there is no need to worry about feeling cramped. 
You will enjoy daily maid and chef service, but the price of food is not included in the nightly rate. You can use all sorts of water sports equipment and boats with your captain. The island is private–only your group and the onsite staff with separate housing will be on the island during your stay.
Location
The island is off the coast of Southern Belize and near Palencia, the second most popular tourist destination in the area.
How To Get There
You will fly to the island through Belize City airport, BZE. Then, you will either take a 30-minute local commuter flight to Palencia airstrip or take a van shuttle to the Gecko Marina. With both options, staff will be available to meet you and take you to the island. 
Cost
The island costs $3,400 per night, a big chunk of money. However, if that is divided amongst 14 people at total capacity, that comes to $242.86 per person per night, which is doable.
What To Do Here
The best thing to do on this island is to relax and enjoy being pampered. You can take the boat to Palencia and enjoy the town or use your personal concierge to book land or sea tours of Belize. You can visit the rainforest, waterfalls, Mayan ruins, and more.
Ratings
The island has over 100 reviews at 4.9 stars, so you can rest assured that this will provide a once-in-a-lifetime experience.
Who Should Check It Out
This is the kind of unique Vrbo rental property where you will need a large group to make the most of the experience. It would be fantastic for a special birthday, retirement, or celebratory trip. Even if you do not have anything to celebrate, this property will provide the ultimate relaxation and tranquility.
2. Allusion Winery Glamping Domes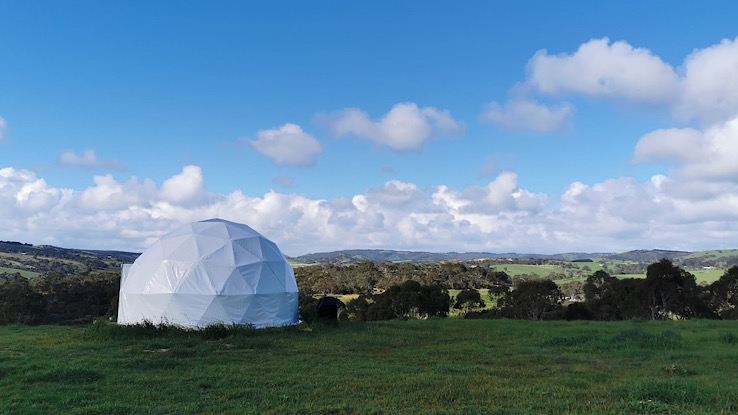 Do you want to disconnect from everything but do not want to worry about setting up a tent or roughing it under the stars? If so, you would enjoy the opportunity to glamp at Allusion Winery Glamping Domes. Each dome has its own firepit, perfect for colder nights.
Location
The glamping domes are located a 50-minute drive from Adelaide, Australia, on a 35-acre farm and vineyard.
How To Get There
Fly into Adelaide airport, rent a car, and drive the quick 50-minute journey to the property.
Cost
The domes cost $97 per night, which includes a king bed, portable gas cooker and BBQ, 10 liters of drinking water and 20 liters of washing water, solar-powered chargers, coffee, and gas top cookers. There is no fridge, so it is recommended to bring your cooler.
What To Do Here
You go to the glamping domes to get away from it all and connect with nature. While visiting the property, you can relax, strengthen your bond with loved ones, and enjoy nearby hiking opportunities.
Ratings
There are over 20 reviews at 4.5 stars. Reviews outline how clean, relaxing, and beautiful this property is.
Who Should Check It Out
This would be great for solo travelers or couples looking to get away.
3. 727 Airplane Jungle Fuselage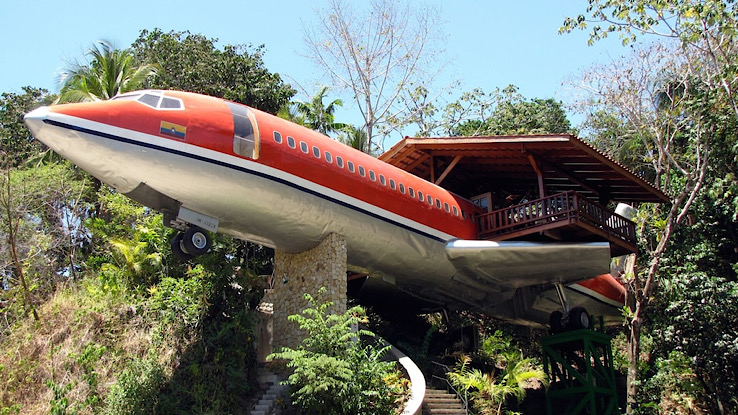 This is undoubtedly one of the most unique Vrbo rental, properties you can have in the entire world. 727 Airplane Jungle Fuselege is a two-bed, two-bath property inside a 727 airplane located 50 feet above the ground in the jungle of Costa Rica. 
Apart from the fantastic accommodations, you can enjoy the pools and bars at a nearby hotel and a short drive from the beach.
Location
The property is located in the Manuel Antonio National Park, close to the Escondido Beach in Costa Rica.
How to Get There
The easiest way to get to the jungle is to fly to the San Jose International Airport, which is a two-and-a-half-hour drive. Staff from the property can arrange to pick you up at the airport and escort you to the property.
Cost
This airplane costs $770 per night to stay in. At a maximum capacity of six people, it is only $128.33 per person per night, which is reasonable for this kind of stay.
What To Do Here
When staying in an airplane, you will probably not want to leave. Not only is the accommodation fascinating, but you get incredible views of the ocean and jungle. If you decide to leave the property, enjoy the white sandy beach, shopping, and restaurants that Manuel Antonio offers. You can also easily enjoy catamaran cruises and sport fishing.
Ratings
This listing has over 50 reviews at 4.8 stars. They note how excellent the property is and how the experience is truly unforgettable.
Who Should Check It Out
This property sleeps 6 in two bedrooms, three beds, and two full bathrooms. This would be an excellent property for a small family or close group of friends to enjoy a truly unique Vrbo rental.