With so many cleaning products on the market, figuring out which ones are the best isn't easy. If you're not going to hire a cleaning service to help you out, it's a good idea to really research what products are best for your home. After all, you'll want to steer clear of damaging products for a truly sparkling result. So, how do you choose the best cleaning products for your home? Fortunately, a few stand out from the crowd, making cleaning everything from your bathroom to your car a breeze.
Best Eco-Friendly Cleaning Products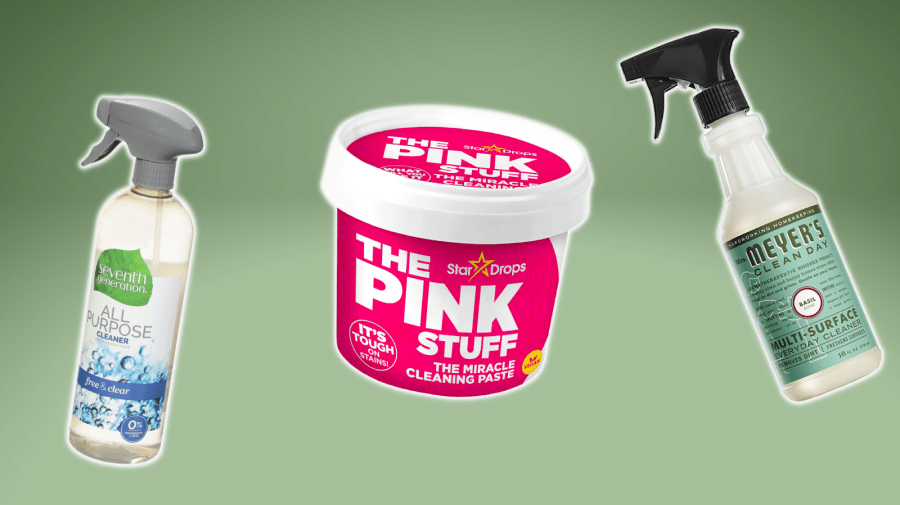 1. Seventh Generation All Purpose Cleaner
If you're looking for an eco-friendly cleaner, Seventh Generation All Purpose Cleaner is a standout. Along with being biodegradable, it comes from natural, renewable sources. As a result, it can be more eco-friendly than even some natural products that don't focus on sustainability. It's a solid choice for kitchens and bathrooms — it even works well on laminate flooring.
2. Mrs. Meyer's Everyday Cleaner
Another cleaning product line that commits to sustainability and avoids animal-derived ingredients is Mrs. Meyer's. The brand's Everyday Cleaner is primarily made of plant-based ingredients, but it's also an excellent product. It makes cleaning countertops and other surfaces a cinch, cutting through dirt and grime with ease. Just be aware that the brand may add some synthetic ingredients to the mix, particularly when it comes to creating fragrances.
3. The Pink Stuff Cleaning Paste by Start Drops
While most people wouldn't think that a cream-based cleaner is made to handle tough grime, The Pink Stuff is more than capable. Plus, the texture makes it safe to use on delicate surfaces, allowing you to have scrubbing power without risking scratches. Along with being made up of 99 percent natural ingredients, this cleaning paste is also vegan.
Best Natural Cleaning Products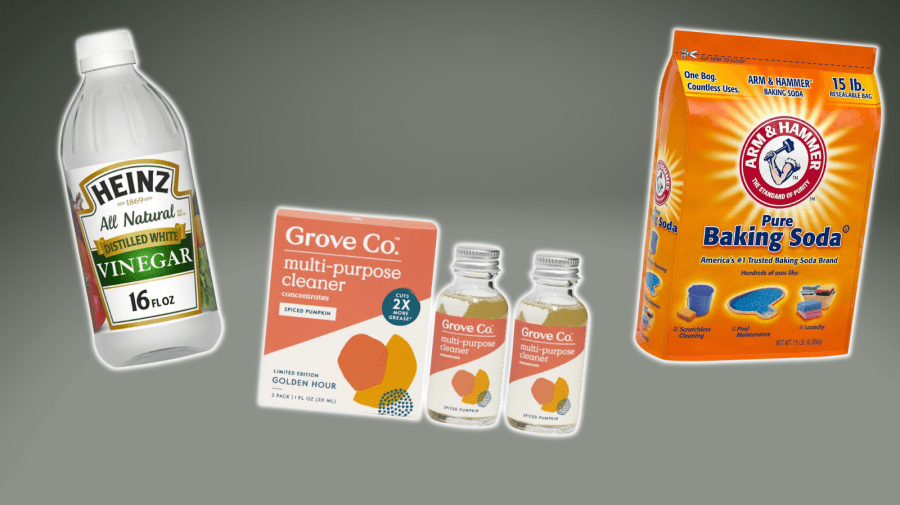 4. Heinz All-Natural Distilled White Vinegar
When it comes to versatile, natural cleaning products, it's hard to beat white vinegar. While you do need to dilute it in most cases, it can tackle a wide range of messes. Whether you need to polish showerheads or clean your coffee maker, it can safely do what you need. Plus, it makes for a great natural weed killer.
5. Arm & Hammer Pure Baking Soda
Baking soda has long been a go-to option to keep fridges odor-free, but its texture also makes it excellent for scrubbing a range of surfaces. Whether you need to clean up your bathroom, scrub your kitchen tile or get stains out of your pots and pans, it can do the trick. While you're at it, sprinkle some baking soda down your kitchen drain and follow that up with white vinegar to deodorize your drain and tackle buildup.
Plus, baking soda is also excellent for deodorizing carpets, mattresses and a range of upholstered furnishings.
6. Grove Co. Multi-Purpose Cleaner
With Grove Co. Multi-Purpose Cleaner, you get a biodegradable all-natural formula that's 92 percent plant-based. Even the fragrances are 100 percent natural, which isn't something many products can claim. Even if you don't subscribe to Grove's monthly boxes, you can still buy concentrates for refills, resulting in less packaging and waste. It's powerful, effective and versatile.
Grove Co., as a whole, is a great place to discover new cleaning products. The company uses glass bottles instead of plastic and even has a "recycle on us" program, which provides prepaid labels so that you can return your empties.
Best Cleaning Products for Bathrooms
7. Clorox Disinfecting Wipes
One challenge when you're cleaning a bathroom? You might not want a sponge wiping up all that gunk and grime on your toilet or shower. And that's why Clorox Cleaning Wipes are so handy. Along with killing 99.9 percent of viruses and bacteria, you can use the wipe and then toss it. Say "goodbye" to questionable sponges!
8. Lysol Power Toilet Bowl Cleaner
With its bottle's angled neck, getting under the rim of the toilet is a breeze. Not to mention, Lysol Power Toilet Bowl Cleaner kills 99.9 percent of germs, making one of the more unpleasant cleaning jobs much easier. Plus, it's great at tackling a range of stains, even without a ton of scrubbing. Just go over the toilet bowl with a toilet brush after it's sat for a few minutes, and — voila! — you're done.
Best Car Cleaning Products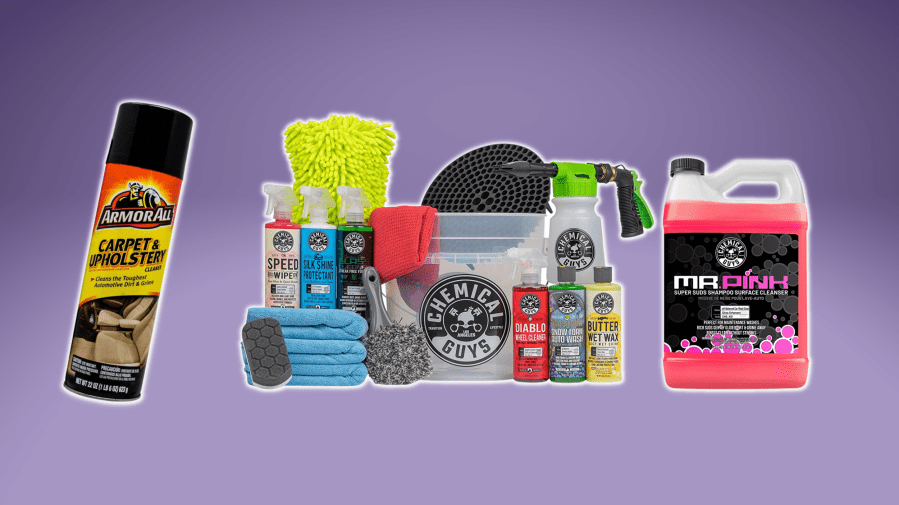 9. Chemical Guys 16-Piece Arsenal Builder Car Kit
If you want a solid selection of car cleaning products all in one package, the Chemical Guys 16-Piece Arsenal Builder Car Kit is a convenient must. It's a little pricey, but, we assure you, it's going to cover almost any possible need that arises. Plus, the company is known for high-quality products that get the job done, so it's worth the investment in more ways than one.
10. Armor All Carpet & Upholstery
With Armor All Carpet & Upholstery, you don't just get a powerful foam cleaner. The container actually has a brush tip built in, so you can scrub away buildup with ease. Seriously — if you're dealing with tough stains or odors, Armor All can handle them, often within mere minutes.
Best Household Cleaning Products
11. Bar Keeper's Friend
Available in both powder and liquid form, Bar Keeper's Friend is a versatile cleaner that's perfect for tackling tough stains on tricky surfaces, like stainless steel, porcelain and more. From ridding your toilet of rings to removing stains and buildup from sinks and glass shower doors to fixing up discolored glass stove tops, this product really is a friend. Plus, you can use it on cookware without worrying about damaging those surfaces.
12. Mr. Clean Magic Eraser
Another cleaning product that shines when it comes to versatility, the Mr. Clean Magic Eraser is an excellent option for dealing with stubborn spots. One popular use? Tackling hard-to-clean water stains on glass shower doors or clearing soap scum in tubs. It's also great for getting rid of baked-on grime on oven doors or cleaning up tile backsplashes. Plus, it can tackle scuff marks on floors, baseboards, walls and more.
13. Rejuvenate All Floors Restorer
When you need a versatile floor polish that will restore shine and fill in light scratches, Rejuvenate All Floors Restorer is a great choice. Although it's a single-coat product, it'll give you durable protection for months. As an added bonus, it dries in less than an hour, allowing you to get back to the rest of your day more quickly.
14. Windex Original Glass Cleaner
When you need a streak-free finish on glass, Windex Original Glass Cleaner has been a must-use for generations. It's effective and powerful, and it's suitable for anything from windows to bathroom mirrors to glass-top tables. Pair it with a microfiber cleaning cloth, and your glass will look great in no time flat.
Best Cleaning Products for Pets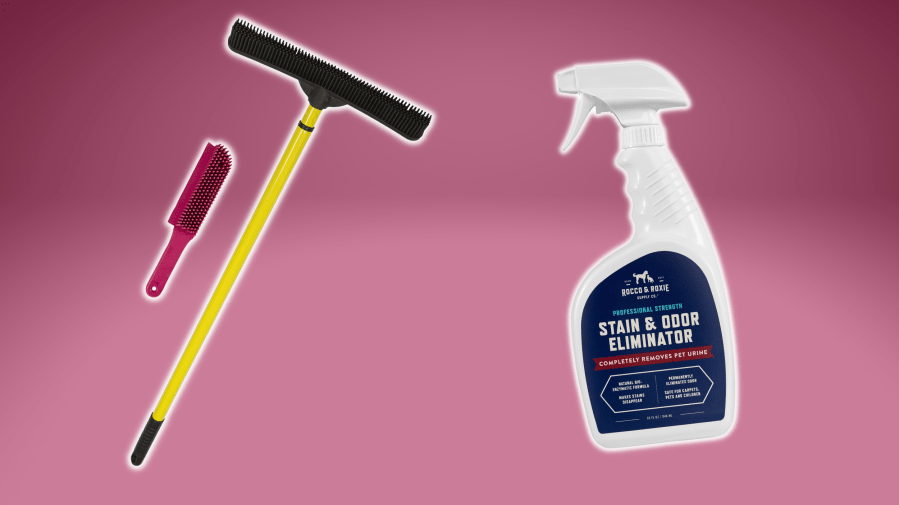 15. FURemover Pet Hair Removal Broom
Whether you're dealing with pet hair on rugs or hardwood floors, the FURemover Pet Hair Removal Broom makes gathering it all up a breeze. Plus, this handy device can also get those crumbs that other brooms and vacuums might miss. And, if you allow your pet on your upholstered furniture, it can also clean those surfaces with ease, too.
16. Rocco & Roxie Stain and Odor Eliminator
For pet stains and odors — including urine — Rocco & Roxie Stain and Odor Eliminator is a must. It neutralizes odors quickly and has essential oils that deter repeat accidents in the same area. Needless to say, it's a great product to use while training your puppy.