It's no secret that Americans love potatoes. In fact, the average American consumes a whopping 111 pounds of potatoes per year! French fries aside, mashed potatoes might just be the most popular way to enjoy spuds.
And while there may not be regional wars over whose potatoes are the best — we're looking at you, pizza! — there are plenty of ways to smash a spud. So, whether you're looking for a classic mashed potato recipe or a new way to enjoy some taters, we've rounded up the best ways to mash potatoes. 
Basic Mashed Potatoes
When you're in the mood for a more classic mashed potato recipe, All Recipes has you covered. With just five ingredients, this recipe for basic mashed potatoes is perfect for a busy weeknight meal.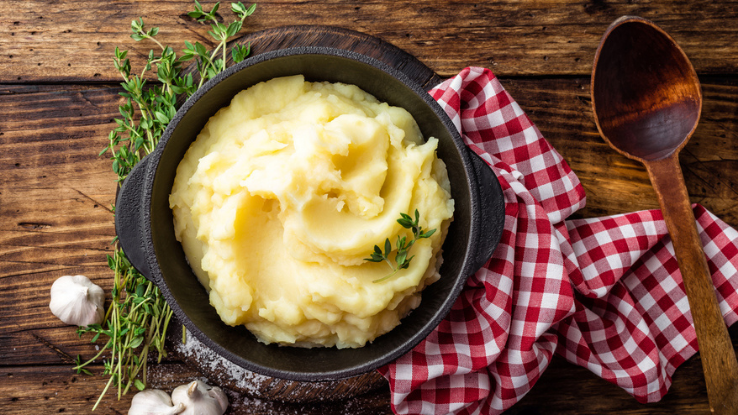 It's also easy to double, making it great for a holiday party, BBQ, or family dinner. You can pair classic mashed potatoes with a steak, ham, fish — basically, they're a versatile old standby. Serve them with gravy or enjoy them just as they are — buttery and whipped to perfection.
Slow-Cooker Loaded Mashed Potatoes
Taste of Home has a great recipe for loaded mashed potatoes, and the best part might be that you can make them in a slow cooker. Oftentimes, when you're making a holiday meal or a large meal for a gathering, the potatoes take up too much space in the oven or on the stovetop. And, let's face it, mashed potatoes don't heat up so well if you're going for a creamier consistency.
However, with these loaded mashed potatoes featuring bacon, green onions, and yummy cheese, you can pre-make the potatoes in a Dutch Oven or let them cook on the counter in a slow cooker on low for 3–3.5 hours.
Olive Oil Mashed Potatoes with Pancetta
The Food Network serves up a quick and delicious mashed potato recipe featuring olive oil and pancetta. These are great when you're craving mashed potatoes but looking for something just a little different.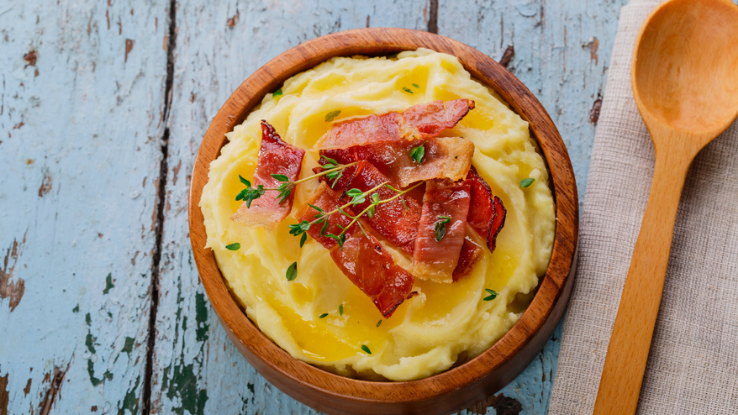 The potatoes are finished off by blending in warm milk, olive oil, and parsley. With only 10 minutes of prep and 25 minutes of cooking, this recipe is ready in no time and makes six servings. Yum!
Garlic Mashed Potatoes
The garlic mashed potatoes from Simply Recipes call for fluffy Yukon Gold potatoes and loads of garlic to create this beloved side. Pro tip for this recipe? Roast the garlic ahead of time. Trust us.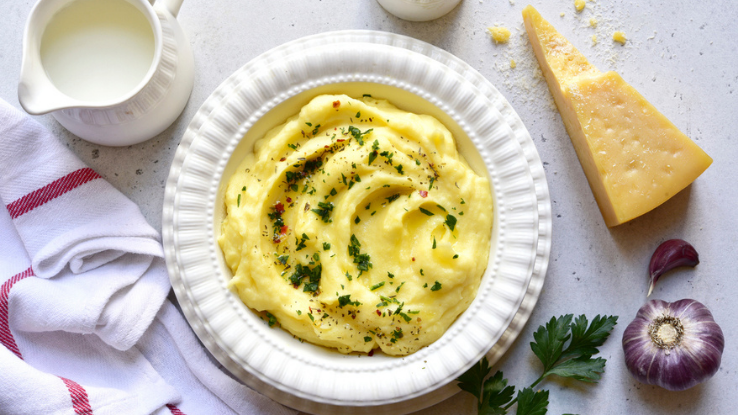 You'll be using an entire head of garlic, but roasting it allows the flavor to come through without giving a sharp, I-desperately-need-to-brush-my-teeth garlic aftertaste. These mashed potatoes also call for olive oil, butter, and cream, all of which give them that smooth, creamy texture that's so irresistible.
Smashed Potatoes
Cookie and Kate like to serve up potatoes with a crispy twist. Smashed potatoes are great as a side for dinner or brunch — plus, they're a lot like fries, so you can check two potato boxes at once.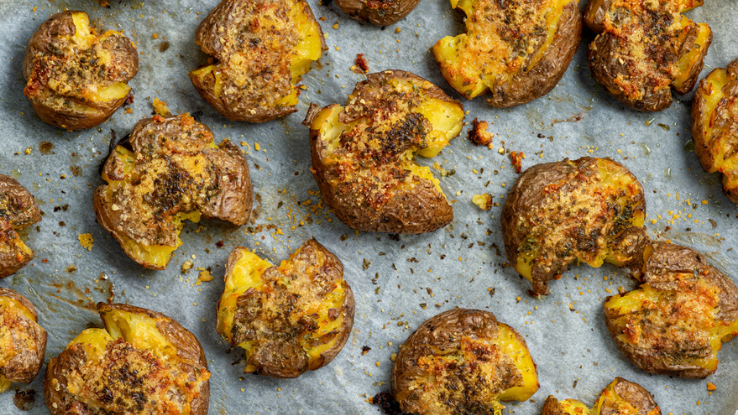 You'll want to use small red potatoes — you know, the ones that are about the size of a golf ball. Keeping the potatoes small ensures they all cook evenly and can be eaten in a couple of bites. Serve these smashed potatoes with ketchup — or a garlic aioli — because nothing beats dipping.
Cheesy Potatoes
These cheesy potatoes from Spend with Pennies are made using your favorite cheese and thin-skinned potatoes, like a red potato or Yukon Gold. Thin-skinned spuds — bet you weren't expecting that phrase! — will save you a lot of time when it comes to peeling since you can boil them, skin on.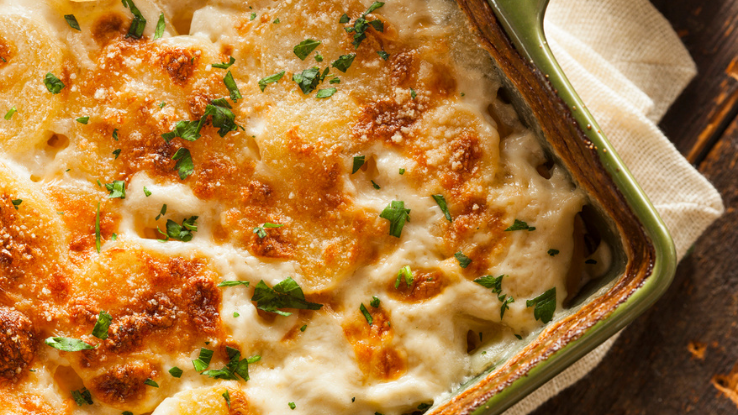 Alternatively, you can also use a frozen bag of hash browns — a real time-saving choice. The recipe calls for cheddar, but, much like macaroni and cheese, any one (or three) of your favorite cheeses will do. This creamy, gooey potato recipe is sure to be a fan favorite at your next gathering.
Funeral Potatoes
A variant on cheesy potatoes, what sets funeral potatoes apart — aside from their dour nickname — is the added crunch. But, before we get to that, why are they called funeral potatoes? Well, the name stems from the fact that this side is a go-to staple when it comes to feeding a larger crowd — although this comfort food can make an appearance at any type of gathering.
Getting back to the crunch element, this recipe from Tastes Better from Scratch suggests making the cornflake topping the star of the dish. For the most part, you can make these potatoes ahead of time and store them in the fridge or freezer — just don't top them with cornflakes until you're ready to serve them.
Twice-Baked Potatoes
This twice-baked potato recipe from Pioneer Woman makes for a great side for both BBQs and steak dinners alike. As the name suggests, a twice-baked potato is baked twice: the first time, you're cooking the potatoes, much like a standard baked potato. After this first bake, scrape out the inside and mash them together with sour cream, cheese, and bacon. Next, refill the scooped-out potato with the tasty mash you've just made.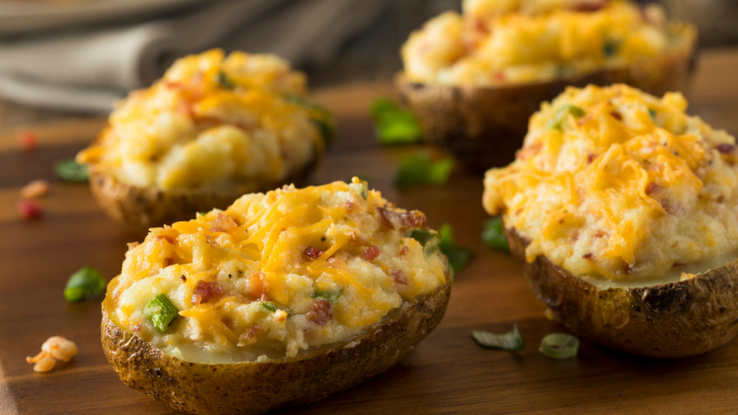 See where we're going with this one? Once the filling is loaded into the skin, the potatoes get popped back into the oven for the second time, which allows all that cheese to brown nicely on top. These heat up pretty well, so, like some of the other dishes on our list, you can make them ahead of time, too.
Scalloped Potatoes
The Girl Who Ate Everything has a scalloped potato recipe that will make your mouth water when you read it. Although these don't necessarily involve any mashing, the texture is similar enough to some of the other dishes on this list that we aren't complaining if the host substitutes a classic mashed potato side with these — especially considering all of that tasty butter.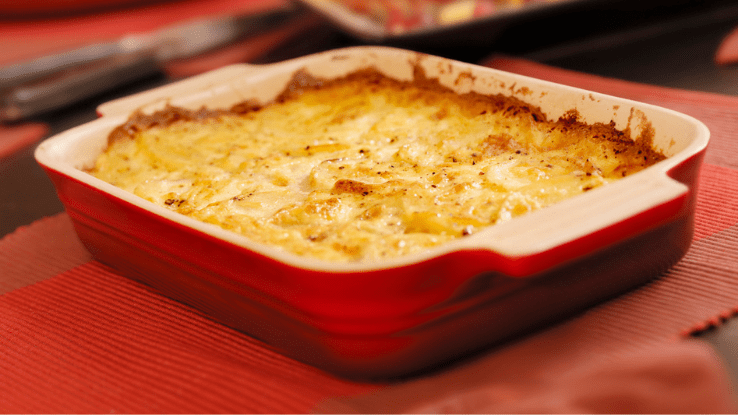 The most important part? When you're cutting the potatoes, make sure to slice them thinly. This will allow for a better, more even cook. Perfect for everything from potlucks to steak dinners, scalloped potatoes are a great substitute for folks who (somehow!) don't love the creamy quality of mashed potatoes but still want all that buttery goodness.