No award in college football is more prestigious — or more coveted — than the Heisman Trophy. Officially named the Heisman Memorial Trophy, the honor is awarded each year to the most outstanding college football player for displaying not only great athletic ability but also admirable perseverance and character on and off the field. Here, we're taking a look at the players who are Heisman Trophy favorites heading into the 2022 college football season.
Heisman Trophy Favorites for the 2022 College Football Season
To date, Ohio State, Oklahoma and Notre Dame have the honor of producing the most Heisman Trophy winners. In fact, those schools' players account for 25 percent of all past Heisman recipients. So, will that trend continue this season? The list of potential candidates each year is a roundup of amazingly talented young players.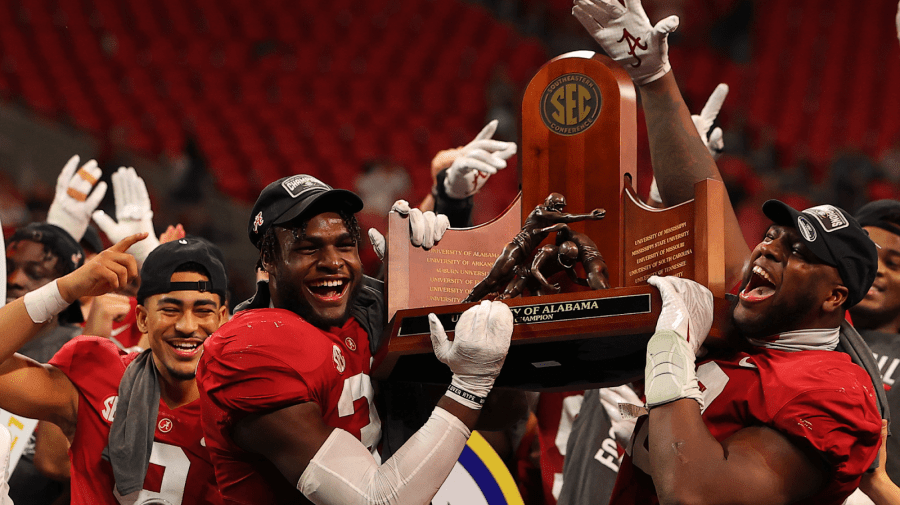 Competition for the honor is fierce. Going into the season, the players showing the most potential as Heisman Trophy favorites include:
Bryce Young (QB), Alabama
CJ Stroud (QB), Ohio State
Caleb Williams (QB), USC
Will Anderson Jr. (LB), Alabama
Bijan Robinson (RB), Texas
Jaxon Smith-Njigba (WR), Ohio State
Dillon Gabriel (QB), Oklahoma
Tyler Van Dyke (QB), Miami
D.J. Uiagalelei (QB), Clemson
TreVeyon Henderson (RB), Ohio State
Matt Corral (QB), Ole Miss
Kenny Pickett (QB), Pitt
Aidan Hutchinson (DE), Michigan
Kenneth Walker (RB), Michigan State
Top 5 Heisman Trophy Favorites for the 2022 Season
Out of this group, there are a few players who've been shortlisted to win — and for very good reasons. Here are our top five picks.
Bryce Young (QB), Alabama Crimson Tide
The Heisman winner of 2021, Alabama's Bryce Young could very well garner the title again in 2022. And what's even more amazing is that Young is only a sophomore this year. There is plenty of potential in his skills and the time to have another grab at the trophy.
CJ Stroud (QB), Ohio State Buckeyes
CJ Stroud of Ohio State came in third in the Heisman standings in 2021with a 72% completion rate, nearly 4,500 yards passing, and 44 touchdowns to 6 interceptions. Stroud had an early season shoulder injury but pushed through it to end the year on a stellar note. Odds are good that he'll nab the trophy this year.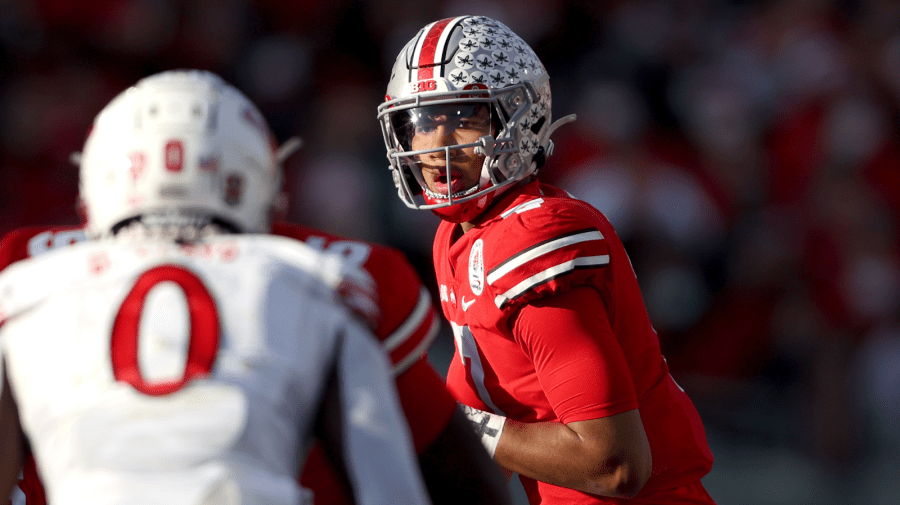 Caleb Williams (QB), USC Trojans
Another freshman who blazed onto the scene in 2021, Caleb Williams has a real shot at the Heisman Trophy this season. In an early four game start, Williams had a 73% completion rate and threw for 1,087 yards with 14 touchdowns and only one interception.
He ended the season with a 57% completion rate and threw for 723 yards with seven touchdowns and three interceptions. And while that's certainly nothing to sneeze at, there are those who think that he needs more consistency to be seriously considered for the Heisman.
Will Anderson (OLB), Alabama Crimson Tide
According to some college football experts and pundits, Will Anderson was robbed of the Heisman win last season. In 2022, Anderson boasted an impressive record, which consisted of 17.5 sacks, 31 TFLs, and 101 tackles while beating opposing offensive linemen consistently game after game. Only time will tell if this superstar can take home the Heisman this year.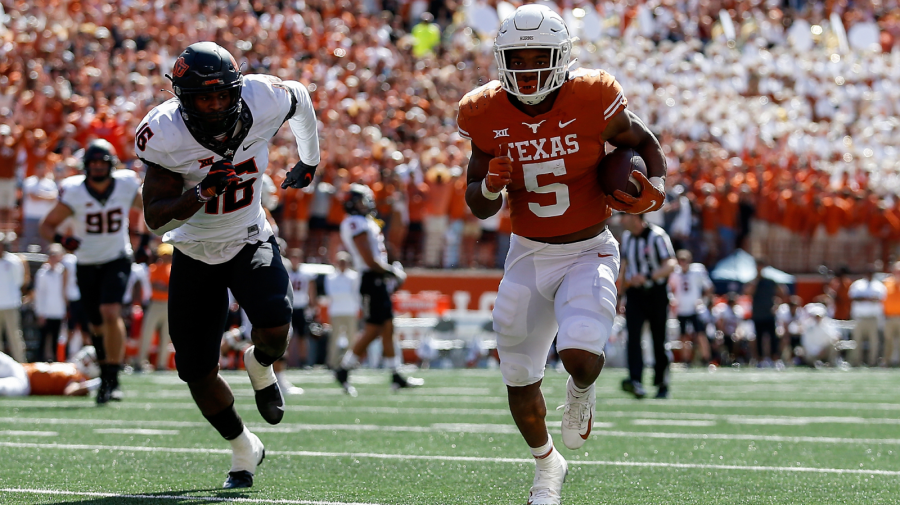 Bijan Robinson (RB), Texas Longhorns
Undeniably, Bijan Robinson is the best running back in college football. Last year as a freshman he rushed for over 1,100 yards and 11 touchdowns in just ten games. In addition, he bagged almost 300 yards receiving with four touchdowns. Some say the volatility of Robinson's Texas teammates could make him vulnerable and not as well positioned for the Heisman as some would like.
Other FAQs About the Honor
Who Has Won the Heisman Trophy Before?
Since 1935, the Heisman Trophy has been awarded to the best of the best in college football. Some of the most notable and well-remembered winners include:
Roger Staubach (QB), Navy — 1963
O.J. Simpson (HB), USC — 1968
Archie Griffin (RB), Ohio State — 1974 and 1975
Tony Dorsett (RB), Pittsburgh — 1976
Earl Campbell (RB), Texas — 1977
Marcus Allen (RB), USC — 1981
Herschel Walker (RB), Georgia — 1982
Barry Sanders (RB), Oklahoma State — 1988
Charles Woodson (CB), Michigan — 1997
Carson Palmer (QB), USC — 2002
Tim Tebow (QB), Florida — 2007
Why Is the Heisman Award So Prestigious?
Established in 1935 by an organization called the Downtown Athletic Club in New York, the Heisman Trophy was meant to recognize the best college football player east of the Mississippi River. The first recipient was Jay Berwanger of the University of Chicago. The club's athletic director, John Heisman, died the following year, so the trophy was re-named to honor him. Moreover, the pool of Heisman candidates was expanded to include players west of the Mississippi.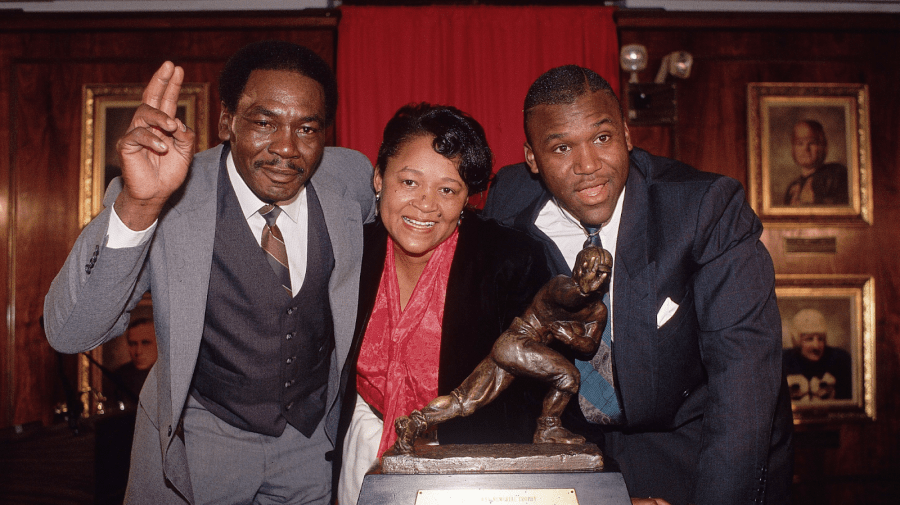 While there are other awards for college football players — Walter Camp Award, Maxwell Award and AP Player of the Year — the Heisman remains the most sought after. Since it affirms a player's overall athletic excellence and integrity of character, it's the most prestigious college football honor. And, now, the Heisman Trophy has the legacy to prove it.
What Does the Heisman Trophy Look Like?
At 13.5 inches tall, 14 inches long and 16 inches in width, the 45-pound trophy is made out of cast bronze. The final incarnation of the Heisman Trophy depicts a football player who's side-stepping and straight-arming his way to a touchdown.
How Is the Heisman Winner Selected?
All football players in all divisions in the U.S. are eligible to win the Heisman trophy. Each year, people from three groups vote on the eventual winner. First, previous Heisman winners cast votes; as of this season, that group is made up of 57 former college football players. Second, around 870 sports journalists pull from their wealth of knowledge to cast objective votes. And, finally, college football fans can vote for their favorite player online. Those fan results are then tallied by ESPN and submitted as one vote.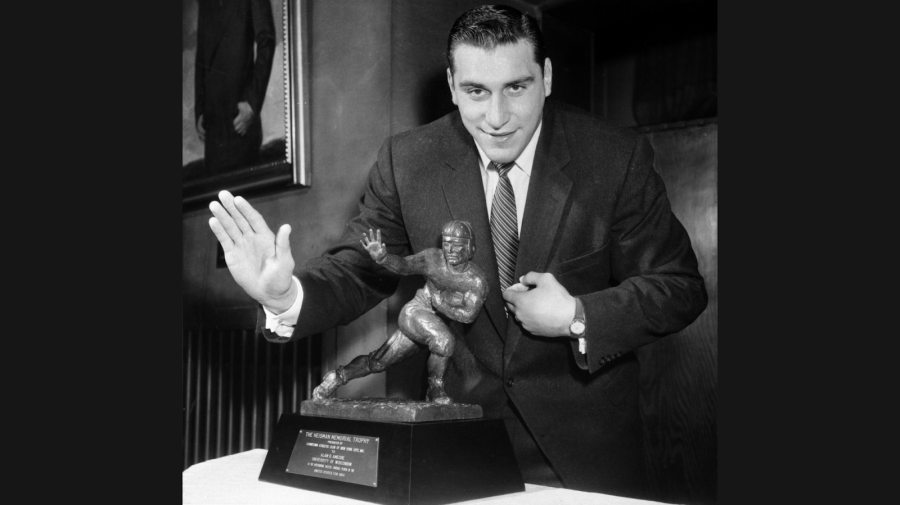 As is the case with other honors in both college and pro football, odds favor quarterbacks. In fact, 36 of the past winners held that position. Of course, only time will tell who has the best shot at earning the Heisman Trophy in 2022. Whoever it ends up being will go down in sports history at the Heisman Trophy award ceremony in New York City on Saturday, December 10, 2022.