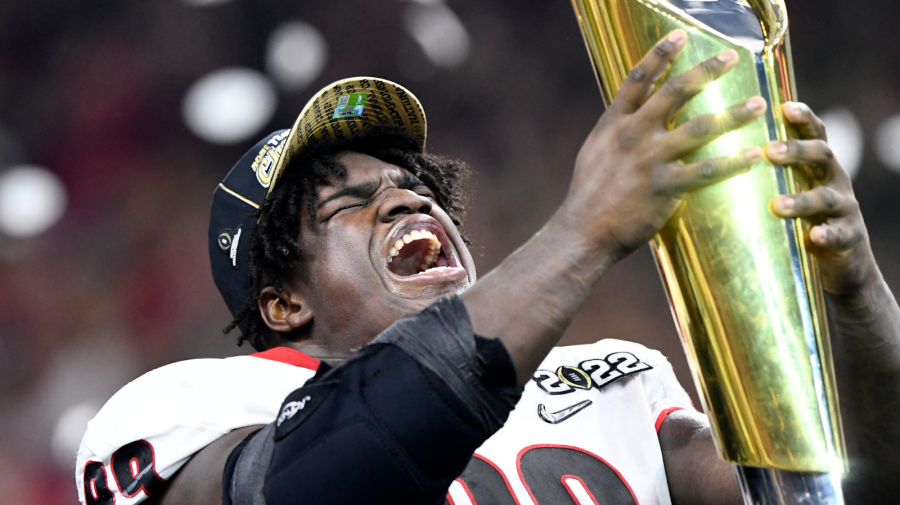 The NCAA Division I Football Bowl Subdivision consists of 10 conferences and 131 schools, so there's no shortage of games to watch this season. The 2022 season will begin on August 27, with Nevada at New Mexico State. Before the first kick-off, though, we're taking a look at the teams most likely to dominate on the field. Here's everything you need to know about this season's college football national championship favorites.
How to Stream College Football
First things first, do you want to watch college football this season? Well, as you may know, you can tune in on Saturdays and Mondays — Sundays are reserved for the National Football League (NFL) games. Games are carried on a variety of networks, including ESPN, ABC, CBS, Fox Sports and NBC.
To see the full schedule for this season's games, visit ESPN. And if you don't have cable, that's not an issue. You can watch live games thanks to streaming services like Hulu + Live TV, YouTube TV, Fubo TV and Sling TV.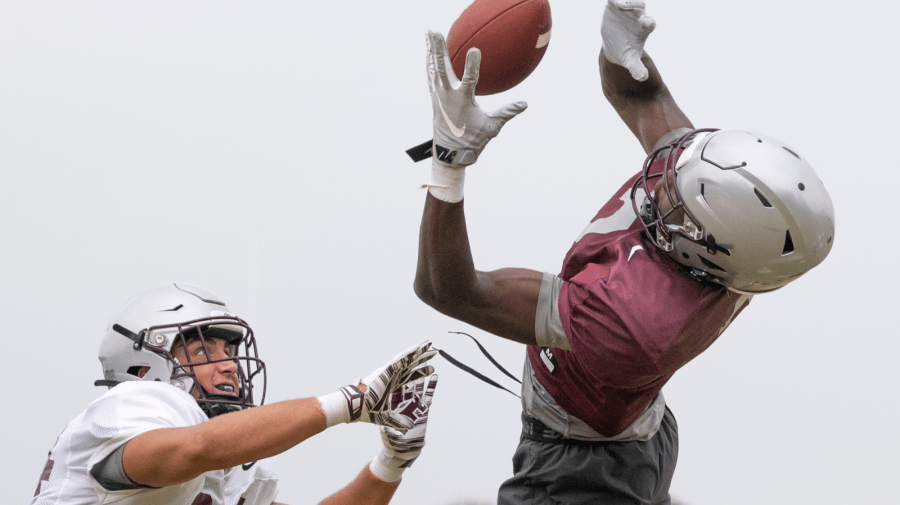 BetMGM Odds: Calculating the College Football National Championship Favorites
Last year, Georgia defeated Alabama 33–18 to win their second title — and the school's first since 1980. Will this year bring another iconic title win? Only time will tell. But if you're looking to get in on this season's action, it's never too early to start.
At BetMGM, you can bet on NCAA football with updated college football spreads, parlays and live betting. You can also bet on futures, like which team will win the National Championship, each individual conference and more. Let's go through some of the teams in the mix to be contenders for the Championship this season. 
Texas A&M Aggies
The Texas A&M Aggies should be much better than they were last season when they finished fifth in the SEC. Keep your eyes on several freshman — Evan Stewart, Walter Nolan and Jake Johnson could all prove to be critical players for the Aggies, who have their first game against Sam Houston State on September 3.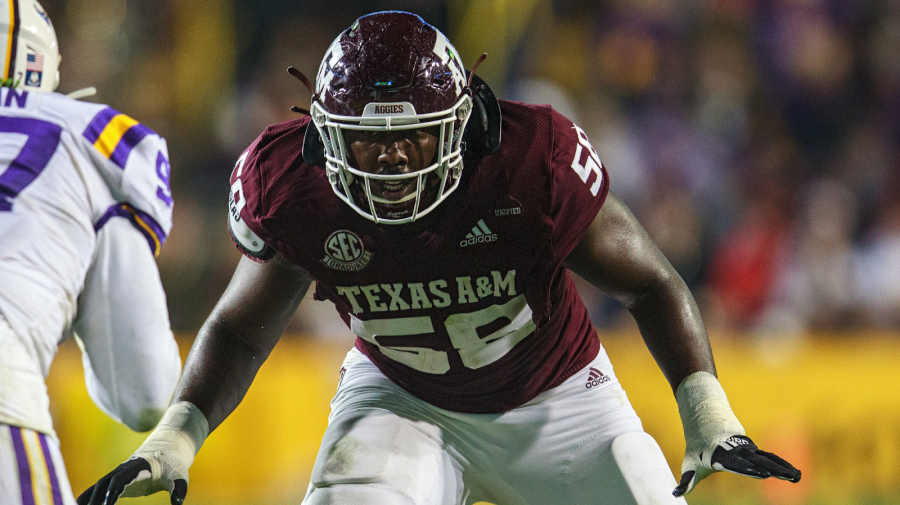 Coach Jimbo Fisher recently made headlines for the Aggies thanks to a feud with Alabama's head coach Nick Saban, who said Fisher purchased the whole class of 2022 for his team. So, yes, there's already some drama here. Rivalry aside, there's plenty of speculation over what might happen for the Aggies this season. Will it be another 7- or 8-win season, which has occurred in nine of the last 10 years? Or will they come together and defeat Alabama for the second year in a row? Only time will tell.
Clemson Tigers
Last season was not very kind to Clemson. The team dealt with injuries, staffing changes and a disappointing offense. However, they still finished the season with 10 wins, including each of their final six games, culminating in a win over Iowa State in the Cheez-It Bowl. That makes them worthy contenders for this season's title.
The offensive line should be significantly improved over last season's, and Clemson's running backs have gained more experience at the college level. Trenton Simpson and Joseph Ngata are poised to have breakout seasons. If they do, that'll likely mean some big wins for the Tigers, who need to do everything in their power to avoid injuries. Watch Clemson take on Georgia Tech in their first game of the season on September 5. 
Ohio State Buckeyes
Last year, Ohio State excelled on offense but faltered on defense. This year, Jim Knowles will be the defensive coordinator after coming over from Oklahoma State, where he put together a top 10 defense in 2021. If the Buckeyes can maintain their offensive prowess while boosting their defense, the team has a great chance to dominate.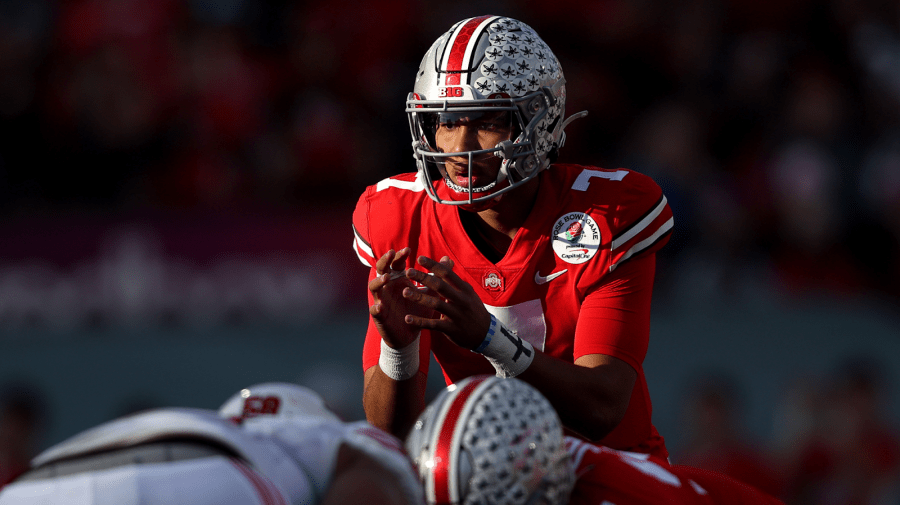 CJ Stroud, the team's quarterback, is actually favored to win the 2022 Heisman Trophy, so long as he outperforms Bryce Young of Alabama. The most challenging game will come on November 26 when the Buckeyes take on Michigan — the teams' rivalry is among the best in college football, and a win could put the Buckeyes on the path to championship status. For now, catch them in their first game of the season against Notre Dame on September 3.
Georgia Bulldogs
The Georgia Bulldogs are the reigning National Champs, and they'll head into this season right near the top of the list of favorites. If they're able to repeat, they'd be the first repeat winners since Alabama in 2011 and 2012. That would really be something.
The team has been off to a rocky start this season; freshman running back Andrew Paul tore his ACL in the second scrimmage of the season. This follows redshirt Arian Smith, who had ankle surgery earlier this month as well as Kendall Milton, who has a hamstring injury, and De'Nyland Morrissette, who's dealing with a hyperextended knee. Although preseason injuries are common, this intensifies the pressure on the Bulldogs as they aim to defend their title. Their first game will be on September 3 against Oregon.
Alabama Crimson Tide
We'll wrap up with perennial favorites, Alabama. The Crimson Tide's first game is on September 3, with the team taking on Utah State. Junior receiver Traeshon Holden has stood out in scrimmages the past few days, making him one to watch this season.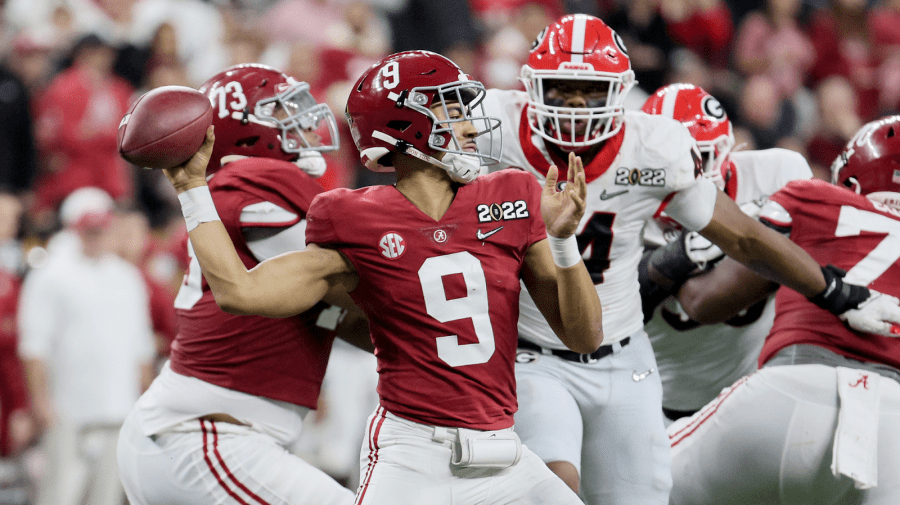 Bryce Young, a junior, is the starting quarterback for the team this year. He had an impressive 2021–22 season, and ended up winning the Heisman Trophy. Many are excited to see what he can accomplish this year, but he's not the only star player. Linebacker Will Anderson Jr. is a likely candidate to be the first overall pick in the 2023 NFL Draft. Plus, the team is stacked with other influential players, so the Crimson Tide is truly poised for another exciting season.
No matter who you're betting on, it's clear that this will be another exciting season for college football. The championship game, which will be played at SoFi Stadium in Inglewood, California, isn't until January 9, 2023, so a lot can happen between now and then. To stay up to date, follow along with the odds on BetMGM. 
Will there be an upset with an unlikely team taking home the victory? Or will Alabama reign supreme for their 19th title and first since 2020? Anything can happen when it comes to these college football national championship favorites.