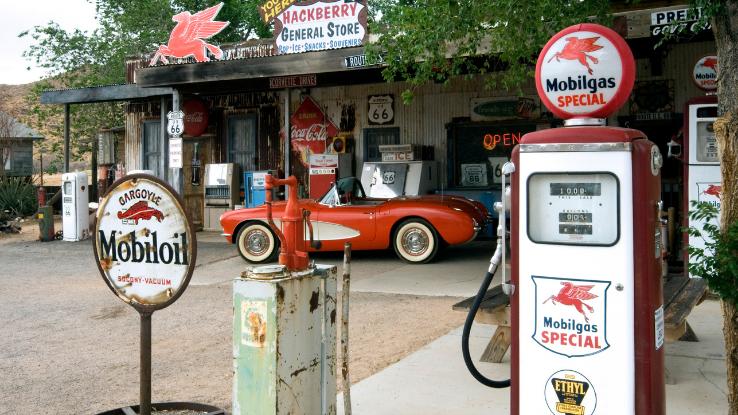 Thinking of taking a road trip down America's most historic highway? Whether you're driving your personal car or renting an Airstream, Route 66 — the so-called "Mother Route" that was established in 1926 — makes for an incredible tour across a large chunk of the country. Spanning eight states, the "Main Street of America" runs from bustling Chicago, Illinois to the coastline in Santa Monica, California.
But before you hop in the car, it's important to do a little planning; you don't want to miss any of the wonderfully strange sites along the way, after all! To help you get started, we've mapped out some of the must-see stops in each state you'll travel through while motoring down Route 66.
Illinois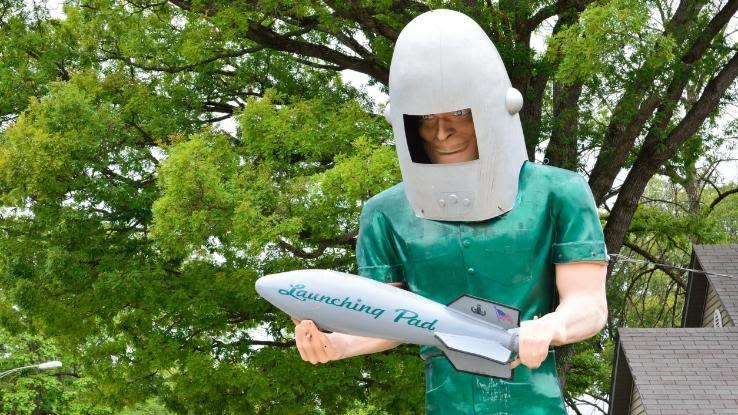 Looking for a way to fuel your excitement for the cross-country trek? Well, there's no better place to start than the Route 66 Hall of Fame in Pontiac. The museum houses thousands of pieces of memorabilia from the days of yore — you know, when Route 66 was the most important highway in the country.
Next, get your kitsch fix started by stopping in at selfie-worthy landmarks like the World's Largest Catsup Bottle in Collinsville and the Gemini Giant in Wilmington. Last but not least, be sure to check out Henry's Rabbit Ranch in Staunton. The ranch's owner, Rich Henry, runs the highway memorabilia station, which features both VW Rabbits and actual rabbits, some of which he's even trained to do tricks for visiting motorists.
Missouri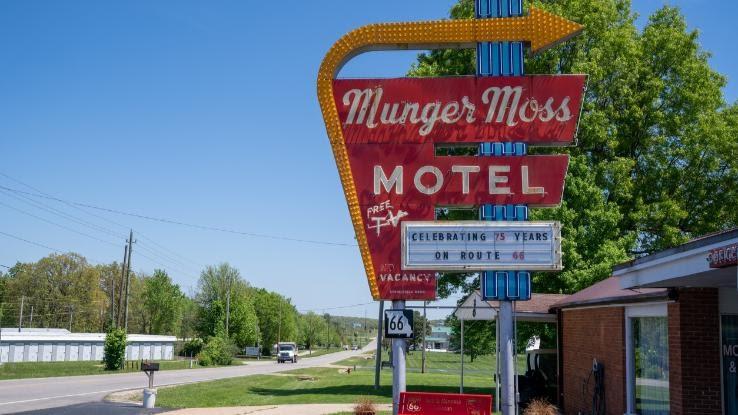 If you find yourself driving through Missouri over a weekend, you can check out a movie without ever leaving your car thanks to the Route 66 Drive-In in Carthage. If natural wonders are more up your alley, Springfield's aptly named Fantastic Caverns are the place to visit. Trade your car for a jeep-tram tour, which, over the course of 55 minutes, will carry you through a river-made underground cave.
Need some rest? To get the most out of every experience, consider a historic location, like the Wagon Wheel Motel, Cafe and Gas Station in Cuba — the only continuously operating hotel on Route 66. For car lovers, there's also the Munger Moss Hotel in Lebanon, which features a Historic Vintage Auto Court. Both spots are equally unique and capture that feeling of vintage Americana.
Kansas
While Route 66 only goes through Kansas for 11 miles, there are still some worthwhile stops in the Sunflower State. In Baxter Springs, for example, you'll find Fort Blair Historic Site, a detailed replica of an American Civil War-era fort that saw action in 1863.
Another great stop? The town of Galena, Kansas' oldest mining town. There, you can visit the Galena Mining & Historical Museum to learn more about the town's history — and the history of mining in general. It's also worth checking out the Galena Historic District, which features all kinds of fascinating relics, sites, and murals.
Oklahoma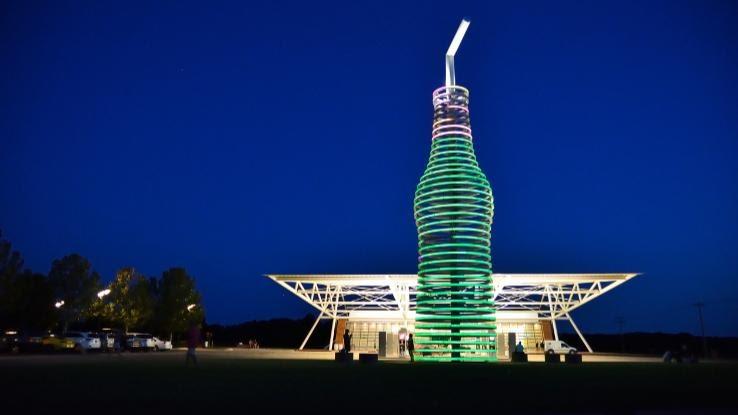 As you travel through Oklahoma, you'll find plenty of places to stop and stretch your legs. One of those places is the Blue Whale in Catoosa; this local favorite features a fantastically quirky metal whale next to a fishing area.
Or maybe you're feeling thirsty? Well, look no further than the Pops Soda Ranch in Arcadia. Not to be confused with Archie Comics' Pop's, this pitstop has pretty much every soda known to humankind on offer. Another great place for a bite to eat (and a history lesson on the side) is the Rock Cafe in Stroud. Established in 1939, this historic restaurant was built with rocks unearthed during the original paving of Route 66.
Last but not least, there's Ed Galloway's Totem Pole Park. Located just 3.5 miles off of Route 66 in Chelsea, the park was constructed over several decades — from 1937 to 1961— and features large-scale folk-art pieces that were inspired by Indigenous artists' designs.
Texas
If you're into cars, you'll love the part of Route 66 that winds through Texas. First up? The Tower Station and U-Drop Inn Cafe in Shamrock, Texas. Originally built in 1936, the cafe was restored to its former glory in 2003. In fact, you might even recognize this pitstop since it was used as the model for Ramone's Body Art in Pixar's Cars (2006). While you won't find Lightning McQueen at Tower Station and U-Drop Inn Cafe, you can grab some free coffee and tea at the cafe-turned-visitor's center.
As you pass through Amarillo, the unofficial rules of traveling along Route 66 sort of require that you check out Cadillac Ranch. The site features 10 Cadillacs, all with their noses buried in a field at the same angle as the Cheops Pyramid (a.k.a. the Great Pyramid of Giza) in Egypt. Can't get enough of car-themed art installations? Stop off at the nearby Slug Bug Ranch, where you'll find a very similar site — only this one, as the name suggests, features a slew of iconic Volkswagen Bugs.
New Mexico
No trip along Route 66 is complete without (kitschy) souvenirs, so be sure to stop in at New Mexico's last remaining curio shop. Located in Tucumcari, the shop is stocked with postcards, jewelry, pottery, and T-shirts. Needless to say, you'll find something to toss in your trunk.
Once you're done perusing the curios, take in the natural beauty of a desert oasis at Santa Rosa's infamous Blue Hole. Last but not least, car lovers need to spend some time in Santa Fe at the Route 66 Auto Museum, which houses an array of both classic and custom cars. Without a doubt, it's a very Instagramable stop.
Arizona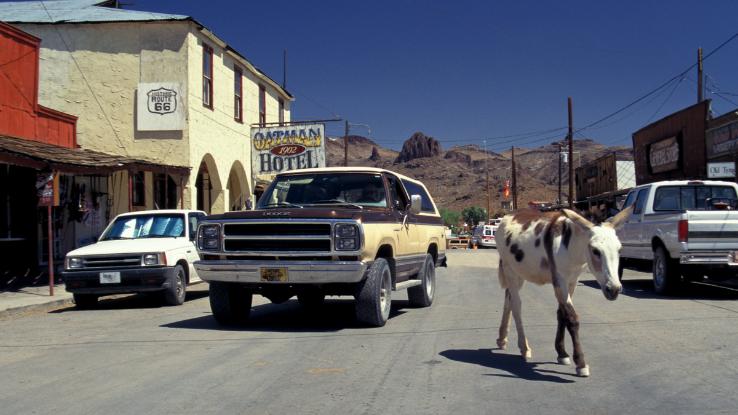 Among the most obvious lures of Arizona is the Grand Canyon, which is well worth a slight detour. But the natural wonders don't end there; Holbrook is home to the Petrified Forest National Park and the Painted Desert, which are well worth a day or two of exploring.
There are also plenty of unique roadside attractions and pitstops, including the historical Jack Rabbit Trading Post in Joseph City. While there, you can pick up all kinds of keepsakes from magnets and Route 66 replica signs to T-shirts.
And if you're an animal lover, you can't miss the town of Oatman. Back in 1915, two miners hit it big when they found $10 million worth of gold nearby. The mining town looks incredibly similar today as it did 100 years ago, but its best feature — by far — are the wild burros that still roam the streets.
California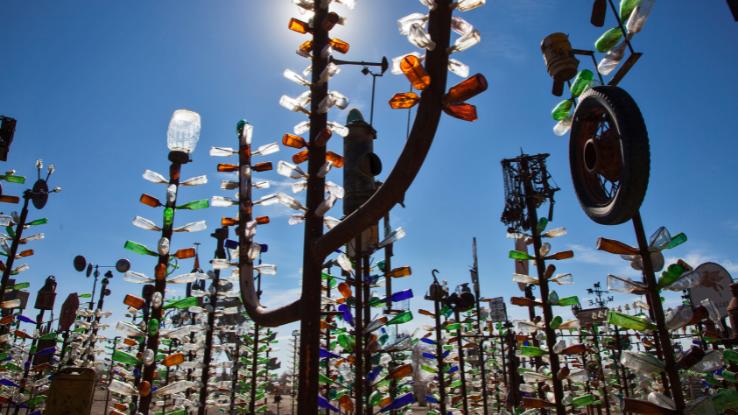 Keep the fun going as you approach the final stage of your journey by checking out a real-life ghost town; we're not kidding — Calico Ghost Town in Yermo is not only abandoned, but rumored to be haunted. For something less spooky, take in the whimsical sites at Elmer's Bottle Tree Ranch in Oro Grande, where the titular proprietor turned two acres of California desert into a glass-bottle forest.
As you reach the end of the line, you'll arrive at the Santa Monica Pier, a popular beachfront attraction that's pretty unlike the rest of Route 66. That is, you can sunbathe or ride the pier's Ferris wheel — and it's the opposite of desolate, motel-speckled desert.
Want more from our Strange Americana series? Check out our other regional recommendations ahead of your next road trip: