For many frequent flyers, participating in the TSA PreCheck program was an easy (and beneficial) way to streamline the arduous journey through airport security — particularly before the pandemic. The convenience alone was worth the initial paperwork, background check, and fee. Membership in the program also saved frequent travelers countless hours that they otherwise would've spent waiting in ridiculously long lines.
We've experienced a myriad of changes amidst the COVID-19 pandemic. The number of travelers reached record lows throughout 2020 before almost climbing back to pre-pandemic levels. All the while, many have questioned whether TSA PreCheck is still worth the investment, especially as experts have dismissed the idea of our ability to eradicate the virus and have instead started to speculate about what endemic Covid might look like, and just how dangerous it will continue to be. If you're thinking about joining the program, here's what you need to know about it — including whether it can still simplify traveling as COVID cases fluctuate.
What Exactly Is TSA PreCheck?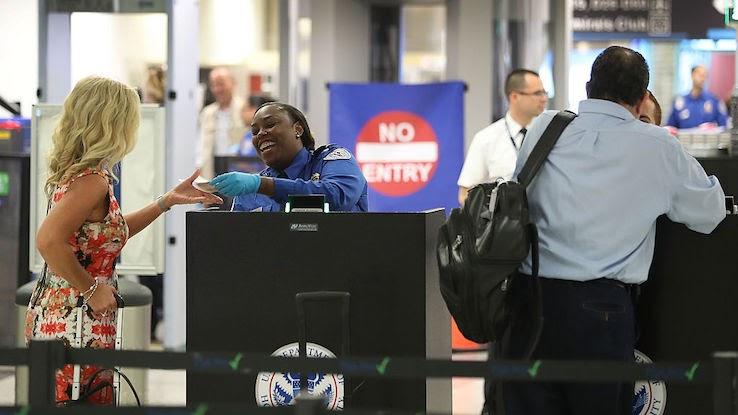 TSA PreCheck is a program run by the U.S. Transportation Security Administration (TSA). Membership in TSA PreCheck gives approved participants access to a dedicated security screening lane at the airport, allowing them to pass through security faster to get where they need to go. The lane moves faster in large part because people with TSA PreCheck clearance don't need to take off their shoes, belts or jackets and don't need to remove laptops, similar electronics and 3.4-ounce containers of liquids from their bags to get through the different levels of security screening before flying.
TSA PreCheck is available at more than 200 U.S. airports, and around 80 airlines participate in the program. According to the TSA, it typically takes travelers who have TSA PreCheck fewer than five minutes to pass through security — in May of 2021, 97% of participating passengers waited five minutes or less. Even if it does take a little longer than that to get through security in some of the busiest airports, the PreCheck lane moves much faster than the standard lane. PreCheck lines can sometimes look just as long as regular security lines, too, but "the optics of longer PreCheck lines are misleading. If you take a look at it, those move really quickly because people don't have to take their shoes off or divest their electronics and liquids," TSA administrator Mark Howell shared with Washington, D.C.-based news organization WTOP.
TSA PreCheck also confers some helpful benefits to fellow travelers. If you're flying with kids who are age 12 or younger, for example, they can accompany you through the expedited TSA PreCheck lane without needing their own membership. That being said, keep in mind that anyone over age 12 who isn't participating in the program must go through the normal security line, even if they're family and you're traveling together.
What Does the TSA PreCheck Application Process Look Like?
TSA PreCheck requires approval from the TSA — and, as you might anticipate when dealing with a federal agency, that involves some substantial steps and eligibility requirements. The first involves applying online for preapproval by filling out a quick form consisting of your basic personal information only. You must be a U.S. citizen, U.S. national or lawful permanent resident to be eligible, and certain felonies and other criminal offenses may disqualify you from participating in the program.
After submitting your pre-enrollment application, you'll make an appointment to visit one of the TSA's 400+ enrollment centers for an in-person interview and so you can provide documentation and fingerprints. You'll also pay an $85 nonrefundable fee to cover the cost of a background check, which allows the TSA to determine what, if any, personal information or life events may disqualify you from participating in the program. A piece of current government-issued photo identification and proof of citizenship is necessary for verifying your identity as well; your passport, driver's license and birth certificate — among many others — are all acceptable forms of identification.
If you're approved for enrollment in TSA PreCheck, you'll be assigned a Known Traveler Number, or KTN. When you book an airline ticket, you provide this number to gain access to TSA PreCheck privileges, and a PreCheck eligibility indicator will be printed on your boarding passes to alert airport staff to your status. Upon enrollment, TSA PreCheck lasts for five years before you have to renew your membership.
TSA PreCheck Has Some Major Benefits
If you've ever flown before, you know the drill: To make your travel experience as stress-free as possible, you need to arrive at the airport hours in advance — American Airlines recommends three — which is already stressful enough in itself. This gives you enough time to check your bags and pass through the security line without worrying about missing your flight. TSA PreCheck passengers don't have to arrive at the airport quite so far in advance due to the shorter wait times navigating the security line — that could mean sleeping in an hour later before an early flight. It also might mean simply using your time for other activities rather than wasting it passing through a long security line at the airport.
As mentioned, the TSA PreCheck line, even when it appears long, moves much faster than the standard lanes. This is thanks to the expedited screening process. And at a cost of $85 for five years, many people consider the convenience worth the price, especially if they're frequent travelers.
Some credit cards cover the cost of the TSA PreCheck fee as a part of their services. Usually, you need to charge your application fee to the eligible card to receive that benefit. It's also free with Global Entry, another more advanced U.S. Customs and Border Protection service for expedited passage through airport security.
Will TSA PreCheck Really Make Traveling Easier In This New Normal?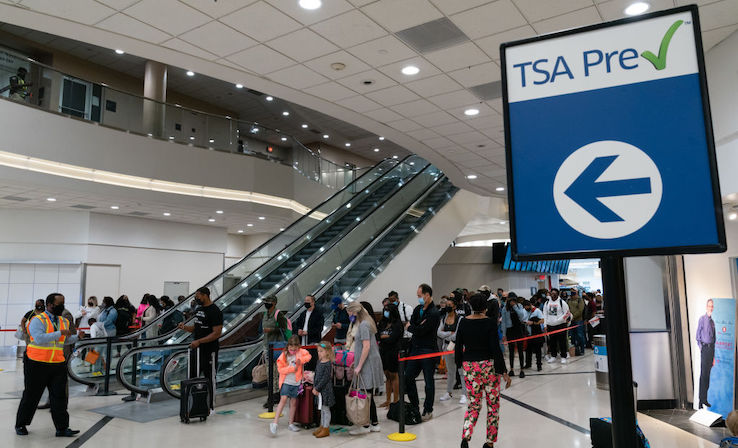 COVID-19 has changed the face of travel in many ways. Some of those changes were temporary, while others — like a focus on traveler health and hygiene — will likely become permanent. Regardless, there are many advantages to having TSA PreCheck in a post-COVID world.
For a while it seemed like the pandemics effects on travel would be lasting, and it was tempting to think that an expedited security line won't make much of a difference in your ability to get through the airport quickly. However, travel has picked up significantly, and is back to very similar rates as it was pre-Covid. The TSA reports rates of travelers moving through checkpoints every day, alongside a comparison of the last three years. It's striking to see the changes from 2019 to 2020, and then to look ahead at the relative lack of difference between 2019 and 2022. This all means airport security lines are bound to be as long as they ever were.
Because of the lengthy period of time people went without traveling, air travel has the potential to increase immensely as borders continue to reopen or a vaccine passport system becomes available. People are eager to get out and experience the world again, and this is going to include plenty of flying. Airport security lines could become longer than they were pre-pandemic, making TSA PreCheck an appealing option for streamlining travel. The convenience of skipping those lines is something to seriously consider — it saves time and can limit your pre-travel stress levels.
Even before COVID-19, because of the close proximity of travelers in airports — and particularly on airplanes — getting sick was always an important consideration during a flight. TSA PreCheck provides a little bit of extra distance from other travelers with its shorter lines; in other words, TSA PreCheck offers a built-in cushion of social distancing, which will remain a valuable tool for combating illness even as people become more accustomed to navigating public spaces and the risks of Covid-19. There's also less of a need to place your personal belongings into bins while you're being processed through PreCheck lines, which limits their contact with high-touch surfaces.This isn't a Covid concern, but it's still nice not to catch a cold.
Ultimately, the decision to enroll in TSA PreCheck is based on your plans and lifestyle. The "peace of mind is well worth the cost," frequent flyer and travel analyst Zach Griff told TIME, and that's particularly true if you're planning to travel in the near future. But if you'd prefer to wait until airline masking policies stabilize or you simply don't have travel plans yet, you may be better off saving your money until you're ready.