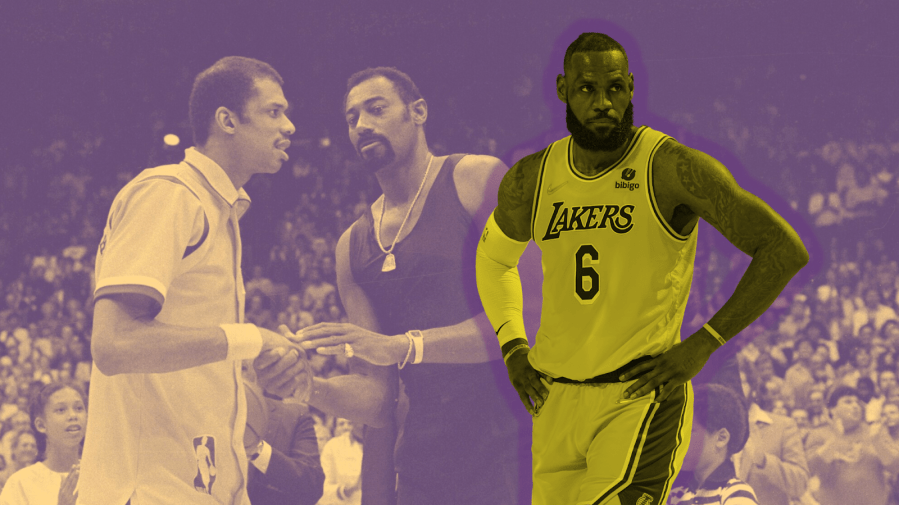 The NBA scoring record — the record for the most total regular season points scored over the course of an individual player's career — is hallowed ground. Basketball, after all, is all about scoring points. Sure, there's lots of ways of putting the ball in the basket, but the important thing is putting it there.
Some players have been better at doing that than others, and since it's the most important thing a basketball player can do, it tends to matter quite a bit when somebody's great at doing it. The NBA scoring record is probably going to get broken this season for the first time in nearly 40 years.
Sadly — for me, because I'm a Celtics fan — the record is about to be broken by LeBron James, who will become the third Los Angeles Lakers player in a row to hold it. So, how did we get here? Let's take a look.
Which Players Have Held the NBA Scoring Record?
Wilt Chamberlain
On March 28, 1973, Wilt Chamberlain played his final regular season NBA game. His Lakers were on the road against the Golden State Warriors, and Wilt the Stilt seemed to be in the midst of trying to prove some kind of strange point. The greatest scorer in NBA history to that point, Chamberlain took one shot and two free throws in the whole game — despite playing all 48 minutes and racking up 18 rebounds and nine assists in a win. He finished with just one point.
That point was the last one of the 31,419 regular season points Chamberlain scored over the course of his career. No one had ever scored more. Chamberlain, in 1960, was the first player to score more than 2,500 points in a season. The following year, he was the first to score over 3,000. The year after that? He scored 4,029 points and averaged 50.4 points per game, and those are two records that are likely never to be broken.
Maybe just as impressive though, Wilt Chamberlain set the scoring record over seven years earlier. On February 14, 1966, Chamberlain — then playing for the Philadelphia Warriors, put up a triple-double of 43 points, 23 rebounds and 13 assists in a win over the Detroit Pistons. In that game, he scored his 20,881st regular season point, which put him ahead of St. Louis Hawks legend, Bob Pettit. The record would be Wilt's for almost 20 years.
Kareem Abdul-Jabbar
When Wilt's record fell, it was another Lakers star who broke it. On April 5, 1984, Kareem Abdul-Jabbar scored 22 points in a late-season win over the Utah Jazz in Salt Lake City. Kareem was already a paragon of NBA longevity; he was older during that game than Chamberlain had been during the last NBA game he ever played. Somehow, Kareem played 5 more full seasons.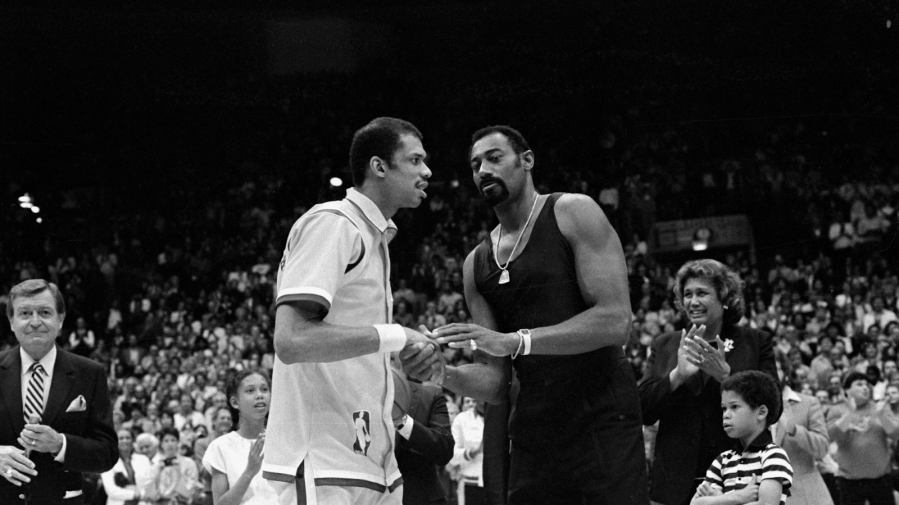 While Kareem never put up 4,000 points in a season or averaged 50 points per game, his famous skyhook was as unstoppable an offensive weapon as the game has ever seen — impossible to block or even alter in its trajectory toward the basket. And when it came to winning, Kareem had Chamberlain beat in every way. By 1984, Kareem had already won three championships to Wilt's two, and he'd add three more in his final five seasons.
Who Else Came Close to Setting the Record?
Once Kareem Abdul-Jabbar set the NBA scoring record and kept playing, the record became nearly impossible to break. Karl Malone entered the league in 1985, played 19 seasons without ever missing more than one or two games in a season until his 19th, and averaged 25 points for his career. Even Malone fell 1,459 points shy of Kareem's record.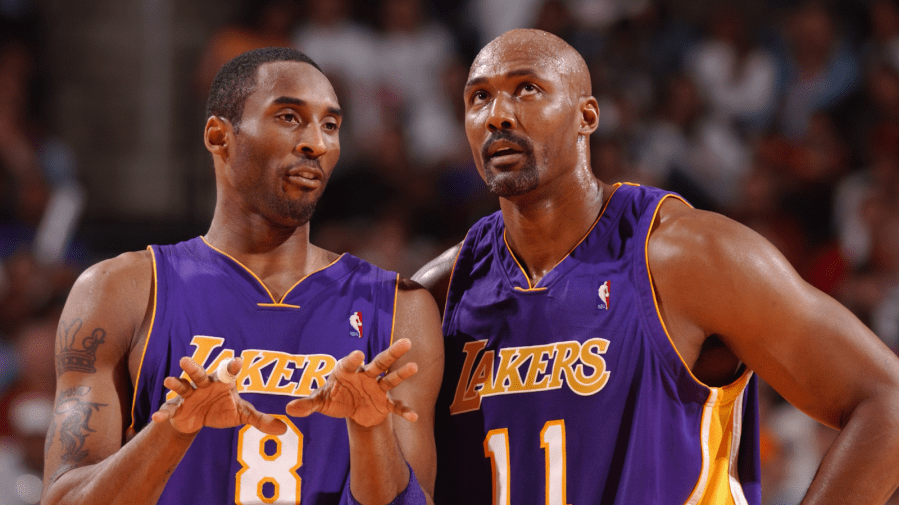 Other players gave it a run too, but Kareem's combination of scoring prowess and longevity proved tough to beat. Michael Jordan, of course, is the NBA's all-time leader in points per game with 30.1 — just a hair above Wilt the Stilt. But Jordan took two years away from basketball during the prime of his career to try baseball on for size, and that cost him a chance at going after the scoring record.
Kobe Bryant and Dirk Nowitzki were both incredibly prolific scorers who played for an incredibly long time as well, but both suffered numerous injuries over the course of their long careers. With Kobe and Dirk missing games here and there, Kareem's record proved insurmountable. Nobody else really ever had a shot, until now.
When Will LeBron James Break the Scoring Record?
When LeBron James entered the league straight out of high school in 2003, there were incredibly high hopes. He was considered the greatest prospect of his generation, and teams were falling all over themselves for a chance at a top pick during the 2003 NBA Draft to get him.
Somehow, LeBron has surpassed even the lofty heights that were expected of him. LeBron has been so great in so many ways that he's primed to break the NBA's scoring record even though scoring isn't even his best skill — it's his passing that's been what's always set him apart in comparison to the other candidates for NBA GOAT. (Though, admittedly, I've still got him behind Michael Jordan in the greatest of all time category).
LeBron has been remarkably durable over the years, hardly ever suffering serious injuries until these most recent few seasons. Even last season, when he missed 26 games due to injuries, he scored 30.3 points per game — his highest scoring average since 2005–06. And so heading into this season, he needs just 1,325 points to pass Kareem Abdul-Jabbar and break the NBA scoring record for the first time in nearly 40 years.
When will that happen? Well, if you take the past three seasons in aggregate, LeBron has scored 4,519 points in 168 games. That averages out to 26.9 points per game, and I think that's probably a good proxy for this season, especially given that it's just a hair below his career average of 27.1.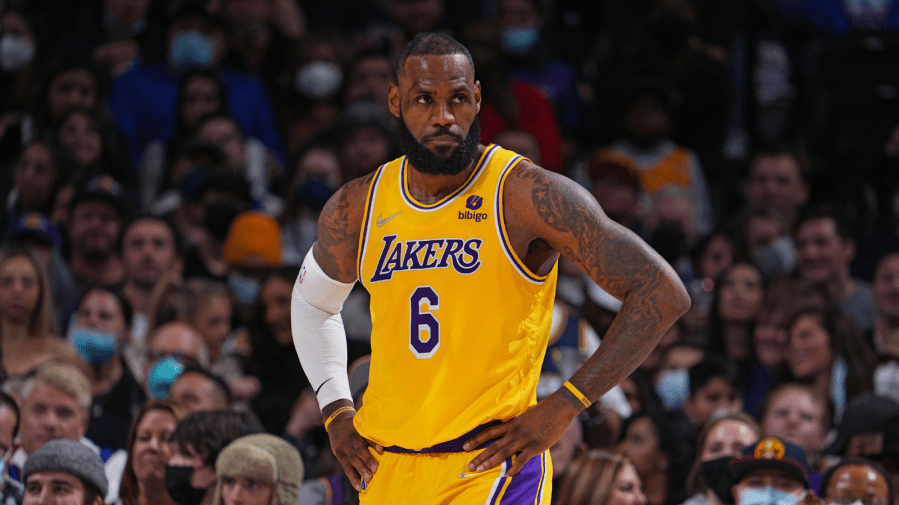 At 26.9 points per game, it would take 49 games for LeBron to break Kareem's record. But heading into his age 38 season, it's hard to imagine he'll play every night. Let's assume he stays healthy, but sits out of the second game when the Lakers play on back-to-back days (the Lakers have eight such games before the All-Star break. That gets us to the 57th game of this season.
And that, my friends, would be a perfect game for LeBron James to set the NBA's scoring record: Saturday, February 11, 2023 at 8:30pm in San Francisco, California against the reigning champs, the Golden State Warriors, on national television.
Will Anyone Break the Record After LeBron James?
It took nearly four decades for somebody to break Kareem Abdul-Jabbar's total for the NBA scoring record, and given the fact that NBA players take rest more seriously than they ever have, it might be more difficult than ever for this record to be broken again in the future.
Kevin Durant has averaged slightly more points per game than LeBron James over the course of his career, but has already had too many injuries to really have a shot at breaking the record. Up-and-comers like Luka Dončić and Trae Young are putting up huge numbers early in their careers — they also started at a young enough age to have longevity on their sides — but both players have been more likely to appear in about 65 games per season, which greatly lessens their chances.
There will, of course, be new players in the NBA in the coming years who will have a chance to compete with LeBron for the NBA scoring record, but it will take a magical career, and a player with lots of luck and skill, to ever break the record again.