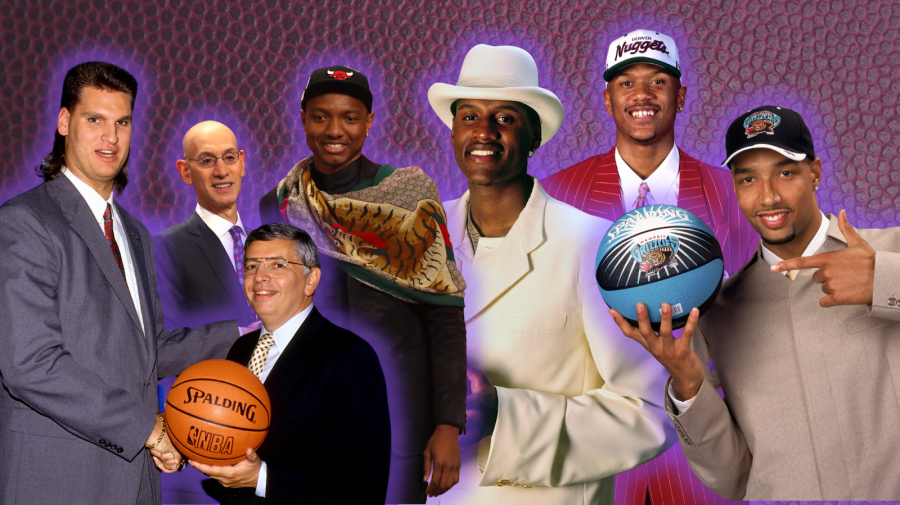 When you're a lifelong fan of a sport, eventually you might start to get into some of the more subtle joys of the culture around it. I've loved the NBA for as long as I can remember. And — in similar ways to the NFL Draft — the draft ends being the moment when I get to start dreaming about the next season. The NBA Draft is all about hope — about the knowledge that some of the young folks who are beginning their careers at this moment will be the stars of tomorrow.
However, sports aren't played at a draft. It's a gala, not a basketball game, and that means in addition to everything else, it's about fashion. And since it's a formal event, that means it's really about the suits. Every year at the NBA Draft, the next generation of NBA stars shows off their sartorial skills, and the choices are creative and fun. Those choices are also often rather dated pretty much immediately, which is also quite fun.
Now, I'm not a person who should be judging the fashion choices of anyone. Not by a long shot. Please don't read this piece as anything like mockery. This is a celebration. Basketball is unique among the major sports in its intimacy: players are seen up close and without things like helmets, masks or hats in the way. When you love basketball, you end up loving the personalities of the players. The NBA Draft puts those personalities on full display in the form of suit choices. Is that a little silly? Sure, but it's also worthy of celebration.
Okay, I think that's enough explanation. What follows is a compendium of some of the greatest suits in NBA Draft history. Think of this as a journey through the past four decades. Is it too high flown to suggest that in seeing how the suits have changed, we might learn a little about how we have changed, too? Yes. It is. Nevertheless, here goes.
Hakeem Olajuwon, 1984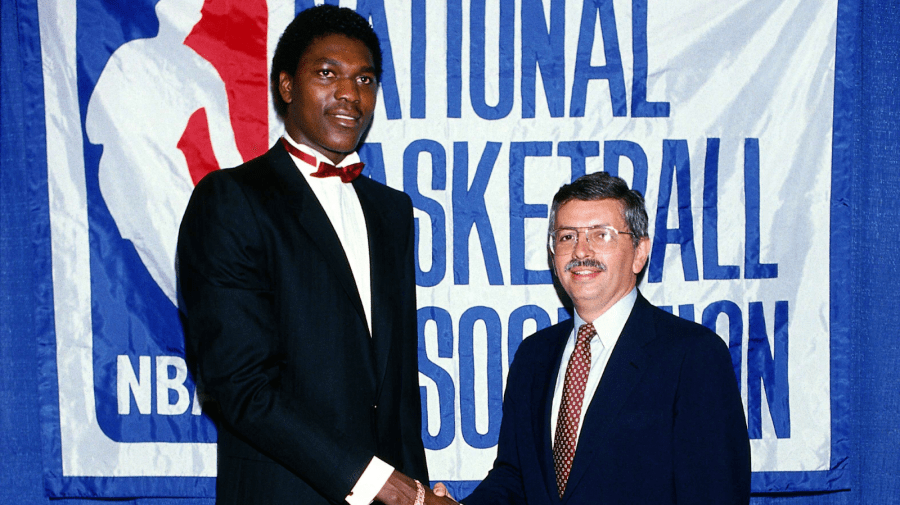 The 1984 NBA Draft is where we begin, because it's pretty much where the modern NBA begins. Prior to 1984, it's all grainy group photos and run-of-the-mill suit choices. Plus, 1984 is the draft of Olajuwon — and of Michael Jordan, Charles Barkley, John Stockton and more. And while Jordan went on to be the best player ever, Olajuwon had the best fit on draft night, opting for the red bowtie look to compliment the Houston Rockets' red color scheme.
We should also use this opportunity to introduce the commissioner, since we'll be seeing a lot more of him in the photos to come. Here he's rocking his '80s mustache. Now that I think of it, that's probably the piece of this photo that locks it into 1984 more than anything Olajuwon has going on.
Mark Jackson, 1987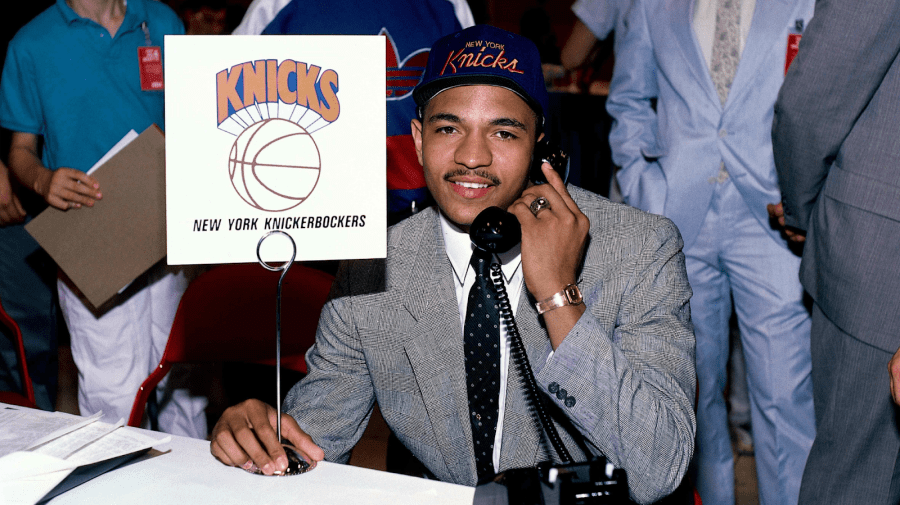 We're skipping ahead a few years for the advent of a new piece of the NBA Draft ensemble: the hat. The hat comes and goes over the years, but I think it's an essential piece of many of the greatest NBA Draft fits. Here, in Mark Jackson's 1987 look, the hat provides a little dash of color on top of what might otherwise be a somewhat staid series of fashion choices.
Somewhere along the way, it became an NBA Draft tradition to hand each player a team hat immediately after that player's selection. This became really hilarious in later years, when trades would happen behind the scenes that hadn't been announced yet on the broadcast or made official by the league. That meant players would occasionally be wearing the hat of a team they were not, in fact, going to play for. High comedy; good times.
Dwayne Schintzius, 1990
And yet, we also have to pay homage to the majesty of what can happen when the hat comes off. Standing tall as an example of the wonderful possibilities for great haircuts, we have the legend Dwayne Schintzius, drafted by the San Antonio Spurs out of the University of Florida in 1990.
Schintzius chose a simple gray suit with a splash of red for his tie, but the star of the look is his epic mullet. Dwayne looks like he's auditioning for a bad guy role in an action movie here. We have no choice but to respect it. The only thing that would make this photo better would be if David Stern had kept his 'stache going into the '90s, but no such luck.
Jalen Rose, 1994
Jalen Rose and the rest of the Fab Five — five freshmen who started for the University of Michigan Wolverines in 1991 — were fashion icons before any of them even made it to the NBA.
Jalen Rose's suit at the 1994 Draft took things to another level though. Go back through the archives of NBA Draft photos, and you won't see too many other red pinstripe suits in the mix. Famously, Jalen wore the suit because it matched with the colors of the team he thought he was going to get drafted by: the L.A. Clippers. Instead, he went to the Nuggets, but we still got this all-time classic look.
Samaki Walker, 1996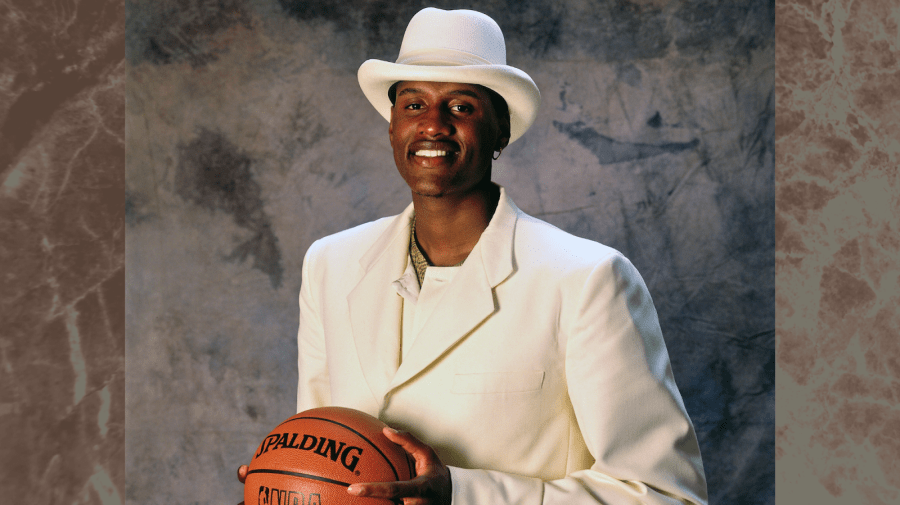 Here, we have the pinnacle of NBA Draft fits. Samaki Walker had a pretty decent NBA career — he even won a championship with the 2002 L.A. Lakers. Still, nothing ever quite surpassed his amazing look at the 1996 Draft, where he coupled a cream-colored suit with an absolutely legendary matching fedora.
To my knowledge, no one has ever even tried to repeat this — it's like trying to do karaoke to a Whitney Houston song or something. Sometimes, there's greatness that just can't be duplicated.
Tim Thomas, 1997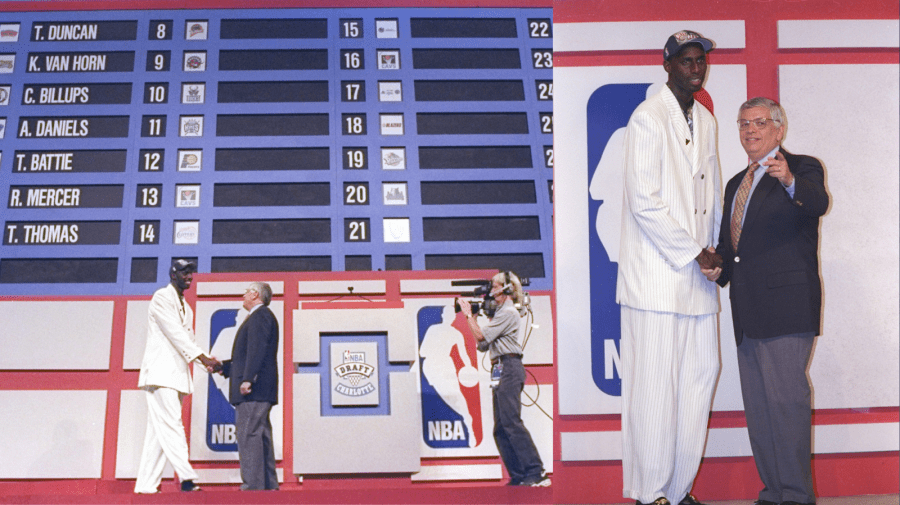 If you weren't there, it's hard to explain what was going on with baggy fits in the late '90s. For some reason, we wanted our clothing to be billowing and endless. No one better exemplified this moment in time than Tim Thomas, who wore a bright white pinstripe suit to the 1997 draft that — if he wasn't wearing a tie — could almost double as pajamas in a pinch. Honestly, it does look pretty comfy, I've got to admit.
Drew Gooden, 2002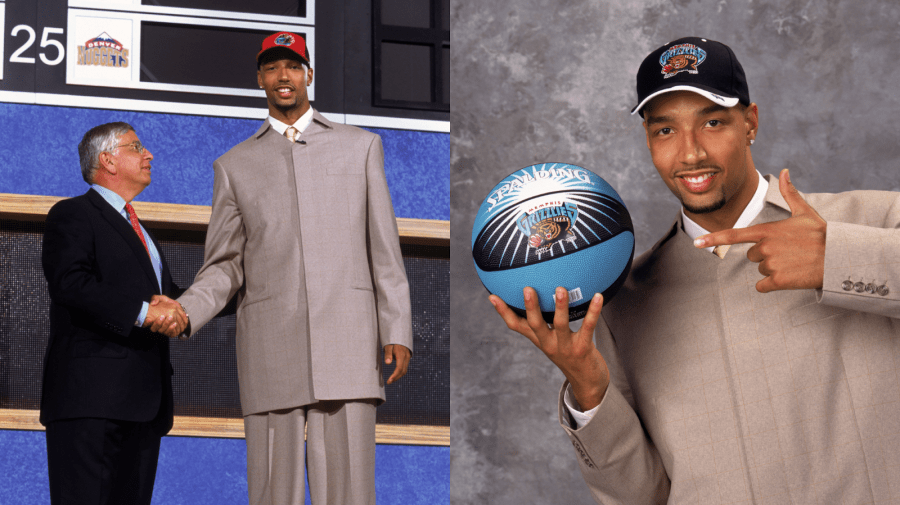 Drew Gooden placed himself among the legends of NBA Draft suits with this buttonless look at the 2002 Draft. I have to assume the buttons exist and are just hidden, but really I guess anything is possible. The look is sort of half suit jacket/half trench coat, and it kind of looks like David Stern is shaking hands with a concrete wall, but whatever is going on, the creativity and uniqueness deserves the utmost respect.
Joakim Noah, 2007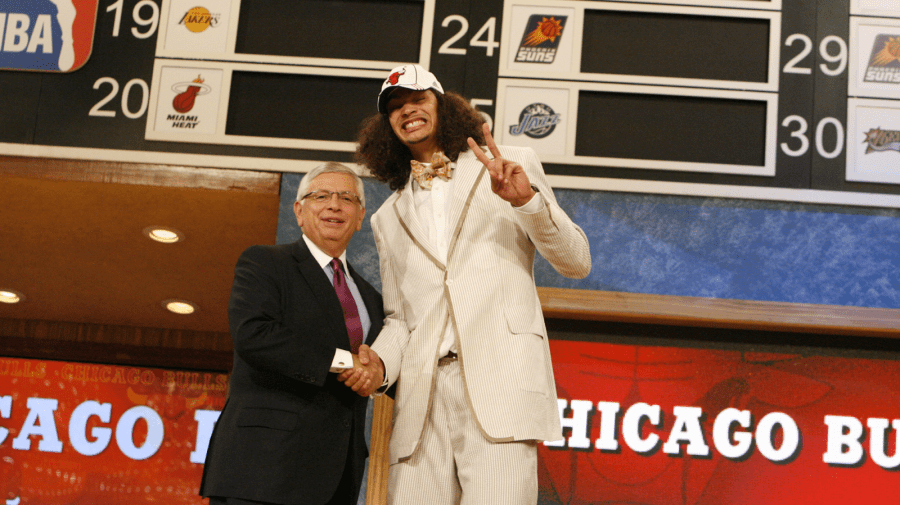 You have to love it when people are out there having fun. At the 2007 NBA Draft, Joakim Noah did just that. Yes, the striped cream suit and the big, colorful bowtie make for an incredible look. Yes, the huge explosions of hair coming out from underneath his Bulls cap are amazing.
It's all great, and I don't want to get too sentimental here, but really it's all about the smile. Look at how excited Joakim is for his first big NBA moment! It's impossible not to be charmed by it. The smile ties the whole ensemble together, and makes this look all the more memorable.
Wesley Johnson, 2010
We haven't really discussed many innovations in pants so far here. Pants, to a certain degree, remain the uncharted terra incognita of NBA Draft looks to this day. So it's important to shout out Wesley Johnson, who brought plaid pants (and, it should be noted, gold jacket buttons) to the table in 2010. These plaid pants are a reminder that there's so much room for creativity in NBA Draft formalwear. It makes me excited to think of what possible innovations we've yet to consider.
Wendell Carter Jr., 2018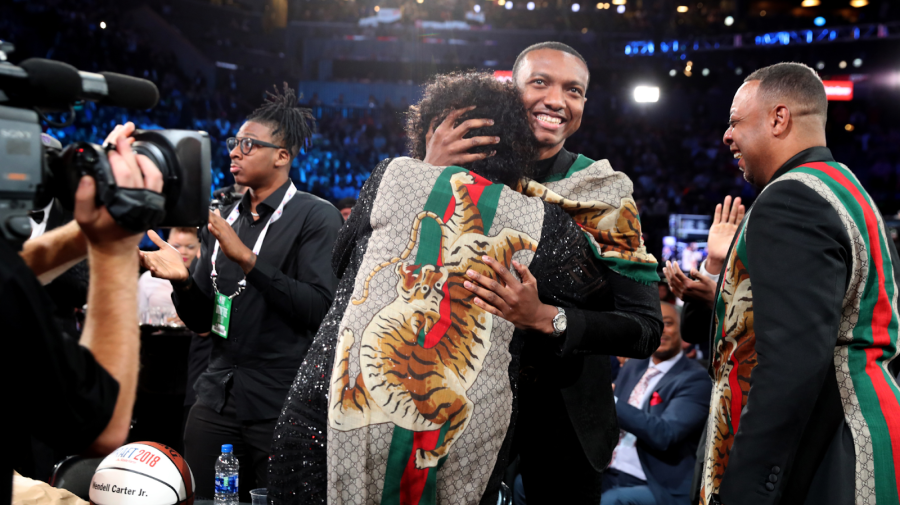 In recent years, players have become a little more thoughtful about their choices. In the social media age, players are aware of fashion, and cognizant of wanting to make a statement. So we've seen lots of really awesome looks that were carefully curated and cool, and we don't have the time or space to shout out all of them.
So we'll end with Wendell Carter Jr.'s Black Panther-inspired fit from 2018. We'll end here for two reasons. First, the black suit with a Gucci cloth draped over the shoulder added the innovation of, well, cloth draped over the shoulder to the history of NBA Draft looks.
But second, and most importantly, Carter got the whole family involved. Mom and dad shared in the look, and that made for some really sweet family photos, like the one above. Part of the joy of the draft has to do with family. It's about kids realizing their dreams and getting to share that moment with the people they love. The Carter family did that better than anyone I've ever seen, and that makes me excited for the NBA Drafts of the future.