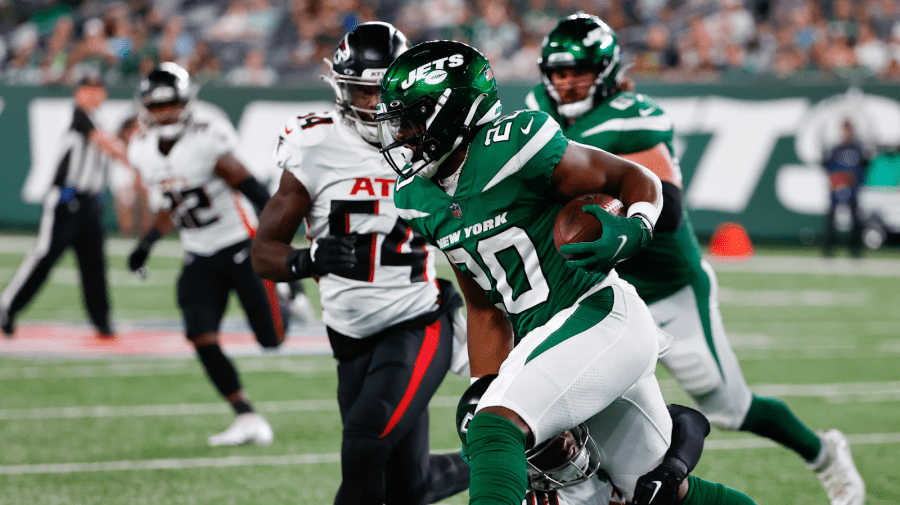 The 2022–23 season is set to begin and, like always, the conversations around the Offensive Rookie of the Year — one of the most exciting award races in the sport — are almost impossible to ignore. After all, rookies play a huge role in shaping the season. Here, we're delving into everything you need to know about the honor, including our top contenders for Offensive Rookie of the Year this season.
What Is the Offensive Rookie of the Year Award?
Voted on by a panel of 50 writers, the annual award is given to the best offensive rookie of the given National Football League (NFL) season. Rookie quarterbacks (QB), running backs (RB) and wide receivers (WR) all qualify for the honor, so whoever puts up the best stats — something that's not often associated with rookies in any sport — usually claims the title.
The Offensive Rookie of the Year award differs from other honors in that it's less predictable. Take the NFL MVP Award, for example. Usually, that title goes to a quarterback, with few exceptions. As you might imagine, this makes Offensive Rookie of the Year a more exciting race to watch.
How to Determine NFL Offensive Rookie of the Year
When it comes to predicting rookies' seasons, history shows that predicting who will end up on top, statistically, is pretty challenging. For instance, QB Trevor Lawrence was a favorite entering the 2021–22 season, but, after a chaotic first year, ultimately lost the award to WR Ja'Marr Chase.
Sometimes, it's just that unpredictable. While predictions are often based on raw talent and stats rookies are expected to post based on their playing history, what happens on the field can look wildly different. After all, a rookie season does mark a player's first time in the big leagues. However, it can be helpful to look at a few trends when it comes to picking the season's Offensive Rookie of the Year frontrunners.
Here are some stats to note:
Chase became the first WR to nab the award since 2014 — and only the fourth over the last 23 seasons.
The last time an RB won the award was in 2007.
No tight end (TE) or offensive lineman (OL) has ever won the award.
In total, 10 quarterbacks have won the award since its inception in 1967, with QBs taking the award home eight times over the past 16 seasons.
Based on the trends above, it looks like the odds are with rookie quarterbacks, right? Well, with many promising candidates all over the gridiron, it's hard to tell. But here are our top picks for NFL Offensive Rookie of the Year for the 2022–23 season.
Top 2022–23 NFL Rookie of the Year Candidates
7. Treylon Burks (WR), Tennessee Titans
The Tennessee Titans' decision to trade A.J. Brown for Treylon Burks sounded absurd to many football lovers. Many Titans' fans wonder just how he'll fit into the shoes of the icon he's replacing. While Burks may not be in the same class as Brown (yet), he's young, passionate and has tons of room to grow as he settles into the NFL.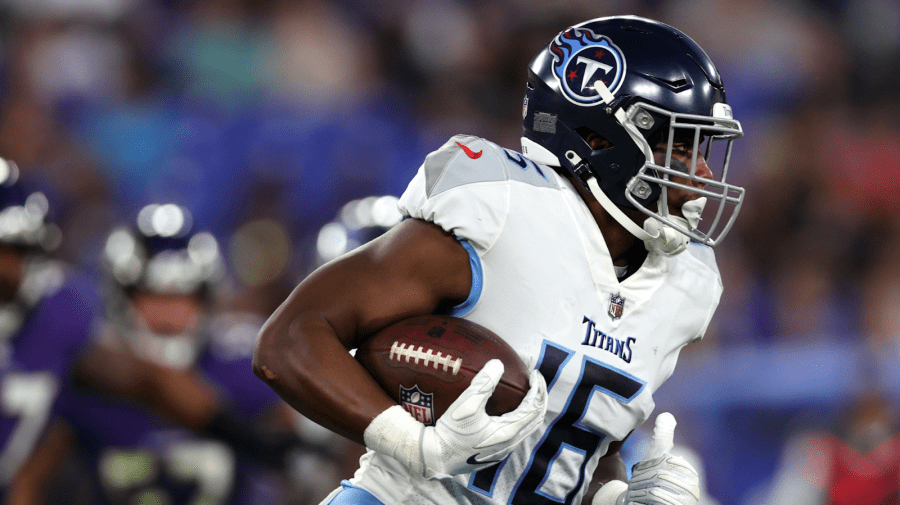 Plus, Burks has a big frame, he's fast and he tends to fall into spots where many targets might come his way — combinations that make for an almost-perfect wide receiver. So, if the Titans can get creative, Burks may stack up some numbers to prove his critics wrong and make a real play for Offensive Rookie of the Year.
6. Drake London (WR), Atlanta Falcons
Among the first-round picks in the NFL Draft, Drake London — the 8th overall pick — was selected by the Atlanta Falcons. London is also a wide receiver, and while the competition is steep when it comes to talented WRs, don't count him out just yet.
The only thing posing a real threat to London's chances to nab the award is his QB, Marcus Mariota, who may not have the ability to support an Offensive Rookie of the Year hopeful. Still, the young wide receiver has a real shot, especially considering receptions, receiving yards and receiving touchdowns all figure into this six-foot-four WR's odds.
5. Skyy Moore (WR), Kansas City
Since they traded away Tyreek Hill, Kansas City made a great decision when they brought in Skyy Moore, especially with Travis Kelce gradually fading from his prime playing days. Moore might face some competition from Marquez Valdes-Scantling and Juju Smith-Schuster for the role, but his physique and abilities make him a top pick.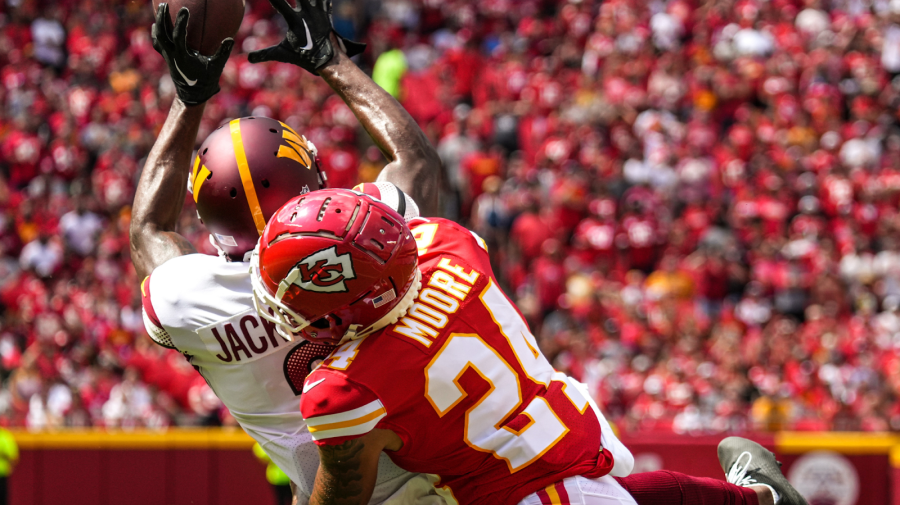 Sure, the odds may not be totally in his favor — especially for the WR position — but predicting a clear Offensive Rookie of the Year award winner (or even competitor) has been tough, historically speaking. Anything can happen, and Moore may just surprise us all.
4. Chris Olave (WR), New Orleans Saints
Yet another rookie WR in the contest for the top NFL's top award this coming season. Chris Olave is effortless in the air, has top-end speed that allows him to create vertical opportunities, and consistently alters his weight and direction for balanced route turns. And that's just a little bit of what goes into his stellar playmaking.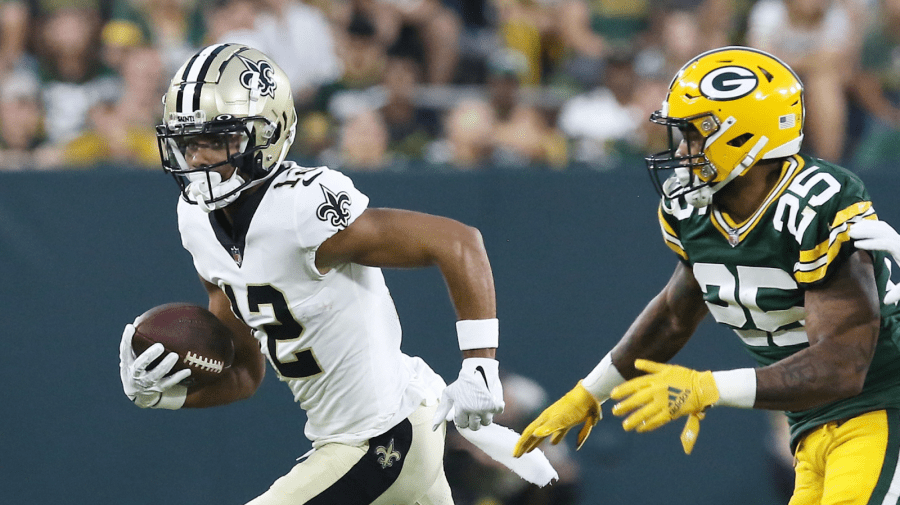 Olave is truly one to watch out for this season. His only expected setback is playing alongside veterans of the game — Jarvis Landry, Michael Thomas and Jameis Winston — all of whom will make it difficult for the natural young talent to be the star of the team.
3. Breece Hall (RB), New York Jets
If you know anything about the NFL and, in particular, the running back position, then it's undeniable that Breece Hall is a complete stat-generating talent. And he fits the Jets' current needs perfectly. On top of this, remember Hall demonstrated playing to a 4.39 speed, making him and his game as a ball-carrier special.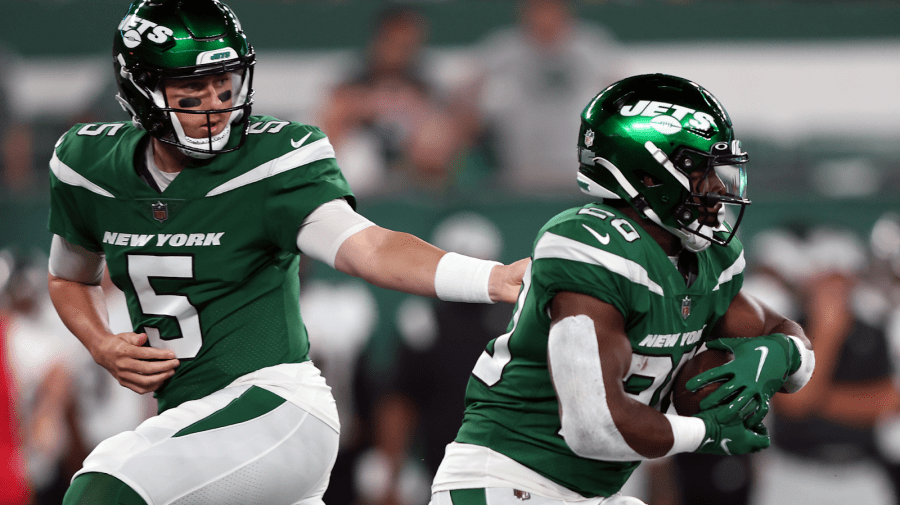 With a truly outstanding career at Iowa State behind him, it's difficult to imagine a scenario in which he doesn't translate those college-level abilities to the pro league. All it's going to take for him to earn Offensive Rookie of the Year is for the Jets to feed him — and feed him some more. And it looks like the team will be doing just that this season.
2. Kenny Pickett (QB), Pittsburgh Steelers
Kenny Pickett has been pro-ready for quite some time, and his display in the NFL preseason proves it. If that, somehow, isn't convincing enough for you to put money on him, how about this: Pickett is an exceptional quarterback, with tons of potential to post impressive numbers this season.
As we know, QBs have a good track record with winning Offensive Rookie of the Year, especially in recent seasons. It's difficult to imagine a season in which Pickett doesn't have an excellent shot at the award. Still, even though he's the most likely quarterback to take home the honor, he isn't necessarily the greatest prospect out there if we take rookies in other offensive positions into consideration.
1. George Pickens (WR), Pittsburgh Steelers
George Pickens was selected at No. 52 overall in the NFL Draft, making him the No. 11 receiver to come off the board. At first glance, his Offensive Rookie of the Year odds don't seem like much to write home about — but all of that changed pretty quickly when the Steelers faced the Seattle Seahawks.
There's no denying that Pickens absolutely shined against the Seahawks' backup defensive backs, tallying three catches for 43 yards and a touchdown. Ever since that match-up, Pickens has generated a lot of buzz, and all of that chatter — plus what he's put down on the field — has pretty dramatically increased his odds. With a fantastic debut, Pickens looks hungry, and more than ready to take the league by storm.
2022–23 Offensive Rookie of the Year Picks: Honorable Mentions
The 2022 NFL Draft — the league's 87th annual draft — saw 262 eligible amateur players selected for the league. Of course, all of these rookie offensive players have a shot at the award, but as far as the betting market is concerned — and based on their previous careers and abilities — some are more likely to win than others.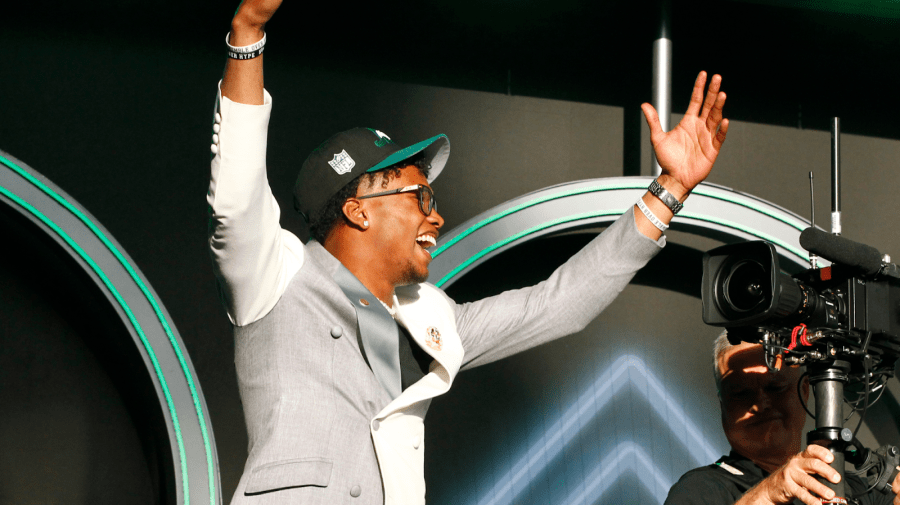 But since it's impossible to list all the names of the realistic contenders for Offensive Rookie of the Year, we're trying to give you a snapshot. Still, it's worth shouting out a few other contenders, including Garrett Wilson (New York Jets, WR), Jalen Tolbert (WR, Dallas Cowboys), Romeo Doubs (WR Green Bay Packers) and Kenneth Walker III (RB, Seattle Seahawks).
There's rarely a dull moment in the NFL betting market, even in the preseason. In fact, the anticipation of who will be named Offensive Rookie of the Year starts right after the NFL Draft. With a competitive list of candidates, mostly full of wide receivers, it'll be an exciting contest this season, and we're excited to see how things shape up over the course of the next few months.