On April 2, 2021, the CDC released a statement saying that those who have been fully vaccinated against COVID-19 may resume domestic travel. In the months following, mask mandates and other guidelines ended, leading the nation to experience a shortage in rental cars and an increase in gas prices And, once again, flights were filled to the max. It's okay to feel travel anxiety brought on by pandemic burnout, and we invite you to consider a different way to leave home without overwhelming yourself: Pine Island, Florida.
We've seen clips of Spring Breakers gone wild since the pandemic's onset. Florida, one of the most popular tourist destinations in the United States, lessened their guidelines to not-so-stellar results. If waiting in a long line for the teacups at your favorite amusement park while unmasked families walk by induces a hint of unease, you may need to explore a road less traveled.
While the Keys and places like Palm Beach or Ft. Lauderdale are often touted as places to go in Florida for more relaxation than adventuring, those locations often get very crowded too. Pine Island offers a slice of "old Florida." Tucked safely in Florida's Lee County, Pine Island is not overrun with tourists the way some theme parks and beaches appear to be.
Pine Island, Florida is one of the state's most underrated destinations to explore and relax. In a time where much of the world has not done enough relaxation or exploration, Pine Island offers great food, a fabulous warm climate, great fishing spots and more. Whether you're looking for a day trip or a full on getaway, Pine Island is the type of place you visit to escape it all. Don't believe us? Read on, and Pine Island can become a leg in any future Florida trip to come your way.
Where Is Pine Island and How Do I Get There?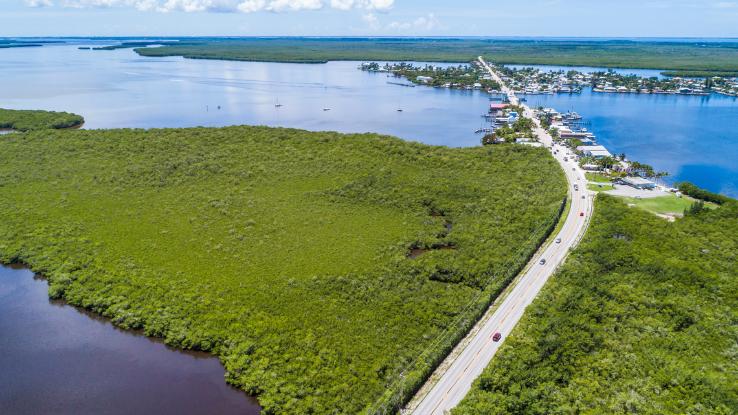 Pine Island is located off the Western coast of Florida. This puts it south of the panhandle and in the Gulf of Mexico as opposed to the Atlantic Ocean. Pine Island is also 30 minutes from Fort Meyers, FL. That means it's not a far drive from RSW, Southwestern Florida's International Airport. Cape Coral, Florida, is about an hour away from Pine Island. And it's about a 90-minute drive from Naples, FL, another area that's more off the beaten path. This section of Florida is often referred to as "old Florida." Not "old" in an ageist way, but rather, the Florida of the past.
Traveling to Pine Island from Orlando would be a little over 4 hours by car. A car ride from Tampa Bay, Palm Beach, Miami or Fort Lauderdale would take closer to 3 hours. If planning a longer trip to Florida, or if you're somewhat local, Pine Island is definitely worth the trip for a day or shorter stay. Perhaps for the better, Daytona Beach can be a 4+ hour drive away from Pine Island.
To get to Pine Island, you'll drive over the Matlacha Bridge. This is the only way to get onto the island without chartering a boat. The bridge was built in 1926, making it nearly 100 years old. The bridge's construction allowed the island to become more accessible to people other than the farmers and fishers who occupied the land at the time. Traffic jams often hit the bridge, especially during the summer. Sometimes referred to as "the fishingest bridge in the world," people can walk on either side of the bridge. This makes Matlacha Bridge a great fishing spot, a perfect (and honest) way to welcome people to Pine Island.
Escaping From Amusement Parks: Pine Island's Day Trip Appeal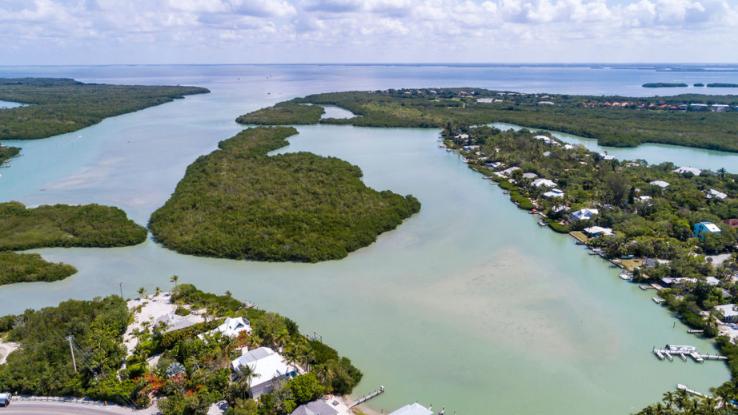 If a crowded amusement park or beachside resort with little limit on the capacity of how many people are in an area doesn't sound appealing, you aren't alone. Pine Island offers social distancing energy without necessarily having to social distance. Once you make it over the famous bridge, Pine Island offers a few different locales: St. James City, Bokeelia, Pineland, and Matlacha will all have different places to eat and stay.
There aren't any named beaches on Pine Island. Locals don't want developed beaches because they don't want it turning into a condo-filled summer town that's no longer accessible to them. Pine Island's coastline is marsh-filled and a little murky, but by all means, take a dip when it's hot. The lack of beaches can be a con for some, but it's how Pine Island remains a quiet getaway.
One can't-miss activity on Pine Island that you can do in a day-long excursion or several times during an extended visit is the Calusa Heritage Trail, a part of the Randell Research Center. On the trail, you'll find a massive shell mound in the more than 100-acre outdoor space, perfect for taking selfies for the 'gram.
the trail is also an archaeological site where visitors can learn more about the Calusa people. RRC is a museum dedicated to the study of the environment of Pine Island and the Indigenous people who were once the sole residents of the land. Most of the Calusa tribe was wiped out in the 1700s when Spanish colonizers exposed them to diseases that they weren't used to.
While this is Florida and an island, there isn't much in the way of traditional beaches. Pine Island is thankfully near Cape Coral and dozens of other beaches in Florida. You can still find some R&R on the waters of Pine Island by booking a boat charter or fishing. Snook, redfish, trout, grouper, snapper, cobia, mackerel, blacktip, shark, seabass and other fish are just waiting to be caught (and usually released) in Pine Island's waters.
Be sure to get an authentic dining experience while you're there. By authentic, we mean that there better be enough space for one's boat to park in front of the restaurant in addition to a parking lot, as is the case with Phuzzy's Boat Shack. There, you can get fried grouper and other fish that are locally caught in the area.
Kick Your Feet Back: Active Rest and Relaxation on Pine Island
On Pine Island, you can start your day off by grabbing brunch at El Pollo Rico or by picking up something at Pine Island Tropical Fruit Market. Depending on the season, you may be able to choose between different types of mango, sapodilla, avocado, passion fruit, juices and more.
If you're looking to be more active, Pine Island has a 14-mile bike trail called the Stringfellow Trail. The bike path starts at one tip of the island and goes to the other, followingStringfellow Road, which cuts through the island's exact center. Well, as close to symmetrically splitting the line down the middle as possible.
When you get hungry, the historic Tarpon Lodge and Restaurant is worth the visit. Built in 1926, the Tarpon Lodge and Restaurant offers a lux experience while maintaining Florida charm. Not many four-star restaurants have a dock for diners to park their boats near and eat on, but this one does. A jacket is not required to dine, but you won't see folks in tank tops and shorts the way you do at most other local spots. Tarpon also offers space for weddings and several levels of accommodations.
If you're looking for more lowkey dining options, libations included, definitely check out the Ragged Ass Saloon for a divey experience that's local, authentic, and affordable. Bert's Bar offers live music in addition to its dockside dining. Miceli's Restaurant dishes Italian cuisine while still keeping the beach aesthetic. Dining in old-timey Florida like this is fun because it's hard to go wrong with such a homestyle, coastal aesthetic.
Some other places to stay on Pine Island include the Bayview Bed & Breakfast, which offers fabulous views of the Gulf of Mexico in addition to its wholesomeness. Off The Charts Inn is another top lodging destination on Pine Island that offers more of a traditional Holiday Inn-style experience.
After The Trip: Keep Pine Island Wholesome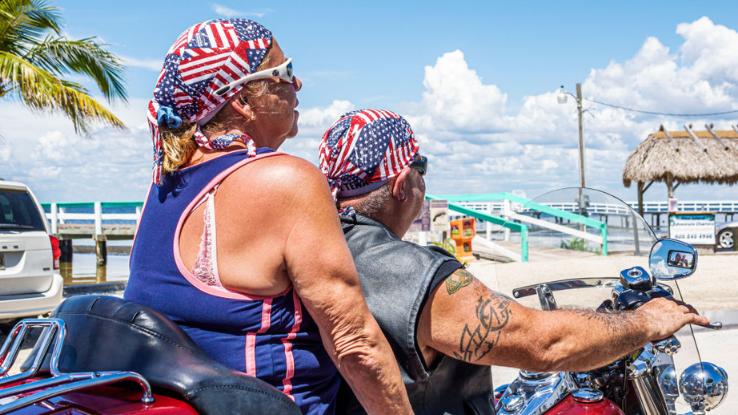 At the risk of sounding like NPR, your continued support is what keeps places like Pine Island afloat. Since the island is mostly populated by small businesses, it's the small yet dedicated following that keeps Pine Island from becoming a resort or another theme park. With real people stewarding the land, the gift shops and galleries can always use committed shoppers and supporters.
Since you probably can't go to every restaurant and charter every fishing boat, there are other ways to support Pine Island. You could make a donation to Pine Island Library, located in St. James. Funding the Randell Research Center isn't a bad idea, either.
Since Pine Island is located in the Gulf, the community may have many beneficiaries of Hurricane Relief Funds. Nearly 70 hurricanes have hit Pine Island since 1930, putting it in a high-risk zone. The most damaging hurricane to hit Pine Island was 2004's Charley.
As states and countries continue to reopen, remember that there are places like Pine Island all over the world. They might be smaller than places like New York or Los Angeles, but they need us, and after 2020 the need for smaller, lowkey vacation spots seems greater than ever too.