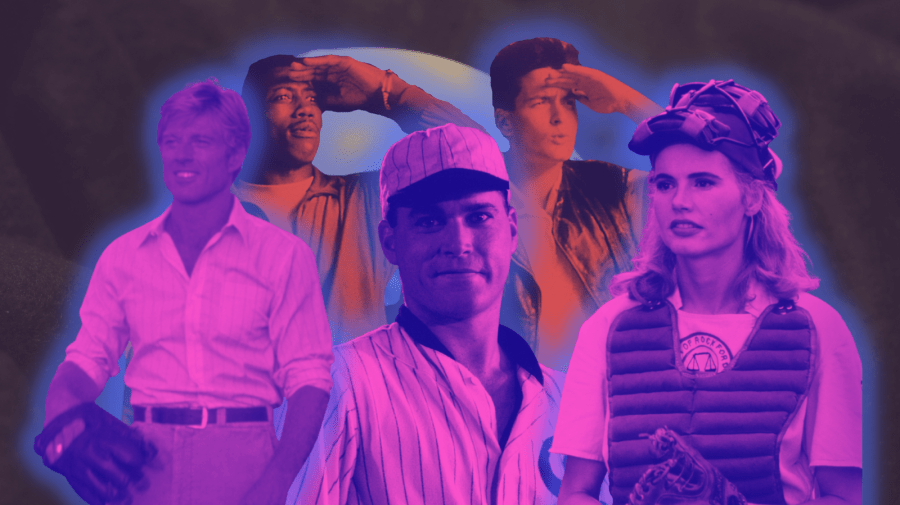 If you've ever walked into a ballpark before, you know that baseball is a visual experience. The grandeur of the stadium, the greenness of the grass, the crisp lines and the neat uniforms — all of these elements come together to make the experience something more than the simple narrative of the game.
And since baseball is known as "America's Pastime," it makes sense that Hollywood would latch onto baseball as a common setting for some of its most enjoyable movies. Baseball is timeless — literally, the game itself has no running clock. It's also timeless in that it revels in its own history. Baseball seems to have always been a site of nostalgia; the sport has created a sort of place we go to look back at how things used to be. That makes it a natural fit for the movies. With that in mind, here are what I consider to be the 10 best baseball movies ever made.
Field of Dreams (1989)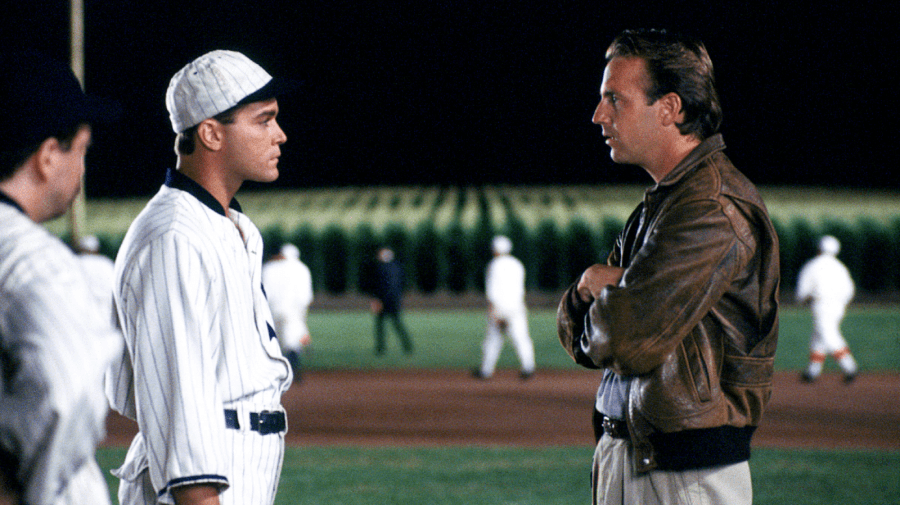 For my money, Field of Dreams is the best movie on this list. That's perhaps a little surprising, since there's no actual regulation-style big league baseball in it. Instead, it's part ghost story, part spiritual journey, part time travel movie. And through all those strange movements in the narrative, baseball is the throughline.
Based on W.P. Kinsella's 1982 novel Shoeless Joe, Field of Dreams stars Kevin Costner as Ray Kinsella. Ray's an ex-hippie who's settled down into a kind of back-to-the-land style existence as a farmer in Iowa. He's got a pretty sweet life with his wife Annie (Amy Madigan) and his daughter Karin (a young and hilarious Gaby Hoffmann). Things take a turn, however, when Ray starts hearing a disembodied voice in the corn whispering, "If you build it, he will come."
For all of the mystery and drama, this is mostly a movie about family, and about how in some American families, baseball seems to be the connective tissue that binds people together. Baseball tore apart Ray and his father, but Field of Dreams is about baseball's ability to heal those wounds, too.
Bull Durham (1988)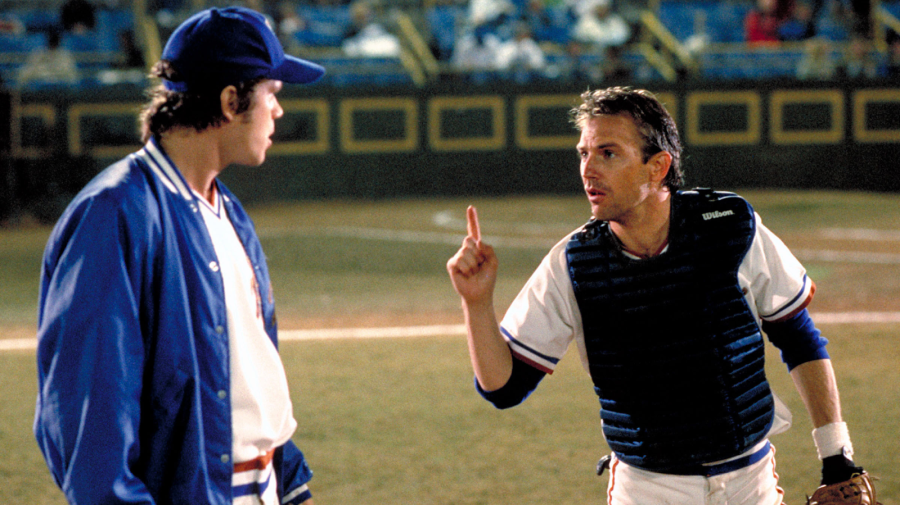 Once again, Kevin Costner stars here as "Crash" Davis, a career minor leaguer who gets sent down from AAA to the single-A Durham Bulls to try to help hone the talents of a wild but promising pitching prospect by the name of "Nuke" LaLoosh (Tim Robbins). The inside baseball stuff in this movie is pretty fun — the wise catcher imparting his knowledge of the game to the loose cannon pitcher is a classic dynamic.
But what really makes this movie sizzle and shine is Susan Sarandon's performance as Annie Savoy, a kind of holy version of a baseball groupie. Every season, Annie chooses one member of the Bulls to be a kind of combination lover and pupil. It's a pretty weird dynamic, honestly. But Sarandon's charm totally makes this movie special, and her "Church of Baseball" vibes provide the little bit of pseudo-religious exuberance that every good baseball movie requires.
A League of Their Own (1992)
A League of Their Own is a fictionalized story about the real-life All-American Girls Professional Baseball League (AAGPBL), which existed from 1943 until 1954. The league itself came about due to fears during World War II that Major League Baseball (MLB) wouldn't be viable due to the loss of talent caused by the war. In its day, the AAGPBL was a success, bringing in lots of fans to watch 10 teams across the Midwest.
The movie is an incredibly fun watch — a classic as a comedy, as a baseball movie and even as a period piece of life in the U.S. during the 1940s. Tom Hanks stars as Jimmy Dugan, the curmudgeon manager of the team at the center of the movie: the Rockford Peaches. Jimmy starts out dismissive of the whole endeavor but, of course, softens as the movie progresses.
More importantly, the movie is an ensemble of some really wonderful comedic performances by some of the most famous actors of the '90s. Geena Davis plays Dottie, the catcher and leader of the group, but there are also hilarious and sweet performances by Rosie O'Donnell, Lori Petty and — most importantly — Madonna as "All the Way" Mae Mordabito. Back in the '90s, it was always super exciting when Madonna showed up in a movie, and this one is definitely no exception.
The Pride of the Yankees (1942)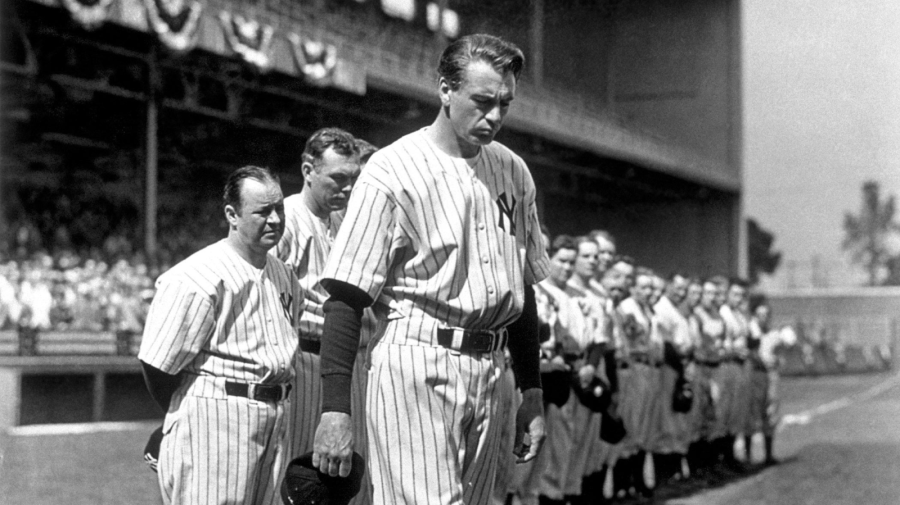 The oldest movie on this list is Sam Wood's classic The Pride of the Yankees, which tells the story of Lou Gehrig. Gehrig — played by screen legend Gary Cooper — was one of the greatest players of all time before he contracted ALS (later known as Lou Gehrig's Disease) and had to retire. Despite his premature retirement, he is still to this day in the top 30 players all time in both home runs (493) and batting average (.340).
Gehrig died at the age of 37 in 1941, and The Pride of the Yankees was released a little over one year later in the summer of 1942. Cooper's delivery of Gehrig's famous speech at his retirement, in which, in spite of suffering from ALS, he called himself, "The luckiest man on the face of the Earth," is one of the great moments in the history of cinema.
The movie is also famous for the fact that Babe Ruth acted in it. The Babe played himself, having to lose an unhealthy amount of weight to get somewhere close to his playing weight (he had retired back in 1935). The movie managed to come off, and though it's a little gimmicky, it's pretty special that Ruth was actually in the movie celebrating his fellow Yankee teammate and legend.
The Sandlot (1993)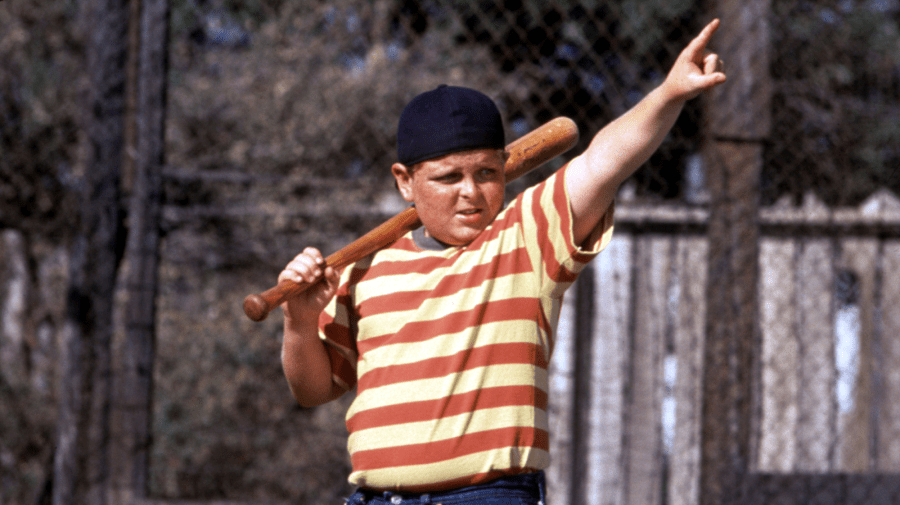 Speaking of Babe Ruth, a.k.a. The Great Bambino, a.k.a. The Sultan of Swat, it's now time to discuss The Sandlot, a charming kids movie that burnished The Babe's legend for a whole new generation of baseball fans.
The Sandlot is the story of a group of baseball-obsessed kids in the San Fernando Valley in Los Angeles, California in the summer of 1962. The movie centers around a diminutive, shy kid named Scotty (Tom Guiry) who has to do the terrifying work of trying to make friends in a new neighborhood. The friends he ends up making include baseball-savant Benjamin "Benny" Franklin Rodriguez (Mike Vitar), Hamilton "Ham" Porter (Patrick Renna), Michael "Squints" Palledorous (Chauncey Leopardi) and some other memorable characters.
They have a bunch of adventures — told in a flashback style and dripping with nostalgia — over the summer. Mostly these involve baseball, girls and — most significantly — one particularly terrifying dog. It's a feel-good classic and one of the most inspirational kids movies ever, if you're asking me. But the thing that is perhaps the most memorable about it is the scene in which the boys list off all of Babe Ruth's nicknames. It was reenacted by members of the real-life Yankees in 2015, proving that it lives on today.
The Bad News Bears (1976)
In the tradition of baseball movies about curmudgeon coaches who have a heart of gold buried beneath the gruff exterior (see A League of Their Own, above), The Bad News Bears is perhaps the purest archetype. Walter Matthau stars as Morris Buttermaker, a pool-cleaner who happens to be a former minor league pitcher. He gets recruited, reluctantly, to coach a team of little league misfits none of the other teams want any part of dealing with.
Buttermaker brings in Amanda Wurlitzer (Tatum O'Neal), a young girl he trained to be a pitcher years before. He also recruits Kelly Leak (Jackie Earle Haley), a great athlete who has been excluded from the other teams due to his bad boy attitude — he smokes cigarettes and rides a Harley Davidson for good measure.
You're not going to believe it, but this rag-tag group starts to come together. The Bears have some success and learn some important lessons about the relative importance of winning and losing in the grand scheme of things. It's a charming movie that has sparked sequels and remakes galore, but the original remains the best of the bunch.
Major League (1989)
Major League is the funniest movie on this list. Strangely enough, it's also the one that, in some ways, provides the most accurate look at the arc of a Major League Baseball (MLB) season. The premise is hilarious. The owner of the team now known as the Cleveland Guardians (thankfully) dies, and control of the team goes to his wife, Rachel Phelps, a former Las Vegas showgirl. She wants to move the team to Miami, but they aren't allowed to relocate unless they have attendance lower than 800,000 for the season.
The plan? Lose as many games as possible to kill any potential local interest in the team. She hires a manager she thinks is a loser and a bunch of players with either too little or too much experience. And from there, we get hilarious performances from James Gammon as manager Lou Brown, Tom Berenger as veteran catcher Jake Taylor, Wesley Snipes as outfielder Willie "Mays" Hayes and Charlie Sheen as wild, young pitcher Rick "Wild Thing" Vaughn.
The movie is slapstick and ridiculous at points, but it really does a pretty good job of capturing the mood of a team that starts winning games almost in spite of itself. It also features real-life baseball announcer and actor Bob Uecker as the team's announcer, which is cool, since Uecker is still announcing games for the Milwaukee Brewers even now in 2022.
For Love of the Game (1999)
Another great baseball movie based on a book is this Sam Raimi film from 1999, which was adapted from the 1991 Michael Shaara novel of the same name. For Love of the Game is the story of a pitcher, Billy Chapel (Kevin Costner in yet another baseball movie), who was once great but is nearing the end of his playing days. The movie happens over the course of one game, but is mostly told through flashbacks of what Billy is thinking about as he pitches.
As the movie progresses, we realize that Billy is in the middle of pitching a possible perfect game, despite severe shoulder pain. He's been toiling away on a bad team, waiting for the end of his career, but all of the sudden something special is happening. The baseball scenes are totally realistic and well-made, and the classic pitcher/catcher dynamic between Billy and Gus Sinski (John C. Reilly) is really sweet.
For all of the attention to detail in the baseball scenes, this movie is also a love story. Throughout the game, Billy thinks about how he screwed things up with Aubrey (Kelly Preston), the love of his life. If you've never seen this movie, I'll leave it to you to learn whether they manage to patch things up in the end (wink, wink).
The Natural (1984)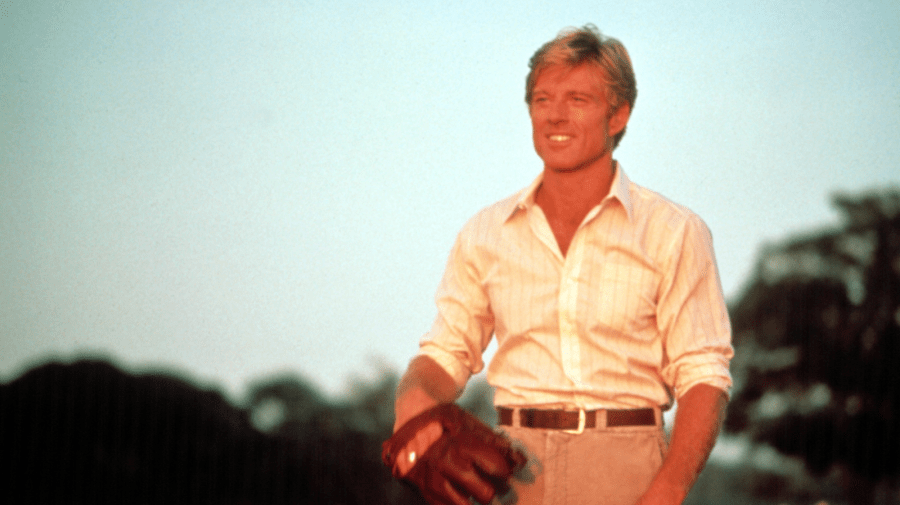 The Natural is probably the movie most people think of first when they think about the most iconic baseball movies. It stars Robert Redford as Roy Hobbs, an immense baseball talent whose career is put on hold after he's shot in the stomach by a woman named Harriet (Barbara Hershey) just before he's supposed to try out for the major leagues. Sixteen years later, he finally makes it to the majors, but finds himself in the middle of a scheme to throw the season.
All of that plot is somewhat secondary to what this movie is really about though: mood. Randy Newman's score is absolutely legendary. It sets a mood that makes you feel like you're watching something timeless, something special. And that mood is what sets The Natural apart as a baseball movie — it taps into the timelessness of the sport itself. When everything rises to a crescendo at the end, it's enough to melt even the hardest heart.
Moneyball (2011)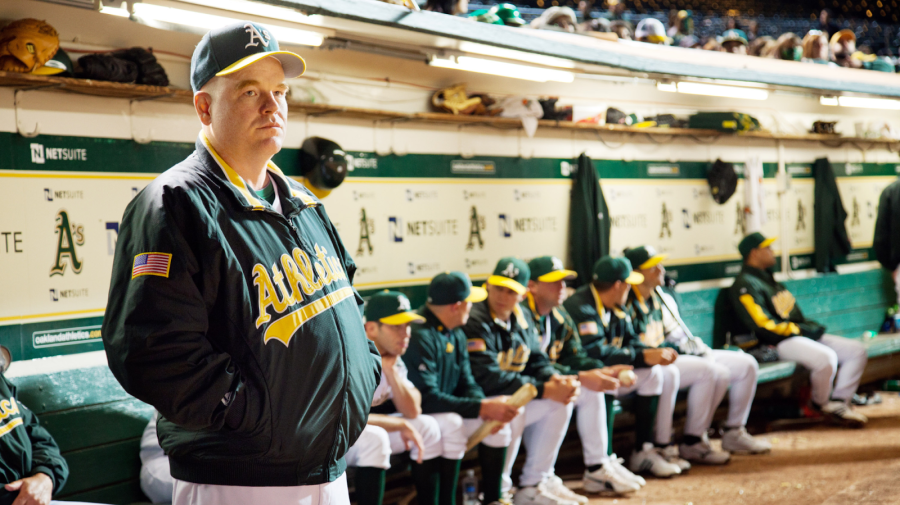 Last but not least is Moneyball, a movie with a script by Aaron Sorkin and Steven Zaillian based on the nonfiction book by Michael Lewis. Starring Brad Pitt as real-life Oakland Athletics general manager Billy Beane, the story is about Beane's attempts to put together a championship-level major league team with one of the smallest payrolls in the sport.
That might not sound like a very exciting premise, but somehow it works. A lot of that is due to the script, which has all the energy you'd expect from an Aaron Sorkin vehicle, but a lot of it is also due to the performances. Philip Seymour Hoffman plays A's manager Art Howe and in one of his first major roles Chris Pratt plays A's catcher Scott Hatteberg. Oscar nominations went to Pitt and Jonah Hill, who was nominated for Best Supporting Actor for playing Peter Brand (a character who's partly based on real-life front office executive Paul DePodesta).
In juxtaposing the analytics-based front office decisions the movie is really about with the visual drama of any other great baseball movie, Moneyball comes together to create something really special. It takes a story that might have been mostly about math and gives it a ton of heart.