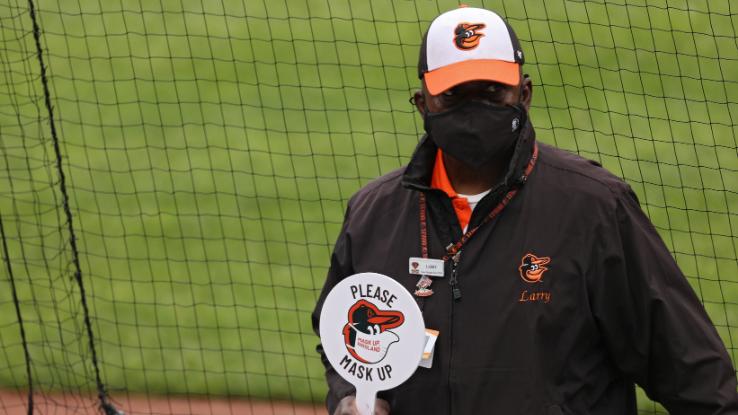 In 2020, National Collegiate Athletic Association (NCAA) March Madness brackets were busted, the National Basketball Association (NBA) blew the whistle on the 2019-20 season and when Opening Day rolled around, Major League Baseball's (MLB) parks remained shuttered.
This all came in the wake of the Centers for Disease Control and Prevention's (CDC) insistence that folks should refrain from gathering in groups — let alone stadium-sized crowds — in order to mitigate the spread of the novel coronavirus. As the pandemic swelled and the global death toll climbed, it became clear that missing out on live sports, both in-person and via broadcast, was a rather small price to pay.
After the NBA suspended play, the MLB, Major League Soccer (MLS) and National Hockey League (NHL) followed suit, as did the NCAA, which, in addition to nixing regular play across all sports, canceled its highly popular March Madness basketball tournament. Despite being a non-contact sport, even golf was impacted: The PGA Tour canceled the Players Championship after just one round. While networks like ESPN and CBS scrambled to find programming — honestly, The Last Dance could not have come at a better time — professional sports leagues and associations of all sorts scrambled to engage fans virtually to varying degrees of success.
Then, as areas of the country decided to start reopening, many professional sports organizations began deeming it okay to play — just without fans in attendance. And many states began experiencing drastic increases in COVID-19 cases following lifted restrictions and the desire to experience some semblance of summer fun. Essentially, things were only getting worse, which compounded the danger of pro sports returning: Not only did it put players and staff at risk, but a return to some kind of normalcy also set a potentially irresponsible precedent — and the ways some teams chose to return ultimately turned out to have disastrous (and potentially avoidable) effects.
Yes, sports help us bond and get through tough times. But the pandemic has been an unprecedentedly tough time, and it's demanded that commissioners and other leaders make some unprecedentedly tough decisions in 2020 and 2021, often choosing between keep players and staff safe or foregoing public health advice to keep their seasons fairly "normal" for fans.
Each pro organization took a different approach in 2020 and, now that so many organizations have returned in 2021, we're starting to fully realize the impacts these approaches made on the pro sports world. From blunders to success stories, here's what we learned.
Hub and Bubble: How the WNBA, NHL and NWSL Avoided Trouble
Amidst criticisms over the decision to return to play and sports fans' eager anticipation to see their favorite faces take up games once again, several organizations managed to navigate their restarts with the right blend of precautions. But credit goes to the players, too, who followed new guidelines carefully to achieve positive outcomes. Here's who did it well.
The WNBA's Strict Group Limits and Bubble Encourage Responsible Behavior
The return of basketball was perhaps one of the most talked-about restarts in sports in the midst of the pandemic, particularly because the WNBA typically plays its entire season from May to September — a time when most of the world had already been enduring several months of lockdowns.
In response to closures and shelter-in-place orders and to stave off the spread of the coronavirus, the WNBA required players to stay in a "bubble" — isolated accommodations where the athletes could practice, play and live away from the general public — at the IMG Academy in Bradenton, Fla. The intent was to give players the opportunity to safely resume the season by limiting potential exposure to the virus — but it wasn't the only adaptation the WNBA made.
Players were tested extensively before even being permitted to enter the IMG bubble and, once there, were subject to a rigorous schedule of tests and monitoring. Each team was permitted to bring just 18 people — 12 players and six staff members — into its individual bubble, although players were allowed to bring family members who were required to isolate. Masks and social distancing were mandatory throughout the bubble, and media and fans weren't allowed at the stadium.
Even announcers called games remotely from home using special headsets and other tech, and camera operators were kept away from the courts, using remote-controlled camera equipment to record and broadcast the games. Players were also offered 100% of their regular salaries. Those who were unable to participate if they were "medically certified as high-risk if they contracted the coronavirus" would also receive full salaries, which removed their incentive to return to play if it was unsafe to do so.
Sports journalists initially praised the WNBA's approach to ensure players' safety, especially in comparison to the NBA's slightly riskier situation (more on that later). And while seven WNBA players tested positive for COVID-19 before July 6, the day when players began arriving at the IMG Academy, by mid-August when bubble life was in full swing the organization reported zero new positive cases.
The strict rules — and players' responsibly strict adherence to them — led the WNBA to complete its 22-game season without a hitch. And, after battling it out with the Las Vegas Aces, the Seattle Storm clinched another championship title. In 2021, which marks the WNBA's 25th anniversary, the league will reintroduce travel (and some fans) into the mix.
The NHL's Pause Prompted Plenty of Planning
In early March of 2020 when news of the novel coronavirus (and the virus itself) began spreading, NHL Commissioner Gary Bettman announced that the 2019–20 season, which was on the verge of wrapping up, would pause indefinitely. The NHL Players Association backed the decision despite having 189 games, along with the Stanley Cup Playoffs, remaining in the season.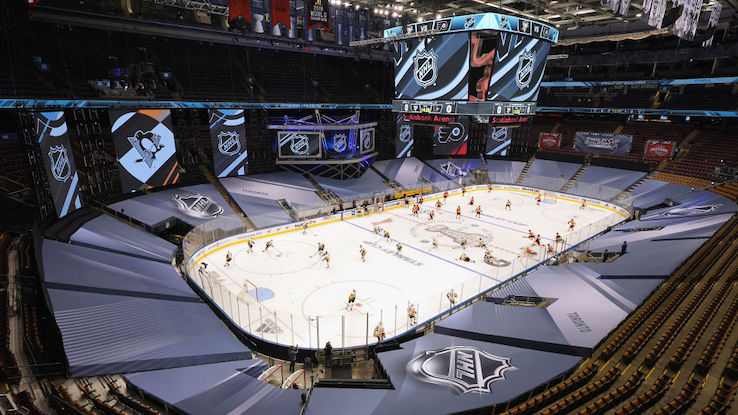 The pause lasted until the end of May, when Bettman announced "24 teams would return, if and when medically cleared, for a unique playoff tournament in two hub cities." This essentially canceled the remainder of the regular season, and the NHL put in place strict safety protocols teams were required to follow in order to participate in practices, an abbreviated training camp schedule and the final conference-based playoff.
So, how strict was strict? Similarly to the WNBA's bubble, the NHL required all games to take place in two "hub" cities, Edmonton and Toronto, and the teams were required to stick to some pretty narrow isolation parameters. Each team that advanced to the qualifying round was relegated to a single floor of a hotel for the duration of the playoffs and was permitted to bring 31 players and 52 staff members, including coaches, along.
Players weren't allowed in each other's rooms and had to restrict their visits to arenas, practice facilities, hotel bars and restaurants, and a few other approved indoor and outdoor areas. Masks, social distancing and daily COVID-19 and temperature checks were required, and fans were conspicuously missing from arena seats as games started taking place.
And all of this paid off. A total of 33,174 tests were conducted throughout the NHL's amended season, and there was not a single positive result. It took a massive commitment from players, staff and the NHL itself, but this outcome is a testament to the success that can arise when people work together to preserve each other's health. The organization implemented restrictions that kept teams and fans safe while maintaining some of the integrity of the season, ultimately setting an example that other pro sports organizations would have benefitted from following.
The NWSL Set the Blueprint for Bubble Success
The NWSL was the first pro sports league to return for and complete a major event — its 25-game Challenge Cup — following the start of the pandemic. And it did so not only to great fanfare but also to stellar performance on the field and when it came to following new COVID-related regulations. For the duration of the tournament, players from nine teams traveled to a pair of stadiums and two Salt Lake-area hotels in Utah to live, practice and play.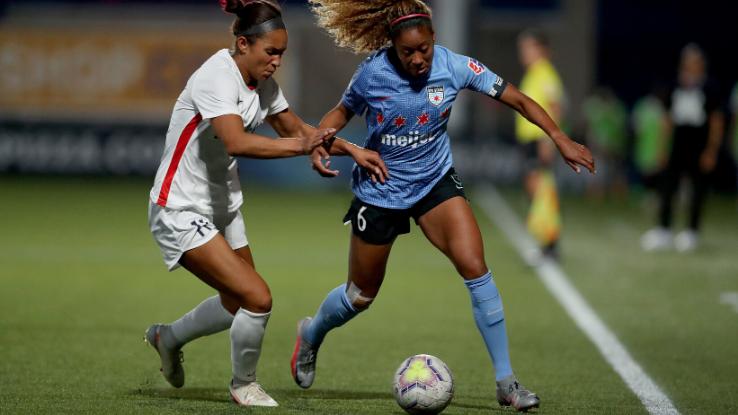 Before heading to Utah, all players were screened for COVID-19 and tested again upon arrival in Utah. As with all other returning sports, Challenge Cup stadiums were empty and tests were frequent. The league's player union secured guaranteed contracts and insurance for the year for all of its players, regardless if they opted in or not, and for parents playing in the cup, extra care was taken to ensure children and an additional caregiver could safely come to the NWSL bubble. Some big-name athletes who also play for the U.S. National Women's Soccer team (USWNT), like Megan Rapinoe and Tobin Heath, decided to opt out due to COVID-19 concerns.
The Challenge Cup season wasn't without hiccups — Orlando Pride players broke social distancing and isolation guidelines and visited a bar, resulting in their ousting from the tournament as a precautionary measure. However, during its time isolating in Utah while the cup matches were taking place, the NWSL reported zero positive cases of COVID-19.
Just Women's Sports sums up the reasons for the league's achievement nicely: "With similar protocols to other leagues — no fans, regular testing, isolating players and staff — the NWSL was the first league to prove that the bubble system can work and be successful."
The organization even enjoyed new sponsors and record-breaking viewership, demonstrating, along with the WNBA and NHL, that following key protective measures and limiting risk to fans, players and staff can keep everyone safe — and effectively keep pro sports exciting during a pandemic. In 2021, the NWSL is also reintroducing travel and allowing fans at reduced capacity.
A Few Personal Fouls Dampened the NBA's Rebound
With a season that was originally supposed to end on April 15 of 2020, NBA Commissioner Adam Silver, along with 30 team owners, elected to suspend play indefinitely on March 11 after a Utah Jazz player tested positive for COVID-19. Teams who came into contact with the Jazz were asked to self-isolate for 14 days, and a cascade of other new guidelines began going into effect.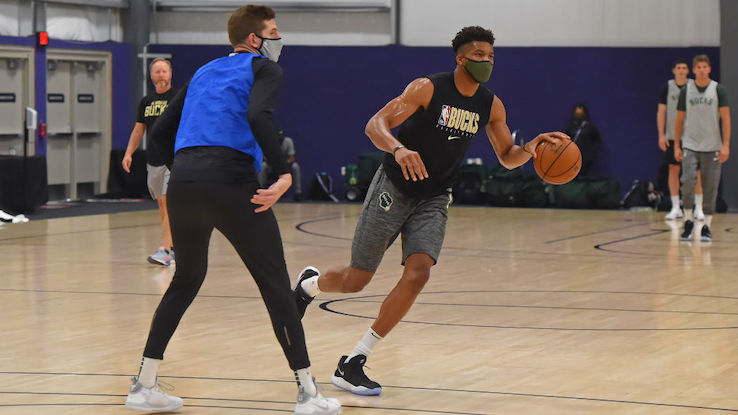 But players were still allowed to venture outside of their media markets as long as they practiced physical distancing and quarantined upon their return. Although these decisions took place before the world realized the gravity of the virus, they may have set a precedent that impacted players' decisions later on.
When the choice was made in June to resume (a heavily modified version of) the upended season, the NBA introduced a variety of protocols to maintain player and staff safety — all laid out in a 100+-page guidebook. Along with medical clearances, mask requirements, extensive testing, social distancing measures and even a requirement to throw away decks of cards after playing a single game with them, the organization also required players to live in a bubble isolation zone within the ESPN Wide World of Sports Complex and three hotels inside Walt Disney World.
Players faced consequences and disciplinary actions for violating the guidelines, including potential suspensions, losses of pay and 10-day quarantine periods after leaving the bubble without permission. Despite the clear rules, some players wanted what they wanted: a little normalcy, courtesy of the outside world. Following the return to the bubble, reports began surfacing about players leaving without permission to visit nightclubs and other unapproved venues.
Ultimately, more than 30 players and staff members were known to have been infected with the coronavirus between March and late July, when players were beginning scrimmages before the regular season's seeding games resumed. But this doesn't mean the bubble didn't work — it means the bubble and the mandated quarantine some players underwent probably prevented things from getting much worse.
The MLB Strikes Out Majorly in 2020 — But What About 2021?
The pandemic has caused disruptions around the globe. And the MLB's handling of the pandemic has caused some pretty remarkable disruptions in the world of pro sports, particularly when it comes to news about how well different organizations are responding to the crisis.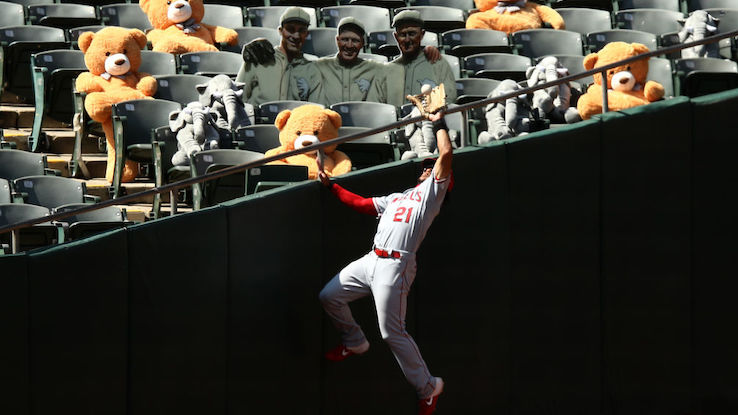 In the pandemic's early days, MLB Spring Training was barely getting underway when various states began announcing bans on large gatherings, and the organization, with no plans to postpone training, started looking into alternative facilities for some teams. This lasted for a few days until March 13, when the MLB announced training camps were canceled and the regular season would be pushed back a few weeks.
Just two days later, the first MLB-adjacent COVID-19 case was reported in a Minor Leaguer affiliated with the New York Yankees, and from there more cases spread among staff and players in the MLB system. In late April, the MLB announced a tentative plan to kick off the 2020 season in Arizona, Florida and Texas to limit cross-country travel. Unsurprisingly, this testing-of-the-waters was met with criticism; many players spoke out against the idea, unwilling to leave or endanger their families for the sake of the game.
But as time passed and the MLB struggled to work out the continuation of a semi-normal season, dozens of players and staff members from various teams began testing positive for COVID-19. Outbreaks occurred at several Spring Training facilities, and teams like the Philadelphia Phillies, Toronto Blue Jays and Chicago Cubs experienced large outbreaks of their own throughout June, resulting in postponed and canceled games.
The MLB continued with its reactive, not proactive, handling of the situation, and in July, numerous players opted to drop out of the season. That month ended with the Miami Marlins experiencing an outbreak involving 20 reported cases.
Positive cases continued emerging throughout the summer as baseball games limped along. The MLB took some helpful steps, like requiring compliance officers to travel with teams to ensure they followed the league's set of health and safety rules.
But introducing these stop-gap solutions when outbreaks were already in full swing — instead of putting a stop to the spread by ending travel or the whole season — was too little too late. All told, more than 50 Major League players and countless staff members contracted the virus due to the MLB's refusal to effectively modify the 2020 season. No other pro sports organization saw such widespread infection, likely due to their decision to implement bubble systems.
What's MLB Planning for the 2021 Season?
So, has the MLB learned from its mistakes? Currently, 2021 is presenting a much different landscape than last year. For one, there are vaccines available — and that fact is certainly influencing the league's decision-making process when it comes to COVID-19 safety measures. According to ESPN, an MLB internal memo "'strongly encouraged' players and staff members to receive one of the approved COVID-19 vaccines."
For individuals who are fully vaccinated, or teams where 85% of folks are fully vaccinated, there will be less restrictions. Removing masks in hotel rooms, eating indoors, carpooling and more is okay for these folks, for example. These perks extend even further: vaccinated individuals can exercise without masks; avoid checking in with a compliance officer if they leave the team hotel; and, so long as they're asymptomatic, can avoid certain testing and quarantine protocols. On the fan front, ballparks are welcoming spectators — with social distancing restrictions, mask requirements and reduced capacities all in place. Is MLB's plan a grand slam? Only time will tell.
Sportsmanship Adapts: Key Takeaways From the Orgs That Did It Right
There's a lot pro sports teams can learn from the winners — and a lot we can learn from pro sports. It's clear that the bubbles worked, but their mere existence isn't what kept everyone safe. The bubbles are what facilitated that safety, but ultimately the players' willingness to adhere to the rules is what garnered the best results. The bubbles and hubs provided the framework that made it easier for players to make the right choices, but they still had to actively make those choices.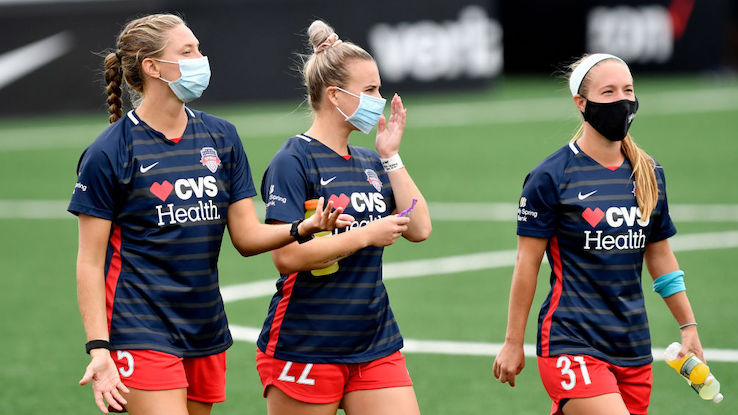 And the teams whose players fully did — the NHL, the WNBA and the NWSL — clearly had the best outcomes. The teams that chose to forego the stricter rules — like the NBA allowing each group nearly double the personnel that the WNBA had — and that saw players going against the new guidelines experienced increases in positive COVID-19 tests and the speedy spread of the virus between teammates. As Bill Reiter of CBS Sports concludes, "If the question is, 'To Bubble Or Not To Bubble,' the answer is self-evident."
Incentives potentially played a large role, too. Where WNBA players were offered their full salaries whether they played or couldn't participate due to their higher risk of contracting the virus, the NBA's story is a little different. If NBA players were unwilling or unable to compete, they risked losing their multimillion-dollar paychecks, which might've encouraged some players who weren't feeling their best to participate anyway.
This forced players into a precarious position: Should they put themselves at risk of contracting the virus to support themselves and their families or forego a paycheck entirely to avoid the virus? While the NBA's outcomes could've been much worse, a bit more conscientiousness — perhaps combined with a bubble system located away from the perennially busy, viral hotspot-adjacent Walt Disney World — could mitigate temptations and transmissions in future seasons affected by the pandemic.
Amid the ongoing pandemic the 2020-21 NFL season went better than anticipated, despite the league's decidedly less strict guidelines. Now, as MLB returns, that league will have to formulate a better game plan than last year if it wants baseball to remain America's favorite pastime.