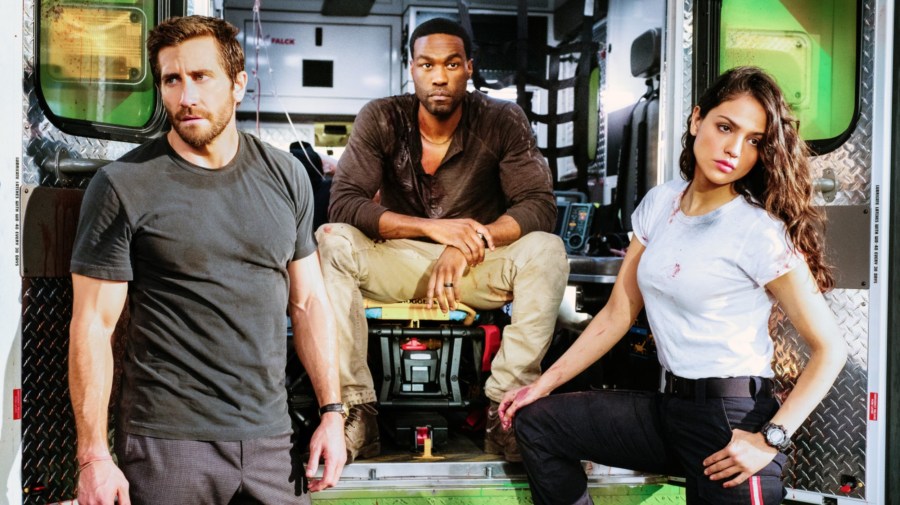 Rating: 6/10
I was on edge all day following a noon press screening of Michael Bay's Ambulance — the new adrenaline-fueled movie starring Jake Gyllenhaal, Yahya Abdul-Mateen II and Eiza González that debuted in theaters on April 8 and is available on video on demand (VOD) on May 23. So be aware of its stress-inducing capabilities.
In Ambulance, Abdul-Mateen II plays Will, a Marine vet who's trying to get his insurance to pay for some expensive but necessary surgery for his wife Amy (Moses Ingram). They also have a newborn child. Out of patience and luck, Will turns to his brother Danny (Gyllenhaal) for help. And he suddenly finds himself, with the viewer in tow, thrown into a bank robbery that could land the thieves $32 million.
When you meet Danny's gang and realize there's just too much testosterone to pull off a heist like this, things do turn sideways. It all happens fast. Will and Danny find themselves running from the robbery on foot, carrying very heavy backpacks worth around $8 million each. Their only way out of the underground parking structure of the bank they just hit up is an ambulance, which they'll have to hijack, since the place is suddenly swarmed by police. Will and Danny end up in Cam's (González) ambulance. She's a very competent EMT, doing all she can to keep a cop alive. That Will was the one who shot the cop in question only adds to the drama. Will did it to protect his brother.
And at that point, the movie turns from a very hurried version of bank heist classics, like Spike Lee's Inside Man or even Kathryn Bigelow's Point Break, into a very long — but always pedal-to-the-metal — chase through the streets and freeways of Downtown Los Angeles (DTLA).
I should admit that I have a soft spot for movies set and shot in L.A. Especially if they're by filmmakers who both know the city well and show their love on camera. And Bay does that. Los Angeles is a very photogenic city. The Transformers and Pain & Gain director is continually presenting the viewer with Angelino landmarks like the Times building, City Hall, Broadway Street, the Second Street tunnel or the Los Angeles River. Some of those iconic images of L.A. have been shown in movies before — like the DTLA skyline during magic hour or the tangle of interconnecting freeways photographed from the air. But Bay also manages to capture some of the tall buildings in the city by vertiginously flying drones down their façades.
The vertigo doesn't end there. Ambulance has pretty much everything we've been trained to expect from a Bay movie. He directs expertly and precisely with handheld cameras, getting very close to his character's faces. You'll get to see Gyllenhaal's sweat and pores. There's urgency in Bay's directing style. There are frequent cuts to remind the viewer that the chase is on — and so is the ticking clock. And, of course, you'll get to see the frantic pursuit, the jumping cars, the outrageous explosions — although they happened later than I was expecting them to — and the mayhem left behind in this ambulance's path.
There are some other over-the-top moments too, like a bloody surgery aboard the moving ambulance, which is made possible with the help of videoconferencing and a hair clip. Let me just say that maybe I didn't need to see a spleen on the big screen. But other than my queasiness at the sight of blood and the fact that two hours and 16 minutes — the movie's runtime — was a bit too much rush and adrenaline for my system, I liked Ambulance.
I've never been a big Bay fan but he kept me hooked with this story. Also, he made me care about the ensemble of characters. You aren't inside of the ambulance with Will, Cam and Danny the whole time and you get to spend almost as much time with the big team of police officers and FBI agents in charge of stopping them.
You get to know all the characters a bit, be it their personal lives or the personal moments they're having right before they're thrown into the middle of the action. Like the injured cop (Jackson White) inside the ambulance who just wanted to ask one of the bank cashiers on a date; the FBI agent (Keir O'Donnell) in charge of the bank division who was at couples therapy with his husband and a very judgy therapist who couldn't believe people still rob banks; or the police captain (Garret Dillahunt) who was driving his massive English Mastiff around in a minuscule vintage Fiat before being called to the scene of the robbery. That cuddly dog, by the way, is Bay's own 217lb furry, Nitro. Getting Nitro inside of the tiny car was apparently one of the tensest things the filmmaker had to do in this movie.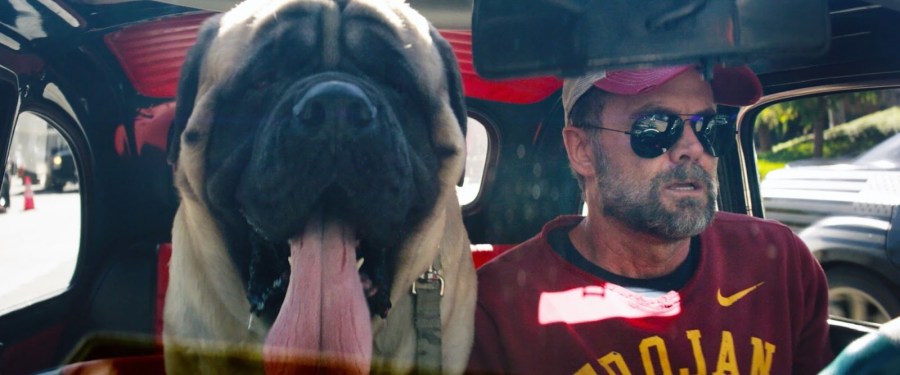 Gyllenhaal's character is probably one of the least sympathetic in this story. He's also the funniest. He grumbles about the way people drive in the city. He squabbles with his brother like any good sibling would do — criminal or no criminal. And he has the most out-of-touch yet hilarious reaction after Cam sprays him with a fire extinguisher. "It's cashmere!" he complains, upset about his ruined sweater. I did feel for him a bit then.
After my screening ended, I walked the still not-quite-back-to-normal streets of downtown San Francisco pretty much convinced that at any moment a van full of armed guys was going to pull over and a chase would ensue. It didn't happen but I still needed a few minutes for my blood pressure to lower.