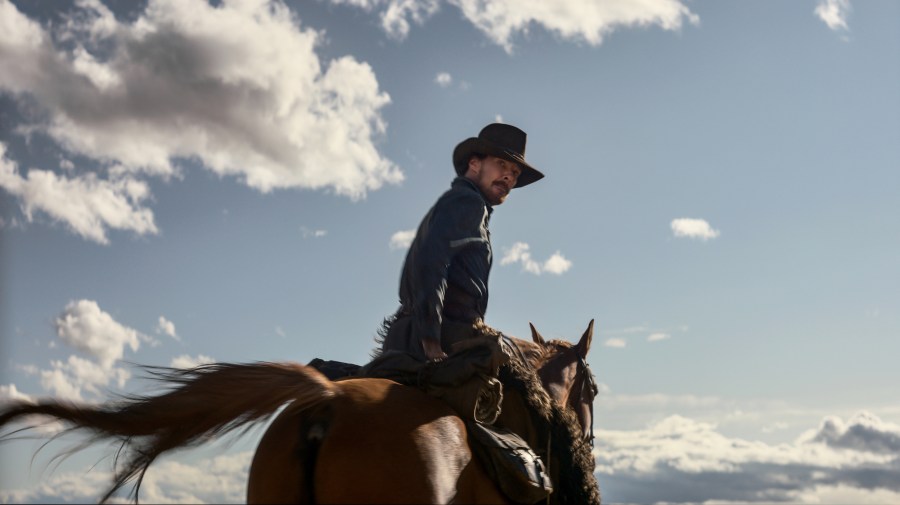 We've already talked about the many chances Netflix's The Power of the Dog has this year at the Oscars. Even though Belfast kicked off awards season as the movie to beat, Kenneth Branagh's semi-autobiographical film has taken second place in the Oscars race, which is now tilting in favor of The Power of the Dog. The Jane Campion directed, produced and written movie is an adaptation of Thomas Savage's 1967 novel of the same name. 
Not only is it the title with the most nominations this year — it will compete in 12 of the top categories — but the film has also made history. Campion became the first woman to be nominated twice in the directing category; besides The Power of the Dog she was also nominated for The Piano (1993). She's the only woman director to have been nominated this year — only seven women directors have been nominated throughout Oscar's history.
Kirsten Dunst and Jesse Plemons, who are a couple in real life and play wife and husband in the movie, both received their first Oscar nominations for The Power of the Dog, in the best actress in a supporting role and best actor in a supporting role respectively. Kodi Smit-McPhee is also nominated for his supporting role. Benedict Cumberbatch has a nomination as lead actor. Campion received another nomination for her work adapting the screenplay. And the movie has received a much-coveted best picture nomination, among others.
Chances are you may have already watched The Power of the Dog or are seriously considering it. Since the nominations were announced, the movie climbed to Netflix's weekly Top 10 chart and, as of February 18, it's the number one film in Campion's native New Zealand as well as in Croatia, Greece, Portugal and the United Kingdom.
The revisionist Western is set in 1925 on a wealthy ranch in Montana, although it was shot on location on the South Island of New Zealand. Cumberbatch and Plemons play brothers Phil and George Burbank. Phil is a bullish and domineering cowboy and cattle rancher who's set in his ways and not very fond of soap and water. George is a sensitive soul who takes care of the family business' finances. George proposes to the widow Rose (Dunst) and she moves to the ranch only to be tortured and ridiculed by Phil. Understandably, she doesn't take well to living in Phil's company. Her young adult son, Peter (Smit-McPhee), realizes this and — even though he's been repeatedly and cruelly made fun of by Phil in the past — befriends the rancher. An unusual relationship blooms between the two of them.
The movie has been described as a depiction of toxic masculinity, which is represented most by Phil. "He's so complicated and cruel but, as mean and unkind as he often is, he's also the tormented lonely lover safe only by treasuring feelings from a long gone past," Campion explains of Cumberbatch's character in the film's production notes. "He is in an impossible situation of being an alpha male who is homophobic and also homosexual. It's incredibly painful and complicated. I found Phil moving and I found the mysterious relationship between him and the boy exciting and satisfying."
The writer and director has also talked about the reasons behind her choosing this project and not centering the story around a woman for the first time in her career as a filmmaker and TV auteur. "There really is a feeling of freedom not to have to tell only women's stories," Campion said during a virtual Q&A session with members of the Critics Choice Association (CCA), where she also reflected on no longer being one of the only women behind the camera. "Previously there [were] just not enough of them [women directing films], and it felt like a betrayal to do anything else […] I know it's just begun and still the numbers aren't pleasing, but it doesn't feel charitable anymore to work with a woman. It's actually good business, which is such a refreshing place to be."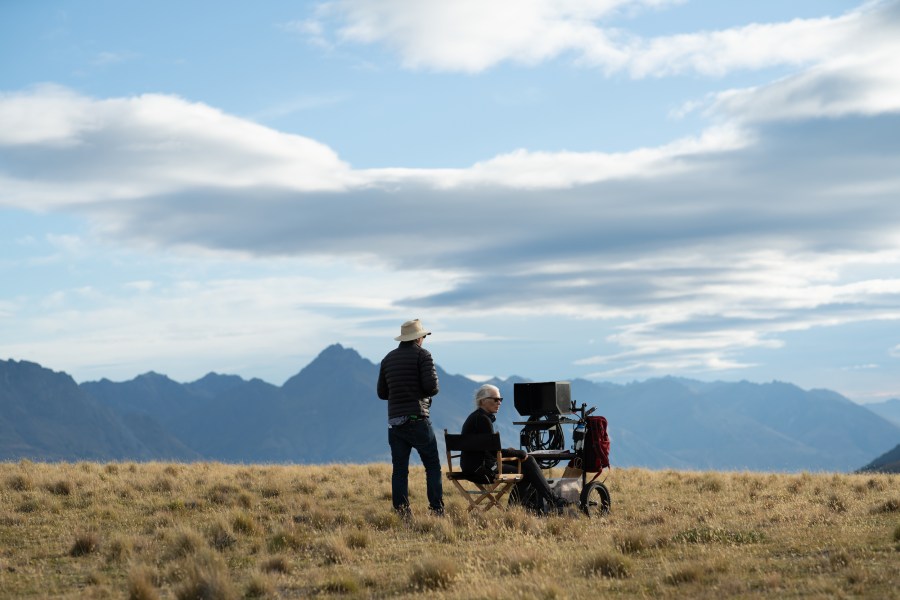 The film tackles a queer love story between Phil and someone from his past, another cowboy called Bronco Henry; we never see him in the movie but his presence looms big. He was the epitome of the alpha cowboy but also Phil's late lover and mentor. "Thomas Savage, who's a queer man, wrote this amazing book," Campion said during the CCA chat when discussing Phil and Bronco's love story. "Phil Burbank's relationship with Bronco Henry brought me really into an imaginative space [of] what gay love would be."
The director highlighted Cumberbatch's commitment to portraying Phil. "I needed an actor who really wanted that challenge, that was at that point in their life where they wanted to go really deep and that's exactly what Ben was looking for," she explained. Aside from the fact that Cumberbatch stopped showering during rehearsals of the film and ended up settling for having his character's clothes not laundered during the shooting, Campion also instructed him on other aspects of Phil's appearance to ensure the film's authenticity. "I'm having to be really strong and say: 'No, don't cut the hair. You'll wear a wig on your other project'," Campion said. "I really had to work to preserve what I felt he was going to need to do the job well."
The Power of the Dog's Ending, Explained
Besides Cumberbatch's bathing habits on the set of The Power of the Dog, another source of chatter since the movie's release late last year has been its head-scratching ending. Be advised if you haven't watched the film yet because we're about to get spoilery.
Spoilers start here. Whereas Savage's book specifically ends by mentioning that the rawhide Peter gives Phil to finish braiding a rope was contaminated with anthrax, the movie takes a more subtle route.
In the film, we see a gloved Peter taking some skin from a dead bloodied cow. After Phil complains because Rose has given away the last hides they had and he calls her an alcoholic, Peter produces the rawhide he's cut and gives it to Phil, not mentioning it's from a diseased animal. The rancher needs the hide to finish the rope he's braiding for Peter. The young man is always wearing gloves when handling the rawhide and he knows that Phil has an open wound on his right hand. He got it when both of them were handling wood.
Phil dies after that night of braiding; his death is deemed accidental anthrax contamination. The movie ends with Peter's gloved hands putting the tainted rope under his bed. The bully is dead. Rose and George are happy again. And so is Peter.
"What's so interesting about that rope is that it's made from the animal that's bred on that land," explained Campion. "It's a symbol, especially for ranchers, of masculinity and dominance. Because you use that rope to get these animals into submission."
"That rope goes under Peter's bed and you realize that, in a way, Phil now is his Bronco Henry and his erotic object," she added.