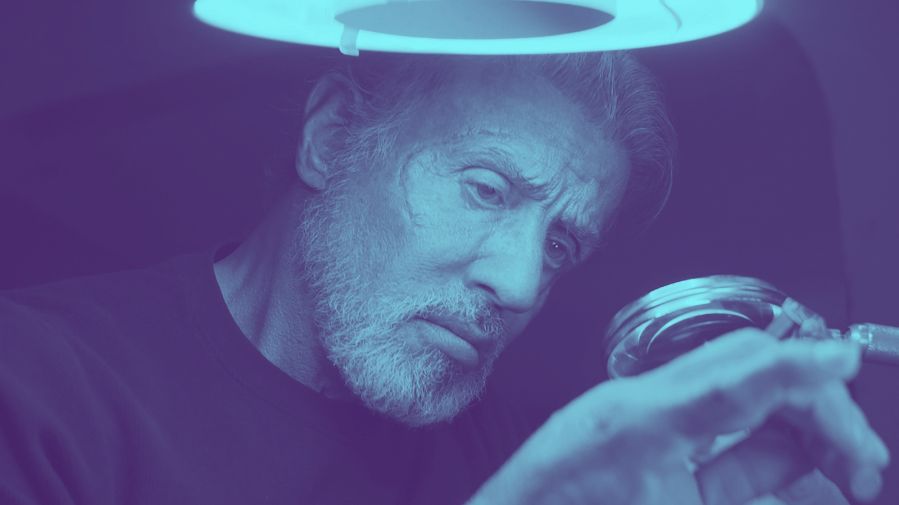 Last Friday, Sylvester Stallone released Samaritan, a new superhero film directed by Julius Avery (Son of a Gun, Overlord). The premise is that a young boy realizes that a long-forgotten superhero may not really have disappeared after all.
It features Stallone doing what he does best: playing a reluctant guy who ultimately rises to the occasion and overcomes the odds. Around here, we love action movies, and that means we have a soft spot for Sly, who has been doing this now for almost five decades.
In honor of this new entry into the canon of Stallone action flicks, let's run down 20 of the best movies he's ever made. Some he directed; some he wrote; some he merely starred in; but all of them are unmistakably his.
Rocky (1976)
Rocky is the star at the center of the Sylvester Stallone movie universe. Stallone wrote the script himself while he was still a young, struggling actor. When the studio offered to buy the script so long as Stallone didn't star in the film, he held out. Turns out it was a great decision. Rocky changed Stallone's life.
On the level of pure entertainment, Rocky is perfect — it's an emotional, exciting underdog story and absolutely one of the greatest and most influential sports movies ever. But it was also a critical hit the moment it came out: Stallone was nominated for Oscars for Best Original Screenplay and Best Actor, and the film won for Best Picture and Best Director at the 1977 Academy Awards. Rocky is currently streaming on fuboTV.
First Blood (1982)
The Rambo franchise has a strange reputation in part because of how different the initial film — First Blood, which is streaming on HBO Max — is from the sequels that followed it. For my money, First Blood belongs up there with Taxi Driver, Born on the Fourth of July and The Deer Hunter as one of the best movies that explores the post-traumatic stress many veterans dealt with following the Vietnam War.
I love a big action movie as much as anybody, but Stallone's sad-eyed resignation throughout First Blood really solidified him as a special actor — he's capable of doing all the big muscles-and-explosions stuff, but he's got a soul and a point of view, too. The film also features fun supporting performances from Brian Dennehy, Richard Crenna and David Caruso in one of his first screen roles.
Creed (2015)
The Rocky franchise languished for a while after the highs of the '80s, but it came back in a big way with Creed, a spin-off written and directed by Ryan Coogler (Black Panther). It's currently available on video on demand, and tells the story of Adonis Creed, the son of Rocky's late rival and friend, Apollo Creed.
In spite of what could have been a somewhat ham-fisted premise, the movie ended up being really great. Coogler's script and direction capture some of the magic of the best films in the Rocky franchise while also creating something utterly new. At first, you're just excited to see Stallone as Rocky again, but in the end the characters feel organic to the story. Like Rocky, Creed is exciting and moving at the same time.
Cop Land (1997)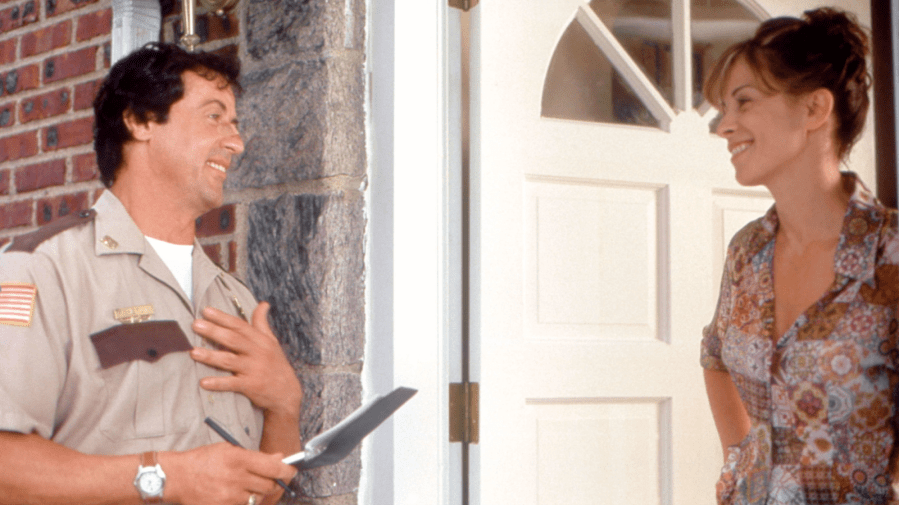 Another of Stallone's greatest acting performances comes in director James Mangold's Cop Land, a film about corruption in the New York City Police Department (you can currently stream it on HBO Max). Stallone plays Freddy Heflin, Sheriff of a small New Jersey town full of corrupt city cops. He's unable to join the NYPD due to an accident he sustained while rescuing a drowning woman years earlier that left him deaf in one ear.
Plot details aside, Cop Land features terrific performances by Robert De Niro and Harvey Keitel in supporting roles. Stallone is what makes the film special though — he embodies a kind of resigned sadness that, given the New Jersey setting, feels like it's ripped right out of the vibe of a Bruce Springsteen song. That's a good thing, by the way — at least as far as I'm concerned.
Rocky II (1979)
Rocky II stands out as one of the greatest movie sequels ever; it's definitely not as great a film as the original, but it adds to the world of the characters and culminates in an incredibly exciting and exhausting climactic bout.
Given how much of the same ground it treads as the original, it's pretty amazing that Rocky II (available on fuboTV) wasn't a disappointment. Obviously it didn't have the same critical success at the Oscars and elsewhere, but it was a huge hit when it came out, and it remains a beloved piece of the Rocky story.
Cliffhanger (1993)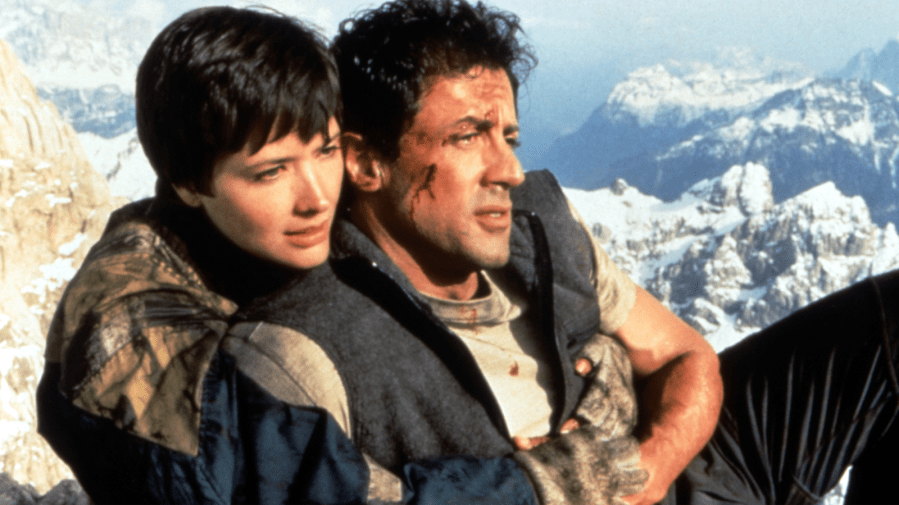 A heist movie set on the mountain peaks of the Rocky Mountains in Colorado? Yes, please. Cliffhanger — a movie with a hilariously self-aware title that you can stream right now on Netflix — is pure box office candy. It made over $250 million at the box office, which is pretty impressive for 1993.
Stallone's stoic performance as Gabe Walker, a mountain rescue ranger haunted by his failure to rescue the girlfriend of his best friend from a tragic accident, carries the movie. However, the most exciting piece of this movie is John Lithgow's elite bad guy performance as a lunatic ex-intelligence officer attempting to rob a U.S. Treasury plane. He's having so much fun being evil you almost end up rooting for him.
Death Race 2000 (1975)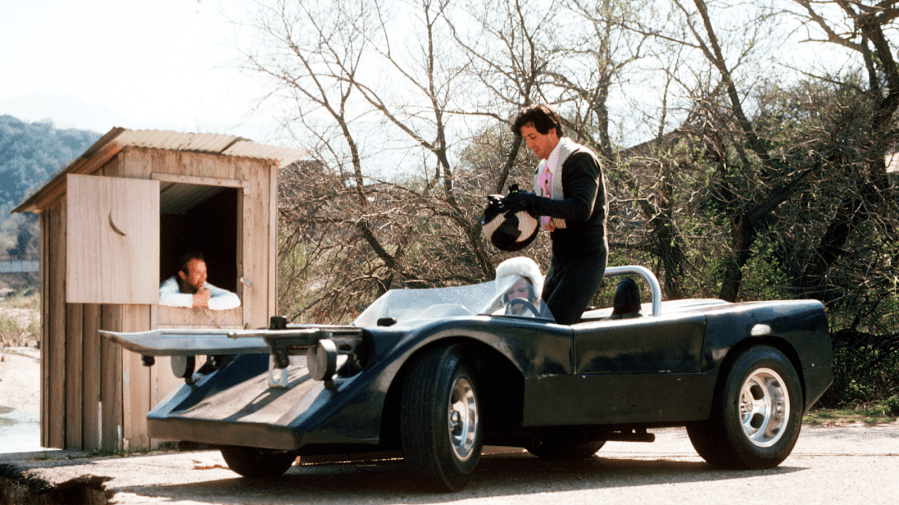 A completely ridiculous movie that you can currently stream on Tubi, Death Race 2000 has become a cult favorite in the decades since it was released. Not the least among the reasons for that is Stallone's performance as Joe "Machine Gun" Viterbo. He's a brutal, Chicagoland gangster who's just one of the many contestants in The Transcontinental Road Race.
The movie's premise is that the U.S. has suffered economic ruin and fallen under martial law. This absurd auto race — in which contestants are actually given bonus points for knocking off innocent pedestrians — is the way the government has decided to pacify and distract the population. It's full of campy absurdity, and it's really fun to see this version of Stallone from just before he became a movie star in Rocky.
Demolition Man (1993)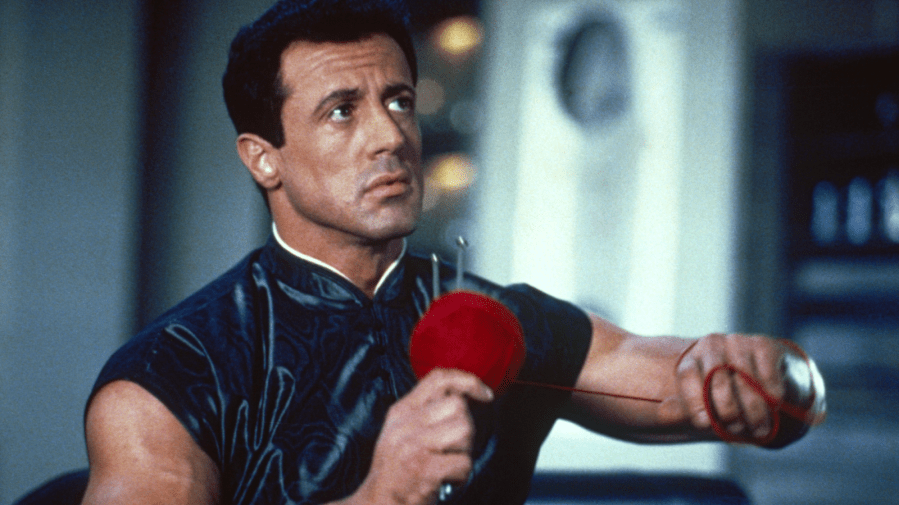 Demolition Man is one of the classic action movies of the '90s, starring Stallone, Wesley Snipes and Sandra Bullock just before her breakout role in Speed. In it, we see Stallone at the beginning of his futuristic sci-fi phase — we'll discuss another of those movies, Judge Dredd, a little later on down this list.
In Demolition Man, which is currently available on Hulu, Stallone and Snipes go up against each other as a cryogenically frozen cop and criminal thawed out in a peaceful future that, of course, isn't exactly what it seems. Stallone and Snipes really go for it though, and there's a ton of really fun action sequences. It was a huge hit in 1993, and nearly 30 years later it's still a really enjoyable watch.
Over the Top (1987)
Have you ever felt an urge to venture into the world of competitive arm wrestling? Well, Over the Top — currently streaming for free on Tubi — is your chance to do just that. Stallone plays the incredibly-named Lincoln Hawk, a truck driver who picks up extra cash by winning arm wrestling matches on the side. He's also trying to rekindle a relationship with his estranged son. It's a lot to take in.
I adore this movie — another one on which Stallone was one of the screenwriters. I love that it takes the world of competitive arm wrestling completely seriously, even as it revels in the absurdity of it. It's also got a great score by the legendary Italian composer Giorgio Moroder, if you're into that kind of thing.
Rocky IV (1985)
For folks of a certain age who grew up on the Rocky films, it's hard not to have a soft spot for Rocky IV. In it, Rocky overcomes a seemingly unbeatable foe — Ivan Drago, played by Dolph Lundgren in what was his breakout film role — in avenging the brutal death of his friend Apollo Creed.
In retrospect, all of the overt nationalism is pretty cringy, which makes Rocky IV a real document of its historical moment, with all of the awkwardness that implies. Still, it's just a wildly exciting movie — one of those classics where no matter how many times you watch it, you still kind of can't quite believe what you're seeing. Like the rest of the Rocky films, it's currently streaming on fuboTV.
Creed II (2018)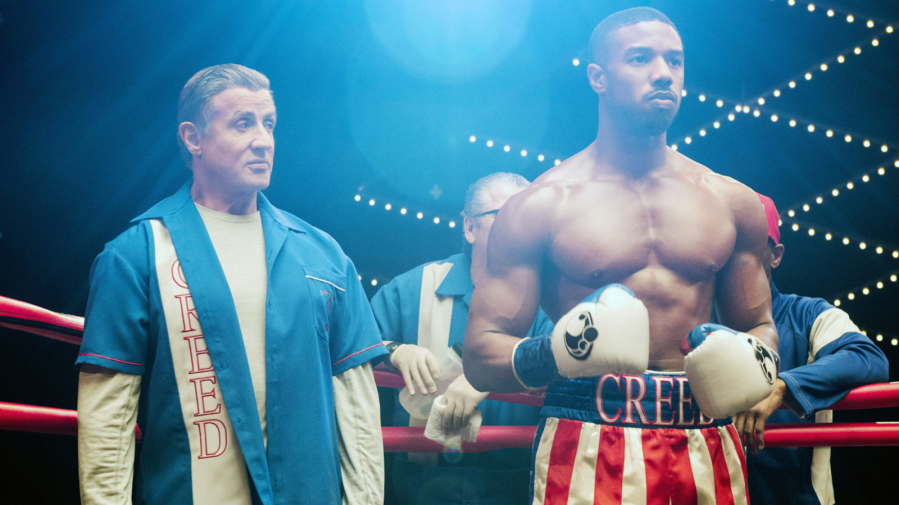 Creed II is, without question, a lesser film than Creed, but it's a crowd-pleaser nonetheless. A lot of that is based on nostalgia more than actual storytelling — Creed II features the return of Dolph Lundgren as Ivan Drago in the role that made him famous.
In this movie, Drago trains his son to fight Adonis in what begins as a publicity stunt but leaves Adonis injured and ashamed. Of course, it's a Rocky movie deep down, so things culminate in a mostly happy ending in which even Ivan Drago ends up showing he's got a lot of heart. You can watch Creed II on the video on demand service of your choice.
Victory (1981)
If you've noticed that many Stallone movies have kind of ludicrous, "over the top" (pun intended) premises, you will appreciate the inclusion of Victory (sometimes called Escape to Victory) on this list. Directed by Hollywood legend John Huston (The Maltese Falcon), it's the story of a group of Allied POWs in a German prison camp in World War II who take part in a soccer match against a German squad.
Famously, in addition to Stallone, the film features the Brazilian soccer legend Pelé. It also has one of the most feel-good endings of all-time — somehow, winning this soccer match allows many of the good guys to escape to freedom. It's streaming on many video on demand services, and really is an exhilarating entry into the sports movie pantheon.
Rambo: First Blood Part II (1985)
In Rambo: First Blood Part II, we leave behind all the serious post-traumatic stress themes of First Blood and just focus on blowing stuff up. Directed by George P. Cosmatos, who would go on to work with Stallone again the following year on Cobra (more on that in a minute), Part II is a wild ride.
John Rambo gets released from prison after agreeing to do reconnaissance on possible POWs still missing in Vietnam, but is ordered not to attempt to rescue them. Of course, if you know John Rambo, you know he won't be able to resist rescuing his fellow soldiers. First Blood Part II was a massive hit, finishing as the third highest grossing film of 1985 at the domestic box office, just behind Back to the Future and Beverly Hills Cop. Amazingly, Stallone's Rocky IV came in fourth.
Cobra (1986)
Cobra: a movie beloved by some and reviled by others. You can guess which side I'm on. Stallone plays Lieutenant Marion "Cobra" Cobretti, part of the LAPD's elite "Zombie Squad". Basically, Cobra is a cop who plays by his own rules, but gets results, and if you find this movie to be derivative and unoriginal, well, that's probably fair.
But it's also become a cult classic, mostly for the film's campy, hyper-violent extremism. It's pure '80s, as far as action movies go: all style and little substance. It's extremely fun to watch, however, if you're into whatever it is '80s action movies were doing. If you've never had the pleasure, it's streaming on DirectTV and lots of video on demand services.
The Expendables (2010)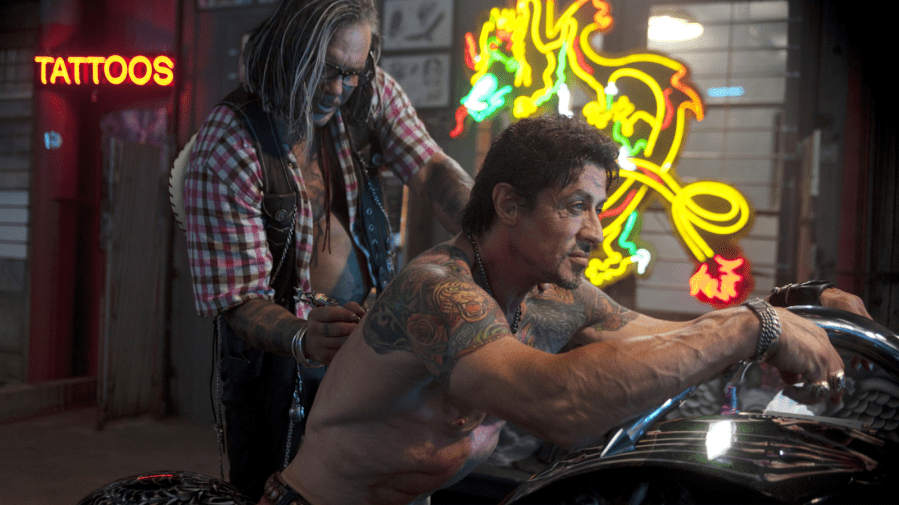 The Expendables — and the many sequels that have followed it, including the forthcoming Expendables 4, which is scheduled to be released later this year — is kind of a celebration of all the movies we've already talked about on this list. It's an action movie that feels like a reunion of every other action movie you've ever seen.
It stars Stallone alongside a bunch of action movie veterans, professional wrestlers and MMA fighters: Jason Statham, Jet Li, Dolph Lundgren, Randy Couture, Terry Crews, Steve Austin and Mickey Rourke. Quite a list. It's about a group of mercenaries who — actually, you know what? It's not important. Just check it out. It's streaming alongside its sequels on Hulu. You'll love it.
Rocky III (1982)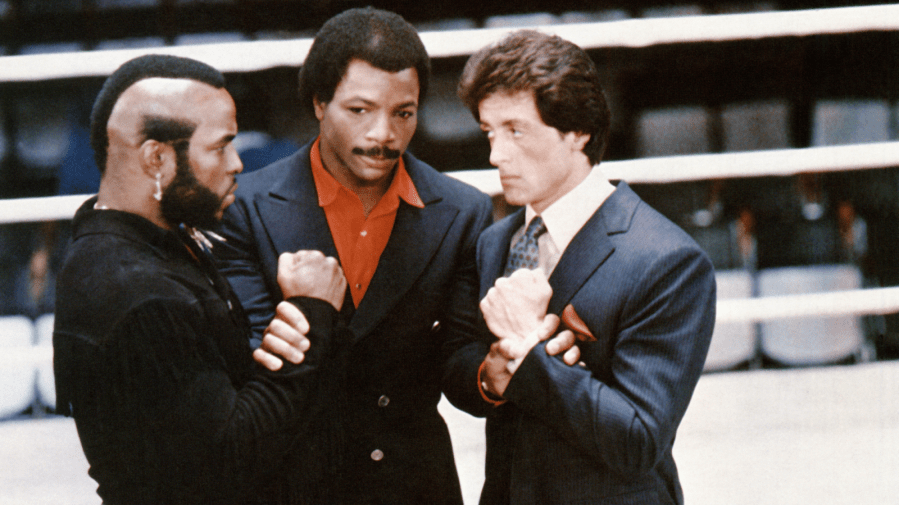 While I personally have a bit more affection for Rocky IV, it's probably true that Rocky III is the greater film. This time, Rocky goes up against a young up-and-comer in the Heavyweight ranks: James "Clubber" Lang, played by an exuberant Mr. T.
Rocky loses to the younger boxer, and then has to work his way back — which means training with his old rival, Apollo Creed. There's not a ton more to say about it. It's got all the beats you love from all the other Rocky films. Somehow, no matter how much success Rocky's had, he's an underdog you can't help rooting for.
Tango and Cash (1989)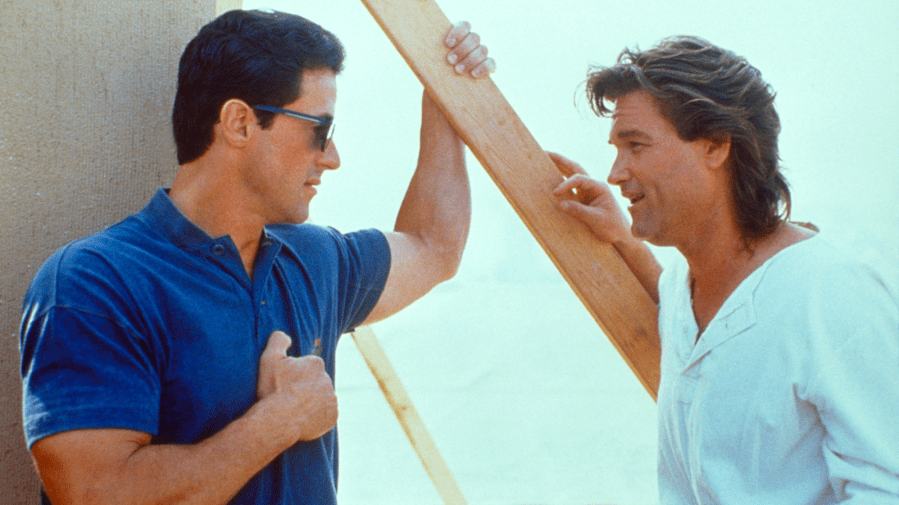 We've reached the point on this list where we're mostly discussing movies that the critics hated but Stallone fans can't help but love, and this collaboration with fellow '80s action star Kurt Russell is certainly one of them.
In it, Stallone's Ray Tango and Russell's Gabe Cash, besides having a couple of all-time great names, are two of LA's finest cops. They're also polar opposites, personality-wise. When they're framed for a murder by a local gangster, they're forced to escape from prison to try to clear their named. You can stream this buddy cop action comedy classic on Tubi.
Daylight (1996)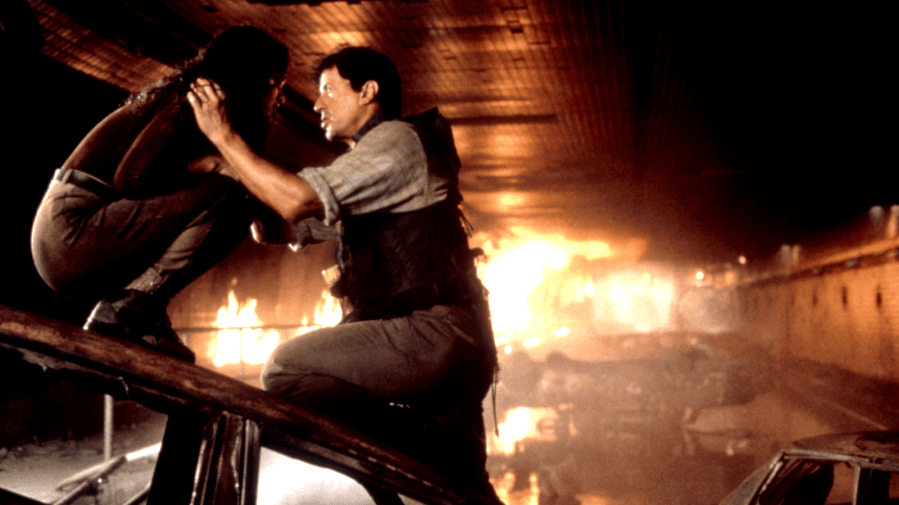 Yet another '90s action classic from Stallone, Daylight is the story of a rescue mission set in a caved-in tunnel in New York City. Stallone plays Kit Latura, a former EMS chief who must overcome his past failures to save the day in the present.
The premise just works, as Stallone does his standard work with a character who starts off downtrodden and quiet and eventually rises to the occasion. It's the stuff Stallone seems to be most comfortable with — reminiscent of the brand new Samaritan in some ways. You can stream Daylight on the video on demand service of your choice.
Judge Dredd (1995)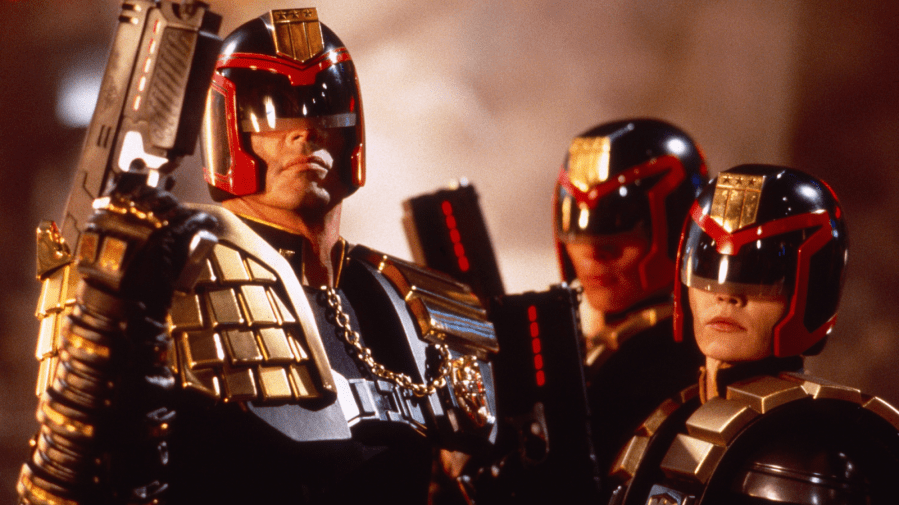 Judge Dredd was panned by critics when it came out, but it's impossible not to appreciate the campy costumes of this film that predates the comic book movie boom of subsequent decades. In a futuristic nightmare, the Earth has become largely uninhabitable, so folks are crammed into overcrowded cities where order is kept by Judges, who do the work of cops, judges, juries and executioners.
While this is not considered a great movie by any stretch, it's my feeling that it was somewhat ahead of its time in adapting a comic book with so much visual flair. Plus, it's also just a ton of fun to see Stallone in this weird suit. Great stuff, and you can watch it on video on demand.
Rocky Balboa (2006)
Rocky Balboa was Stallone's attempt to make up for the fact that Rocky V was pretty much an unmitigated disaster that even Rocky's biggest fans hated. Released in 2006, it was the first work Stallone did as director since 1985's Rocky IV.
In it, Rocky comes out of retirement from boxing — he's now running a restaurant — to fight a young boxer named, ridiculously, Mason "The Line" Dixon (played by real-life boxer Antonio Tarver). Ultimately, the movie works — it feels like a Rocky movie, and gives fans a chance to feel like the series ends on a high note.