Rating: 5/10
Watching Bullet Train confirmed what I suspected: I'm not its intended target audience. The movie, which opens in theaters on Friday, August 5, is helmed by Deadpool 2 director David Leitch, based on Kōtarō Isaka's Japanese novel of the same name and stars Brad Pitt as Ladybug, a hitman down on his luck.
Bullet Train's brand of over-the-top violence and stylized fight scenes choreographed to pop songs isn't exactly my cup of tea — in the sense that I'd much rather watch people actually drinking tea than having their heads blown up, bright-red blood splattering everywhere.
I don't see violence as something remotely funny, no matter how absurd or excessive-bordering-on-the-surreal its nature. I never watched Kill Bill Vol. 2 because I barely had the stomach for Vol 1. And I felt Bullet Train was borrowing a bit from Quentin Tarantino's neo-western: from the samurai swords to the heightened colors and a curated soundtrack of popular themes.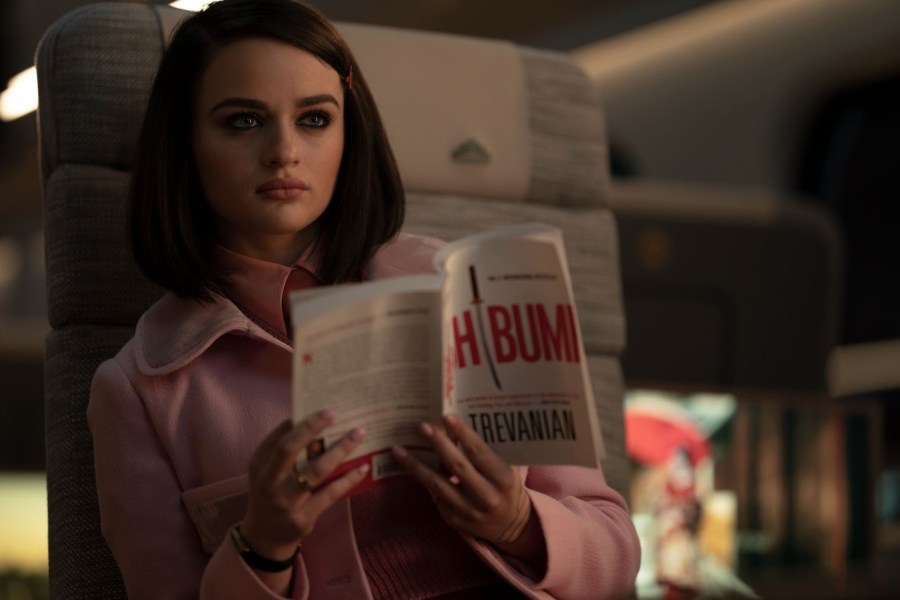 In Bullet Train, Ladybug finds himself aboard a high-speed train traveling at night from Tokyo to Kyoto. He's in constant phone communication with his handler, Maria (Sandra Bullock), who not only gives him details about this last-minute mission where he needs to retrieve a briefcase from the train but also operates as a sort of therapist, reassuring Ladybug at every turn. And he needs a lot of reassurance.
It turns out that the train is swarming with thugs and dubious characters — most of them intent on getting ahold of the briefcase and its contents. Joey King (The Kissing Booth) plays Prince, a deceiving young woman whom almost everyone reads incorrectly. Aaron Taylor-Johnson (Kick-Ass) and Brian Tyree Henry (Eternals) are Tangerine and Lemon, two perfectly attired assassins who share a brotherly bond. Martial artist Andrew Koji is the revengeful Kimura. Benito A Martínez Ocasio, a.k.a. Bad Bunny in his first role after Narcos: México, is the Wolf. And Zazie Beetz (Atlanta) plays the chameleonic Hornet. Hiroyuki Sanada, Logan Lerman, Masi Oka and Michael Shannon round out the ensemble cast. Their characters all find themselves crossing paths with Ladybug at one point or another.
Tarantino isn't the only filmmaker Leitch is heavily influenced by here. There's also a Guy Ritchiness in the way this movie was conceived. The rapid repartee among the Brits Tangerine and Lemon brought me memories of Snatch (2000) and RocknRolla (2008). (Henry worked with a dialect coach and had me googling him at the end of the movie. He duped this Spaniard into believing he was actually British and not American. He's not.) And there's an overall self-deprecating and sarcastic tone coming also from other characters, especially Ladybug.
Pitt is having a lot of fun as the superstitious Ladybug, and the movie relies heavily on his ability to carry it with ease. His charisma on screen makes up for almost anything, but I couldn't help but feel he's played some sort of version of this character — with a different accent — before in one of his collaborations with Tarantino (Inglourious Basterds), Ritchie (Snatch) or the Coen Brothers (Burn After Reading). He even does his eating-almost-compulsively thing. In this case, it's wasabi green peas.
Leitch came to directing from the planned art of stunt performance — he was actually Pitt's stunt double in Fight Club, Mr. & Mrs. Smith and Troy, among others — and with John Wick co-director Chad Stahelski they've come to define a new brand of heavily designed action movies packed with somewhat naturalistic hand-to-hand fight scenes.
You can see all of that here. There are several instances of Ladybug encountering his foes on the train and having to defend himself. Let me mention one specific fight in which Ladybug and Lemon try to almost kill each other while remaining perfectly silent because they're in the quiet car of the train.
There's a beauty in how the movie looks, from the framing of the neon-lit Tokyo at night to the different cars in the bullet train where most of the film takes place: the bar, the concession stand, the plush-toy-filled thematic car.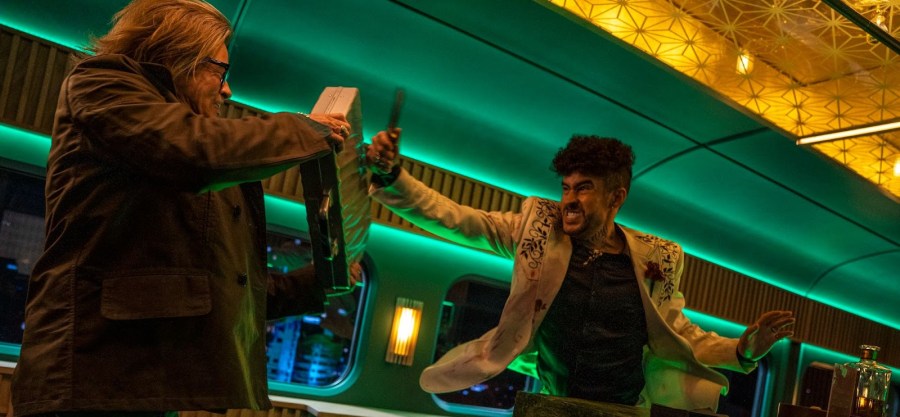 That beauty in the film's production design extends to the wardrobe. The action takes place all in one night. The characters are dressed in coats, blazers and other layers of clothing that they peel off as the night progresses. They appear different — grubbier, more bloodied — as they keep taking garments off.
I enjoyed that aesthetically curated side of Bullet Train. Taylor-Johnson looks undeniably good in a mustache and a three-piece bespoke suit. Bad Bunny's character's backstory is fittingly told to an Alejandro Sanz song. Pitt shows how to strut to "Stayin' Alive" even if he's wearing white Converse sneakers. And King's Prince takes advantage at every turn of the fact that everyone underestimates her ability to be lethal because of how she looks.
Then there are the cameos. Two big-name actors pop up for maximal comic achievement. One of them got the biggest laugh from me — granted, up until that moment I was mostly grimacing. When approached by Pitt's character first and Taylor-Johnson's later on, the character played by one of the big-name actors wants to know whether there'll be sex stuff involved. And a part of me wished she was watching that movie instead of the one where they had shown me how 16 — actually 17 — people had been killed in a sequence meant to be hilarious.
But even if I found Bullet Train uninventive, long and most definitely not for me, I can see how a part of the audience would thoroughly enjoy it in all of its excess, style and humor.