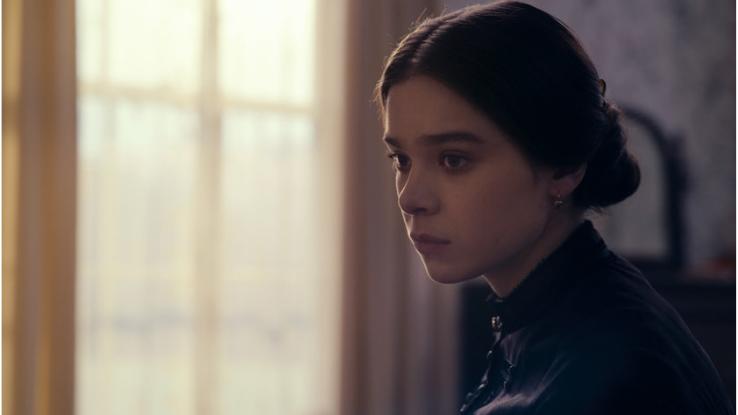 Rating: 9/10
Created by Alena Smith, Dickinson is a subversive — and wholly inventive — retelling of lauded American poet Emily Dickinson's (Hailee Steinfeld) coming of age. As you might expect, Dickinson tells the truth — but tells it slant.
Since the show's first season, this approach has fashioned space for the unreal, from anachronistic slang and needle drops to Emily's conversations with Death (the always great Wiz Khalifa) and a human-sized bee (Jason Mantzoukas) to the poet's fully-realized wanderings through her own imagination. The balance here — between pining, humor, reveries and more — has always been striking, but season three might just be Dickinson's best.
Not to mention, writing about writing is always a challenge, but Smith and her fellow writers, along with Steinfeld's consistently wonderful performance, have always been able to make the meta work well. Whether Steinfeld is reciting a poem over a scene or the lines are appearing on screen, ephemerally, as Emily pens (or pencils) them, Dickinson has always made the poems feel necessary — both intimate and urgent. The third season not only carries on this defining aspect, but cements a legacy for Dickinson the show, all while reaffirming the legacy of the poet.
The first three episodes of Dickinson's third season premiere on Friday, November 5, 2021 on Apple TV+. The seven subsequent episodes will debut weekly — and one at a time — on Fridays through December.
'My Life had stood — a Loaded Gun': An Ensemble Cast Broadens the Show's Perspective
Unlike in previous seasons, Emily isn't trying to prove herself as a poet or weighing the pros and cons of publication and fame; instead, the isolated writer wonders if she can really be the voice a broken nation (and family) needs. After all, many of the poet's most prolific writing years coincided with the American Civil War, and season three drops viewers into this very moment in history. In Amherst, Massachusetts, men are being conscripted daily, and everyone else is trying to find a way to help, to do something that matters.
As was the case with the second season, these 10 episodes broaden the show's representation, both in front of the camera and in the writers' room. Last season, comedian Ayo Edebiri was a staff writer and played Hattie — who shone in the show's seance-centric episode — while other Black characters — like Betty (Amanda Warren), the town's accomplished seamstress, and her husband and abolitionist writer, Henry (Chinaza Uche) — were more central to the season's overarching story.
In the third season, Betty and Henry are both fully realized as characters, on par with members of the Dickinson family. In the wake of the Civil War, Betty finds herself swamped with orders for mourning attire; leading an effort to sew supplies for the soldiers; and navigating the fact that Henry's passion — not just to run an abolitionist newspaper, but to go to the South and join the Union's war effort — has upended their family.
Henry, meanwhile, has one of the season's most compelling storylines. Early on, he meets with Thomas Wentworth Higginson (Gabriel Ebert), a white abolitionist and writer who becomes the "leader" (on paper, anyway) of the 1st South Carolina Volunteers, the nation's first federally authorized regiment of Black soldiers. Initially, Henry is brought on as a teacher, but the soldiers end up enlightening him about the government's paradoxical requirements; the Volunteers need proper uniforms to pass inspection, for example, but they can't get proper uniforms (or weapons) until they pass said inspection and otherwise "prove themselves." White characters fighting for the Union, some of whom are self-proclaimed abolitionists, only see the fight right in front of them and are unable to recognize that systemic racism is part of the country's (and Union's) fabric.
Of course, there's no getting around the fact that Dickinson centers on a white woman during the Civil War. The show seems aware of its material, as well as the limitations of its point-of-view character, and the Black characters in Emily's orbit have more screen time, more deeply realized storylines, and more opportunities to embody the show's signature (often anachronistic) humor.
The rest of the ensemble is really given room to shine here, too. Anna Baryshnikov, whose comedic flourishes are always a joy to watch, plays Lavinia ("Vinnie"), the youngest of the Dickinson siblings. "[The] Civil War ruins everything," she pouts, lamenting the loss of her many would-be husbands. The bond of siblinghood between Emily and Vinnie feels particularly strong this season, especially in one late-season, genre-bending episode.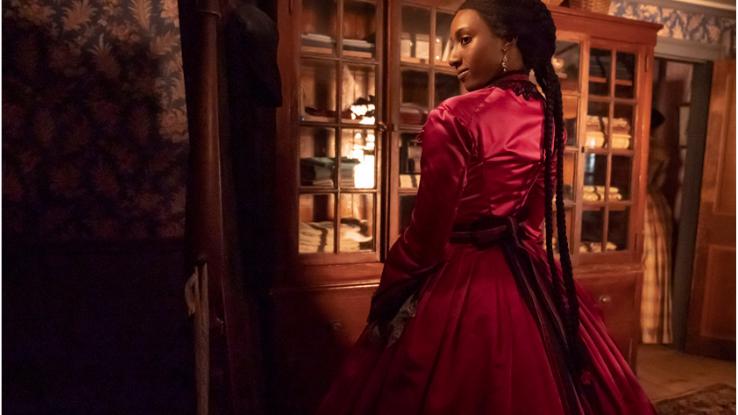 As for the rest of the Dickinson family, Jane Krakowski's portrayal of the poet's mother, Emily Norcross Dickinson, is as strong as ever, especially as she rethinks a "woman's place" in the 1800s; Edward (the always-commanding Toby Huss), Emily's father, considers the sort of legacy he, and his family name, will leave behind; and Austin (Adrian Enscoe, who really gets to showcase his range), Emily's brother and Sue's (Ella Hunt) husband, hits a rock bottom, driving a sharp wedge between him and his father. Much like the country, the Dickinsons are divided, and Emily takes it upon herself to hold them all together.
On the guest star front, although Billy Eichner's frenetic Walt Whitman is spirited, it's late-night host, acclaimed satirist and season three writer Ziwe Fumudoh who's most memorable; she deftly portrays abolitionist and activist Sojourner Truth in true Dickinson fashion.
EmiSue: Queer Representation That Lets Us 'dwell in Possibility'
In the Apple TV+ show's second season, Emily and her best-friend-turned-lover (and sister-in-law), Sue Gilbert (Hunt), spent much of their screen time at odds. After episodes full of misunderstandings, pining from afar, pushing each other away, and general sapphic chaos, the season two finale gave shippers everything. And, at the height of this slow-burn fight-turned-confessional, Sue tells Emily, "The only time I feel things is when I'm with you." Later, Emily says that she writes her poems for Sue.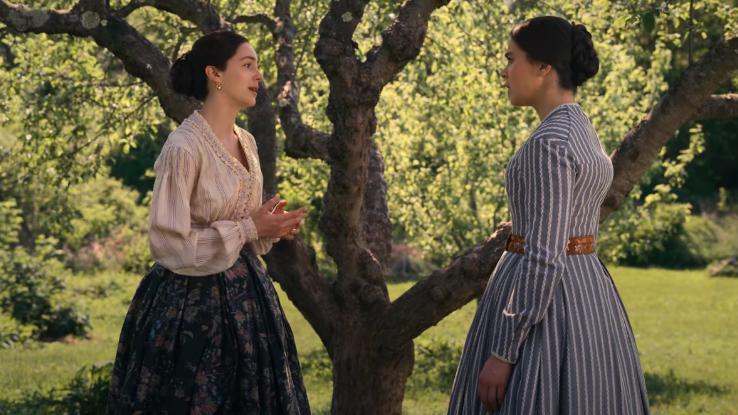 It's clear that Emily has two loves — Sue and poems. And while the two are intertwined, Emily's struggle to balance the push and pull that exists between writing about life versus experiencing life endures. This time, however, it's Sue who's feeling pushed away. "I want the mess. I want something you can't put into words," Sue says in the season's trailer. "I want you." In every scene they share, Hunt matches Steinfeld; not only do the pair have a nearly-palpable chemistry, but season three allows Hunt to play a more well-rounded Sue — comedic, dramatic, dreamy, romantic, and everything in between.
The season two finale, which sees the pair sharing perhaps their (then-) most intimate scenes, would be a series finale for two queer characters in other shows. We're used to shows, even well-meaning ones, confirming characters' queerness or finally showing confessions of love only to have the credits roll. Is it really that hard to imagine what happens next for a sapphic couple? (And should we just be thankful no one died?) But Dickinson's final season gives us those moments after the confession, after the initial fire. It's not an easy road, but that's what gives the EmiSue relationship a fullness — after all, we want the mess, too.
'Forever — is composed of Nows': The "Dickinson" Legacy
In the third episode of season three, "The Soul has Bandaged moments," Betty says that Henry's radical newspaper is what led to their family being pulled apart, but that his writing, particularly the letters he sends their daughter, "stitched [them] back together again." Here, writing is equated with both comfort and hope.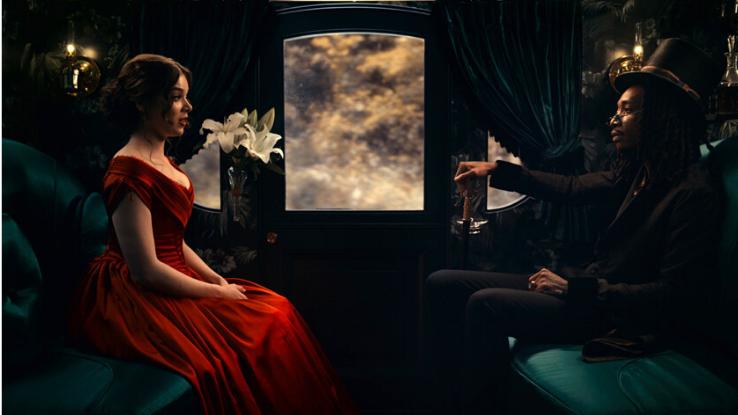 When Emily's not trying to be the connective tissue that holds her fractured family together or venturing into the strange (and often imagined) delights that make this show so unique, she stays in her room, writing. Still, she struggles with what it means to be an artist in a broken world, and with learning how and when to use her voice. And, when it comes to Sue, sometimes being in love from afar — from the safety of your desk — is easier than experiencing its beautiful messiness. In "Bandaged moments," Betty disagrees with Emily's reclusiveness. "If you can't handle the mess of the world, why would anyone need to hear what you have to say?" Betty says. "Writing that shuts real life out is as good as dead."
As inventive as the first season, as cohesive and poignant as the second, and as funny as ever, Dickinson's final season delivers a thoughtful, fitting end. Even though I'd kindly (drop everything and) stop for a fourth season, Smith's series has done the "original sad girl" — and the undisputed king of the em dash — justice. Surely, Dickinson will appear on "best of" lists and "what you should be watching" roundups. As evidenced by formidable talents like Steinfeld, Hunt, and Smith, Dickinson is composed of poets — and, by comparison, every other similar show is prose.